POP INTERVIEW: Matt Brady on Working with Jessica Biel and Sundance 2013
Matt Brady produced Emanuel and the Truth About Fishes, a 2013 Sundance selection about a woman's increasing curiosity when a neighbor resembles her deceased mother. Before he headed off to the film festival, mingling with fellow filmmakers and countless goodie bags, he chatted with Pop about his uniquely captivating first feature film.
Matt Brady produced Emanuel and the Truth About Fishes, a 2013 Sundance selection about a woman's increasing curiosity when a neighbor resembles her deceased mother. Before he headed off to the film festival, mingling with fellow filmmakers and countless goodie bags, he chatted with Pop about his uniquely captivating first feature film.
The obsession theme has been done time and time again in cinema. For every "Match Point," there are a million disastrous scripts in the works. So, how do you make "Emanuel and the Truth about Fishes" fresh?
When we got the script for "Emanuel," our project coordinator, Dee Farmand, read it and said, "You have to read this script! We have to make it. It's the best script I've read in years!" – then I read it and knew she was right. We had to make it. With most scripts, people always have things they bump against, but with Emanuel, the whole team at MRB unanimously loved Francesca's writing and her script.
This is your first foray into producing feature films. Primarily, you have a commercial production background, having produced countless sports spots and other commercial content. How has the transition been into film?
When we started "Emanuel," we were just coming off the heels of producing Stephen Gyllenhaal's indie "Grassroots" starring Jason Biggs and Cedric the Entertainer. It was a similarly low-budget movie, so the transition wasn't hard at all; we'd already done it before! The biggest challenge with film versus commercial is the length of time involved (two years versus two months) and the proportionally smaller budget. But of course, you still need to deliver the same quality.
You started your production company, MRB Productions in 2001 and have already won two Emmy Awards. How did it feel to win the first one? When you found out you won, what was the first thing you said, and who was the first person you told?
I couldn't believe it when she called our name at the Emmy Awards! I was 26 years old and running my company out of an office that used to be a coat closet for another company. It was a huge moment of pride! I immediately called my parents and they couldn't believe it. I went to the Emmys with my best friend from high school, Deborah Snell, who worked at NBC and also won an Emmy that night. We ended up being featured in our hometown paper, The Source. Having a story in your hometown paper can be much more rewarding than a story in Variety!
How do you work on a film meant to be so mysterious and pull it off? How do you tease the audience in the right increments?
The film has a magnificent mysterious and magical quality to it that is largely thanks to the way Francesca wrote and directed it. She and our editor have a rich background in music which helped them build tension in all the right places that really gets you hooked into this magical other world.
For the worst sticks in the mud in the universe, and you know these people are out there in the world, why should people who might only watch big budget releases like "Men in Black" give indie cinema a chance?
Indie film gives film-going audiences a chance to see something they would never see from a big studio. If you look at films like "Transamerica," "Boys Don't Cry," and "The Crying Game" – you get the chance to cover topics that would never have mass appeal, yet are stories that need to be told. And when these stories are told, audiences loves it. Popcorn blockbusters are great, but indie films that demand a two-hour coffee discussion afterwards are my passion, and "Emanuel and the Truth about Fishes" is one of those films.
Jessica Biel once said people do not give her powerful roles because she is pretty. How did you challenge her as an actress in this movie, and how will her character affect theatergoers?
This movie is a win for both Jessica Biel and for us. It's a chance for her to step outside of the role she traditionally plays, and she knocks it out of the park! As a viewer, you immediately forget you are watching Jessica Biel and you see her as Linda, the mysterious neighbor. For me, watching a movie I worked on – it's very hard to forget what happened that day on set and actually get into the story. But, our cast is actually so good that they immediately draw you in. I'm very proud of this film and very impressed by Jessica Biel's diverse talent.
You had "The Confession" made exclusively for Hulu. What is this new medium like for both the viewers and the production team? Have you noticed any shocking things that may eventually make web releases on par with a traditional cinema release?
The work from a production standpoint is the same across all mediums, Internet, TV, and film. Just because something is made for digital doesn't mean the quality needs to suffer. In fact, the quality of "The Confession" was so well done that it was purchased by Sony after its run on Hulu and sold on DVD as a full-length feature. There are some people that like to watch movies on their TV or iPhones, but there is still a big community that wants the social experience of seeing a movie together in a theater. I watch a ton of programming on Hulu, but there's that special something about the atmosphere of the cinema.
What are you looking forward to doing at Sundance this year other than work related to your movie?
I'll be on the slopes!
VIDEO: Why Paris Hilton Is A Chameleon.
Paris Hilton sat down with me and Makho Ndlovu at the People Now studios to talk about her new fragrance "Electrify," the first song she plays when she's DJ'ing, and what character's she likes the play… in real life!
What an amazing time it is visiting and guest co-hosting People Now. The people on camera and behind the scenes couldn't be more kind and welcoming! And Paris herself was absolutely charming and sweet.
Watch How This Hasselhoff Deepfake Takes Years Off The Actor!
Visual effects artist Chris Ume takes countless images of David Hasselhoff from his past Baywatch days, then creates a younger avator, blending the new, artificial Hof onto the real life Hoff.
The process of this crazy magic? It's called a Deepfake = combining and superimposing existing images and videos onto a source image or video. The process is incredible, and yet still relatively in its infancy. If things keep progressing this genre as we can only expect they will, it's not a stretch to imagine that we could someday see an actor actress play a younger version of themselves so convincingly we won't see how they did it.
To follow more of his work, subscribe to Chris' youtube channel.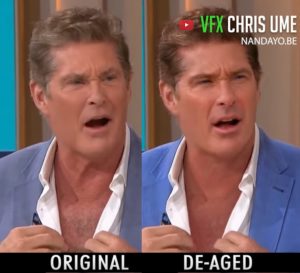 Chatting With Charo: The "Hair" Edition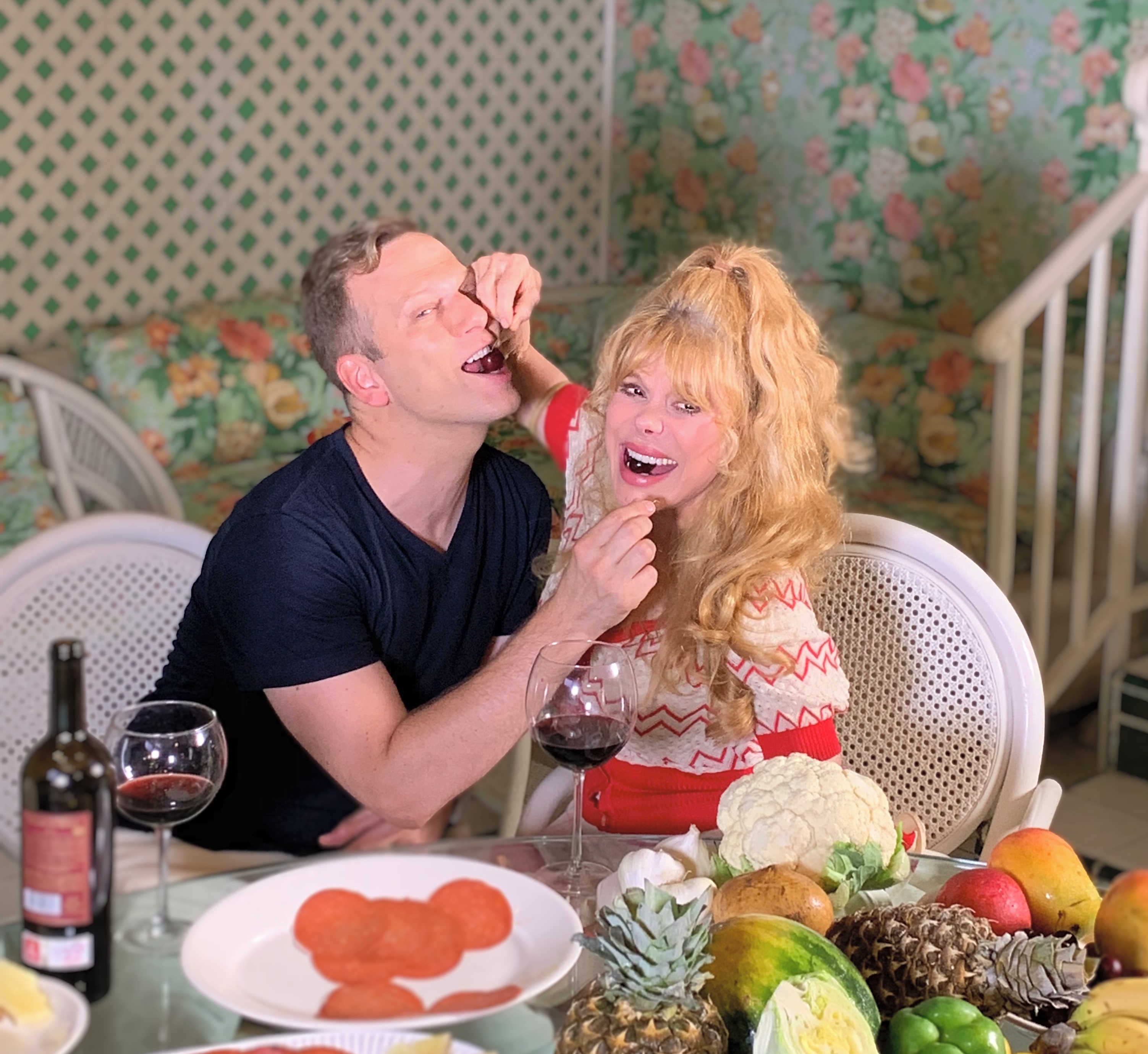 Brace yourself! There is a lot you don't know about Charo's hair! Listen, learn – and laugh your ass off – all along the way!
I got to visit Charo at her home just a week ago (I've known her wonderful family for many years) and we started out chatting about food (which explains all the tapas on the table!) But not so shockingly, we got sidetracked! This conversation about her hair had me laughing until I was crying!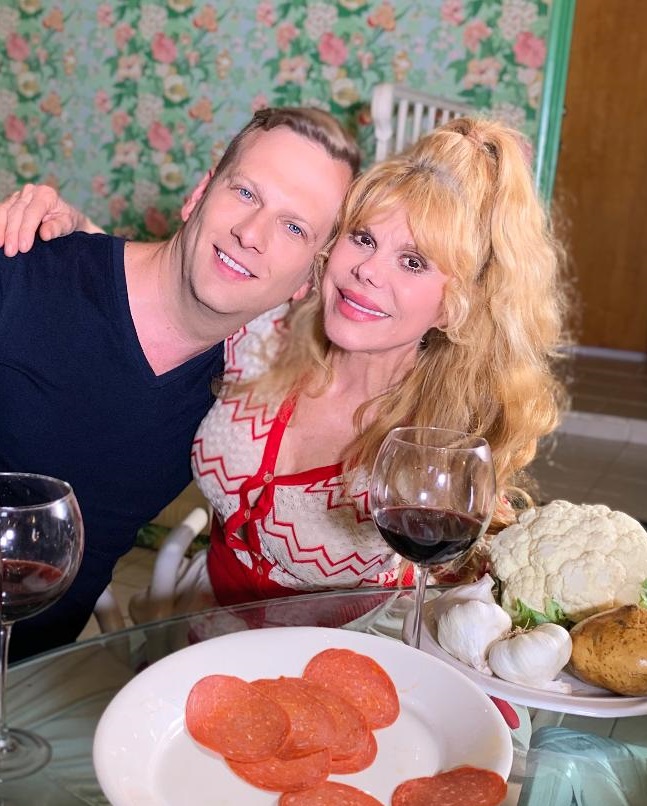 Catch more chatting with charo! Follow her on Twitter!
Follow her on Instagram!
And Hey, why not follow me too! On twitter and instagram!