How Much Do American Idol Contestants Make?
Despite the fact that American Idol is the hottest thing on television every season, there certainly is some question about just how 'big' a winner will become. The first year after your win is crucial… and can sometimes end up being the most lucrative.
Not long ago The NY Times  did an interesting article that gives the skinny on American Idol, and just how lucrative (or not) it can be. It begins with a swipe at former winner Taylor Hicks, saying that the current contestants are probably not dreaming of playing Teen Angel on a touring production of 'Grease' in Milwaukee three years from now.
(That's what Taylor Hicks was doing at the time, which isn't exactly shameful, but probably not the summit a music hopeful aspires to.) personal note: I met Taylor Hicks once while working on an interview with him, and he referred to himself as 'The Soul Patrol' more than once, which I understand they called him on the series, but I kept thinking how weird that he was still clinging to that expression years later. It's like saying you used to play football, but that was in high school, and now you're forty years old.
But I digress… here's some of the fun numbers:
Kris Allen, last year's winner, has earned at least $650,000 from "American Idol," according to contracts that last season's contestants signed with the show's producers during the competition.

That amount reflects the minimum a winner would earn. Including performance fees and merchandising royalties from the "American Idol" tour, as well as other opportunities, winners have never failed to earn less than $1 million in the year or so after the contest, people close to the show say.
It goes on later to say:
Mr. Allen, last year's winner, earned an advance of $350,000 for his first album, exclusive of recording costs, half of it paid soon after the competition ended and half when he finished recording. His self-titled first album sold 80,000 copies in its first week of release last fall — disappointing for an "Idol" winner — and 260,000 in its first three months, according to Mr. Allen's Web site, krisallenofficial.com.

An Idol winner's riches extend beyond the recording contract. Last year the Walt Disney World Resort in Florida opened "The American Idol Experience," an interactive attraction.

To promote it, Disney paid Mr. Allen $100,000 to turn to a camera and shout, "I'm going to Disney World" after winning the competition and to visit the park, according to the contracts. He stood to earn another $100,000 for spending a day filming scripted dialogue segments for use in the attraction and for taping a vocal performance for the Walt Disney World Christmas Parade television show.
It remains to be seen what will become of Kris Allen after a few years. For every huge success (Carrie Underwood, and Kelly Clarkson to some extent) there is a Ruben Studdard and Taylor Hicks. Still, it seems you don't have to 'win' to win. Case in point: Chris Daughtry who are doing just fine without the crown, thank you very much. (And Jennifer Hudson, the most obvious winner in this saga.)
Update: Recently there has been increased interest in how much money the 10 contestants who qualify  for the summer American Idol tour will make.
A USA TODAY article from 2007 did not mention specifics, but provided some insight:
That accomplishment, which gets far less attention than making the top 24 or final 12, carries greater benefits: the chance to perform before arena audiences, develop fan bases and earn a six-figure payday.
Recently, TMZ obtained a copy of the contestants' contract… and here's how it breaks down:
The winner gets $175,000 when he/she starts recording and another $175,000 when that person produces the first album.
Second album: Between $275,000 and $550,000.
Third album: $325,000 and 650,000.
Fourth album: $375,000 – $750,000.
Fifth album: $450,000 – $900,000.
Sixth album: $500,000 – $1 million.
The second place finisher gets $150,000 when he/she starts recording their first album and another $150,000 upon delivery. The second album gets the runner-up between $225,000 and $450,000.
If the label signs the  third through 12th place contestants, they each get $100,000 when they start recording  their first album and another $100,000 upon delivery.
Additional information obtained via TMZ and POPEATER.
So there you have it… six figures. Not too shabby for people who until the show were complete unknowns. (And some still in high school!)
Going back to Jennifer Hudson – the truest reminder that  NOT winning isn't a death sentence! The season three contestsant  was prematurely ousted –  but perservered,  beating out   more than 700 actresses for the role of Effie in Dreamgirls, winning an Oscar, and eventually  launched herself into a full fledged film star – and multimillionaire.  Now, as the new, skinny celeb spokesperson for Jenny Craig, she is even more  gorgeous… and even more rich.
Watch How This Hasselhoff Deepfake Takes Years Off The Actor!
Visual effects artist Chris Ume takes countless images of David Hasselhoff from his past Baywatch days, then creates a younger avator, blending the new, artificial Hof onto the real life Hoff.
The process of this crazy magic? It's called a Deepfake = combining and superimposing existing images and videos onto a source image or video. The process is incredible, and yet still relatively in its infancy. If things keep progressing this genre as we can only expect they will, it's not a stretch to imagine that we could someday see an actor actress play a younger version of themselves so convincingly we won't see how they did it.
To follow more of his work, subscribe to Chris' youtube channel.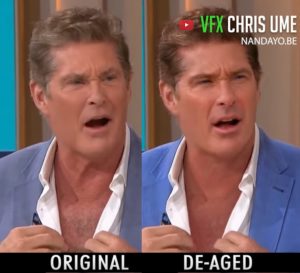 Chatting With Charo: The "Hair" Edition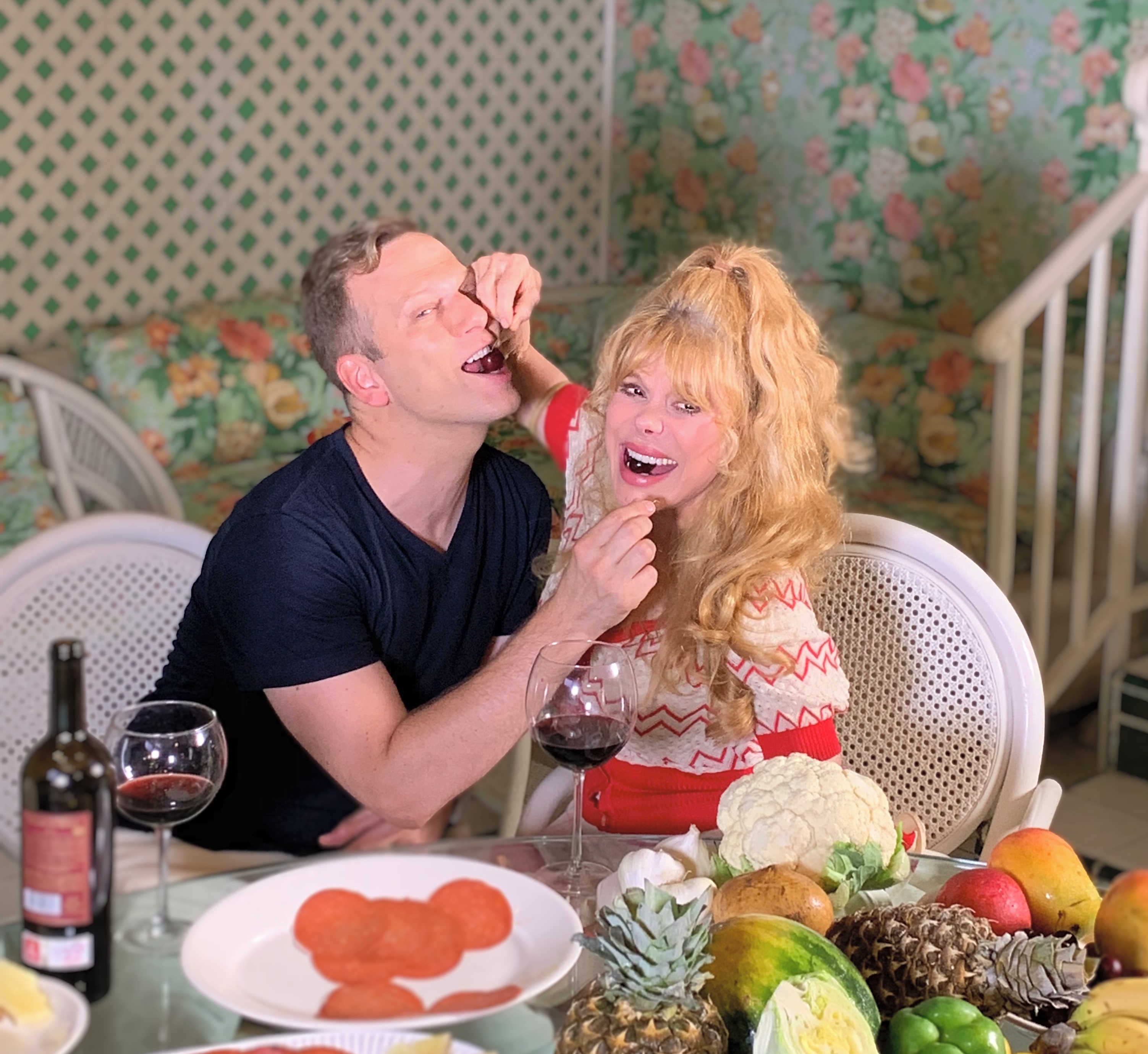 Brace yourself! There is a lot you don't know about Charo's hair! Listen, learn – and laugh your ass off – all along the way!
I got to visit Charo at her home just a week ago (I've known her wonderful family for many years) and we started out chatting about food (which explains all the tapas on the table!) But not so shockingly, we got sidetracked! This conversation about her hair had me laughing until I was crying!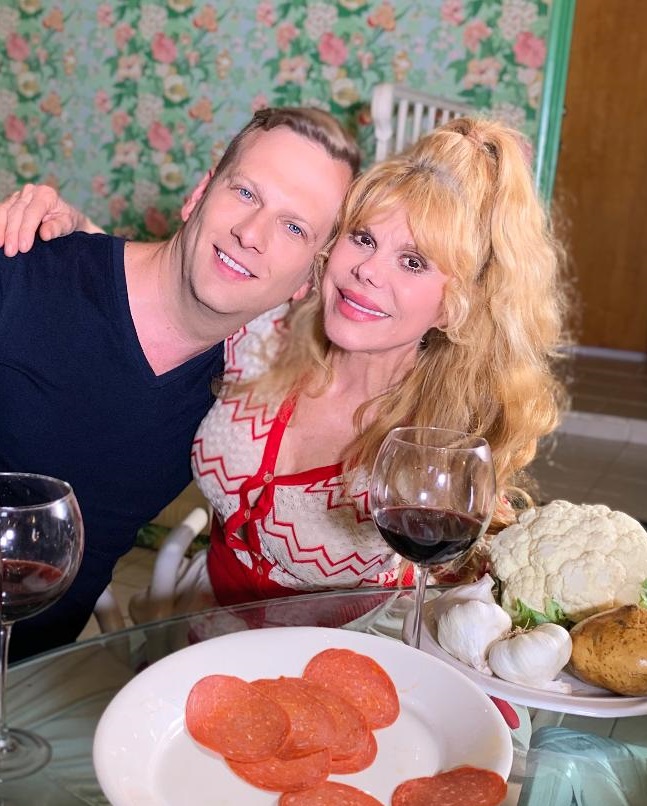 Catch more chatting with charo! Follow her on Twitter!
Follow her on Instagram!
And Hey, why not follow me too! On twitter and instagram!
Lizzo Is An Icon In The Making – And Here's Why
Mirror, mirror on the wall don't say it 'cause we know Lizzo cute. And by cute I mean extremely talented, gorgeous and totally inspiring!
A few months ago I was watching The Ellen Degeneres Show when I witnessed one of the most fun, exciting and awe-inspiring performances I've ever seen. Lizzo popped onto the screen in a sparkly, pink getup and began singing what would become her big hit song, "Juice," – I was immediately hooked (more like obsessed). During this performance she also jammed out on her flute alongside her plus-sized backup dancers and suddenly I knew I had been changed forever. I did some more research on the rapper/singer and found out I had been sleeping on this gem! Lizzo has been doing bad all by her damn self for years, having already released two albums in the past. I am suddenly mad at every single person who neglected to tell me to jump on the Lizzo train sooner! If you're like me and need a bit of catch up, I'm going to break down exactly why you need to know this icon in the making.
You can throw a stone in any direction and hit a triple threat nowadays. Lizzo's brings talents we have yet to see in the mainstream music industry.
If singing, rapping and dancing make Lizzo a triple threat, what does flute playing making her?!? A STAR THAT'S WHAT! Lizzo has displayed her abilities as a talented flautist, which is not an instrument you would necessarily think of in conjunction with the rap genre making this talent all the more extraordinary. Lizzo even used her flauting skills to compete (and defeat IMO) with Ron Burgundy. Not Will Ferrell, but Ron Burgundy.
Oh, and she can also twerk while playing the flute. 
As if playing the flute wasn't impressive enough, Lizzo can also twerk while playing. I really hope some high school kid is deciding to take band just so he/she can flutwerk their way around campus like their fav flautist, Lizzo.
Lizzo uses her platform to inspire and raise up everyone around her.
Lizzo uses her voice for more than just creating fire music, ya know. She uses her platform to defend the belief that beauty comes in all shapes and sizes. Her Twitter is filled with positivity and strong messages about acceptance.
MY MOVEMENT IS FOR EVERY 🗣BODY. IM LEAVING NO ONE EXCLUDED. "GOOD FATTYS" AND "BAD FATTYS" AND ANYONE ELSE WHO WANTS TO JUST FUCKING LIVE ARE WELCOME. NO TERMINOLOGY NO IDEOLOGY JUST FUCKING HAPPY PEOPLE IN MY MOVEMENT.

— |L I Z Z O| (@lizzo) March 4, 2019
Uhm…she's straight up gorgeous. 
We cant forget to mention that Lizzo is a straight up beauty queen. She is known to switch up her look but I've never seen a bad pic of this queen. To solidify my point, she is now officially the first, plus sized black woman to be featured in Playboy magazine!
Move over Avenger's, Lizzo has been in a comic book too!
Ok indulge the nerd in me on this one…Lizzo was even featured in a comic book!!! That's right, she has become so influential that even Marvel comics wanted a piece of the Lizzo-pie. Check out this shout-out in Unstoppable Wasp #4!
MY MOVEMENT IS FOR EVERY 🗣BODY. IM LEAVING NO ONE EXCLUDED. "GOOD FATTYS" AND "BAD FATTYS" AND ANYONE ELSE WHO WANTS TO JUST FUCKING LIVE ARE WELCOME. NO TERMINOLOGY NO IDEOLOGY JUST FUCKING HAPPY PEOPLE IN MY MOVEMENT.

— |L I Z Z O| (@lizzo) March 4, 2019
So now that you have become as obsessed as I have, you are probably wondering how you can get even more Lizzo in your life. Well lucky for you, her new album dropped TODAY! Her third studio album, Cuz I Love You, is available anywhere you listen to music and let me tell you, YOU WILL LOVE IT. The album is varied and showcases all of Lizzo's incredible range with some songs being upbeat and funky, and others being slowed down and heart wrenching. For a taste of what to expect, click below to listen to the title track of the album. If the new album still doesn't satisfy the hunger for more Lizzo, she's also on tour! You can click here for more info on tour dates.
Oh Lizzo…you are most definitely 100% that bitch.  
Like what you read? Follow @ChrisSiretz on Twitter and Instagram