Here's What Doesn't Add Up About Kim Kardashian's Outrage Over Nude Photos.
There's a lot of buzz surrounding Kim Kardashian's nude photos on the cover and inside of W Magazine. The mag hit newstands in November, but her personal outrage was saved, natch, for her reality series "Kourtney and Kim Take New York." But does she also take us for fools?
There is no question that Kardashian has become a master of her domain. She has been incredibly successful at parlaying her initial rounds with nudity (via a sex tape and a spread for Playboy) into widespread popularity. She has played the red carpet and reality shows like a harp. In short, she is not a stupid woman. She knows the marketability of her sex appeal, and has done well in building a brand well beyond a still photograph here and there.
It is this same level of intelligence that brings me pause when I watch her stunned, tearful reaction to the photos in the W spread, which feature her sometimes fully naked, and other times covered in silver paint. She insists that she was assured that her nudity would be covered in letters and artwork.
Well… it was. Not much artwork or words, but some.
What confounds me is this: If, in fact, there would be so much of the body covered… why couldn't the photos have been done in a bikini? Or even have some of those things you can get to cover her … you know… and a thong to cover the other stuff? (I'm trying to keep it clean here.) I struggle with the idea that a person could be so shocked that a nude spread would be so… nude.
In truth, there is little that can surprise our over-exposed society anymore. And I find nothing wrong with the pictures (except that an eight year old girl at an Airport newstand shouldn't be able to see them so easily. They're really not cover-appropriate… but this isn't the first time or the last that's going to happen.)
I just want to put it out there that I'm not buying the 'shock and awe' routine. And, over a drink or two, I'm convinced she would probably admit, if only with a wink, that it made for good television. And here I am, talking about the moment… so in effect, mission accomplished!
Kim is a gorgeous, savvy woman. Once again, she has drawn us in, and gotten us talking… score one more for team Kardashian!
Laura Dern Honors Her Parents In Touching Academy Award Win Speech
Laura Dern, who has been slaying awards season this year for her role in "Marriage Story," took home the ultimate prize – a Best Supporting Actress Academy Award – and thanked her actor parents in a touching acceptance speech.
Her parents, actors Diane Ladd and Bruce Dern brought her to the Oscars with them when she was just 7 years old.
"Some say never meet your heroes. I say if you're really blessed, you get them as your parents. I share this with my acting hero my legends, Diane Ladd and Bruce Dern. You got game. I love you."
Dern's mother has been nominated three times, her father twice, but neither have won. Her mother can be seen during the speech crying in the audience.
Congrats Laura!!!
POP UPDATE: Justin Bieber, "Friends" For Life, And The Critics Choice Awards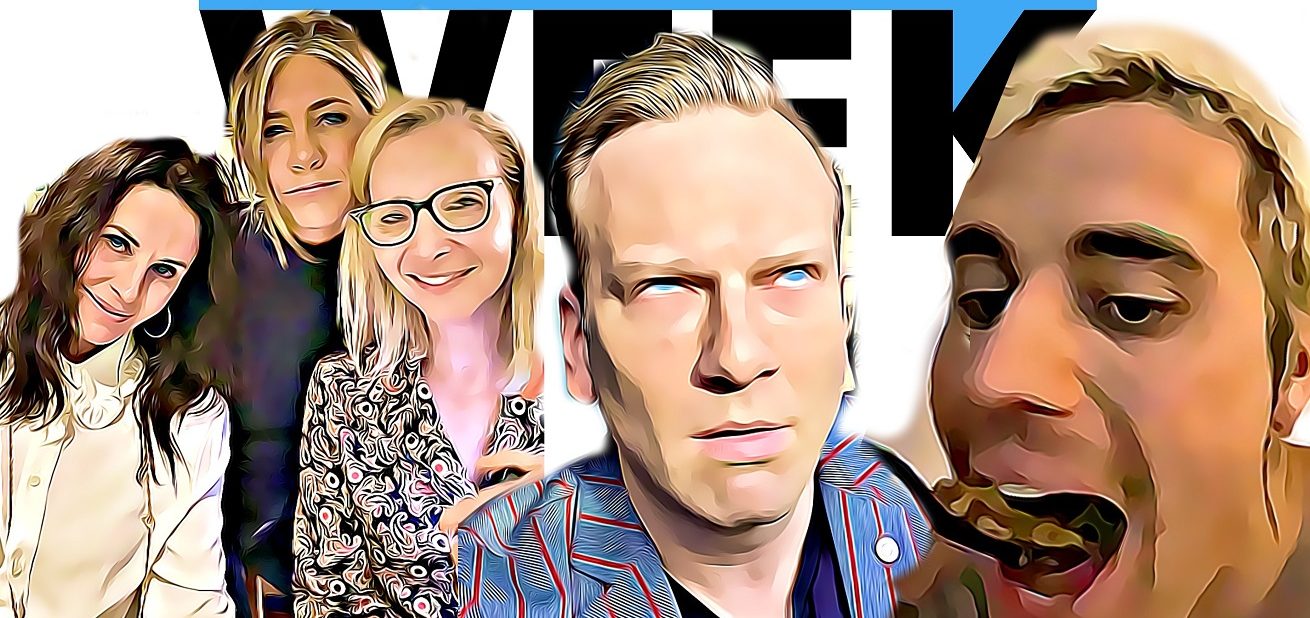 We're going to be doing some quick video updates whenever we can! Here's the latest! Justin Bieber begging for streams, (while you can hear him chew – ew), the ladies of Friends reunited, and mother nature. Take a look!
Courteney Cox's Instagram Caption Is Every Parent With A Teenage Kid
Have you heard? It's 2020 and we're all supposed to music videos on TikTok. Courteney Cox is no exception. The TV star posted an instagram of her and her daughter Coco dancing it out, with the hilarious caption, "Wanna see your child lose their patience? Do a TikTok with them."
Also, how long does it take to actually learn one of these routines? It seems very time consuming.
What I was really hoping for was video of her daughter losing her patience, but what we got was a pretty strong routine!