POP Profile: The Guy Behind The Viral Phenomenon "Nyan Cat"
It almost defies explanation: a cartoon cat with a POP-Tart body, flying through a starry sky, leaving a rainbow trail, and meowing a happy tune. Simple enough, right? Then try and explain how in less than a month it has gotten more than a million views, spawned multiple imitators, and become part of the pop culture lexicon.
In what may be a surprise even to the image's creator, the reaction across the web has been nothing short of amazing. It started out as "Pop Tart Cat" – but the internet world named it 'Nyan Cat' – ('Nyan' is the word Japanese culture uses for 'meow.') And it all started in early April with a doodle. Here's my interview with 25 year old Christopher Torres from Dallas, Texas – the guy who created the original image – on how it all began.
 When did you create it? What started it all?
It's kind of a huge fluke how it all started. A few weeks ago I was doing a donation drive for the Red Cross and in-between drawings in my Livestream video chat, two different people mentioned I should draw a "Pop Tart" and a "cat". In a joking manner I created this hybrid image:
This was either the end of March or very beginning of April. A few days later I randomly decided to do some pixel art, and Pop Tart Cat was the first thing that came to mind.
How long did it take to create? Did you also write and sing the song? It took about three to four hours to create. I'm really new at making pixel art so I had some difficulties in animation, but am very happy with the result. I did not have anything to do with the song. (In the background, a UTAU cover of the popular Nyanyanyanyanyanyanya song loops over and over again.) Credit for that goes to this person. (The song is) extremely popular in Japan right now for different reasons, but wasn't really too popular in the US until Nyan Cat took over.
Tell me about the name.    Originally, its name was Pop Tart Cat, and I will continue to call it so, but the Internet has reached a decision to name it Nyan Cat, and I'm happy with that choice, too.
Is there an inspiration for the cat? It does have the cuteness that you see in a lot of Japanese animation.
The only inspiration behind Pop Tart / Nyan Cat is my own cat, Marty. I had no other ideas in mind other than fusing a cat and a pop tart together. It's all original :)!
From your point of view, when did it take off? When did you notice this was taking on a life of its own? About three or four days after I initially posted it on my website, I got word that it was out on G4's Attack of the show, a television show focusing on video game/Internet culture. Minutes later, I found the source on Youtube. A lady named Saraj00n decided to take my GIF and the song and put them together in a 3 minute song. I also found out on the same day that CollegeHumor picked it up, and that's where things really got going.
(Editor's note: there's also a site called Non-Stop Nyan Cat… which tracks how many seconds you can watch and listen…)
What was your goal when you created it?   
Honestly, it was just going to be a cute little animation to post on my website. I had no big plans other than turning it into an animated avatar for myself so I could use it in some forums. I'm actually lucky to have saved all of the original files, because I don't normally do that!
What is the most unique or strange response you've gotten from the video?
No joke, but someone yesterday asked me if they could draw porn of it! I really hope they are joking 🙁
What do your friends think of all this?
They all love it, and I'm glad they do. Nyan Cat has also introduced me to a bunch of new friends and hopefully things will keep getting better!
More than 1 million views!! Are you making money on it yet? What are your plans?
I'm so surprised it's jumped up to 1 million views in such a short amount of time! Most of the reactions to the video have been positive, as well, which also blows my mind a bit. I really am happy that so many people are enjoying Nyan Cat. I keep hearing all of these stories saying they ran across it through different ways, and I love hearing that. I technically haven't made any money from it yet, unfortunately, but I was contacted by LevelUpStudios to partner up and make T-Shirts. (Get em here!) Shirt sales are doing extremely well, and a nice portion of that will go to support me. I'm also currently working on an official Nyan Cat video game, which is like a dream come true for me. It'll feature brand new art and characters and will stay true to the original while offering a fun style of gameplay. On a sad note, though, I've noticed people almost immediately creating their own apps or programs featuring my work without permission for their own financial gain. It's been really tough fighting these issues but I've filed a Copyright for Nyan Cat and hopefully that will help. Wish me luck!  🙂
Has the phenomenon changed the way you look at your work or how you do what you do?
To be honest, it hasn't really changed how I view my work. I plan on keeping up my same formula when it comes to making comics and I hope everybody enjoys them just the same. Pop Tart / Nyan Cat started off as a humble little cute animation and I'll always view it that way. Hopefully this can open new opportunities in my life, and the other people behind the phenomenon that helped make it happen. I wish them luck and success on this, as well!
__________
It's great to read a success story from someone who seems like a genuinely nice guy! Congratulations Chris!!
Well Sh-t, Leslie Jordan Has Shared Three Videos Of Himself Dancing In One Week And They're All Perfect
Doing much better now, Leslie.
If you've never believed that "good things come in small packages" then you've never seen Leslie Jordan's instagram. The 4'11" actor known for his iconic roles in shows like Will & Grace and American Horror Story has recently developed a whole new fanbase who loves him for his viral Instagram videos. Usually starting each video by greeting fans with "Well shit, how y'all doing?", viewers have grown to anticipate Jordan's hilarious recounting of stories from his time in show biz or growing up in the south. This week, however, the Tennessee native has shared 3 videos of himself dancing within 5 days and honestly it's precisely what we all need right now.
The first video was posted on August 12th and shows Jordan taking part of the "Git up and dance challenge" which swept the internet about a year ago. Even though he is a little late, the video is still perfection.
On August 13th, Jordan does a dance to "You Can't Stop The Beat" from Hairspray a with special guest dance partner Katie Couric!
Finally, on August 15th, Jordan does an epic "tootsie roll" and challenges Real Housewives Of Beverly Hills star, Lisa Rinna, to do the tootsie roll herself. Of course Rinna commented with a big "ON IT ❤️😂." Who could say no to the viral star?!?
The moral of the story here is that the world is going through some tough times right now but maybe, even for a few seconds, we could all feel better if we'd just dance it out. Thanks for the inspo Leslie Jordan!
Like what you read? Follow me on Instagram
Planters 'Baby Nut' Has Somehow Already Turned 21 And People Are Not Loving The News
2020 keeps getting nuttier.
The world was shocked when the iconic Mr. Peanut was killed during a pre-Super Bowl ad earlier this year. There wasn't much time to mourn, however, before a new nut was thrust onto us like back-to-school commercials in July. Yes, after the 59-year-old mascot met his untimely death consumers were introduced to his reincarnate, Baby Nut. With big, expressive eyes and a tiny stature fans began to swoon over the cute branding revamp and accepted him as the new mascot. Well as if 2020 hasn't been crazy enough, Planters just released a new commercial celebrating Baby Nut's 21st birthday and I'm not sure how to feel about it.
I'm officially 21, my friends! Before you ask, yes, I was just a baby. What can I say? It's been a nutty year. Now someone get this peanut a beer! #MakeMyBirthdayNuts pic.twitter.com/P1UfBIi4N8

— Peanut Jr. (@MrPeanut) August 11, 2020
According to a quick Google search, a peanut plant takes 4-5 months to reach maturity. So with Baby Nut being born in February, he is technically right on track in his growth cycle. The OG Mr. Peanut was the reigning mascot for 59 years so does that mean he was actually over 3,000 peanut-years old? The accelerated aging is not explained in the new ad with Baby Nut (Young Adult Nut?) simply saying "it's been a weird year." Reactions on Twitter are largely negative but as always, hilarious. Here are some of the best: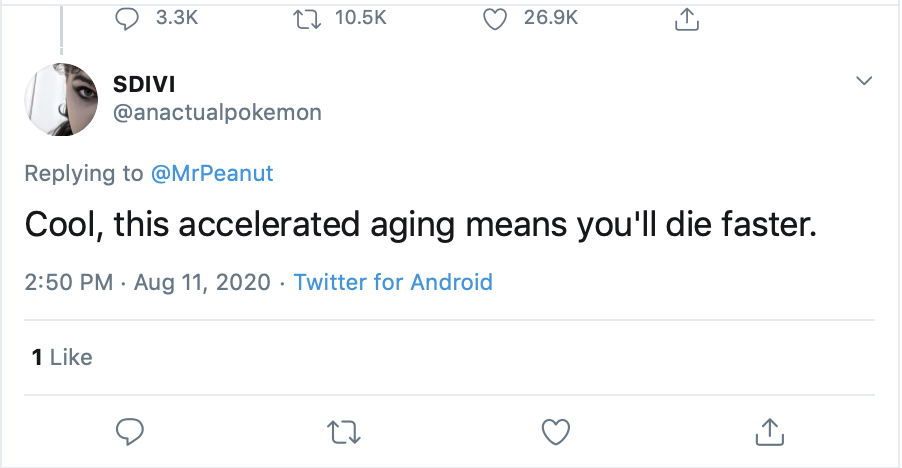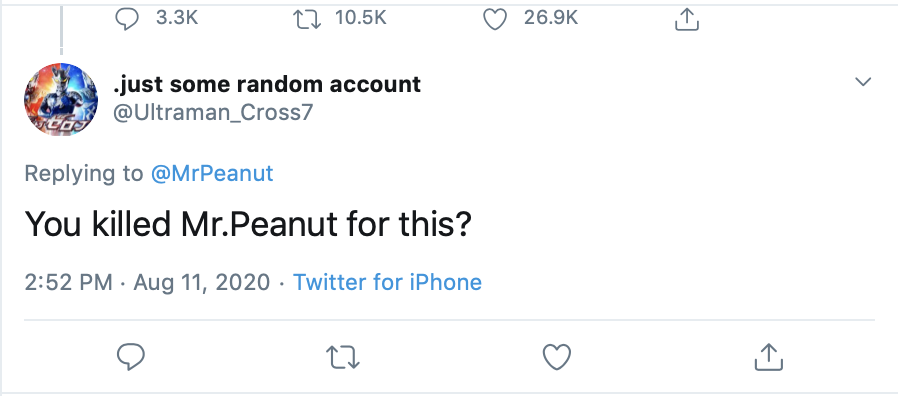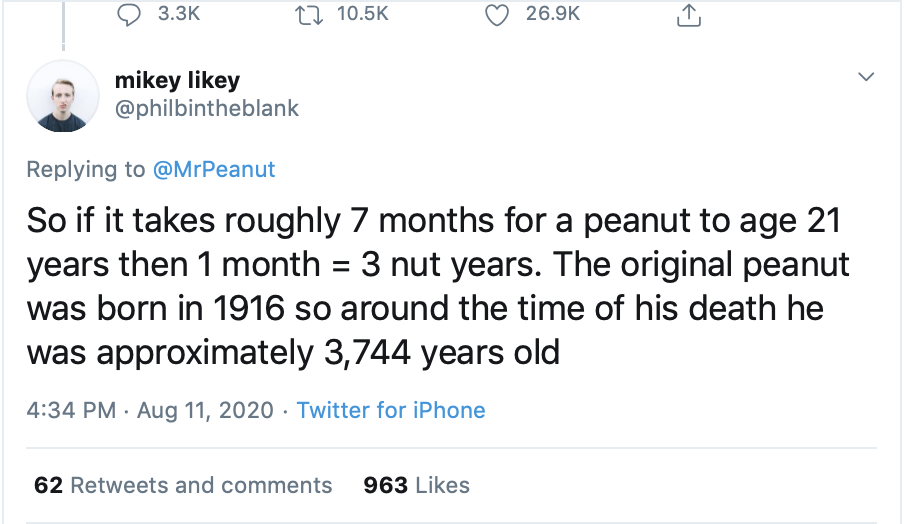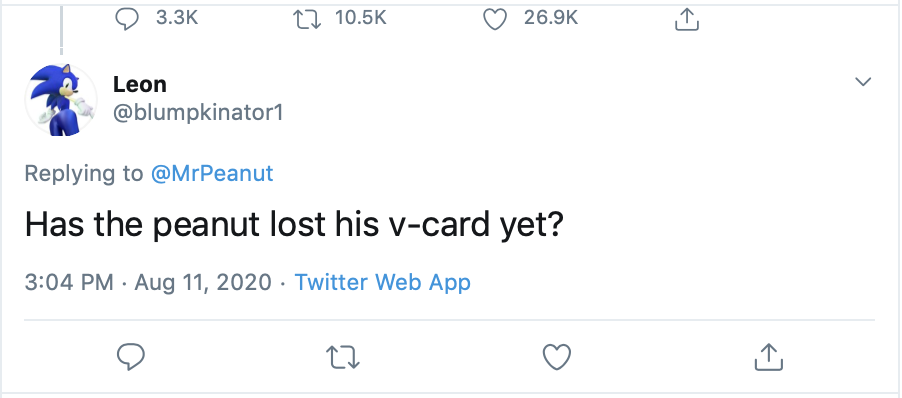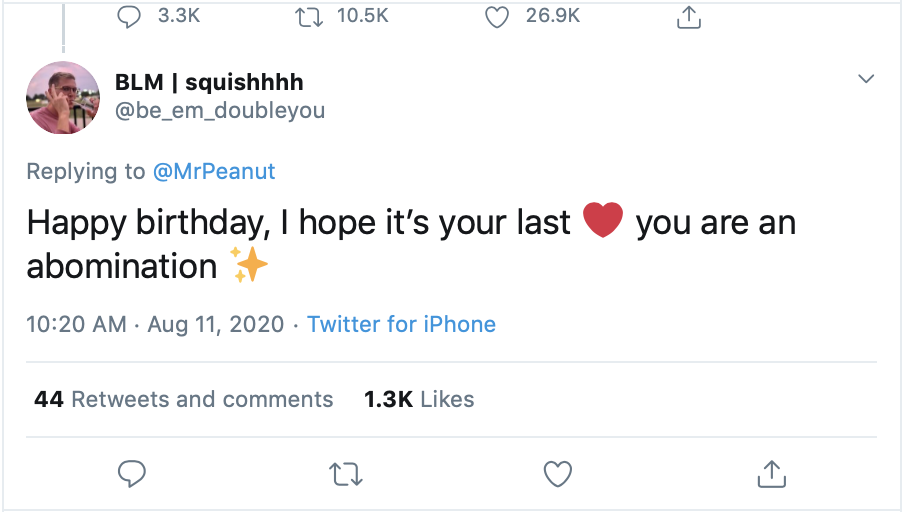 Yikes. Good thing Baby Nut is old enough to drink now…looks like he might need to throw back a few to handle some of these reactions.
To follow Peanut Jr.'s official account click here.
Like what you read? Follow me on Instagram
The Last Blockbuster Store In Existence Is Now Listed On AirBNB
Netflix could never.
Remember how exciting it was to take a trip to Blockbuster back in the 90's? You'd try to get there early enough to rent one of the latest "new releases" before everyone else in the neighborhood got to them. You'd beg your parents for some popcorn and candy which were conveniently placed on the checkout line. And if it was a whole family outing, you'd wander off to look at all the films and games that you were never going to rent but found comfort in knowing you could rent someday. Gosh, it felt like you could spend days inside one of those movie meccas. Well good news, now you can because the last Blockbuster in existence is now listed on AirBNB!
The retailer, located in Bend, Oregon is offering up three one-night stays for up to four guests for folks who want an "end of summer sleepover." The store has added an adorable living room set up which includes a pull out sofa and a big screen tv so guests can binge all their favorite films. Oh and there's snacks! Along with providing ideas for a perfect 90's night the ad also suggests that you should "help yourself to some NERDS, Raisinets and popcorn (heavy on the butter), but make sure you save room for a couple slices."
There is a catch to the whole experience though, the listing is only available to Deschutes County residents. Is it too late to move!?! Manager Sandi Harding explained that the publicity stunt is a response to the newfound economic uncertainty due to the pandemic. "Not much has changed at our store – not even our prices – and that's just how we like it! We think of ourselves as a family, and that includes everyone from the global travelers who come to visit, to the lifelong friends and couples who first met as Blockbuster employees. The Covid-19 pandemic has been a test of our community unlike any other, so we decided to list this stay to keep this tradition alive during these uncertain times."
Such a clever way to keep this iconic 90's treasure trove alive! To check out the AirBNB listing, click here!