Was Gaddafi's Death Predicted By a TV Show Back in 1987?
You really can't change the channel today without seeing the big news of the week: Muammar Gaddafi was captured and killed. Yet, if you were a fan of the short-lived 1987 sitcom, "Second Chance", you knew it was coming all along!
You really can't change the channel today without seeing the big news of the week: Muammar Gaddafi was captured and killed.  Yet, if you were a fan of the short-lived 1987 sitcom, "Second Chance", you knew it was coming all along!
Let me explain…a YouTube clip of the first six minutes of "Second Chance" is making it's way around the web today.  It features show star Joseph Maher as St. Peter in heaven, guiding souls to either heaven or hell.  The second soul he guides is Gaddafi.  And even more ridiculously, the date is listed as July 29th, 2011!
While it isn't the exact date, it's amazing to think that the show was off with its prediction by less than three months!
Check out the video below to see the opening (oh, and also a very young Matthew Perry as the younger version of the guy who gets to live his life over).  The show was cancelled after one season.
Planters 'Baby Nut' Has Somehow Already Turned 21 And People Are Not Loving The News
2020 keeps getting nuttier.
The world was shocked when the iconic Mr. Peanut was killed during a pre-Super Bowl ad earlier this year. There wasn't much time to mourn, however, before a new nut was thrust onto us like back-to-school commercials in July. Yes, after the 59-year-old mascot met his untimely death consumers were introduced to his reincarnate, Baby Nut. With big, expressive eyes and a tiny stature fans began to swoon over the cute branding revamp and accepted him as the new mascot. Well as if 2020 hasn't been crazy enough, Planters just released a new commercial celebrating Baby Nut's 21st birthday and I'm not sure how to feel about it.
I'm officially 21, my friends! Before you ask, yes, I was just a baby. What can I say? It's been a nutty year. Now someone get this peanut a beer! #MakeMyBirthdayNuts pic.twitter.com/P1UfBIi4N8

— Peanut Jr. (@MrPeanut) August 11, 2020
According to a quick Google search, a peanut plant takes 4-5 months to reach maturity. So with Baby Nut being born in February, he is technically right on track in his growth cycle. The OG Mr. Peanut was the reigning mascot for 59 years so does that mean he was actually over 3,000 peanut-years old? The accelerated aging is not explained in the new ad with Baby Nut (Young Adult Nut?) simply saying "it's been a weird year." Reactions on Twitter are largely negative but as always, hilarious. Here are some of the best: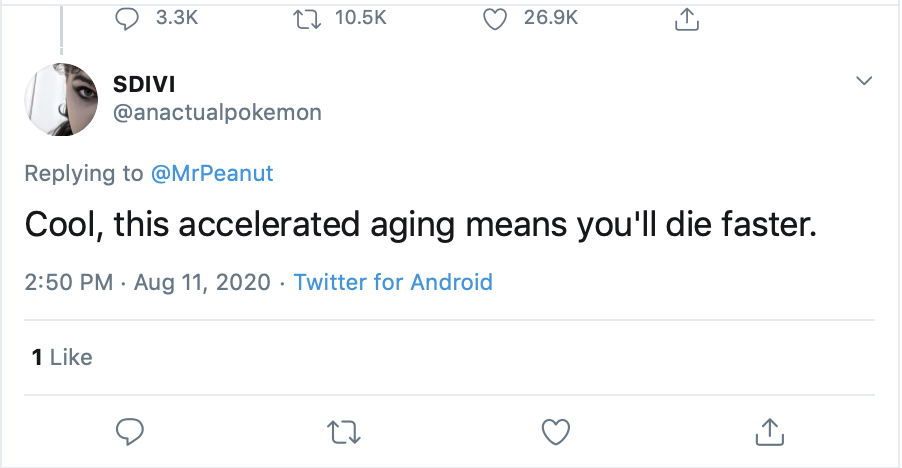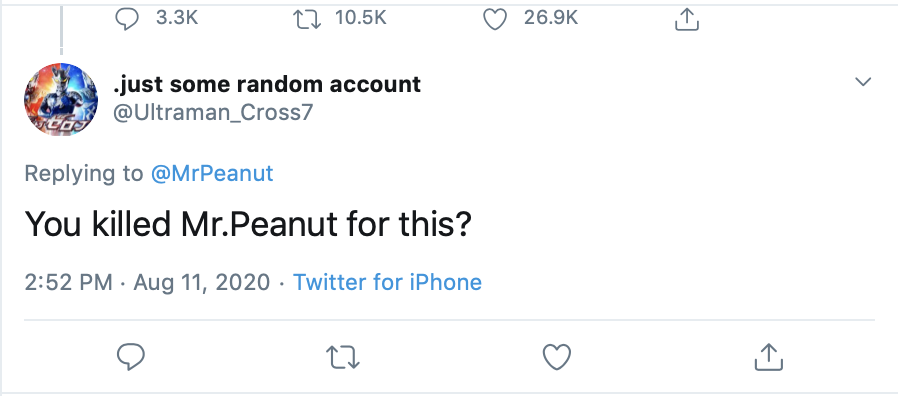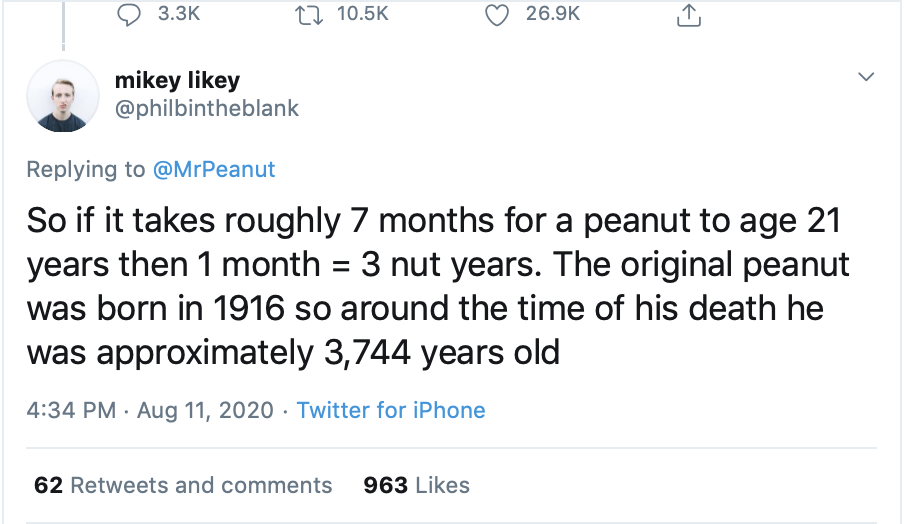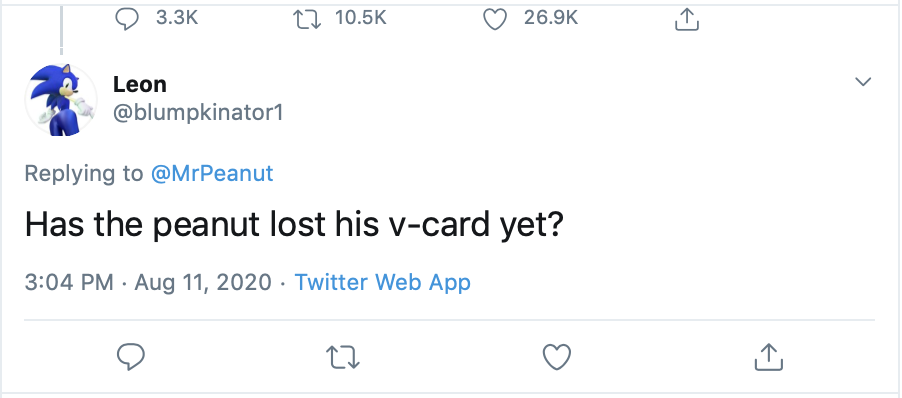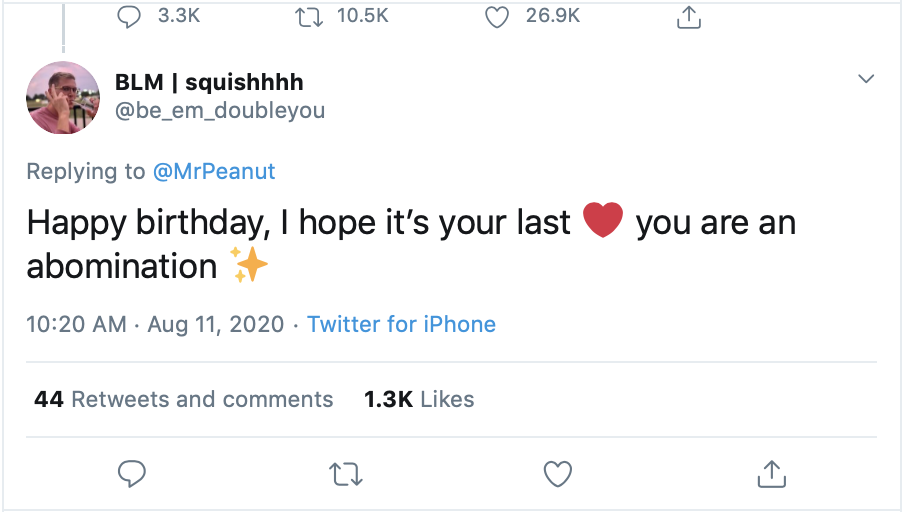 Yikes. Good thing Baby Nut is old enough to drink now…looks like he might need to throw back a few to handle some of these reactions.
To follow Peanut Jr.'s official account click here.
Like what you read? Follow me on Instagram
The Last Blockbuster Store In Existence Is Now Listed On AirBNB
Netflix could never.
Remember how exciting it was to take a trip to Blockbuster back in the 90's? You'd try to get there early enough to rent one of the latest "new releases" before everyone else in the neighborhood got to them. You'd beg your parents for some popcorn and candy which were conveniently placed on the checkout line. And if it was a whole family outing, you'd wander off to look at all the films and games that you were never going to rent but found comfort in knowing you could rent someday. Gosh, it felt like you could spend days inside one of those movie meccas. Well good news, now you can because the last Blockbuster in existence is now listed on AirBNB!
The retailer, located in Bend, Oregon is offering up three one-night stays for up to four guests for folks who want an "end of summer sleepover." The store has added an adorable living room set up which includes a pull out sofa and a big screen tv so guests can binge all their favorite films. Oh and there's snacks! Along with providing ideas for a perfect 90's night the ad also suggests that you should "help yourself to some NERDS, Raisinets and popcorn (heavy on the butter), but make sure you save room for a couple slices."
There is a catch to the whole experience though, the listing is only available to Deschutes County residents. Is it too late to move!?! Manager Sandi Harding explained that the publicity stunt is a response to the newfound economic uncertainty due to the pandemic. "Not much has changed at our store – not even our prices – and that's just how we like it! We think of ourselves as a family, and that includes everyone from the global travelers who come to visit, to the lifelong friends and couples who first met as Blockbuster employees. The Covid-19 pandemic has been a test of our community unlike any other, so we decided to list this stay to keep this tradition alive during these uncertain times."
Such a clever way to keep this iconic 90's treasure trove alive! To check out the AirBNB listing, click here!
Disney+ Series 'Muppets Now' Reveals Shocking Detail About The Swedish Chef
Bork, Bork, Bork?!
If you haven't taken the time to check out the new Disney+ series Muppets Now, stop reading and start streaming! The improv sitcom is an unscripted, segmented series in which our favorite fur-covered friends put together a digital show. Think The Muppet Show meets millennials. I watched the first episode, which became available for streaming as of July 31st, and I smiled through the entire thirty minutes. It's cute and campy and reminds us all why we love The Muppets so much. I was enjoying the childhood nostalgia of seeing Kermit the Frog, Fozzie Bear, Miss Piggy and the rest of the gang when suddenly our favorite gibberish-spewing chef came on the screen to partake in a cooking challenge. Of course I was prepared to giggle at the Swedish Chef's horrendous attempt at cooking but I was immediately distracted and could only focus on one shocking detail!
Did you see it? Can you see what I was distracted by?! The stached Swede is wearing a wedding ring on his left hand! The Swedish Chef is married?!?!
I mean, sure, it's not surprising with the sexy foreign accent and killer eyebrows but still, I would have never guessed the chef had someone waiting at home for him! Since the chef is one of the few Muppets to actually feature human hands, I first thought the ring might have belonged to a neglectful puppeteer who forgot to take off their ring. But I did a quick Wikipedia search and apparently the Swedish Chef has been donning the gold ring since 2010 and is known to be married!
I guess there truly is a lid for every pot.
Muppets Now is now available for streaming on Disney+.
Like what you read? Follow me on Instagram