Hugh Hefner Wasn't Sure About Lindsay Lohan Pictorial At First
Hugh Hefner tells PEOPLE Magazine that he wasn't initially sold on putting Lindsay Lohan on the cover of Playboy Magazine.
Hugh Hefner tells PEOPLE Magazine that he wasn't initially sold on putting Lindsay Lohan on the cover of Playboy Magazine.
"The concept came from my editors… I had mixed emotions to begin with… I could not have anticipated, quite frankly, that it would turn out to be such a sensational newsworthy event, or that the pictorial would turn out so well."
Hefner still hasn't met Lohan in person, but acknowledges, at least based on what he has read and heard of Lohan that the 25 year old is "carrying around some serious luggage."
"Historically, Playboy pictorials are connected to celebrities at various times in their career … Sometimes it's the beginning of their career and sometimes it comes at a particular moment – as with Lindsay – that is intended as a turnaround."
Hefner told PEOPLE that Lohan could compare her decision to pose to Drew Barrymore's past appearance on the cover of the magazine, which came at time when she was not doing well professionally. Barrymore has gone on to great success as both and actress and a producer.
Hefner also acknowledged that some of Lohan's reps would have preferred, and voiced so, that she did not pose fully naked. But for Hefner, it was a requirement.
"Some of the people around her said, 'No, no, no, I don't want her nude … And I said, 'No, this is how it's going to be. This is how it is."
If Hefner had any doubts before, they're certainly appeased now. Even after (or perhaps due to) the leak of the photos, the magazine has been a huge publicity blitz, and the issue is reportedly flying off newstands.
For more celeb news, follow @BrianBalthazar on twitter!
Laura Dern Honors Her Parents In Touching Academy Award Win Speech
Laura Dern, who has been slaying awards season this year for her role in "Marriage Story," took home the ultimate prize – a Best Supporting Actress Academy Award – and thanked her actor parents in a touching acceptance speech.
Her parents, actors Diane Ladd and Bruce Dern brought her to the Oscars with them when she was just 7 years old.
"Some say never meet your heroes. I say if you're really blessed, you get them as your parents. I share this with my acting hero my legends, Diane Ladd and Bruce Dern. You got game. I love you."
Dern's mother has been nominated three times, her father twice, but neither have won. Her mother can be seen during the speech crying in the audience.
Congrats Laura!!!
POP UPDATE: Justin Bieber, "Friends" For Life, And The Critics Choice Awards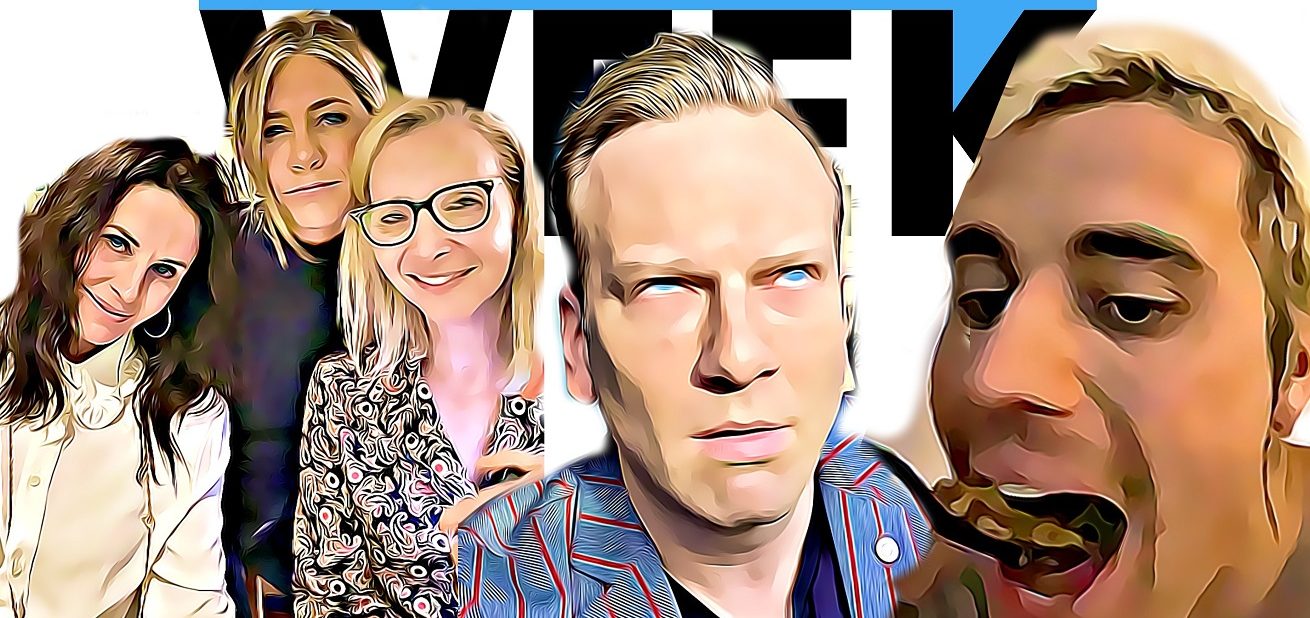 We're going to be doing some quick video updates whenever we can! Here's the latest! Justin Bieber begging for streams, (while you can hear him chew – ew), the ladies of Friends reunited, and mother nature. Take a look!
Courteney Cox's Instagram Caption Is Every Parent With A Teenage Kid
Have you heard? It's 2020 and we're all supposed to music videos on TikTok. Courteney Cox is no exception. The TV star posted an instagram of her and her daughter Coco dancing it out, with the hilarious caption, "Wanna see your child lose their patience? Do a TikTok with them."
Also, how long does it take to actually learn one of these routines? It seems very time consuming.
What I was really hoping for was video of her daughter losing her patience, but what we got was a pretty strong routine!