Sinead O'Connor Beats Kim Kardashian's Record for Shortest Marriage of the Year
People were making a huge deal about Kim Kardashian's 72-day marraige. Well now, Sinead O'Connor has them beat…by a lot!
People were making a huge deal about Kim Kardashian's 72-day marraige.  Well now, Sinead O'Connor has them beat…by a lot!
According to Access Hollywood, O'Connor says that her marriage to therapist Berry Herridge is over after just 18 days!
The singer made the announcement on her website yesterday, saying that the divorce was forced upon the pair by people in her husband's life:
"Entitled as they are to their opinions about me many perhaps well deserved, there was no righteousness on anyone's part to put my husband through what he was put through as a result of his desire to be with me and to marry me and as a result of his actually marrying me…Within 3 hours of the ceremony being over the marriage was kyboshed by the behaviour of certain people in my husband's life. And also by a bit of a wild ride I took us on looking for a bit of a smoke of weed for me wedding night, as I don't drink…My husband was enormously wounded and very badly effected by that experience and also by the attitude of those close to him toward our marriage. It became apparent to me that if he were to stay with me he would be losing too much to bear."
And if you love someone, O'Connor says, you have to do what's right by them, no matter how hard:
"A woman wants to be a joy to her husband…So.. U love someone? Set them free."
The couple tied the knot in Las Vegas on December 8 in the back of a pink Cadillac, ironically at the same chapel where stars including Britney Spears and Elvis Presley once got married.
It was O'Connor's fourth marriage.
Laura Dern Honors Her Parents In Touching Academy Award Win Speech
Laura Dern, who has been slaying awards season this year for her role in "Marriage Story," took home the ultimate prize – a Best Supporting Actress Academy Award – and thanked her actor parents in a touching acceptance speech.
Her parents, actors Diane Ladd and Bruce Dern brought her to the Oscars with them when she was just 7 years old.
"Some say never meet your heroes. I say if you're really blessed, you get them as your parents. I share this with my acting hero my legends, Diane Ladd and Bruce Dern. You got game. I love you."
Dern's mother has been nominated three times, her father twice, but neither have won. Her mother can be seen during the speech crying in the audience.
Congrats Laura!!!
POP UPDATE: Justin Bieber, "Friends" For Life, And The Critics Choice Awards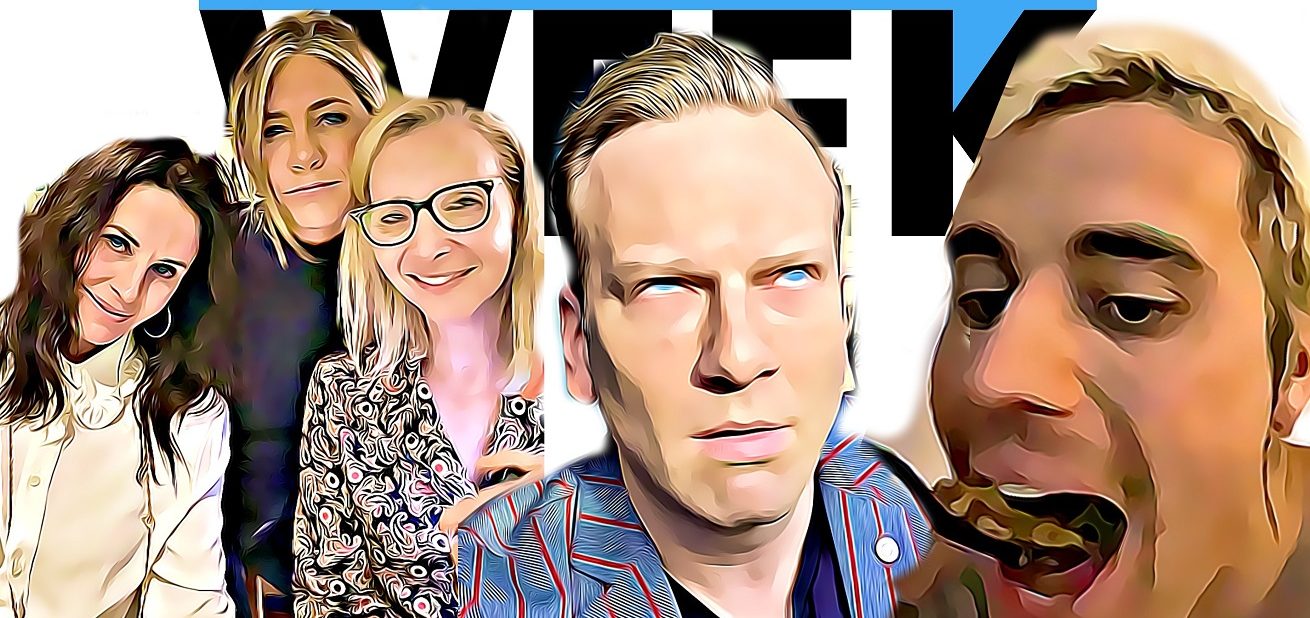 We're going to be doing some quick video updates whenever we can! Here's the latest! Justin Bieber begging for streams, (while you can hear him chew – ew), the ladies of Friends reunited, and mother nature. Take a look!
Courteney Cox's Instagram Caption Is Every Parent With A Teenage Kid
Have you heard? It's 2020 and we're all supposed to music videos on TikTok. Courteney Cox is no exception. The TV star posted an instagram of her and her daughter Coco dancing it out, with the hilarious caption, "Wanna see your child lose their patience? Do a TikTok with them."
Also, how long does it take to actually learn one of these routines? It seems very time consuming.
What I was really hoping for was video of her daughter losing her patience, but what we got was a pretty strong routine!