Jessica Simpson, Naked and Pregnant on Elle Magazine Says "It's A Girl!"
Jessica Simpson is on the cover of ELLE – posing nude from the neck down but draped in two hours worth of hair and makeup from the neck up. In the interview she assures us she won't name the kid something crazy like 'banana' or whatever those kooky celebs like to name their kids.
Ever since Demi Moore did it, it seems like the pregnant nude but tastefully posed magazine cover is a rite of passage for many new mom-celebrities.
I'm generally not a fan, because we all know that the person spent no less than two hours in hair and make up to attain that 'natural beauty' shot.
In any case, Jessica Simpson is doing just that on the cover of Elle, and announces that her first baby is a girl!
Thankfully, she's assuring the public that she won't go nuts with the baby name and call it 'soup' or 'banana' or whatever the stars like to name their kids these days. She's going traditional:
"It's nothing shocking and nothing you'll have to add to the dictionary. Still, when people hear it, they'll know … why."
Thank you!
Simpson, appearing on the upcoming NBC show "Fashion Star," half-jokes about her concern that the child, whose father is former NFL player Eric Johnson, will be more the sports type than the dress-up type.
"I swear, I will croak if she asks me for a pair of Nikes instead of Christian Louboutins!  … Eric is so athletic — we're gonna have this athletic girl and I won't even be able to take her shopping, 'cause all she's gonna want is sports bras and Nikes!"
Well, so much for unconditional love! We kid, we kid…
Best of luck to the happy couple! Now go put some clothes on!
For more entertainment news, follow @BrianBalthazar on twitter!
Chrissy Teigen's 'World Famous T***y Biscuit's' Receive Some Hilarious Reactions
Hey, her biscuits are down there man.
Does your mouth ever water when you watch cooking shows like Barefoot Contessa or 30 Minute Meals? Well if you saw the dough-rolling-hack Chrissy Teigen posted over the weekend, you might be drooling for a whole different reason.
The supermodel mom is not only known for her beauty and her humor, she is a great chef too. Her website CravingsByChrissyTeigen features dozens of fun recipes that all look delicious. Well one recipe you won't find on her website (although I really hope she puts it in her next cookbook) is her "World Famous Titty Biscuits." On Twitter, Teigen shared a video where she is rolling out biscuit dough with a wine bottle and let's just say the blouse she is wearing highlights her biscuits perfectly. Biscuits which have recently been reduced by the way. Teigen took to social media in June to share the news that she would be removing her breast implants to improve her quality of life.
Making my world famous titty biscuits! pic.twitter.com/rJiOkBOFIj

— chrissy teigen (@chrissyteigen) July 4, 2020
Leave it to Twitter to come up with some priceless reactions to the video of course. Some haters chimed in but we can only assume it's out of jealousy as they just wish their biscuits were as fluffy as Teigen's. The rest of the comments were pure comedy. Take a look at some of the funniest.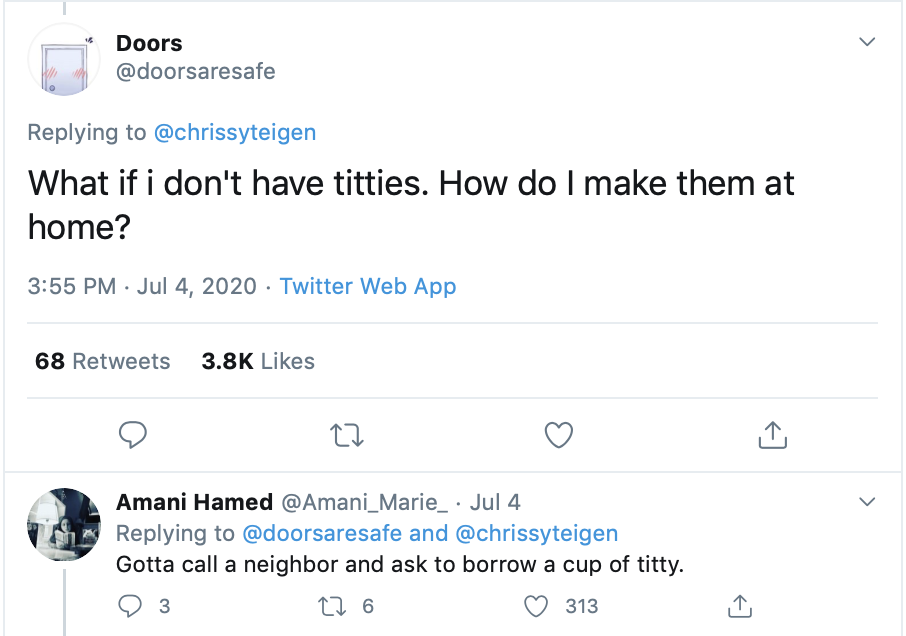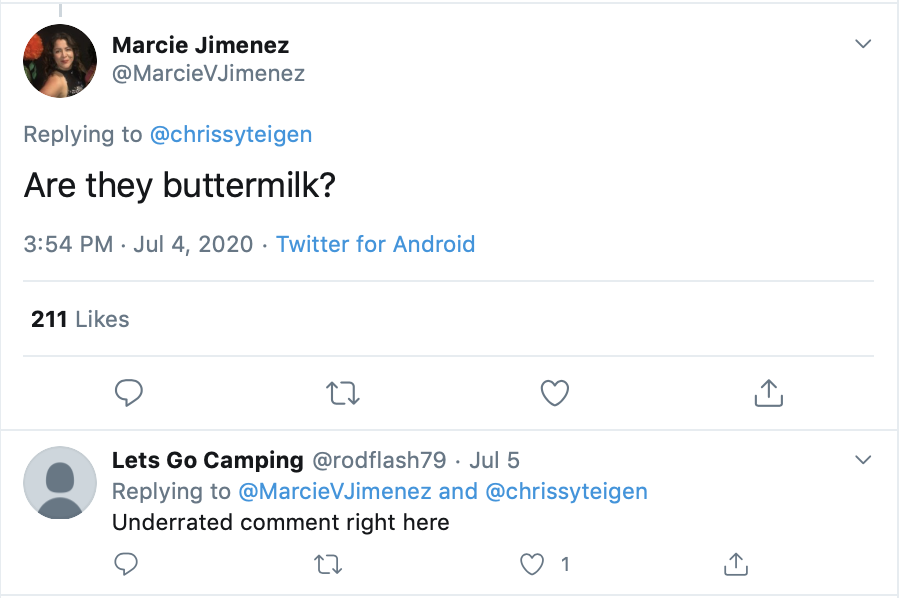 To follow Chrissy Teigen in all of her comedic adventures click here. For more cooking tips and tricks click here.
Like what you read? Follow me on Instagram
Kelly Ripa Shared A Sexy Picture Of Marc Consuelos And Warns More Male Nudity To Come!
July's heat ain't got nothing on Mr. Consuelos.
Ok let's be honest when someone shares a thirsty photo of their new man on social media it's cause for an immediate eye roll…unless of course you're Kelly Ripa showing off your hunky husband of over twenty years in which case that eye roll turns into tongue wag.
On Wednesday, the Emmy award winning talk show host took to Instagram to show off a photo of her incredibly buff husband Marc Consuelos. The 49-year old actor has bulked up for a two reasons; 1. He plays an ex-fighter on Kingdom which is now available for streaming on Netflix and 2. I needed a new wallpaper on my phone. In any event, the impeccable physique is obviously stunning as is the affection this couple shares after their nearly 25 years of marriage. In her caption Ripa wrote:
"KINGDOM is out on @netflix today! Warning: this show is brilliantly written, beautifully acted and jam packed with male nudity 🔥🔥🔥 you've been warned."
Now that's a heat advisory I can get behind. Check out the hunky photo below and tune into Kingdom on Netflix!
Like what you read? Follow me on Instagram
Celebrate The Last Day Of Pride Month With Megan Hilty's Beautiful Rendition Of 'The Rainbow Connection'
🎶For all the lovers, the dreamers and LBGT.🎶
With only a few hours left to celebrate the magic of Pride month, the LBGTQ+ heavens opened up and sent down one more gift. Megan Hilty.
The Smash star gave a special Pride performance of the appropriately-themed classic "The Rainbow Connection" for ABC's LA! Pride and of course she crushed it. The song was first sung by Kermit the Frog in the 1979 film The Muppet Movie and shares a message of hope and inspiration which obviously resonates strongly with the LBGTQ+ community. The only way Hilty's rendition would be better is if she was covered in Muppet fur honestly.
The Broadway belter captioned the post with a sweet sentiment which read "Happy #pride🌈 kids! It doesn't end today. Be proud of who you are every day of the year, and find your rainbow connection. 💕✨" And she's right, every day should be filled with Pride!
Check out the moving performance below and Happy Pride y'all!
Like what you read? Follow me on Instagram