BEHIND THE SASH: How I Judged The Miss Tennessee USA Pageant And Learned Something In The Process.
I agreed to judge the Miss Tennessee USA pageant because I thought it would make for a great story … It was all that and more.
On October 6th, 2012, Brenna Mader, a lovely, smart, and charming young woman from Davidson County, Tennessee was crowned Miss Tennessee USA 2013. As Miss Tennessee she is offered a scholarship, and will compete to become the next Miss USA. I was a judge during the competition. Below is the moment she learned she won. And while the experience of a pageant was a whirlwind of excitement for these women, the same could be said for me. I left surprised at the emotional journey I found myself on. After the video, read about my experience behind the judges table.
Watch as Brenna Mader wins the Miss Tennessee USA Crown. Her enthusiasm, excitement, and humor are evident in the clip…
BEHIND THE SASH – MY OWN EXPERIENCE JUDGING A PAGEANT
    I don't mind admitting that I will do almost ANYTHING I think will provide for good storytelling later on. 
In the course of my adult life, I have done some unusual things: gone without sleep to sell furniture in the middle of the night for QVC, performed as a singing and dancing waiter on a cruise ship, introduced Joan Rivers to a series of online dates, even worked as a handler for a trance medium who spoke to the dead. I have built myself quite an arsenal of cocktail party stories, so I'm always trying to raise the bar for myself. The opportunity to judge a pageant was a no-brainer! Like so many people, I had my own wild ideas about what it would entail. But much like Sandra Bullock in "Miss Congeniality," I walked away from the experience enlightened, enriched – and with new friends I will keep for a lifetime.
Okay, full disclosure: before saying yes, a whirlwind of entertaining scenarios danced in my head. I had all those ubiquitous stereotypes about pageants that you might: A gaggle of women slapping Vaseline on their teeth, applying two-way tape on their swimsuits to hold their bikini bottoms in place, and stuffing tissues in their bras in hopes of putting forth some unattainable image of the perfect woman. And I hadn't even considered the cat-fighting yet! "Okay," I told myself, "I HAVE to do this!" Plus, I would get to write my own 'question' for one of the finalists, and how many people can say they've done that?!? Sure, some people question the underlying message pageants convey – but storytelling was going to win out over that for now.
(At right: It's official – I'm judging… it says so in the Official Miss Tennesee USA Magazine!)
Before you weigh the arguments for and against pageants, take a moment to step back and look at the world we live in now, and you'll find that in fact, pageants are surprisingly wholesome. Look no further than tabloid magazines or television to see we often reward shallowness, foolish, or even dangerous behavior. America's Next Top Model is a competition based solely on the photogenic nature of women who are often frighteningly skinny. I was surprised to find that while the pageant did in fact have a swimsuit competition, these women were in fact FIT and healthy looking. Kim Kardashian has become a worldwide sensation, building an empire on what began as a sex tape. In pageants, having nude photos and a sex tape will actually get you disqualified.
On top of all that, these women were articulate and socially conscious.. All of them were involved in public service of some kind, and each had a social platform they were hoping to share with the world if they won. In a world that is quickly going the way of 'do anything to get attention,' these were young women with specific plans and goals. In meeting each of the contestants individually, I was pleasantly surprised again and again by the smart, mature young women with promising futures that sat before me.
During this a particular pageant weekend, I was serving as the judge on Miss Teen Tennessee and Miss Tennessee USA. Make no mistake, this is important for these women, and for their communities. The winners become local celebrities, and many do go on to enjoy career opportunities as a result.
My fellow judges: Me, (in loud plaid – we know who will regret THAT someday) Miss Tennesee 2006 Becca Lee Nelson, former NFL defensive back Blaine Bishop. Miss USA 2005 Chelsea Cooley (a fast friend and my partner in crime throughout,) and television producer and general smartass Ray Sells.
Before the formal pageant event, the judges meet each and every contestant for a one-on-one interview. It's a great way to get an up close look at them, and get a better sense of their personality. The winner will be invited to speaking engagements and personal appearances all across her state, and she needs to be intelligent, articulate and charming. The last thing you want is an inarticulate pretty-girl. Yes, smarts matter.
(at left: the pageant stage is set… but first some interviews…)
Okay, sure, there were some funny moments. One contestant boasted a talent for telling riddles. After two examples, I wasn't sure I agreed. (She was adorable nonetheless!) Still another claimed an ability to turn her arm 360 degrees. I did not ask for a demonstration… I have a weak stomach for that for that sort of thing. Okay, there were a few more memorable moments, but I digress.
Truth is, I feel a tad guilty telling these tales out of school, because for the most part, I really fell for these girls. Most of them were truly charming, ambitious young women who were chasing a dream. Some even acknowledged that they knew already that they probably wouldn't win, but they just wanted to go for it and have fun, noting that the competition was much more camaraderie than rivalry, and that in fact, doing so, even without winning, helped them build confidence and self-esteem. Consistently, each woman I asked said that in fact, these competitions were not the back-stabbing slugfests you might expect. Backstage, these were women helping women, having fun along the way. Oh my gosh – that scene in Miss Congeniality really was right!
Every now and then you'd come across an amazing story that would leave you moved. One such case was a young woman who was once a refugee in Africa. With the help of her uncle, she was able to come to America, but it meant leaving her mother behind. She went 12 years before seeing her mom again. Her journey was difficult, and not without sacrifices. Now a U.S. citizen, this young woman's eyes were bright and beaming – she was extremely honored and proud to be an American – and it showed in a way rarely demonstrated by people born here. When I asked her who in her life has had made the biggest impression on her, she named the uncle who helped bring her to this country. She choked back tears of gratitude, speaking of how her life had been changed forever, and that never in a million years did she ever imagine she would be competing in the Miss Tennessee pageant after what had been a poverty stricken, desperate childhood. I choked back tears with her. At this moment, and several others during the interview sessions, I wanted to hand her, and many other women that crown. The beauty of this few minutes was that at this moment, this young woman, by being there, already felt like she had won.
There were countless women who had overcome remarkable challenges in their lives, and women with an amazing record of public service for people so young. The truth is, any number of these women would have been a fantastic representative for their state. With four colleagues as judges we took our decision quite seriously, and are very proud of our choice. I expect great things from her, and many of the other ladies we met over that three days. Just as these young women had bonded through their experience together, so had we as judges. I remain in touch with them today and plan to for years to come.
By the way, I never did see and of the Vaseline and double sided-tape on the swimsuit stuff. (Although, the judges were kept far and away from their preparation area, so I'd like to think that there is still a fair amount of hairspray and false eyelashes flying.) But what I did see was an amazing group of people on that stage. Sure, there were some funny moments, but I already feel protective of these young adults – and only want success for them. I'm confident that each of them can achieve it.
I know that only one of them can win, and that feelings will be hurt… but I also know that each of these women have such potential for greatness, and will still accomplish things they never dreamed of. I eagerly await seeing it unfold.
For more tales from the POP side, follow @BrianBalthazar on twitter!
A special thanks to Kim Greenwood, Executive Director of Greenwood Productions, a wonderful woman who introduced me to this process and these amazing women. She has been producing these events in Tennessee, Georgia and Mississippi for 20 years.
Watch Brian Balthazar and Wendy Williams Talk About What's Trending Now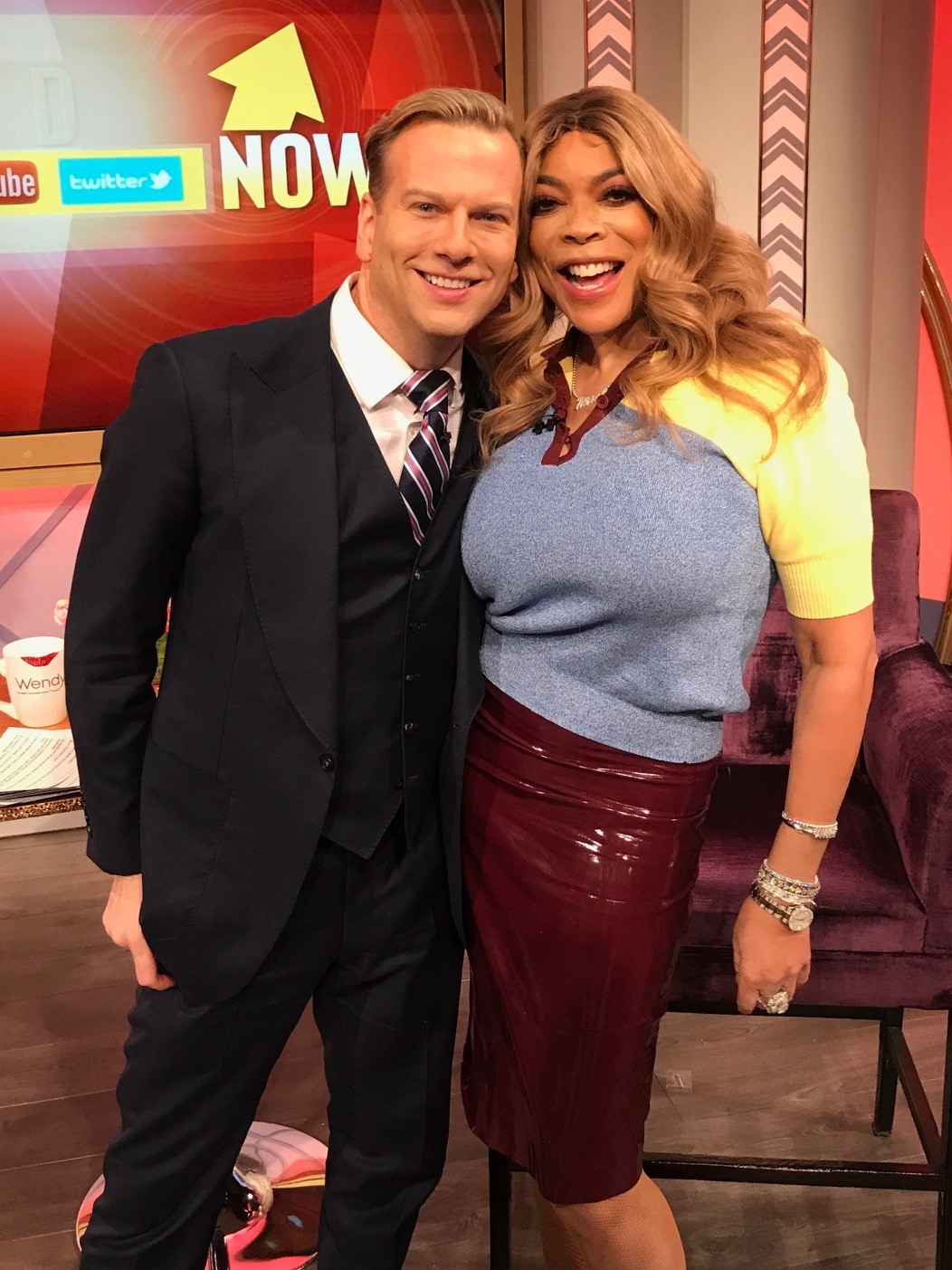 Always SO much fun going on the Wendy Williams show to talk about what's trending! In this case, the best part (for me at least!) was wearing a creating by art director Michael Lee Scott, who recreated the iconic hat worn by Billy Porter at the Grammys! What a recreation!
Brian Balthazar Billy Porter Hat
Wendy Stuart Kaplan Knows How To Party – Now She's Throwing An Epic One Of Her Own!
Wendy Stuart Kaplan knows her way around a party. In her book, 'She's The Last Model Standing," she wrote about her headline grabbing days at Studio 54, and now throws more than a few of her own. The latest is her "Reading For Filth" and her birthday extravaganza, where she, hosts Eileen Dover and Nick Lion and others (including yours truly!) will perform a collection of wildly entertaining essays, poems, comedic rants and more. The kind of person who is so 'on the go' you get exhausted just thinking about it (she, however, does not) I caught up with her as she was taking a break between a radio show, a modeling job and a party tonight. If you want to catch up with Wendy, you have to be flexible… she's probably got a full schedule that day! Her party this Friday is one that will not only celebrate a wildly varied and entertaining life, but also celebrate the spoken word from a variety of performers.
Anyone who's ready your book "She's The Last Model Standing" knows you've been partying since studio 54 – when did you first realize you were a party girl?
I first realized when I came back to New York after college! I wasn't until then, because there was no good place to party.
Where did you go to school?
SUNY Binghamton where I majored in anthropology – and then I went to Nigeria! I definitely enjoyed partying eventually, but back then I really, really wanted to go to Africa, which I did! I have gone back often, most recently to work on my documentaries.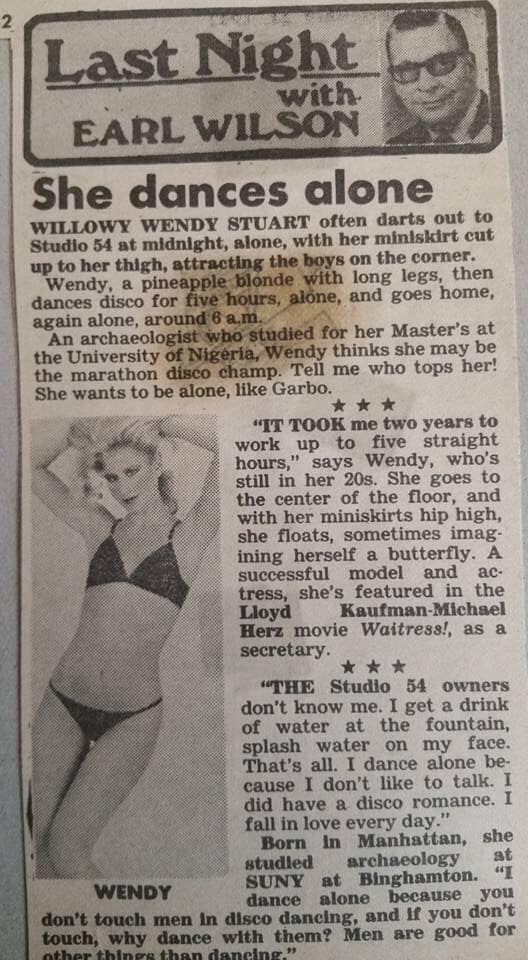 That's wild! But it's not surprising to hear of that passion since you make films about wildlife conservation there. But your festive side eventually DID come out! We all know you now as a social butterfly! Whether you're at a party, or working a film premiere – but were you as confident and comfortable in the spotlight as a kid as you are now?
I was an oddball kid. I had two things: I had my friends in the Bronx, and the ones that I had in school and they didn't mix all that well. I loved growing up there, that was home – but I remember as a kid I would get stomachaches before parties! How weird is that? Until you asked me I had forgotten all about that.
What were you worrying about?
Social pressures – what if nobody talks to me – oh my god, I'm not pretty. I had a short mop of brown hair because my mom thought I looked better with short hair, and I had chubby cheeks. I didn't love that look. I used to put on wigs as a kid and imagine myself with long blonde hair!
And here we are!
Here we are, right? Long blonde hair. I morphed into it. I'm totally self made!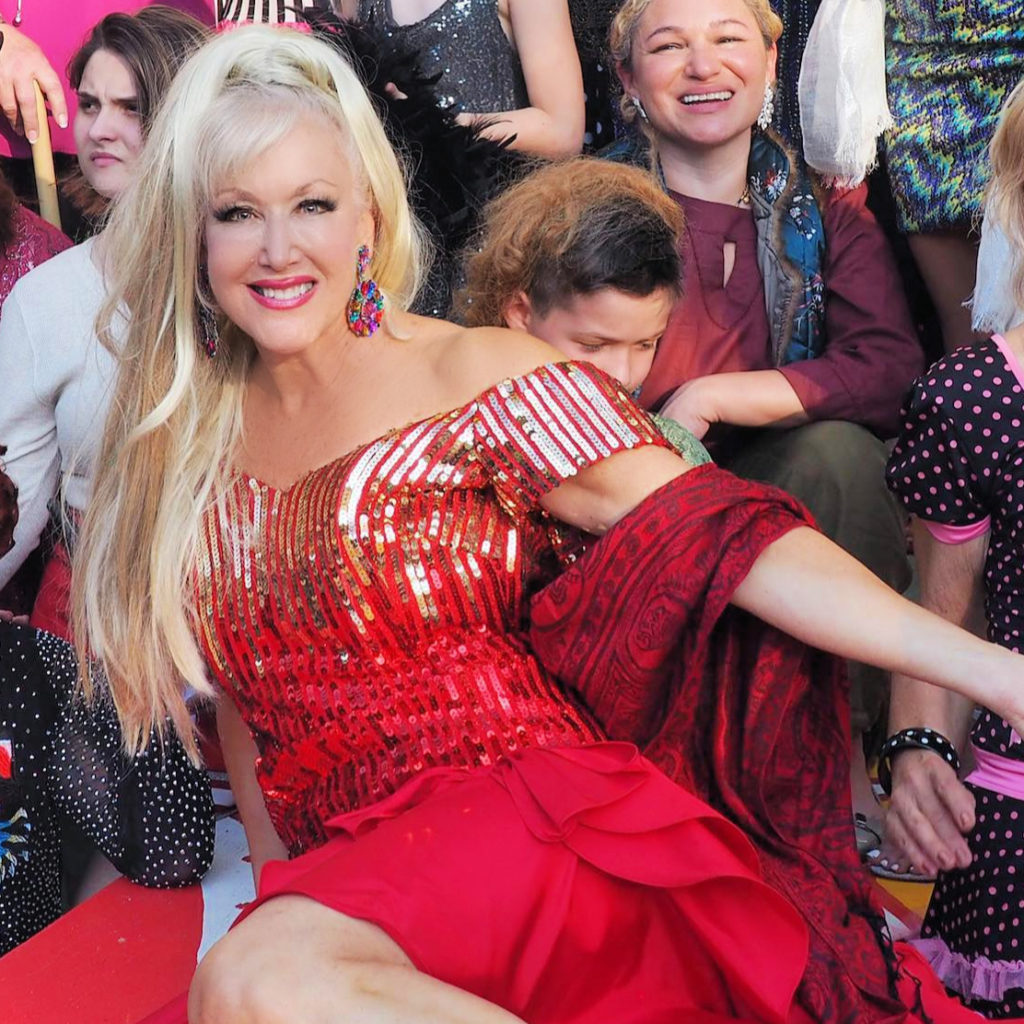 Tell me more about Reading for Filth – your event this Friday at Club Bedlam.
Reading for Filth came about when Brian Butterick, also known as Hattie Hathaway, used to have these events. One had the byline, "low rent reading for a high rent city." Reading for filth is an expression for 'I'm going to read you to filth,' as in, "I'm gonna tell you what I really think." The performers would do a reading of their choice. Something personal, maybe about an old boyfriend, or something someone else wrote, and they'd get up and read it in front of a room. At the last one we had, Michael Musto read from Suzanne Somers' poetry book. I didn't even know she wrote poetry… here the same person who wrote about African violets is also behind the Thighmaster! Brought me to tears! I imagine her thighs going back and forth as she sits next to a table with a sole African violet in its little pot, which inspired her to write the poem.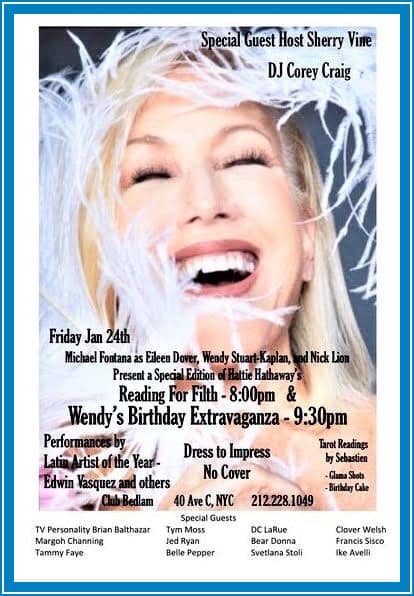 The reason we chose to open my birthday party with it is, when Hattie passed away, my friend and partner in crime Michael Fontana (Eileen Dover) really wanted to keep it going. We say it's such a downtown New York thing but it's a New York thing. It's a nationwide thing. Think about what's hot right now: storytelling. And here we have had Reading for Filth going on long before all that other stuff. Brian Butterick had been doing it for six to ten years. He was very ahead of his time. We brought it back this past year.
You love people and being around them, entertaining them, but you also love your home life – please describe your NYC living situation. You have a beautiful place… but describe your roommates.
Well, we will have to go back about 30 years when I got my first rabbit. I haven't lived without one for 30 years, so when one dies I always have one in the wings. Fast forward to now, we always have two rabbits. It's nice if they have another rabbit to hangout with. Also, 33 years ago we got a baby cockatoo, named her Louise, fed her formula, and she is now hanging out with me in my living room. Did I also mention our blue merle chihuahua?
In my New York apartment everyone is loose. No one is caged. Everybody is trained to go on those wee-wee pads you buy for dogs, and everybody goes on a wee-wee pad including the rabbits… but not the dog.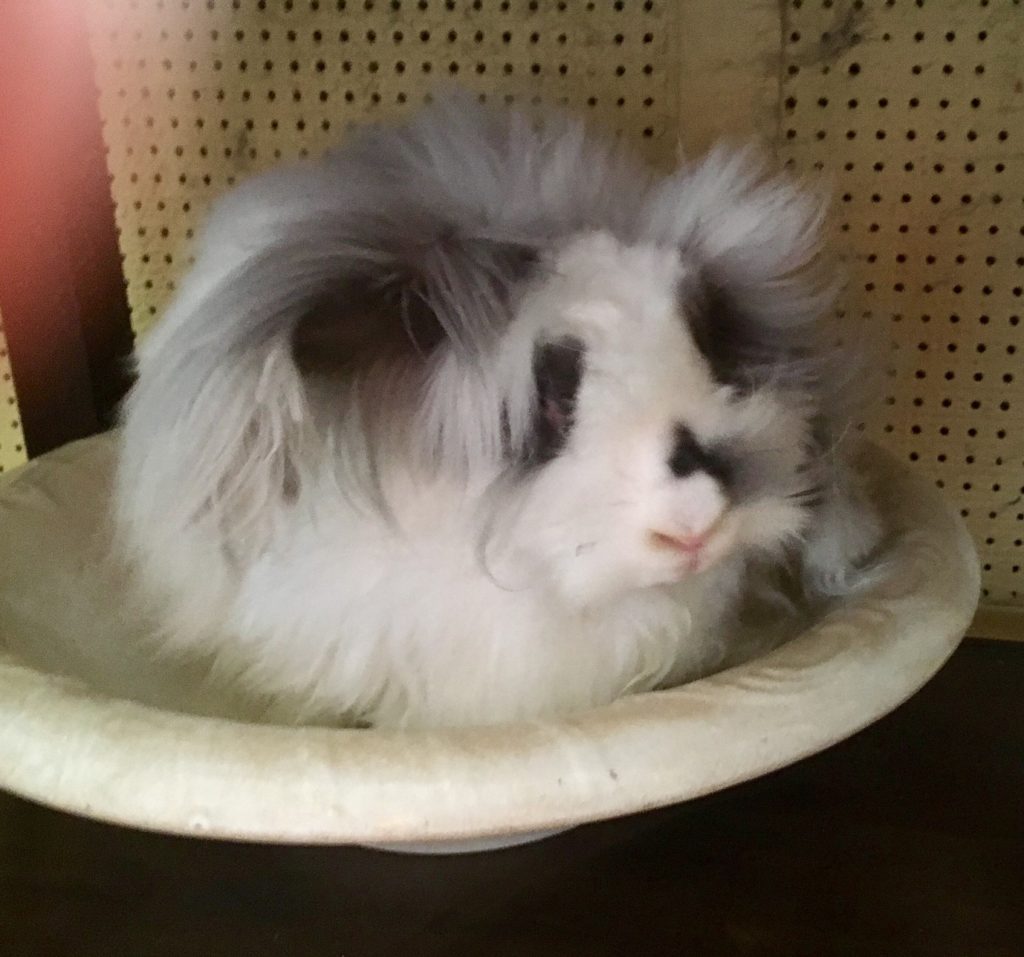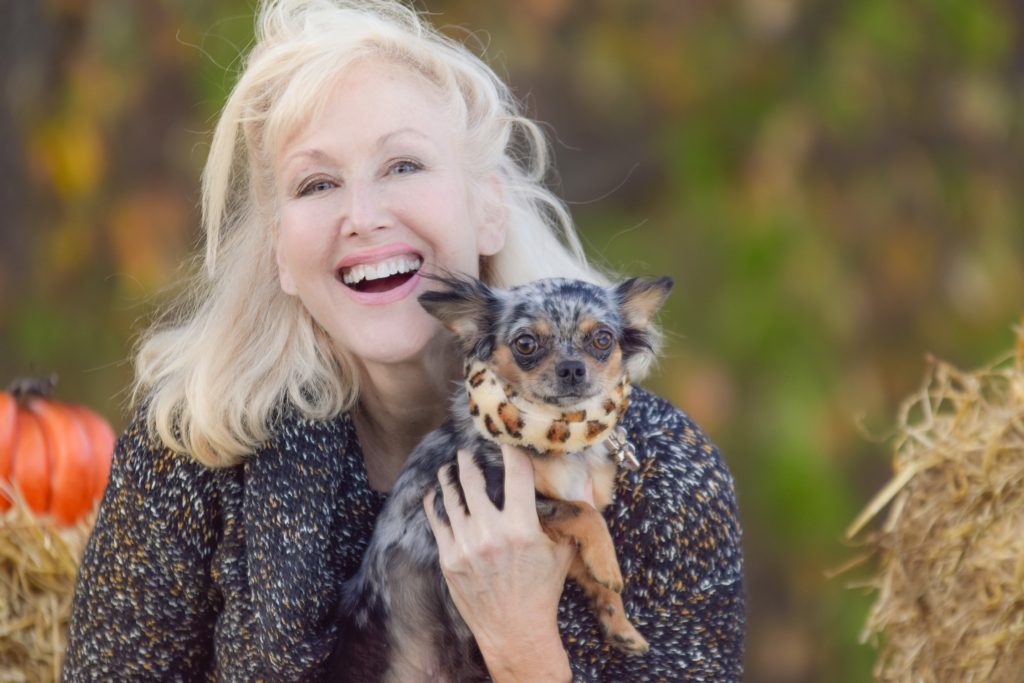 You know how to party – we know that – your wedding was no exception…describe your epic wedding.
So my wedding was 32 or so years ago. I should know that! Alan (a renowned photographer) and I got married in our huge loft, and you had to come dressed as members of a bridal party. It was on Halloween – you could be a bride, or a groom or a bridesmaid. The only problem was a lot of people thought it was a costume party and not an actual wedding. So we had people dressed as bridesmaids with five o'clock shadows and brides with full beards. They thought this was just going to be a big loft party – because we always gave huge parties – and not a wedding. But it was actually our wedding. I didn't get many gifts because no one took it seriously. I won't make that mistake again!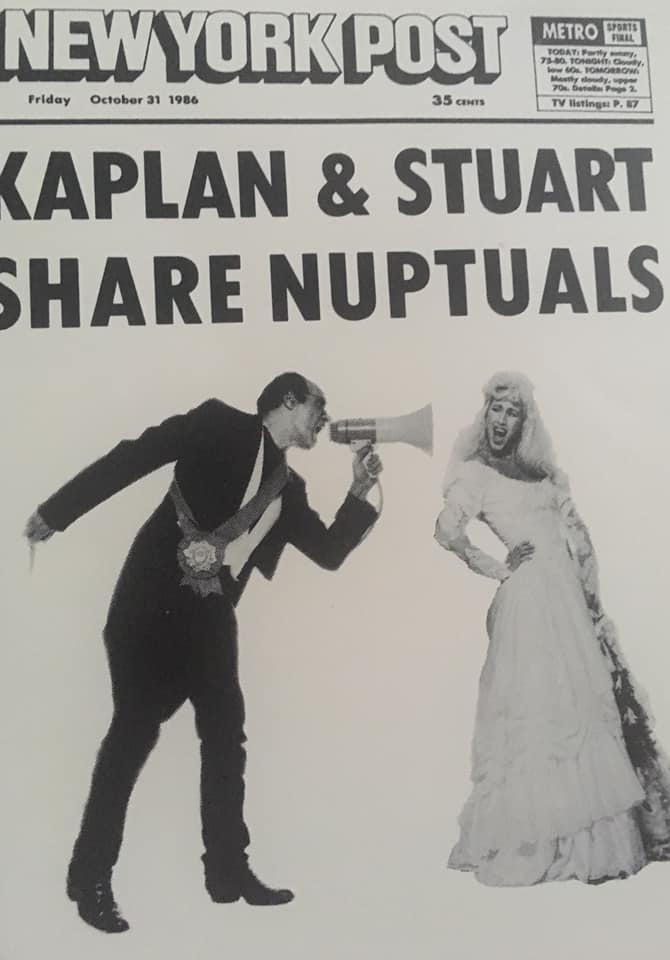 You've been modeling since you were in your twenties – what's the best thing anyone can do to look and feel like a model whether they're walking down the street or working it in the office?
You have to know who you are. What's your style? What makes you feel good? What floats your boat? When you put on a certain dress how does that make you feel? Don't go with trends, go with what you're attached to! Listen to your inner fashionista. And you know what? We all have that.
Reading For Filth is open to the public this Friday at 8pm at Club Bedlam, 40 Avenue C, NYC. For more on Wendy visit her book's Facebook page, her personal facebook page, or her instagram.
Visit her website, and buy her book on amazon!
All 18 of the BAFTA Acting Nominees Are White, All Directing Nominees Are Male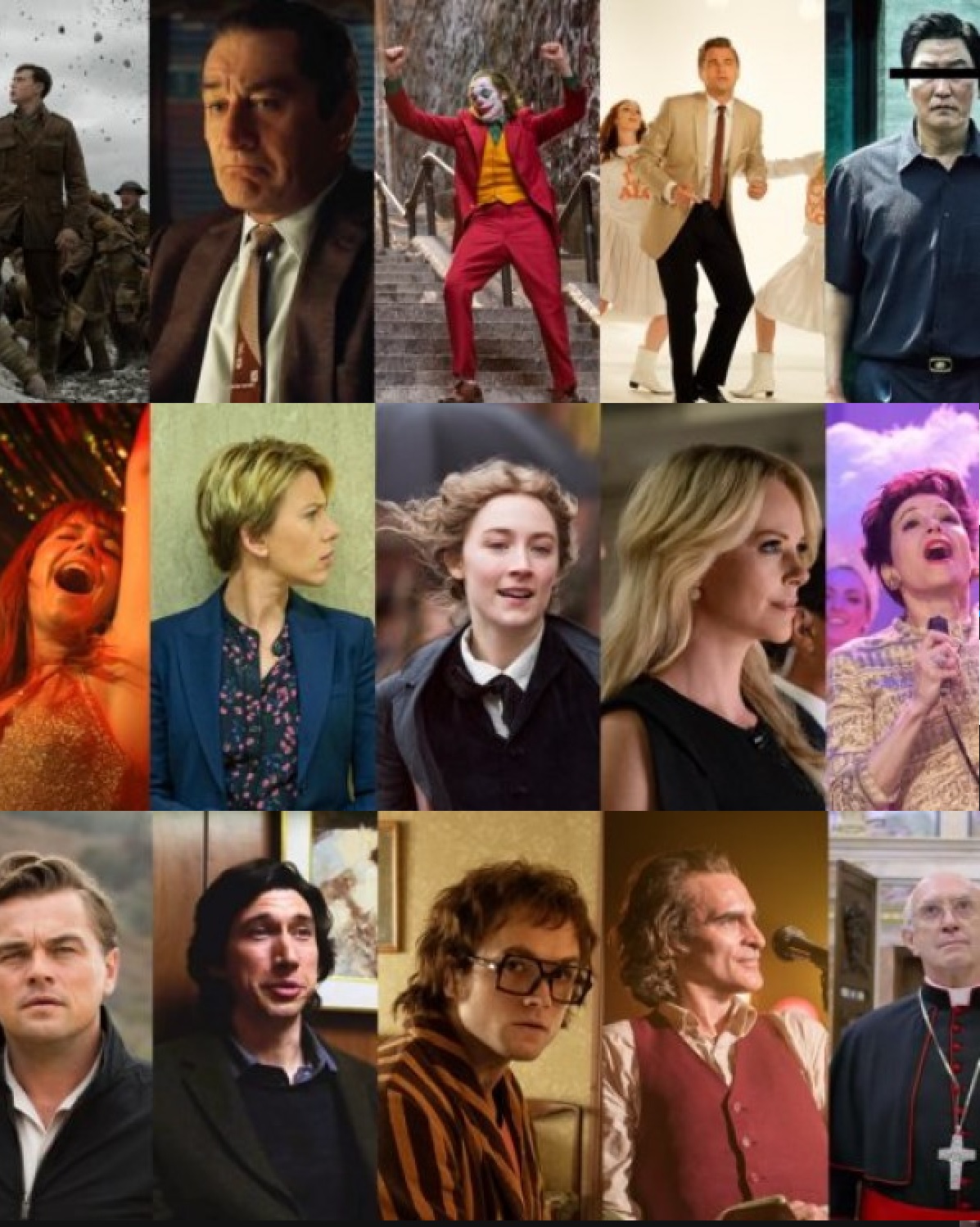 "Joker" is the one to watch at the upcoming BAFTAs, but if you're looking for diversity and female directors, sadly you'll have to look somewhere else. All the acting nominees are white, and all the directors are male.
Led by a lead actor nomination for Joaquin Phoenix, "Joker" received 11 nominations for Britain's equivalent to the Oscars, competing with familiar Golden Globe nominees Taron Egerton, "Rocketman,"  Leonardo DiCaprio for "Once Upon a Time … in Hollywood," Adam Driver for "Marriage Story," and Jonathan Pryce for "The Two Popes."
Renée Zellweger leads the nominations for the best actress category for her role in "Judy," alongside Jessie Buckley,  "Wild Rose," Scarlett Johansson, "Marriage Story," Saoirse Ronan, "Little Women," and Charlize Theron for "Bombshell."
Here are the other notable highlights:
See the full nomination page HERE.
11 nominations for Joker
10 nominations for The Irishman and Once Upon a Time… in Hollywood
Nine nominations for 1917
Six nominations for Jojo Rabbit
Five nominations for Little Women, Marriage Story and The Two Popes
Four nominations for For Sama, Parasite and Rocketman
Three nominations for Bombshell, Judy, Le Mans '66 and Star Wars: The Rise of Skywalker
The ceremony will be held on Feb. 2 at the Royal Albert Hall in London.