TOP CHEF Episode 8 Recap: From Oysters To Roller Girls.
Things start out a little muddy but really get rolling in the latest episode.
Things hit the ground running with a field trip, clearly in preparation for the Quick Fire challenge. Contestants hop in their Toyota Camrys and drive, speculating about what the challenge could possibly be. They finally pull up to an Oyster farm, as the cameras dutifully take as many shots of the car's logo as possible.
In true reality show fashion, here is where everyone talks to camera about how awesome they are with oysters… how connected with oysters they feel. Chef John is all "I grew up in Long Island!" practically veering into some of my best friends are oysters! I dated an oyster in high school! I took an oyster to the prom! These are important moments to pay attention, because it is an unwritten rule of reality tv that whoever talks the biggest game about themselves will probably get served up a delicious slice of humble (in this case oyster) pie.)
They all start harvesting the oysters, and then cracking them open and eating them. I love an oyster myself, but seeing them sitting in the muck they look muddy and gross, but no one lets on they they're getting huge mouthfuls of grit. Life is great! I love oysters! These are so delicious! Someone even threw out the 'oysters are nature's candy' line. (Note: blueberries are natures candy – oysters are more like natures phlegmball, but throw a little horseradish, shallots and vinegar on there and I'm in.)
Meanwhile, Josh starts saying something about something, and I totally trail off, because  I can't stop looking at him. At first I thought he had a really unique look, until I realized that in fact he is totally stealing the style of Yukon Cornelius, the bearded prospector from "Rudolph the Red-Nosed Reindeer."  without giving him the proper credit. Not cool, Josh, not cool. Anyway, I'm assuming he said something about oysters.
You see what I mean.
The challenge is to present oysters on the half shell, and they trufhfully all look delicious. If I were a judge, I would be totally overwhelmed by eating all those oysters, but they don't seem to mind.
In the end the winner is Micah – he wins five grand.
Time for the elimination challenge. The chefs are paired up and challenged with cooking dishes for the local Roller Derby team. Each player as a foodie name, like Jalapeno Business, Kutta Rump, Eddie Shredder, Tempura Tantrum and Teriyaki Terror. As part of the fun they go to a Roller Derby game, and afterwards Chef Josie earns the Miss Congeniality award for going on a weird tirade, which includes accusing Micah of being 'in the closet,' and a zinger that is best delivered with a physical peformance, illustrated below:
If Josie were a tree, she'd be one you would not bark up.
The next day, the chefs cook right at the rink, and prepare the following:
Teriyaki Terror (Josie and Bart). Steak teriyaki with forbidden rice, beet blood and green papaya salad.
Jalapeno Business  (Micah and Lizzie). Crab-stuffed jalapeno with avocado crema and onion-pepper relish.
Eddie Shredder (Stefan and Kristen). Corn puree, chicken liver and sunny-side-up egg.
Kutta Rump (John and Brooke). Thai beef with lobster-jasmine rice and Thai slaw.
Tempura Tantrum (Sheldon and Josh). Tempura yuzu curd with shiso, Fresno chili, sweet potato and vanilla.
Lots of exotic combinations! Wouldn't it have been funny if the chefs had all been punked and in fact this food was being served to second graders? I can practically hear their noses turning up! But some of them look pretty good.
In the end, Josie, Bart, Sheldon and Josh face the judges and are up for elimination. Can't help but enjoy seeing Miss Congeniality Josie sweat it out a bit. But cheftestant Bart is the guy who ends up packing up his knives for the the online series, "Last Chance Kitchen."
Who Stays? Who Goes? You Decide!
Meanwhile, Check out next week's episode!
Full disclosure: POPgoesTheWeek is offered possible incentives for their coverage of TopChef.
Content and/or other value provided by Bravo.
HILARIOUS VIDEO: This Man's Wheel Of Fortune Introduction Will: A) Make him a viral star. B) Lead to a divorce. C) Potentially both.
Blair Davis started out nice enough. Then he was asked about his family…

We appreciate a stark sense of humor. 😅 Last night's contestant Blair had us all laughing. pic.twitter.com/jwVXHSNWH0

— Wheel of Fortune (@WheelofFortune) October 15, 2019
He's clearly kidding, but ouch!
"I've been trapped in a loveless marriage for the last 12 years to an old battle-ax named Kim. She cursed my life with three stepchildren: Star, RJ, and Ryan, and I have one rotten grandson."
I'm sure this family loves his crazy sense of humor, and Wheel Of Fortune scores a great PR moment.
The College Admissions Scandal Now Has A Sexy Halloween Costume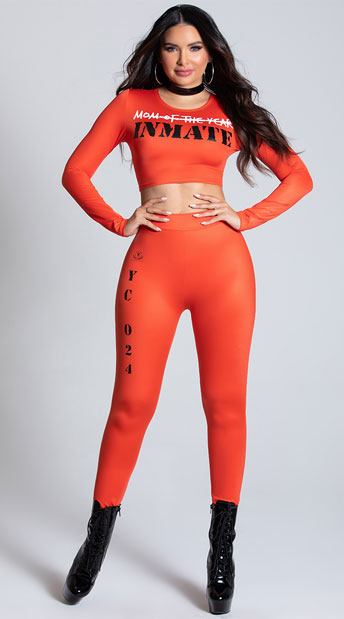 If there's one thing we can expect each year, it's that a current news story will be translated into a comical Halloween costume. In this case, the college admissions scandal did not go unnoticed by costume maker Yandy, who knows a thing or two about creating  sexualized costumes based on news events. Check out the costume being branded as "YANDY COLLEGE SCANDAL COSTUME."
A take on the mothers involved in the scandals (Felicity Huffman has already been sentenced, and Lori Loughlin awaits her hearings) the outfit is a tight fitting prisonwear look. A sleek reddish orange crop top reads "INMATE" with "Mom of The Year" crossed out.
Currently 69.95, the company also knows how to get PR!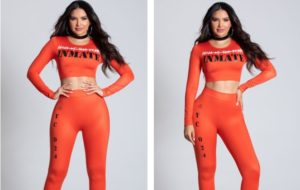 Kygo and Whitney Houston's "Higher Love" Video is Full of 80's Fun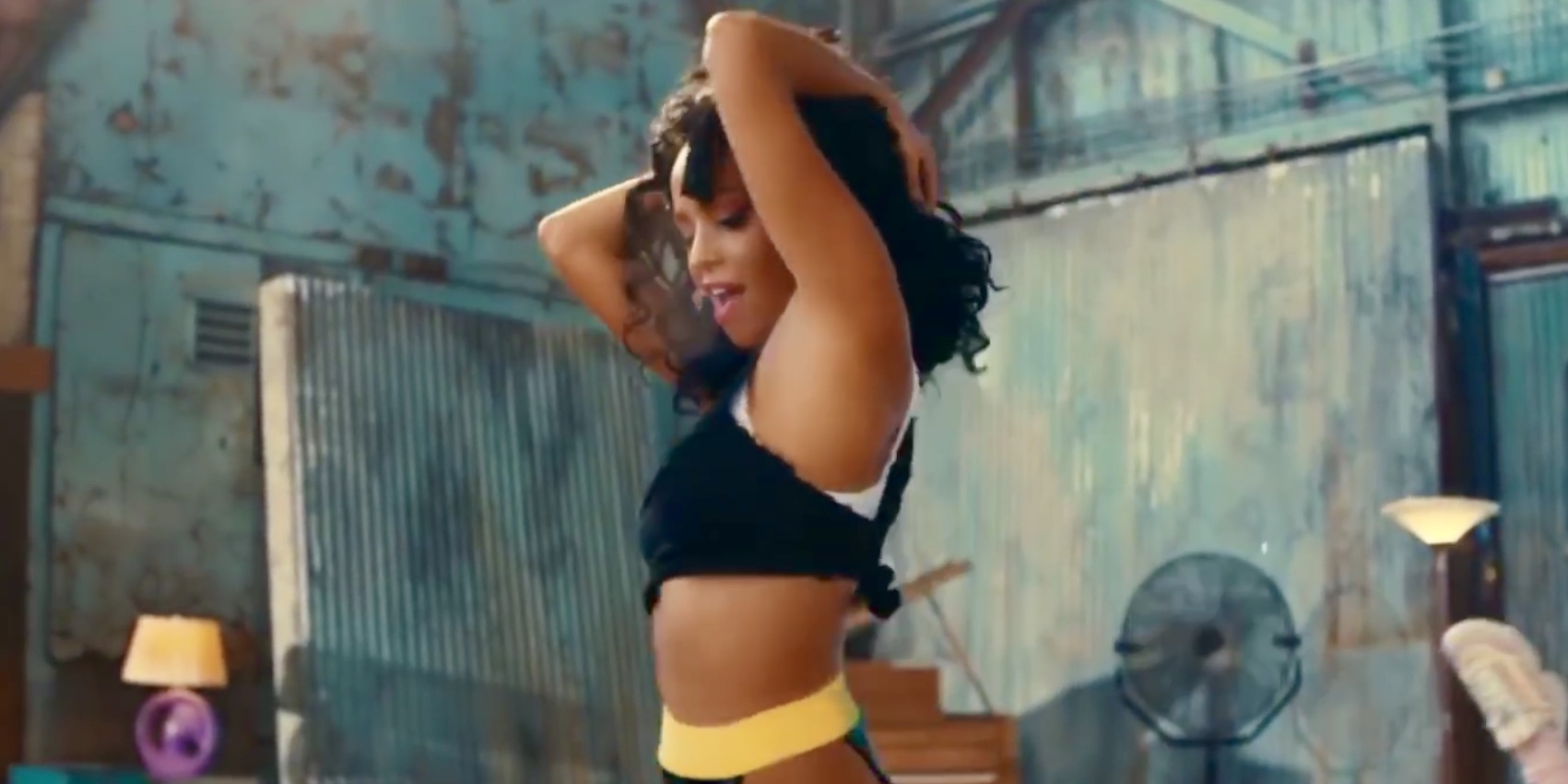 An eighties inspired dance number, a gorgeous ensemble, and the incomparable Whitney Houston come together for a fun flashback in the new video!
Houston had often performed Steve Winwood's "Higher Love" during her concert tour, and recorded the song thirty years ago. This summer, a new version re-mixed by Kygo hit the top of the dance charts.
The video stars Vanessa Morgan and Mason Cutler, both of whom are absolutely stunning to look at. See for yourself!