Michael J. Fox Follows Tina Fey's Lead, Tells Taylor Swift To "Back Off" Of His Son, Sam!
Taylor Swift may be making her rounds amidst the young men of Hollywood, but there is one famous son whom she won't be singing about anytime soon!
Taylor Swift may be making her rounds amidst the young men of Hollywood, but there is one famous son whom she won't be singing about anytime soon!
At Monday night's Golden Globe Awards, Tina Fey jokingly told Swift to "stay away from Michael J. Fox's son," Sam, who was Mr. Golden Globe that night.  Well Vulture caught up with Fox at a book party for Ann Leary's The Good House, and asked him if he would approve of such a date.  His answer:  No!
"No. No … Just back off."
Fox said with a smile that while he doesn't really keep up with all the new gossip, he has heard about Swift's songwriting:
"I don't keep up with it all…But Taylor Swift writes songs about everybody she goes out with, right? What a way to build a career."
So what would the BACK TO THE FUTURE star say if Sam really did bring the songstress around one evening for dinner?  He says he might not know who she was at the time, but he'd have some choice words for his son when he heard their breakup song on the radio:
 "'Sam, You Piece of S**t.' Oh … that was the girl you brought home!"
And just in case you're thinking that Fox is being way too harsh on the 22-year-old, don't worry…Swift took to Twitter earlier today to let fans know that the two had already spoken about the comments, saying,
"Hey everybody, Michael J. Fox got in touch with me today and we are good.  Thank you for having my back"
And just in case Taylor needs some ideas for song names, I submit my favorite titles below:
"I Knew You Were Shaking"
"We Are Never Ever Van Surfing Together"
"Back To December's Future" (or just the classic, "Back to the Future"

"Dear Sam"
"Love Story, Clara's Version"
Let us know if you have any to add, and in the meantime, switch to basically any radio station to hear one of Taylor's many lovelorn hits!
Laura Dern Honors Her Parents In Touching Academy Award Win Speech
Laura Dern, who has been slaying awards season this year for her role in "Marriage Story," took home the ultimate prize – a Best Supporting Actress Academy Award – and thanked her actor parents in a touching acceptance speech.
Her parents, actors Diane Ladd and Bruce Dern brought her to the Oscars with them when she was just 7 years old.
"Some say never meet your heroes. I say if you're really blessed, you get them as your parents. I share this with my acting hero my legends, Diane Ladd and Bruce Dern. You got game. I love you."
Dern's mother has been nominated three times, her father twice, but neither have won. Her mother can be seen during the speech crying in the audience.
Congrats Laura!!!
POP UPDATE: Justin Bieber, "Friends" For Life, And The Critics Choice Awards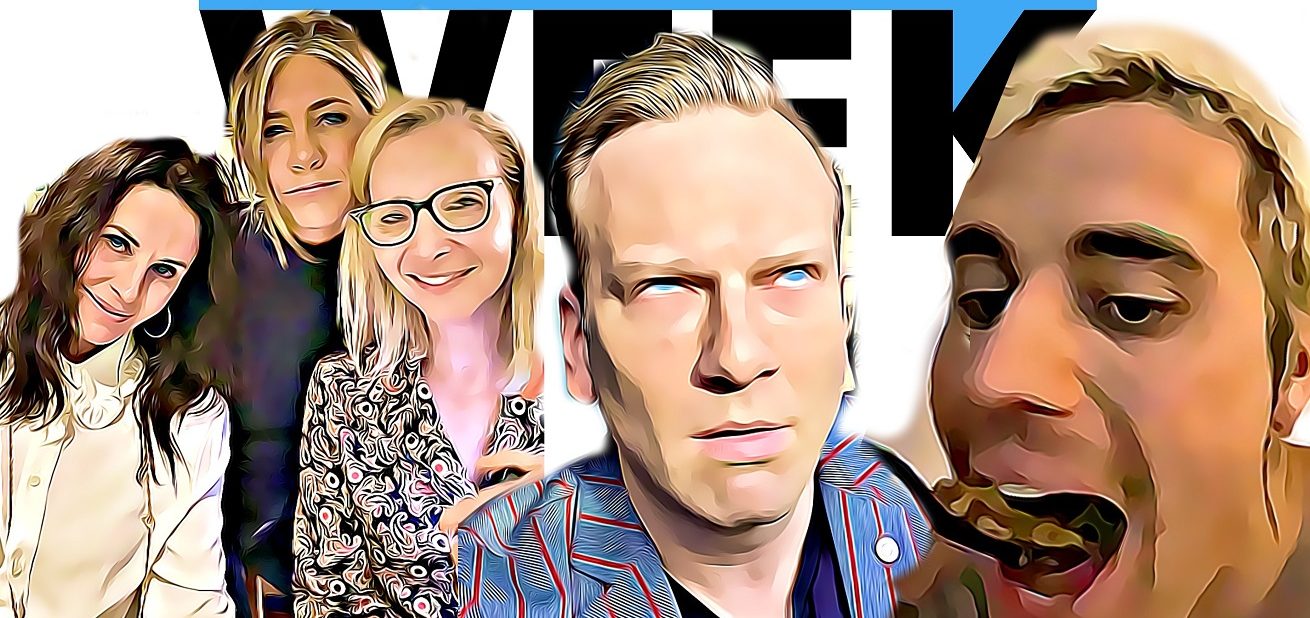 We're going to be doing some quick video updates whenever we can! Here's the latest! Justin Bieber begging for streams, (while you can hear him chew – ew), the ladies of Friends reunited, and mother nature. Take a look!
Courteney Cox's Instagram Caption Is Every Parent With A Teenage Kid
Have you heard? It's 2020 and we're all supposed to music videos on TikTok. Courteney Cox is no exception. The TV star posted an instagram of her and her daughter Coco dancing it out, with the hilarious caption, "Wanna see your child lose their patience? Do a TikTok with them."
Also, how long does it take to actually learn one of these routines? It seems very time consuming.
What I was really hoping for was video of her daughter losing her patience, but what we got was a pretty strong routine!