POP of The Day: Jessica Lange's Performance of "The Name Game" On "American Horror Story: Asylum"
The moment everyone is talking about today? Lange's fantastically retro spot-on performance. On the show where literally ANYTHING can happen, Lange's character Sister Jude hallucinated a song-and-dance number after electroshock therapy.
The moment everyone is talking about today? Jessica Lange's fantastic performance of "The Name Game" on "American Horror Story: Asylum" last night.  On the show where literally ANYTHING can happen, Lange's character Sister Jude hallucinated a song-and-dance number after electroshock therapy.
In an interview with The Huffington Post, Lange said she'd been wanting to sing on the show for a while.
"All along, I said, 'Give me something where I can sing or I can dance … One day, I got the lyrics and music to this song and I couldn't figure out what it was. [Laughs.] But it is actually quite startling when it happens. It was one of my favorite moments so far."
Says show creator Ryan Murphy "The fun of it, I think, is that you're in Sister Jude's shock therapy-induced fantasy. The idea was to really do a musical number that was something very '60s crossed with Jacob's Ladder because it was in her head and it was sort of the beginning of her descent. It was very fun to do. We spent almost a whole day doing it."
For more POP of The Day, follow @BrianBalthazar on twitter!
Who Is This Brian Balthazar Guy, Anyway?
Did you see Brian on TV today? Wondering who he is? Here's much more than you wanted to know. They leave the part out that he loves a well mixed Dark And Stormy, but let's keep things professional…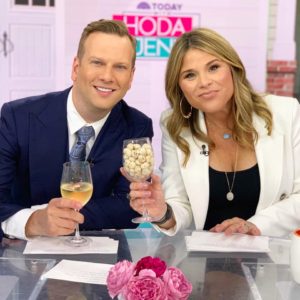 You may have seen Brian Balthazar on television this morning, heard him on the radio, or read about some recent developments in the world of media and pop culture. But who the hell is this guy? Brian Balthazar leads a double – triple – okay, maybe quadruple life. Part journalist, actor and comic, he appears on many TV shows as a guest, but is also a developer and creator of several television shows behind the scenes. This when he's not renovating homes and making snacks for his websites, POPgoesTheWeek.com and Snackist.com.
After launching the fourth hour of the Today Show with Kathie Lee Gifford and Hoda Kotb, he turned his attention to cable television, overseeing the direction and development of several shows on HGTV, including Flip or Flop, Love It Or List It, Christina On The Coast, House Hunters, Hit Properties with Nathan Morris, Flea Market Flip and dozens more.
As a comic he served as the opening act for Russell Brand In New York City and the MTV series Man and Wife featuring hype man Fatman Scoop.  He has performed at The Comic Strip, Caroline's On Broadway, Gotham Comedy Club and more.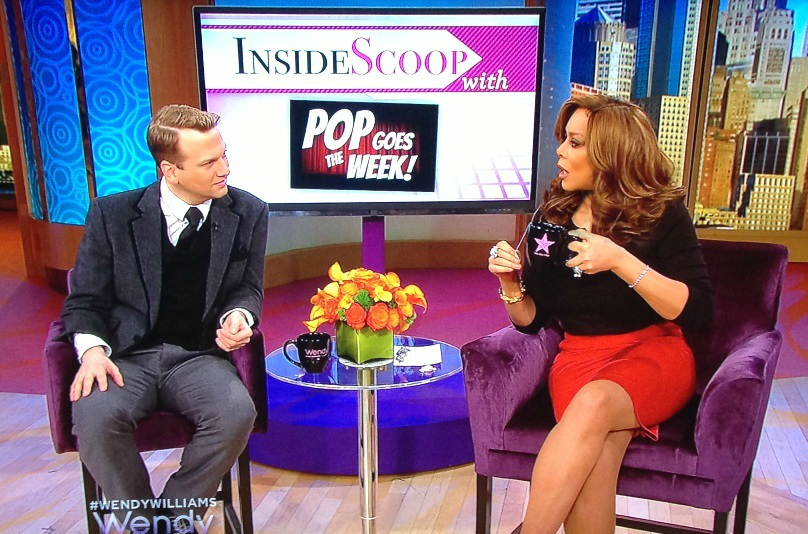 In addition to being a frequent guest on "The Wendy Williams Show," (he co-hosted several times during Williams' three week break) and appearing on the "Today" show, where he guest co-hosted with Jenna Hager-Bush,  Brian has frequently been seen co-hosting the syndicated TV gossip show Page Six TV.
Additionally, he was the sideline reporter for HGTV's Rose Parade Coverage, hosted the HGTV Special I Bought A Famous House, and has appeared on CBS's The Talk, HLN's Showbiz Tonight, MSNBC's Caught On Camera, The Joy Behar Show, and more.
An appearance on the fourth hour of the TODAY show with Kathie Lee and Hoda.
He has also been an emcee for many notable events and sponsors, including work as a brand ambassador for Bombay Company, the co-host of the Miss Tennessee and Miss Mississippi USA pageants, and a red carpet host at the Daytime Emmy Awards.
You may also have seen Brian in some viral videos, most notably a recent parody of Bird Box, and a satirical look at House Hunters' Writers' Room.
HGTV – House Hunters Writer's Room from Buffalo Picture House on Vimeo.
Appearing in a series of videos for Bombay Company.
Brian has provided analysis, interviews and helped co-host the Tony Awards backstage show. He also followed all the backstage madness at the launch of Fashion Week in New York City while co-hosting the Red Dress Event. He has been a roving reporter for the Dr. Oz show. Earlier in his career he was a features reporter and contributor on NBC, MSNBC, United Airlines In-Flight Entertainment and more.
For A&E network, Brian appeared in an episode of Biography about Jim Carrey. He also provided play by play of some of film's greatest car chases for a documentary about, well, car chases. (Ask his family and they will tell you: NO one would have expected to see him in a show about cars. We'll leave it at that.)
Before 'finding himself' professionally, Brian was a singer on a ship, a publicist for a trance medium, an insurance customer service rep, waiter, bartender, activities director, substitute teacher, website programmer, pianist at a camp for spoiled children, and college mascot. None of them worked out. Let's hope this does.
To contact Brian, email BrianBalthazar@aol.com.
To check out his video clips from NBC, HLN, and MSNBC, click HERE…
And – become his friend on facebook! www.facebook.com/brianbalthazar
For a more extensive listing of his TV appearances visit his IMDB page.
And he's apparently getting better about Twitter. So he says. He's @BrianBalthazar.
Thanks for reading POP GOES THE WEEK!
For his TV Appearances, Click on the TV APPEARANCES page.
'Saved By The Bell' Cast Reunited For 30th Anniversary – And I'm So Excited
If you think your high school experience feels like ancient history then it won't bring you any comfort to know that Saved By The Bell debuted 30 years ago!
Back in 1989, Saved By The Bell hit the small screen and quickly became a television staple. Over the course of its four seasons, the sitcom followed Zach Morris and his unique blend of friends as they navigated the tricky waters of high school. Everyone had a favorite Bayside Tiger and the series spawned many memorable scenes…but you are a liar if you didn't say your favorite scene was where Jessie broke down crying after coming to terms with her caffeine pill addiction while crying out the most iconic line ever, "I'm so excited…I'm so excited…I'm so…scared"
In any event, some of Bayside's most memorable students reunited over the weekend to celebrate the 30th anniversary of the hit sitcom. Mark-Paul Gosselaar (Zach Morris), Tiffany Thiessen (Kelly Kapowski), Mario Lopez (A.C. Slater) and Elizabeth Berkley (Jessie Spano) all gathered together to hit us right in the nostalgia. Notably missing were Lark Voorhies (Lisa Turtle) and Dustin Diamond (Screech). Berkley wrote on her Instagram "FRIENDS FOREVER!!!" along with some sweet and fun hashtags. Lopez upped the ante and posted a video recapping the fun time the gang had as they reminisced on the days way back when. WHY WASN'T THIS TELEVISED?!? Many are speculating the reunion to be the beginnings of a reboot or revival but nothing of the sort has yet been confirmed.
View this post on Instagram
Like what you read? Follow @ChrisSiretz on Twitter and Instagram
Dr. Phil Shaved Off His Mustache And Suddenly I Don't Phil So Good
If it ain't broke, don't fix it…or shave it in this case.
Talk show host Dr. Phil is known for three things: Giving advice. A strong southern drawl. And an mustache so thick, it could have a milkshake named after it. I mean just take a look at that furried upper lip in all of it's glory!
For as long as Dr. Phil has been on television he has that mustache, so you could imagine the worldwide hysteria that ensued when he posted a video with his stache slathered in shaving cream while holding a razor dangerously close to it. I mean…what could have inspired this sudden fit of rash behavior?!
He wouldn't really go through with it though right? I mean no one likes change…right? Wrong! Here's what the tv host looks like without his stache…and let's just say, it is most certainly not what the doctor ordered!
After sharing his most traumatizing content since the "Cash Me Outside" girl, Dr. Phil posted this video insuring that the entire stunt was actually just an April Fool's joke.
APRIL PHILS! 😏😂 pic.twitter.com/9Zg800QEBj

— Dr. Phil (@DrPhil) April 2, 2019
I'm definitely going to need some mood elevators to recover from this one! I love a makeover as much as the next guy, but some things are better left alone!
Like what you read? Follow @ChrisSiretz on Twitter and Instagram