10 Things I Learned From This Season of "The Bachelor"
POP Contributor Mike Kelton hosts a live webchat about The Bachelor for EXTRA – (including one about the big finale next week!) Which means he knows a LOT about the Bachelor. Here, he reflects on the important life lessons he has learned from watching love blossom on TV.
POP Contributor Mike Kelton hosts a live webchat about The Bachelor for XTRA – (including one about the big finale next week!) Which means he knows a LOT about the Bachelor. Here, he reflects on the important life lessons he has learned from watching love blossom on TV. Take it away Mike!
As co-host of Extra's "Bachelor Party" – a live webchat recapping the good, the bad and the cra cra that goes on during "The Bachelor," I have seen some things. Things you don't soon forget. If you're watching the Bachelor yourself, you know what I mean – but even if you're not, you can benefit from the 10 life lessons I've learned from watching this crazy ride of a show.
1) You can be a Virgin more than once.
The fact that humans can be born again Christian is one thing. But to be a 'born again Virgin' is quite another. I find it hard to believe that Sean Lowe will be 'abstaining' from sexual activity with all those beautiful women. On another note, why would he work out so much if he's not having sex?
2) If your name is Tierra, you CRA CRA!
Thank God for this loony tune! Without Tierra, the season would have been a bunch of sweet girls vying for the love of a 'Virgin' which nobody wants to see. I assume the Producers kept her on as long as they could for ratings sake. (Perhaps also because her crazy eyebrow has its own TWITTER ACCOUNT.) I can't wait to see what reality show she ends up on next. Whether Celebrity Apprentice, Bachelor Pad or even Antiques Roadshow, we have NOT seen the last of this CRA CRA!
3) Doing Gymnastics in a full length gown is not a smart idea.
We love those first impressions, RIGHT!? Well, do we all remember seeing Robyn almost break her collar bone by doing a back handspring or whatever that was in a full length Nicole Miller, yeah…THAT! Please tell me you laughed, because everyone on my couch did…so just me. Well, it was a learning experience for us all in proper work out attire and proper first impression don'ts!
What could possibly go wrong?
4) Don't hire a bad actor to play your ex-boyfriend.
Remember Des's downfall 2 episodes ago. If her drug addict brother wasn't bad enough, she thought it would be smart to 'hire' and an actor to play her ex-boyfriend to…make Sean jealous? We are all still unsure of what was going on there. Either way, we feel sorry for Desiree and that guy playing her ex who has to keep pretending he's an actor.
FOLLOW MIKE KELTON ON TWITTER!
5) 50 Shades of Grey is more than a book, it's a state of mind.
Remember Ashley P.? How could you not!? She was booted off the first episode, but pulled some sort of material out of her cleavage during her first impression. She then got super drunk and decided to show off her ghetto fabulous dance moves at the most inopportune times. She will remain my favorite. Let's all give a round of applause to the girl that didn't even read the book but brought the feeling, ASHLEY P!!
Sorry for the poor video quality – but it's still worth watching!
6) Abs are fun to look at.
Sean. Enough said.
7) Your last chance video to Sean should not be a cry for help.
AshLee is a beautiful girl with great boobs. That being said, she cannot be whole without Sean, which she so preciously announced in her video that she barely got through on last week's episode. Shortly after fighting through the tears to confess her undying love for a man she has only knows for a short time, she was sent home. Let's hope she can survive off of the somewhat large twitter following she gets from that scary video.
8) A professional organizer is a thing.
While we are on the topic, Ashlee is a professional organizer. If this is a real thing, cool. If not, shame on you and show me your California closets. Also, does this just mean she works at The Container Store…because that's what I assume. Lastly, if she could learn how to organize her emotions, she may have won.
9) Being a minority is still the minority on The Bachelor.
We see that shows Producers tried hard to give Sean some 'options' this season. My favorite from the start was Robyn, mostly because she had those awesome Kelly Ripa arms but also because I thought she was one of the most confident girls in the house which is probably a good indicator that she should not have been on reality TV in the first place. Nonetheless, she was black. Her, along with another African American girl and a girl with a physical disability rounded out this season to make it the most diverse yet. Well, that and the fact that Tierra is most likely bi-polar.
10) Not being featured in the beginning of the season is a good indicator that you will win.
I will leave that one at that.
BE SURE TO CATCH MIKE KELTON'S "BACHELOR PARTY" THIS MORNING! IT'S A FUN, FUNNY, LIVE VIDEO CHAT RECAPPING THE BACHELOR RIGHT AFTER THE SHOW!
HILARIOUS VIDEO: This Man's Wheel Of Fortune Introduction Will: A) Make him a viral star. B) Lead to a divorce. C) Potentially both.
Blair Davis started out nice enough. Then he was asked about his family…

We appreciate a stark sense of humor. 😅 Last night's contestant Blair had us all laughing. pic.twitter.com/jwVXHSNWH0

— Wheel of Fortune (@WheelofFortune) October 15, 2019
He's clearly kidding, but ouch!
"I've been trapped in a loveless marriage for the last 12 years to an old battle-ax named Kim. She cursed my life with three stepchildren: Star, RJ, and Ryan, and I have one rotten grandson."
I'm sure this family loves his crazy sense of humor, and Wheel Of Fortune scores a great PR moment.
The College Admissions Scandal Now Has A Sexy Halloween Costume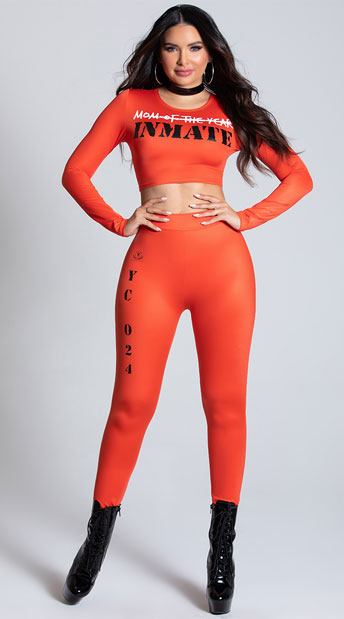 If there's one thing we can expect each year, it's that a current news story will be translated into a comical Halloween costume. In this case, the college admissions scandal did not go unnoticed by costume maker Yandy, who knows a thing or two about creating  sexualized costumes based on news events. Check out the costume being branded as "YANDY COLLEGE SCANDAL COSTUME."
A take on the mothers involved in the scandals (Felicity Huffman has already been sentenced, and Lori Loughlin awaits her hearings) the outfit is a tight fitting prisonwear look. A sleek reddish orange crop top reads "INMATE" with "Mom of The Year" crossed out.
Currently 69.95, the company also knows how to get PR!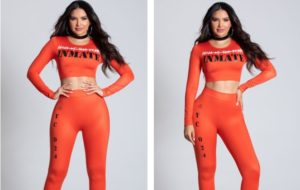 Kygo and Whitney Houston's "Higher Love" Video is Full of 80's Fun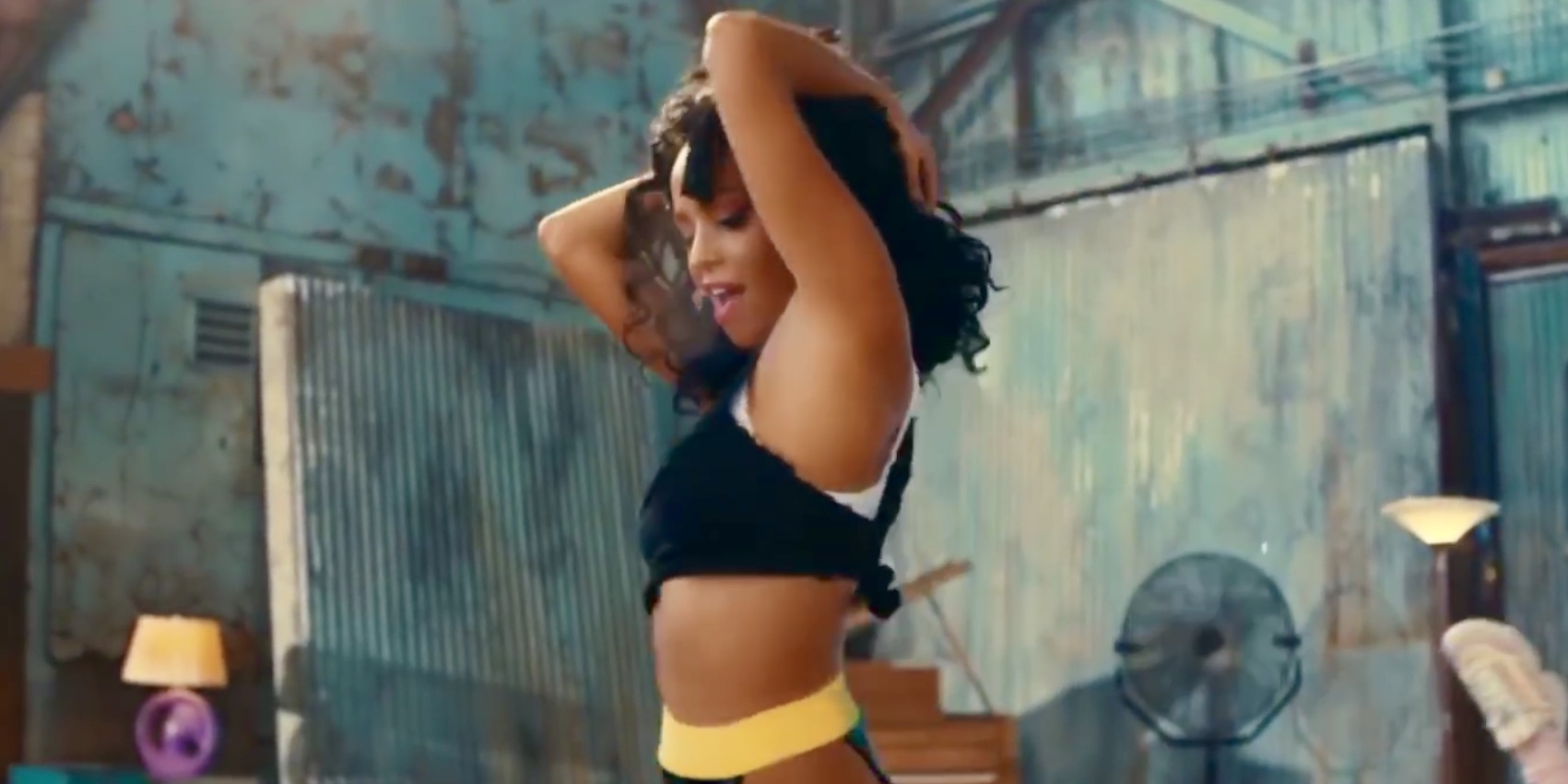 An eighties inspired dance number, a gorgeous ensemble, and the incomparable Whitney Houston come together for a fun flashback in the new video!
Houston had often performed Steve Winwood's "Higher Love" during her concert tour, and recorded the song thirty years ago. This summer, a new version re-mixed by Kygo hit the top of the dance charts.
The video stars Vanessa Morgan and Mason Cutler, both of whom are absolutely stunning to look at. See for yourself!