POP INTERVIEW: Celebrity Psychic Thomas John Makes Predictions on Taylor Swift, Bradley Cooper…and Brian Balthazar!?
Thomas John earns a living as a medium. There are no Long Island Theresa Caputo fingernails involved, but he has seen a large number of painted nails for well known clients like Jennifer Lopez and a slew of everyday folks paying for his services. He chatted about his work in an unusual, though lucrative, career path, tossed out declarations about celebrity love lives and tells me I am going to do things very unlike myself in my own dating life.
Have you ever wondered what your future has in store? Thomas John earns a living as a medium. There are no Long Island Theresa Caputo fingernails involved, but he has seen a large number of painted nails for well known clients like Jennifer Lopez and a slew of everyday folks paying for his services. He chatted about his work in an unusual, though lucrative, career path, tossed out declarations about celebrity love lives, predicted Brian's future and tells me I am going to do things very unlike myself in my own dating life.
Did you try to predict what questions I was going to ask you for this interview or get a vibe your PR folks were going to suggest you? 🙂
No, I didn't because it just showed up in my Inbox today and I had no idea who you were. But it's interesting—last month, I saw Brian on something on TV and I thought…..hmmm, I should give him a reading!
What are you going to do on your Valentine's Day event? What excites you? What do you, well, *predict*?
I am putting on a panel about love and finding a soul mate. We have 5 experts who are truly the best of the best in terms of knowing about love. A love psychologist, a love psychic, a dating coach, a love self-help guru, and myself. The panel is going to be moderated by NYC radio personality Laura Smith, who has several shows on 77 WABC AM. We're really excited about it because it will offer a forum for people to ask questions about this kind of elusive topic. We're going to be mostly focused on tips and tricks to enhance your search for your soul mate. I predict one person will spill their pink lemonade!
Making Love: Finding Your True Soul Mate From The Inside Out
Friday, December 7, 2012
7 p.m. – 9 p.m.
New York, NY
What are some findings you have discovered from one on one readings these past few months that startled you?
As far as my medium readings, I am still astonished at the amount of detailed information that the deceased are able to communicate, and how the deceased truly have wonderful information and messages to help guide us on the Earth plane. With psychic readings, I guess what always surprises me is how people's deep fear of strangers and the unknown paralyzes them. My readings help people by helping them have a greater degree of certainty about things.
Which famous people do you believe are going to be couples this year and who will break up?
• Prince Harry will enter a serious relationship with a woman he will eventually marry.
Madonna will reveal her engagement to Brahim Zaibat. While no wedding plans will be in the works, the engagement will be made official with a lackluster ring.
Sharon Stone and Martin Mica will part ways.
• Taylor Lautner will become publicly and heavily involved with a girlfriend of little Hollywood significance.
• Bradley Cooper and Zoe Saldana will make their relationship more official. There will be clear evidence that they are moving in together and planning to marry.
• Britney Spears' and Jason Trawick's relationship will be strong. Allegations that they have called off their wedding or are ending their relationship will be proven false and their relationship will be stronger than ever.
• There will be a break up or a clear, definite split surrounding the Kardashians. It's possible that Bruce and Kris Jenner will finally part ways. Kanye West and Kim Kardashian will split amidst rumors that he is too controlling, however that may be closer to 2014.
• Adam Levine and Behati Prinsloo will become engaged.
• Cam Gigandet and Dominique Geisendorff will be the new hot and heavy couple in Hollywood. America will fall in love with this modern, media friendly couple as they become "so cute" with their two children and Hollywood papers will eat them up. Cam will receive bigger roles.
• Taylor Swift will be ALL over the place with relationships this year and will start acting in a way that is out of character and almost seems reckless.
• Kathy Griffin and Randy Bick will split and then rekindle their romance.
Should people always trust first instincts with life and dating?
You should always listen to them, if they are true first instincts. You have to be careful though, because sometimes you can project your own wants and desires onto a situation—and that's not an instinct so much as a desire of something. So you want to be careful there. The best way to tap into your instincts is to really sit with yourself in a quiet space and allow whatever to come to you without judgment or expectation. It's about being honest with yourself.
Irish culture is full of magic, superstitions and rituals, as well as ancient Chinese and modern Japan, and I am certainly fascinated by these cultures. Do you ever delve into magical practices from these cultures in your work?
I don't really work with magic or rituals. I have a certain system I use to prepare myself for readings, but I don't work with magic or superstitions—besides the fact that I don't open an umbrella indoors!
Among your services, someone can order energy cleansing. What do you do? Is this really another term for your version of feng shui?
In an energy cleansing, I basically heal people through touch and thought. I tune into what we know as the "aura"—it's basically their whole internal and external disposition. I then make little improvements on things as I see fit. I may work on physical symptoms, emotional symptoms, or psychological blocks. It just depends where I am led. I also sage the person's space and body. The idea behind the sage is that as the sage burns, it gives out smoke, and takes bad or negative things away with it.
If someone feels he or she has psychic abilities, how could someone transfer them into earning a living when people are skeptical to begin with?
If someone feels they have psychic abilities, the best thing to do is to first really practice with them. There's a difference between having some abilities and the abilities to actually be a professional psychic. It's just like basketball for example. I love to shoot hoops with a few of my guy friends—I am likely not going to make it to the NBA anytime soon though. So if you feel you have those abilities, you should develop them. I teach classes on this type of stuff, the next one is my four-part Psychic Bootcamp, which starts on March 7th.
Psychic Bootcamp
Part 1: Thursday, March 7, 2013
Part 2: Thursday, March 14, 2013
Part 3: Thursday, March 21, 2013
Part 4: Thursday, March 28, 2013
7:00 p.m. – 9:00 p.m.
New York, NY
How do psychics fit in with religious beliefs? What do you want to tell people who think it goes against their Christian or other beliefs?
I honestly don't know where on earth people get this idea—it's basically essentially fabricated. I was raised Catholic, and I still go to Catholic Church from time to time. But when people come at me with telling me that what I do is bad or against Christianity or something, I tell them they are nuts and should do research. First off, Jesus was a medium and psychic. There is a passage in the Bible where Jesus tells a woman about everything that ever happened in her life, past and present. People also saw visions of Jesus after he passed away. He visited people. Also, the Bible was written by prophets. The Bible just says to be careful around fake prophets, and to not rely on anyone over and above Jesus or God. People like to exaggerate things to support their world perspective.
What does it feel like when you get a psychic message?
It can feel like many different things, depending on what Clair I am working with—I am clairaudient (hear things), clairsentient (feel things), clairvoyant (see things), claircognizant (know things). So these are all very different types of experiences. My strongest is probably clairvoyance, where I see things playing in my head. The analogy I would use is that it's like thinking about a memory. It would be like if I said, "Hey, what was your 8th grade science class like?" You might see flashes of things. For example, I remember my teacher had red hair. I remember the black wood tables. I remember an experiment that I blew up a glass bottle somehow. But I might not see every single second and every single minute of the whole class.
Let me be your psychic prowl guinea pig and test you out, sans the too general speak most psychics use! 😉 First off, what is my overall career destiny?
It looks like in the next year you will be making a major shift where you leave one place and go to another. I saw you leaving a job. For you long-term future, you have books. They are telling me part of your change this year will be making a new contact with someone in TV/modeling who will help you refocus your career. I see you being recruited away from your current job!
* Hopefully, he is referring to another job and not PopGoestheWeek.com! *
Will I ever get married and when? What will the age difference be between myself and my spouse? What does the person do for a living?
I see you married to an older man, about 5 years your senior. He is in business. He speaks with an accent and has very dark hair. You will meet him in the next 24 months, most likely next year. You may meet him this year, but if you did, you wouldn't date I don't feel, maybe just be friends.
 * Yikes. I may wind up hiding under my bed for two years if that's the case! 😉 *
What lies in Brian's career future (Brian Balthazar, my PopGoestheWeek.com boss) in 2013?
It looks like Brian has a lot of potential for the summer. They are showing it being a slow period overall, but him being approached with new projects and new collaborations. Brian is going to get some sort of segment which would be on TV regularly. It is shown that he would be the host or the presenter. I also saw a very close person to Brian having great success in the coming year with real estate. It looks like a person with dark hair and blue eyes, a male energy. It looks like eventually, Brian may be involved in this too. But this is maybe 2 or 3 years from now. Brian is watched over by an older woman who has her hair pulled back in a hat, who did not pass that recently. Very smart, vibrant woman, not a mother, it may be like a grandmother or great Aunt.
Speaking of other people, have you made Oscar predictions? Who will win Best Actor? Will my new friend Daniel Dreifuss win an Oscar for "No" in foreign films?
• Best Supporting Actor: Tommy Lee Jones, "Lincoln"
• Best Supporting Actress: Anne Hathaway, "Les Miserables"
• Best Actor: Daniel Day Lewis, "Lincoln"
• Best Actress: Jennifer Lawrence, "Silver Linings Playbook"
• Best Picture: "Lincoln"
Re: Foreign Film, Yes, he's going to win!
What do you readers think? Agree, disagree or agree to disagree?
If you want to attend any of his events or learn more, all the information is on Thomas' website!
Wendy Stuart Kaplan Knows How To Party – Now She's Throwing An Epic One Of Her Own!
Wendy Stuart Kaplan knows her way around a party. In her book, 'She's The Last Model Standing," she wrote about her headline grabbing days at Studio 54, and now throws more than a few of her own. The latest is her "Reading For Filth" and her birthday extravaganza, where she, hosts Eileen Dover and Nick Lion and others (including yours truly!) will perform a collection of wildly entertaining essays, poems, comedic rants and more. The kind of person who is so 'on the go' you get exhausted just thinking about it (she, however, does not) I caught up with her as she was taking a break between a radio show, a modeling job and a party tonight. If you want to catch up with Wendy, you have to be flexible… she's probably got a full schedule that day! Her party this Friday is one that will not only celebrate a wildly varied and entertaining life, but also celebrate the spoken word from a variety of performers.
Anyone who's ready your book "She's The Last Model Standing" knows you've been partying since studio 54 – when did you first realize you were a party girl?
I first realized when I came back to New York after college! I wasn't until then, because there was no good place to party.
Where did you go to school?
SUNY Binghamton where I majored in anthropology – and then I went to Nigeria! I definitely enjoyed partying eventually, but back then I really, really wanted to go to Africa, which I did! I have gone back often, most recently to work on my documentaries.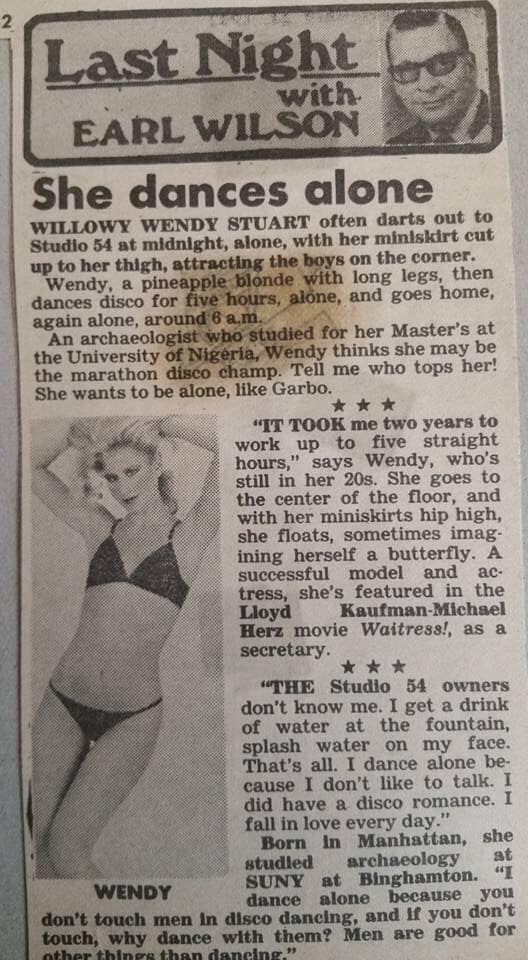 That's wild! But it's not surprising to hear of that passion since you make films about wildlife conservation there. But your festive side eventually DID come out! We all know you now as a social butterfly! Whether you're at a party, or working a film premiere – but were you as confident and comfortable in the spotlight as a kid as you are now?
I was an oddball kid. I had two things: I had my friends in the Bronx, and the ones that I had in school and they didn't mix all that well. I loved growing up there, that was home – but I remember as a kid I would get stomachaches before parties! How weird is that? Until you asked me I had forgotten all about that.
What were you worrying about?
Social pressures – what if nobody talks to me – oh my god, I'm not pretty. I had a short mop of brown hair because my mom thought I looked better with short hair, and I had chubby cheeks. I didn't love that look. I used to put on wigs as a kid and imagine myself with long blonde hair!
And here we are!
Here we are, right? Long blonde hair. I morphed into it. I'm totally self made!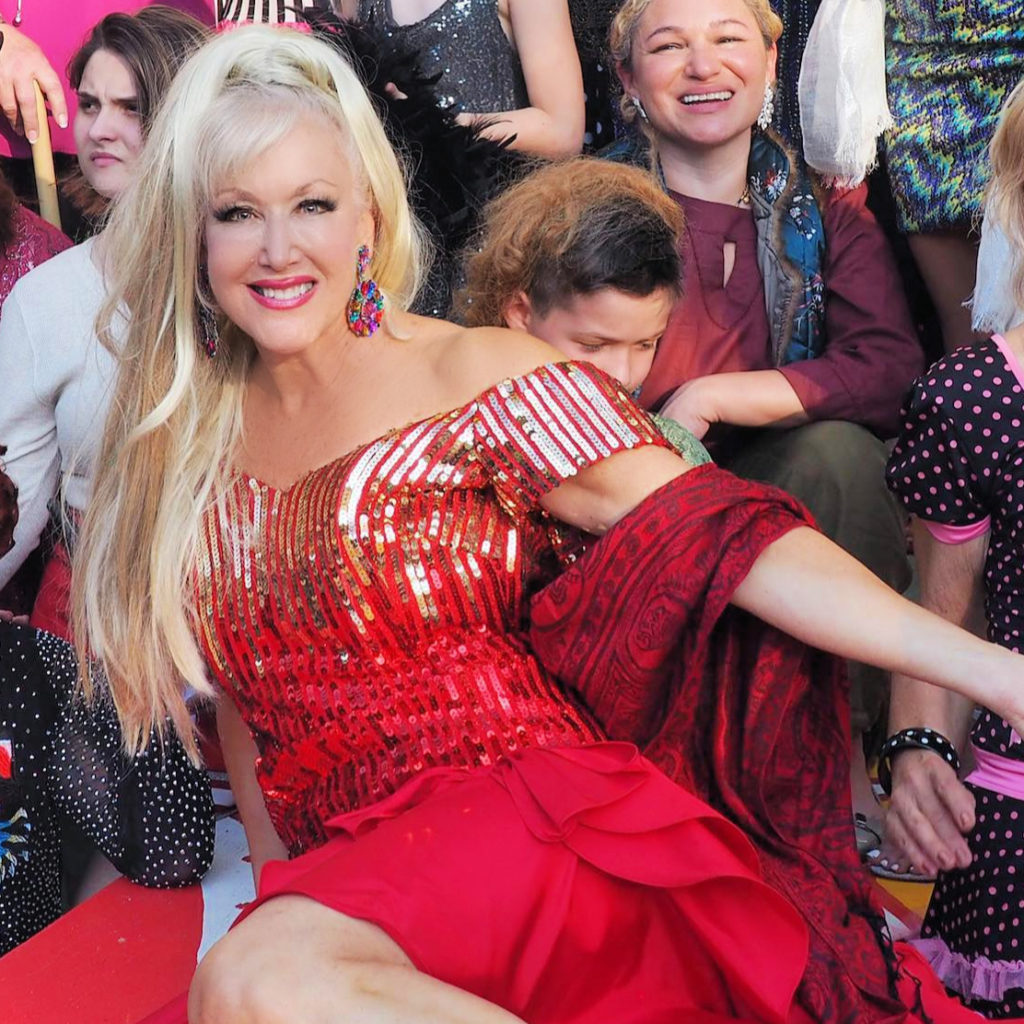 Tell me more about Reading for Filth – your event this Friday at Club Bedlam.
Reading for Filth came about when Brian Butterick, also known as Hattie Hathaway, used to have these events. One had the byline, "low rent reading for a high rent city." Reading for filth is an expression for 'I'm going to read you to filth,' as in, "I'm gonna tell you what I really think." The performers would do a reading of their choice. Something personal, maybe about an old boyfriend, or something someone else wrote, and they'd get up and read it in front of a room. At the last one we had, Michael Musto read from Suzanne Somers' poetry book. I didn't even know she wrote poetry… here the same person who wrote about African violets is also behind the Thighmaster! Brought me to tears! I imagine her thighs going back and forth as she sits next to a table with a sole African violet in its little pot, which inspired her to write the poem.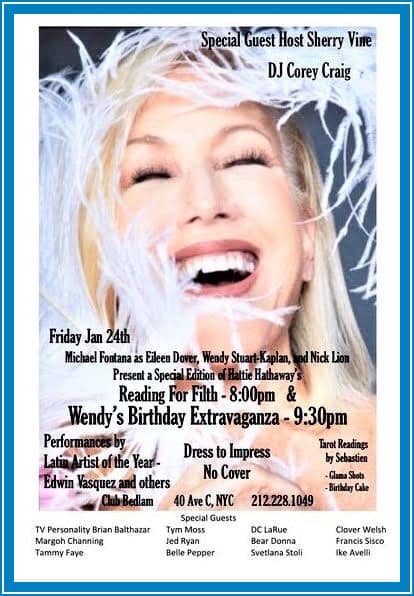 The reason we chose to open my birthday party with it is, when Hattie passed away, my friend and partner in crime Michael Fontana (Eileen Dover) really wanted to keep it going. We say it's such a downtown New York thing but it's a New York thing. It's a nationwide thing. Think about what's hot right now: storytelling. And here we have had Reading for Filth going on long before all that other stuff. Brian Butterick had been doing it for six to ten years. He was very ahead of his time. We brought it back this past year.
You love people and being around them, entertaining them, but you also love your home life – please describe your NYC living situation. You have a beautiful place… but describe your roommates.
Well, we will have to go back about 30 years when I got my first rabbit. I haven't lived without one for 30 years, so when one dies I always have one in the wings. Fast forward to now, we always have two rabbits. It's nice if they have another rabbit to hangout with. Also, 33 years ago we got a baby cockatoo, named her Louise, fed her formula, and she is now hanging out with me in my living room. Did I also mention our blue merle chihuahua?
In my New York apartment everyone is loose. No one is caged. Everybody is trained to go on those wee-wee pads you buy for dogs, and everybody goes on a wee-wee pad including the rabbits… but not the dog.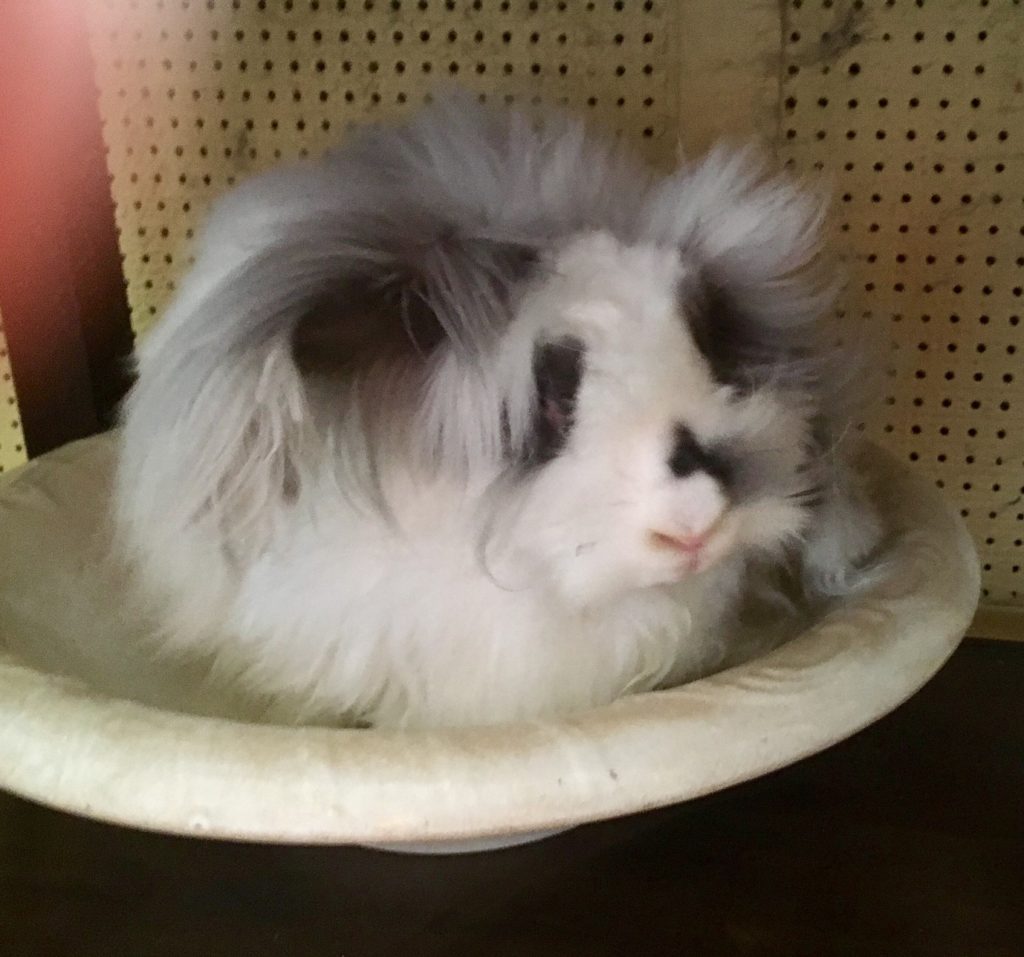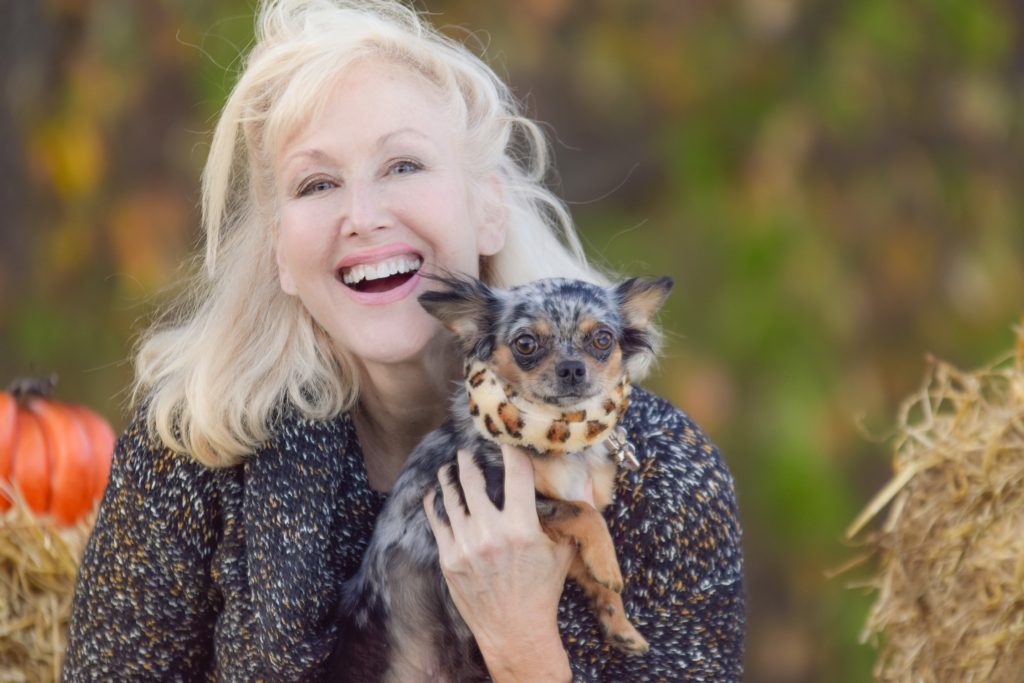 You know how to party – we know that – your wedding was no exception…describe your epic wedding.
So my wedding was 32 or so years ago. I should know that! Alan (a renowned photographer) and I got married in our huge loft, and you had to come dressed as members of a bridal party. It was on Halloween – you could be a bride, or a groom or a bridesmaid. The only problem was a lot of people thought it was a costume party and not an actual wedding. So we had people dressed as bridesmaids with five o'clock shadows and brides with full beards. They thought this was just going to be a big loft party – because we always gave huge parties – and not a wedding. But it was actually our wedding. I didn't get many gifts because no one took it seriously. I won't make that mistake again!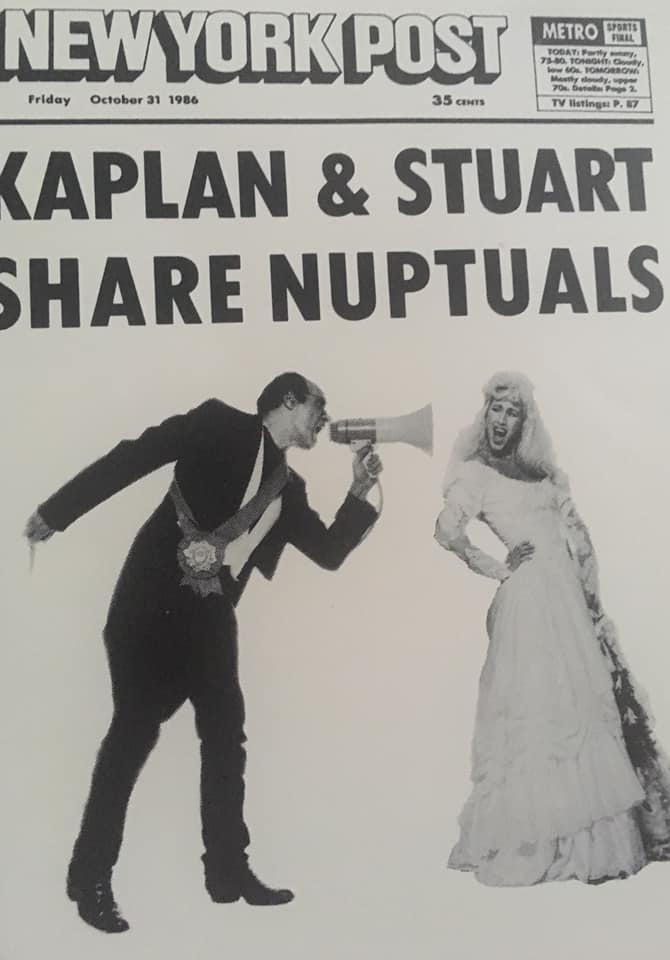 You've been modeling since you were in your twenties – what's the best thing anyone can do to look and feel like a model whether they're walking down the street or working it in the office?
You have to know who you are. What's your style? What makes you feel good? What floats your boat? When you put on a certain dress how does that make you feel? Don't go with trends, go with what you're attached to! Listen to your inner fashionista. And you know what? We all have that.
Reading For Filth is open to the public this Friday at 8pm at Club Bedlam, 40 Avenue C, NYC. For more on Wendy visit her book's Facebook page, her personal facebook page, or her instagram.
Visit her website, and buy her book on amazon!
All 18 of the BAFTA Acting Nominees Are White, All Directing Nominees Are Male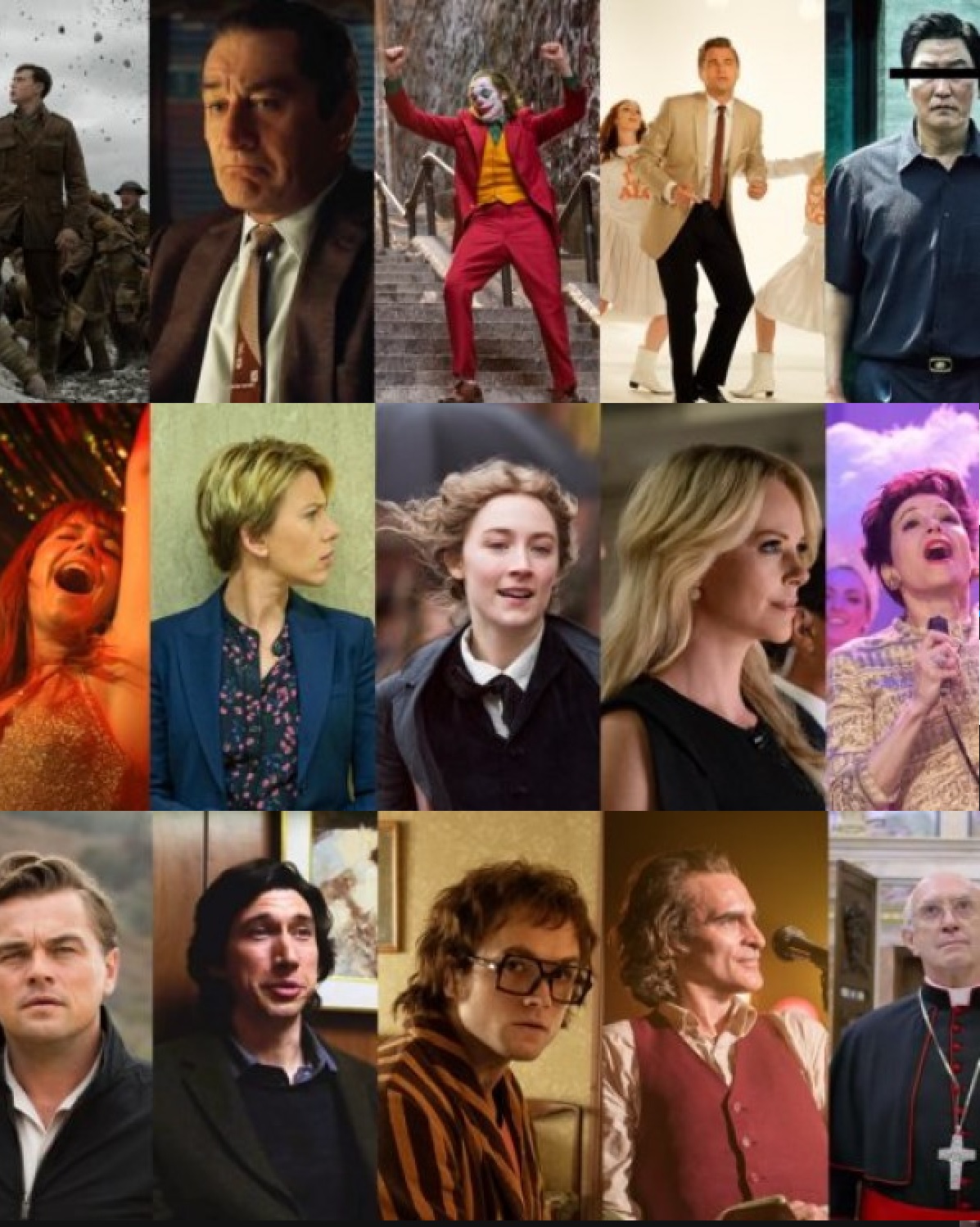 "Joker" is the one to watch at the upcoming BAFTAs, but if you're looking for diversity and female directors, sadly you'll have to look somewhere else. All the acting nominees are white, and all the directors are male.
Led by a lead actor nomination for Joaquin Phoenix, "Joker" received 11 nominations for Britain's equivalent to the Oscars, competing with familiar Golden Globe nominees Taron Egerton, "Rocketman,"  Leonardo DiCaprio for "Once Upon a Time … in Hollywood," Adam Driver for "Marriage Story," and Jonathan Pryce for "The Two Popes."
Renée Zellweger leads the nominations for the best actress category for her role in "Judy," alongside Jessie Buckley,  "Wild Rose," Scarlett Johansson, "Marriage Story," Saoirse Ronan, "Little Women," and Charlize Theron for "Bombshell."
Here are the other notable highlights:
See the full nomination page HERE.
11 nominations for Joker
10 nominations for The Irishman and Once Upon a Time… in Hollywood
Nine nominations for 1917
Six nominations for Jojo Rabbit
Five nominations for Little Women, Marriage Story and The Two Popes
Four nominations for For Sama, Parasite and Rocketman
Three nominations for Bombshell, Judy, Le Mans '66 and Star Wars: The Rise of Skywalker
The ceremony will be held on Feb. 2 at the Royal Albert Hall in London.
The Best Golden Globe GIFS That Keep On GIF-ing.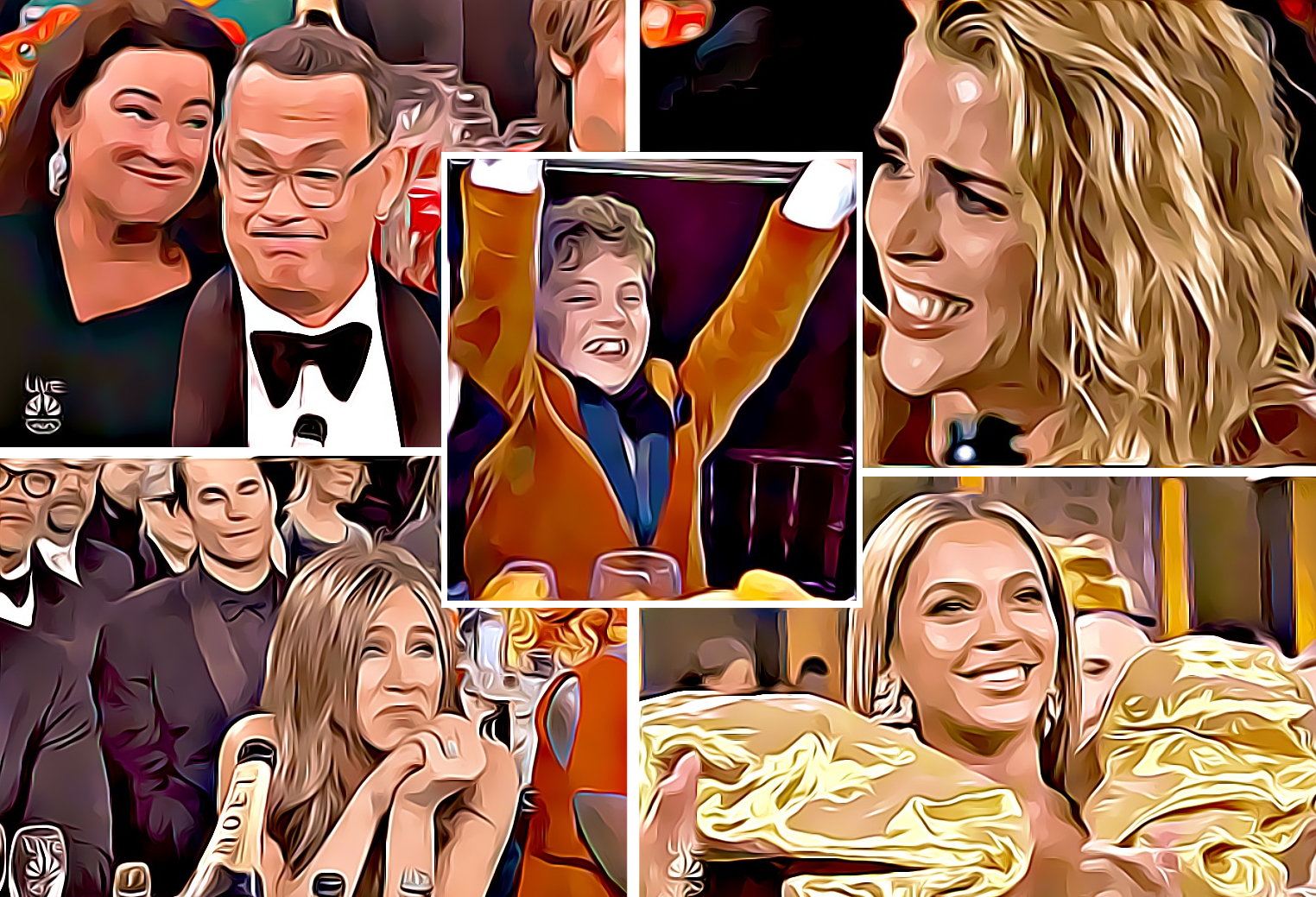 Sometimes an award show recap is best done with looping clips and no audio. Here are the best Golden Globe gifs making the rounds!
GIFS  via GIPHY  via NBC's awards coverage.
THE FIRST WINNER OF THE NIGHT,  RAMY YOUSSEF ADMITTED THAT MOST PEOPLE HAVEN'T SEEN HIS SHOW 'RAMY' ON HULU. BUT THANKS TO HIS HILARIOUS, CHARMING SPEECH, A LOT OF PEOPLE WILL BE CHECKING IT OUT NOW.

I WANNA BORROW GWYNNIE'S SHEER GOWN FOR LOUNGING POOLSIDE AND SMOKING A VIRGINIA SLIM. AND I DON'T EVEN SMOKE. IS THAT MACRAME? I AM NOT HATING ON IT. I THINK IT'S DARING.
BEYONCE LOOK TRAPPED. HERE SHE IS GIVING US THE GOLD SHOULDER…

TOBIAS MENZIES SUMS UP A LOT OF FOLKS' REACTION TO RICKY GERVAIS.

TOM HANKS FELT SIMILARLY.

WHEN YOU JUST WANNA FIND AN OPEN SPOT AT THE BAR…

BUSY PHILIPPS IS ALWAYS THERE TO SUPPORT BESTIE MICHELLE WILLIAMS. TONIGHT WAS NO EXCEPTION, AS SHE CHEERED ON MICHELLE'S SPEECH SUPPORTING A WOMAN'S RIGHT TO CHOOSE…
TIFFANY HADDISH AND SALMA HAYEK WERE FEELING IT TOO…

CAUGHT ON GIF: A MARRIAGE STORY'S ADAM DRIVER CAUGHT SMILING!

ONCE AGAIN, WHATEVER WILL FERRELL DOES IS HILARIOUS:

IF YOU DIDN'T FALL FOR ADORABLE ROMAN GRIFFIN DAVIS IN HIS MOVIE 'JOJO RABBIT,' YOU FELL FOR HIM LAST NIGHT…


WHEN A CAMERA IS TRAINED ON YOUR FACE FOR MOST OF THE NIGHT… WHAT'S YOUR GO-TO EXPRESSION? HERE'S BRAD'S:

AND HERE'S PACINO'S: LOOK CLOSELY AND YOU'LL SEE HE'S BREATHING.

AND FOR SOME REASON THIS IS THE ONE OF JEN THAT'S TRENDING. WE CAN DO BETTER.
EVEN IF YOU DON'T WIN, THERE'S STILL CHAMPAGNE.

AND THEN IT WAS OVER. LOOK HOW MUCH TIME YOU'VE SAVED!

FOR MORE OF THIS, OR SOMETHING ELSE, OR JUST BECAUSE WE LIKE YOU, FOLLOW @BRIANBALTHAZAR ON TWITTER.