POP INTERVIEW: Chapman Ducote of "Kim and Kourtney Take Miami"
Keeping Up With the Kardashians fans may recognize Chapman Ducote. The professional race car driver made his reality show debut this season on the show's special edition, Kim and Kourtney Take Miami.
Keeping Up With the Kardashians fans may recognize Chapman Ducote. The professional race car driver made his reality show debut this season on the show's special edition, Kim and Kourtney Take Miami. As the new best friend of Kourtney's husband, Scott Disick, Wetpaint.com described his initial appearance as "love at first sight." If viewers feel the same way, perhaps we may expect more of him on entertainment television.
Congratulations on making "The National Enquirer." And you didn't need a fake alien kidnapping romance! They wrote in February, "Kourtney told Scott that if he continues to listen to Chapman instead of her, their relationship will be over." Nice. Anything you want to say about this?
You'd have to ask Kourtney about that one. I've certainly never heard her say anything like that.
Have you experienced any jealousy, stink eyes or craziness now that you're on TV, or is that strictly something women do to each other yet to happen in your world?
So far, it's been all positive. So far … just cool fans telling me that I was a great addition and wanting to know more about me.
When you met Scott Disick, had you seen lots of "Keeping Up With the Kardashian's?"
No, not one episode. I spent a few days catching up because I was curious once I met the family, but in general I don't watch too much TV.
That show is kind of far-fetched in its production. I mean, aside from the actual show, their film crew is huge. Then, you have the people traveling with them like assistants, businessmen/businesswomen and PR. What was it like being part of this big circle?
Pretty low key actually. The crew was surprisingly small while shooting, although I'm sure there are a lot of people who work behind the scenes. The crew was warm and friendly, but really they just disappear once the camera starts rolling, which makes it easy to just be yourself and let them follow you around.
Among complaints I hear, people often tell me, "That show is for women." Why do you think you bring now, male viewers? Have you met a lot of them now that you're on TV?
I think that's a common misconception. I've met a lot of male Kardashian fans. They always tell me, "I liked you on the show, my girlfriend watches it." In other words – they watch and enjoy the show too, but blame it on their girlfriends! Since my episodes have aired, I have gotten quite a few thank yous for adding "guy content." But, really, I think guys enjoy the show as much as girls, they just don't admit it.
I guess common ground between you and the Kardashian family is a love for all things money and business. Please tell everyone what you do outside of racing.
Outside of racing, I'm involved in several business interests, but I'm mostly immersed in my payment businesses. I have a credit card processing business and one that facilitates payments on the internet with or without credit cards. I'm also involved in several real estate development projects and have been doing that for years. In addition, I'm involved in the publishing and distribution of my wife's book, "Naked Paddock" which is a fiction novel about racing and inspired by real life. I think there is a high likelihood it will become a movie.
And regarding pro racing, what are the demands involved?
It's all that being a professional athlete entails, and then some. You need to be in peak physical condition, and I do mean peak (I'll take a challenge from any athlete on that). You need to be of sharp mind to make quick life or death decisions on track, and you need to have the business acumen to maintain strong sponsorships and endorsements. Oh, and you need to have a screw loose, that's a pre-requisite! It's extremely hard work and requires more dedication that most people would imagine, but it's also a lot of fun.
Now that you're on TV for non-sports reasons, what are you going to do, as a reality TV personality, businessman and so on? You cannot let this good luck escape you!
I'm going to do what I know how to do best. I'm going to keep building my businesses, and keep building my racing career. If more TV comes my way, given the right circumstances, I'd embrace it. But, it needs to be in line with what I do in this world. I have a pretty cool life, and TV hasn't changed it in the least. And I won't let it either, unless it is for the better.
Who Is This Brian Balthazar Guy, Anyway?
Did you see Brian on TV today? Wondering who he is? Here's much more than you wanted to know. They leave the part out that he loves a well mixed Dark And Stormy, but let's keep things professional…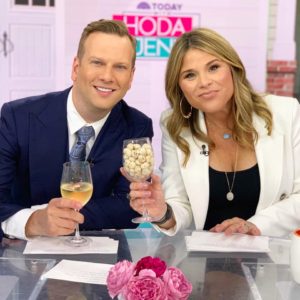 You may have seen Brian Balthazar on television this morning, heard him on the radio, or read about some recent developments in the world of media and pop culture. But who the hell is this guy? Brian Balthazar leads a double – triple – okay, maybe quadruple life. Part journalist, actor and comic, he appears on many TV shows as a guest, but is also a developer and creator of several television shows behind the scenes. This when he's not renovating homes and making snacks for his websites, POPgoesTheWeek.com and Snackist.com.
After launching the fourth hour of the Today Show with Kathie Lee Gifford and Hoda Kotb, he turned his attention to cable television, overseeing the direction and development of several shows on HGTV, including Flip or Flop, Love It Or List It, Christina On The Coast, House Hunters, Hit Properties with Nathan Morris, Flea Market Flip and dozens more.
As a comic he served as the opening act for Russell Brand In New York City and the MTV series Man and Wife featuring hype man Fatman Scoop.  He has performed at The Comic Strip, Caroline's On Broadway, Gotham Comedy Club and more.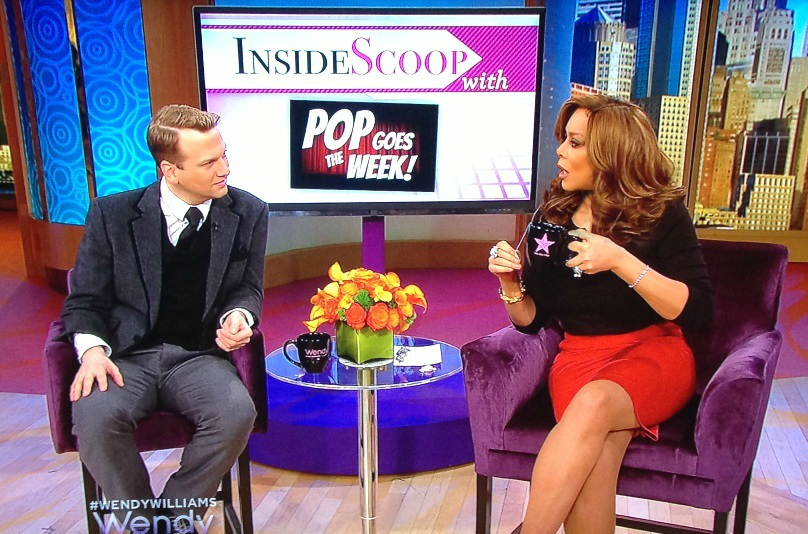 In addition to being a frequent guest on "The Wendy Williams Show," (he co-hosted several times during Williams' three week break) and appearing on the "Today" show, where he guest co-hosted with Jenna Hager-Bush,  Brian has frequently been seen co-hosting the syndicated TV gossip show Page Six TV.
Additionally, he was the sideline reporter for HGTV's Rose Parade Coverage, hosted the HGTV Special I Bought A Famous House, and has appeared on CBS's The Talk, HLN's Showbiz Tonight, MSNBC's Caught On Camera, The Joy Behar Show, and more.
An appearance on the fourth hour of the TODAY show with Kathie Lee and Hoda.
He has also been an emcee for many notable events and sponsors, including work as a brand ambassador for Bombay Company, the co-host of the Miss Tennessee and Miss Mississippi USA pageants, and a red carpet host at the Daytime Emmy Awards.
You may also have seen Brian in some viral videos, most notably a recent parody of Bird Box, and a satirical look at House Hunters' Writers' Room.
HGTV – House Hunters Writer's Room from Buffalo Picture House on Vimeo.
Appearing in a series of videos for Bombay Company.
Brian has provided analysis, interviews and helped co-host the Tony Awards backstage show. He also followed all the backstage madness at the launch of Fashion Week in New York City while co-hosting the Red Dress Event. He has been a roving reporter for the Dr. Oz show. Earlier in his career he was a features reporter and contributor on NBC, MSNBC, United Airlines In-Flight Entertainment and more.
For A&E network, Brian appeared in an episode of Biography about Jim Carrey. He also provided play by play of some of film's greatest car chases for a documentary about, well, car chases. (Ask his family and they will tell you: NO one would have expected to see him in a show about cars. We'll leave it at that.)
Before 'finding himself' professionally, Brian was a singer on a ship, a publicist for a trance medium, an insurance customer service rep, waiter, bartender, activities director, substitute teacher, website programmer, pianist at a camp for spoiled children, and college mascot. None of them worked out. Let's hope this does.
To contact Brian, email BrianBalthazar@aol.com.
To check out his video clips from NBC, HLN, and MSNBC, click HERE…
And – become his friend on facebook! www.facebook.com/brianbalthazar
For a more extensive listing of his TV appearances visit his IMDB page.
And he's apparently getting better about Twitter. So he says. He's @BrianBalthazar.
Thanks for reading POP GOES THE WEEK!
For his TV Appearances, Click on the TV APPEARANCES page.
POP in the Kitchen! The Perfect Snack and Cocktail Pairings.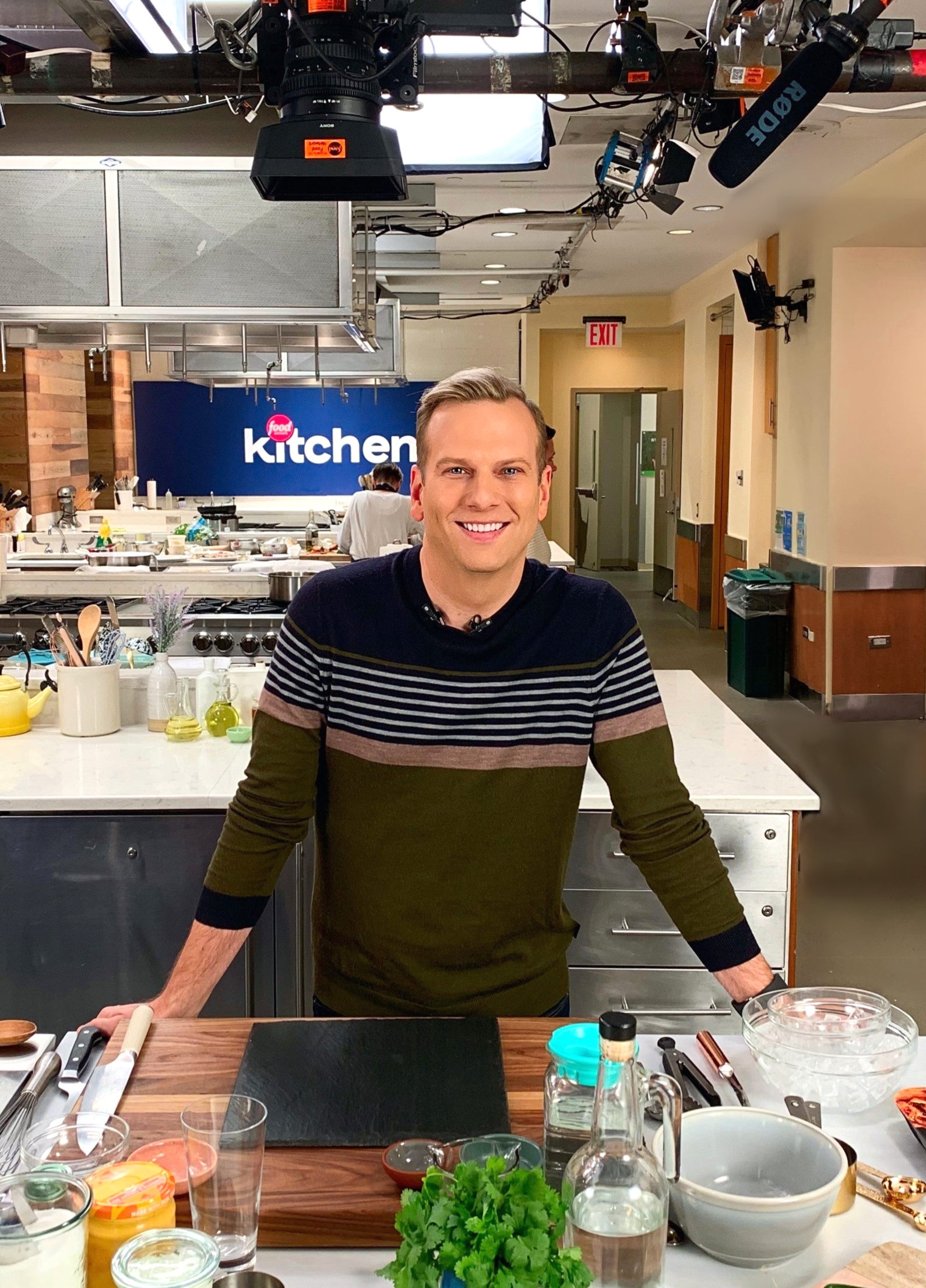 POP Goes The Week's Brian Balthazar is part of the all new Food Network Kitchen App! Cook LIVE alongside Brian as he makes get party food and the drinks that go perfectly with them!
Hey everyone! I'm so excited for this – I was thrilled to be a part of the new app, which is an all new way to cook with your favorite chefs and cooking experts. In the app, you can get the recipe and ingredients and recipe in advance, check the live class schedule, then cook at the very same time as your instructor!
I was fortunate enough to be invited to do a live snack and cocktail pairing, which you can still watch – and cook along with me! Trust me, these all start out as live, which means anything can happen! (I have an adventure with the broiler in one of them!)
For my recipes, I made a pulled pork toast with queso, sour cream radishes and green onions, along with a smoky mezcal paloma.
In another class, I make lavender honey that gets drizzled right on top of baked brie with herbs, then use that same lavender honey for my own interpretation of a "Bees Knees" cocktail that I call a "Bees Knees Breeze." I came up with the variation because the original recipe, simply gin, honey and lemon was just TOO strong for me and I found myself always getting plastered!
Check out the gallery of what I made, all available on the FNK app!
This slideshow requires JavaScript.
I hope you can check them out, AND all your favorite instructors like Bobby Flay, Giada de Laurentiis and Ree Drummond!
'Saved By The Bell' Cast Reunited For 30th Anniversary – And I'm So Excited
If you think your high school experience feels like ancient history then it won't bring you any comfort to know that Saved By The Bell debuted 30 years ago!
Back in 1989, Saved By The Bell hit the small screen and quickly became a television staple. Over the course of its four seasons, the sitcom followed Zach Morris and his unique blend of friends as they navigated the tricky waters of high school. Everyone had a favorite Bayside Tiger and the series spawned many memorable scenes…but you are a liar if you didn't say your favorite scene was where Jessie broke down crying after coming to terms with her caffeine pill addiction while crying out the most iconic line ever, "I'm so excited…I'm so excited…I'm so…scared"
In any event, some of Bayside's most memorable students reunited over the weekend to celebrate the 30th anniversary of the hit sitcom. Mark-Paul Gosselaar (Zach Morris), Tiffany Thiessen (Kelly Kapowski), Mario Lopez (A.C. Slater) and Elizabeth Berkley (Jessie Spano) all gathered together to hit us right in the nostalgia. Notably missing were Lark Voorhies (Lisa Turtle) and Dustin Diamond (Screech). Berkley wrote on her Instagram "FRIENDS FOREVER!!!" along with some sweet and fun hashtags. Lopez upped the ante and posted a video recapping the fun time the gang had as they reminisced on the days way back when. WHY WASN'T THIS TELEVISED?!? Many are speculating the reunion to be the beginnings of a reboot or revival but nothing of the sort has yet been confirmed.
View this post on Instagram
Like what you read? Follow @ChrisSiretz on Twitter and Instagram