POP INTERVIEW: Maya Ezratti from Rewarding Relationships
Katy Perry! Miley Cyrus! Failed relationships! Author and relationship expert Maya Ezratti gave us her opinions on what's wrong in Hollyweird romance lately.
Katy Perry! Miley Cyrus! Failed relationships! Author and relationship expert Maya Ezratti gave us her opinions on what's wrong in Hollyweird romance lately.
Why do most reality show marriages end in divorce?
There's too much pressure on the relationship. It can feel very forced. There's too much exposure of a couple's private life. The expectations are askew as well and when the cameras aren't rolling anymore and people are no longer directed to behave in certain ways and the attention has been refocused and shifted off the couple. Reality couples tend to have a hard time with the post-show transition. There are no more fantasy dates being created for the couple, finances come into play and real life, away from TV, sets in and it's not always as glamorous as it was on television.
Why don't people in Hollywood ever spend time not dating anyone? Some celebrities are in the tabloids with a new boyfriend every month.
Be single? That's a ghastly notion in Hollywood apparently. Celebrities need it for publicity. It's also an ego boost to be paired up with someone so soon when you're down in the dumps from a recent public breakup. Someone new can serve as a distraction in the meanwhile and keep the media talking about you. Gotta keep it hot!
How can someone be happy with themselves when not in a serious relationship?
I always like to think of the freedom we have when we are single! Singlehood rocks. No one tells you what to do! You can come and go as you please. Date, date, date, date, date when you're single! It's like being in the buffet line people! Take a bite outta everything that's offered until you found the flavor of love! Stop thinking of what or who you don't have and go wild on all you do have! Many people place their self-worth and value on their relationship status rather than on who they are as an individual and what they have personally accomplished in life. You've got to be happy with yourself first and always, with or without someone. I know it's cliché and all, but it's so basic and so true. You can't be a hater and expect to be happy at the same time. Fill your time with things you love to do. Travel, sports, exercise, social and hobby clubs etc. Change the meaning of happiness for yourself. Are you happy at work? Great! Are you happy as a college student? Wonderful! Are you any less of a person if you're not involved with someone right now? NO. Be happy, be free and make the choices that best suit you! Why settle?
Katy Perry says she couldn't get out of bed for weeks after her divorce. She had critics before the wedding saying it was happening too soon. Is she being sincere about the level of her depression, or is this an act to sell her new album?
She's being sincere. Divorce is gut wrenching. She did have a whirlwind romance with her ex, Russell Brand, but she thought she was in it for the long haul. Quick romances are hard because it's too much too soon and then the relationship unravels at an even faster pace and things end badly. In Katy's case it's even worse because it's a public humiliation. Katy's lucky it was only a matter of weeks that she felt she couldn't get out of bed. Thank g-d for her that she is a busy woman and had a career to get back to! That saved her. It can be months or years where people are just severely depressed and don't have the wherewithal to deal with anything. Divorce sucks the life out of you! It's truly unimaginable. It's the worst to go through, but on the other hand, when you're done, you're DONE! You're out. You're free. No more emotional imprisonment. I'm happy for Katy that she's moved on. She's amazing. And if she used any of her pain to promote sales in her industry, then bravo! She was able to avenge her heartbreak by creating a profit! Sounds like a final win to me.
Can negatively perceived publicity break an already failing relationship? Is it possible that Miley Cyrus broke up with her boyfriend after the VMAs because he couldn't handle the media pressure of dating a Top 40 star?
Sure it's possible. They were on and off again at that point. Rumors were flying about Liam Hemsworth having been unfaithful with January Jones. Miley's ex is gorgeous! Did she cheat? Did he cheat? Yes, negative publicity can totally break up a couple. It causes strains on the relationship and gets into he-said/she-said and the couple starts blaming one another and that's dangerous territory. Between bruised egos and emotional vulnerability, strains on the relationship become evident.
"The Millionaire Matchmaker" is returning for a new season. Is it possible for anyone to find true love on TV, and on this show, where the whole premise is women dating men because they have millions in the bank?
Great question! Yes it's possible for people to find true love on TV. It may not seem like the standard, more ordinary, traditional way for people to fall in love. But when it comes to falling in love, who cares how or where you fell in love?! You're in love! BRAVO! And that's the best part! You could meet on the bus, in the office, walking to your car back from lunch, at the gym, on vacation, in college, ANYWHERE and EVERYWHERE! And yes, even on TV. Look at Trista Rehn and Ryan Sutter from ABC's The Bachelorette. They met on reality TV and fell in love. They married in 2003 and have two children and are happily married still today in October 2013. ABC's The Bachelorette Ashley Hebert fell in love on the show with J.P. Rosenbaum and they got married in 2013. ABC's The Bachelor Sean Lowe also fell in love with the cameras rolling and he is set to marry his fiancé Catherine Guidici. Look at Snooki Nicole Polizzi. She fell in love on MTV's reality TV show, Jersey Shore, got engaged to fellow cast member Jionni LaValle and the couple now have a baby boy. So love does exist and last on TV. Not every TV relationship works out but not every non-TV relationship works out either. Yes, the premise of the show is matchmaking millionaires and the people meeting one another on the show are looking for love just like the rest of us, they are just willing to take a bigger, more public gamble in the game of love. Sure, people can be opportunists, but that happens in front of the cameras and off. When it comes to finding true love, don't be afraid to try all options. Maximize the playing field.
The program's host, Patti Stanger, has all kinds of rules she makes contestants follow about what they say and what they wear. Call me cheesy, but I think someone should like you with any hairstyle or mannerisms. They'll eventually find out anyway. Who's right: Patti with her strict dating rules…or me?
Sorry to disappoint you, but yes, Patti is correct in this case. Patti's not changing someone's personality. She's just toning down the volume or conversely, bringing it up when it comes to showcasing and highlighting each person's best attributes whether relating to physical appearance or to personality. Some people talk too much and others not enough. People get nervous on dates, inadvertently, and end up saying ridiculous things or they forget to inquire about their date or they don't know how to have a fun, easy going conversation and they end up being boring (the worst) or too aggressive and sound like reporters interviewing their subject instead of just getting to know one another. That is why they seek Patti's help or the help of relationship coaches like me. They are unsuccessful in dating love and relationships. MEN ARE VISUAL!!! So are women by the way. On first dates, you don't have much to go on, so you are judging on looks and style and hair and mannerisms. The guy can be the nicest guy in the world, but if he looks like a putz and hasn't updated his look since the year of the flood, then the girl won't care how nice and amazing he is. She's already checked out! And the same goes with men. Men don't want their dates to show up looking masculine or looking like they just came out of a business meeting. Men don't want their dates showing up with bad hair and cheap looking attire which sends messages to men that "I don't care about myself, I don't care about how I look, why would I care about you? I'm not even worthy of this date. I couldn't even be bothered to look good." And to your point about people eventually finding out how you really behave and look irregardless of the initial dating phase, yes, that may be true, but by then hopefully each person has fallen in love with the other and can accept a little bit of a less unkempt look if you will. Although, I caution you, never get too unkempt! You're in a relationship or marriage for the long haul (hopefully). Don't make it boring right off the bat. It's never attractive to date or be married to someone who just doesn't ever care or make ANY modicum of effort to dress up for his or her partner. It's unromantic. It sends of signals of "I'm not so interested in you or in us anymore." That's dangerous!
Hold Onto Your Bucket, You Can Visit Colonel Sanders on KFC Island In 'Animal Crossing'
Kentucky. Fried. Crossing.
If I told you to live in a tent for a few days, pull a bunch of weeds from the lawn and chop down a few trees for lumber that you will then have to turn into tools with your own two hands all while trying to pay off a ridiculous debt that you unwittingly acquired you might think I'm into corporal punishment. Yet, it's all those things that make Animal Crossing: New Horizons on the Nintendo Switch so damn addictive.
The life simulation video game has grown unbelievably popular over these last few months and it's probably because the game provides a great creative outlet that can keep players entertained for hours while remaining home during quarantine. Even some celebrities have jumped on the virtual bandwagon with Elijah Wood, T-Pain, Chrissy Tiegen and more all sharing their obsession on social media. Well scoot over movie stars, big time singers and supermodels because the biggest household name just changed the game (not literally as I'm sure the game has some sort of coding that prevents actual changes to be made but metaphorically the pun works). That's right, Colonel Sanders has an avatar and an island and is ready to serve up some chicken.
Earlier this week, the KFC Philippines Twitter account revealed the news that "KFC Island" would be opening for lucky visitors. To get to the island you have to message their Facebook account with the #KFCVirtualStore for a chance at getting a Dodo Code. Because I am one of the many who have fallen in love with this game I know that a Dodo Code is a unique code which can be shared with select visitors to grant them access to your island. I feel like such a gamer. On the Kentucky fried island there is a restaurant that is replicated to look like the real thing! There's booths, a kitchen and even promotional posters. Oh and as if this wasn't exciting enough, if you find the Colonel hiding somewhere on the island you could win an 8-piece chicken bucket from KFC…in real life! (The promotion is only valid for players in the Philippines.)
Visits to the island are only available until June 20th, so be sure to hop on this finger lickin' experience while you can!
Like what you read? Follow me on Instagram
Stan Lee Said The Only Way To Combat A Racist Is To 'Expose Them' In A Periodical From Over Fifty Years Ago
A man truly ahead of his time.
The concept of finding strength within a community has never been more pressing than it is right now. Our country is divided in so many ways but amongst the fractures you can see groups joining together in an effort to show that unity is always stronger than division. If anyone can attest to that belief it was the ingenius comic book writer, editor, publisher, and producer Stan Lee.
The man responsible for the Marvel universe we know and love today was behind a number of comic books which featured outcasts who looked beyond their differences in order to unify and protect the greater good. A concept our world might need reminding of. In the back of the comics Lee wrote for was a section entitled "Stan's Soapbox," where the wordsmith would write short articles expressing some things that were on his mind. One soapbox article from 1968 has resurfaced and gone viral because of how eerily fitting it is for today.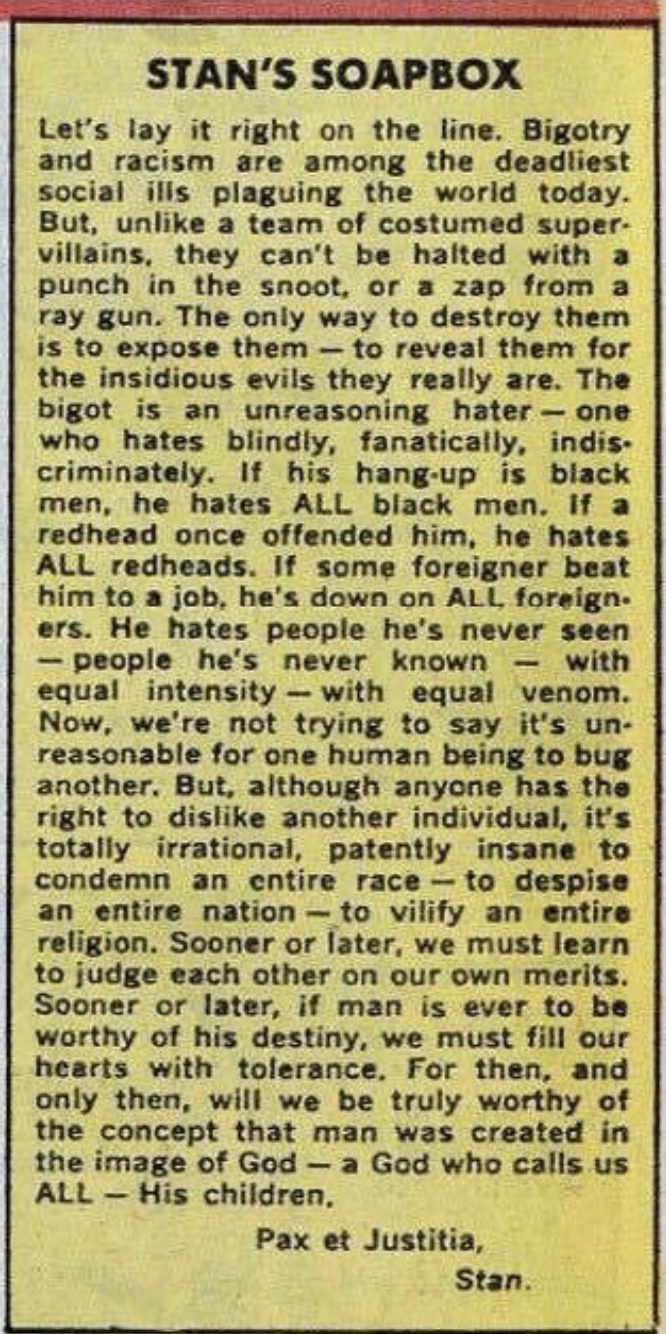 In the article Lee calls bigotry and racism "the deadliest social ills plaguing the world today." But unlike a super villain from one of his comics, racism and bigotry cannot be defeated by a "punch in the snoot, or a zap from a ray gun," he says, rather "the only way to destroy them is to expose them – reveal them for the insidious evils they really are." The comic book creator suggests the only way for our world to continue peacefully is to "judge each other on our merits" and to "fill our hearts with tolerance."
Along with the soapbox article, a clip from an interview with Larry King has gone viral with Lee once again wishing to see more tolerance in the world. When asked what the one thing he would change about the world Lee responded "I'd make people not hate each other because of their religion, because of their nationality, because of any stupid reason. If we can abolish hatred, we live on this gorgeous planet."
One thing you would change about the world?

Stan Lee: " I'd make people not hate each other because of their religion, because of their nationality, because of any stupid reason. If we can abolish hatred, we live on this gorgeous planet." pic.twitter.com/lxHzUWSkCL

— Sílvia (@JustMe_Silvia) June 9, 2020
Why couldn't he be the celebrity that ran for president!? Hopefully the villains Lee warned us about over fifty years ago will soon seem like a thing in the past and that beautiful, tolerant world he dreamed of will become a reality.
Like what you read? Follow me on Instagram
Lizzo's Performance Of 'Pomp And Circumstance' Will Make Any Graduate Feel Good As Hell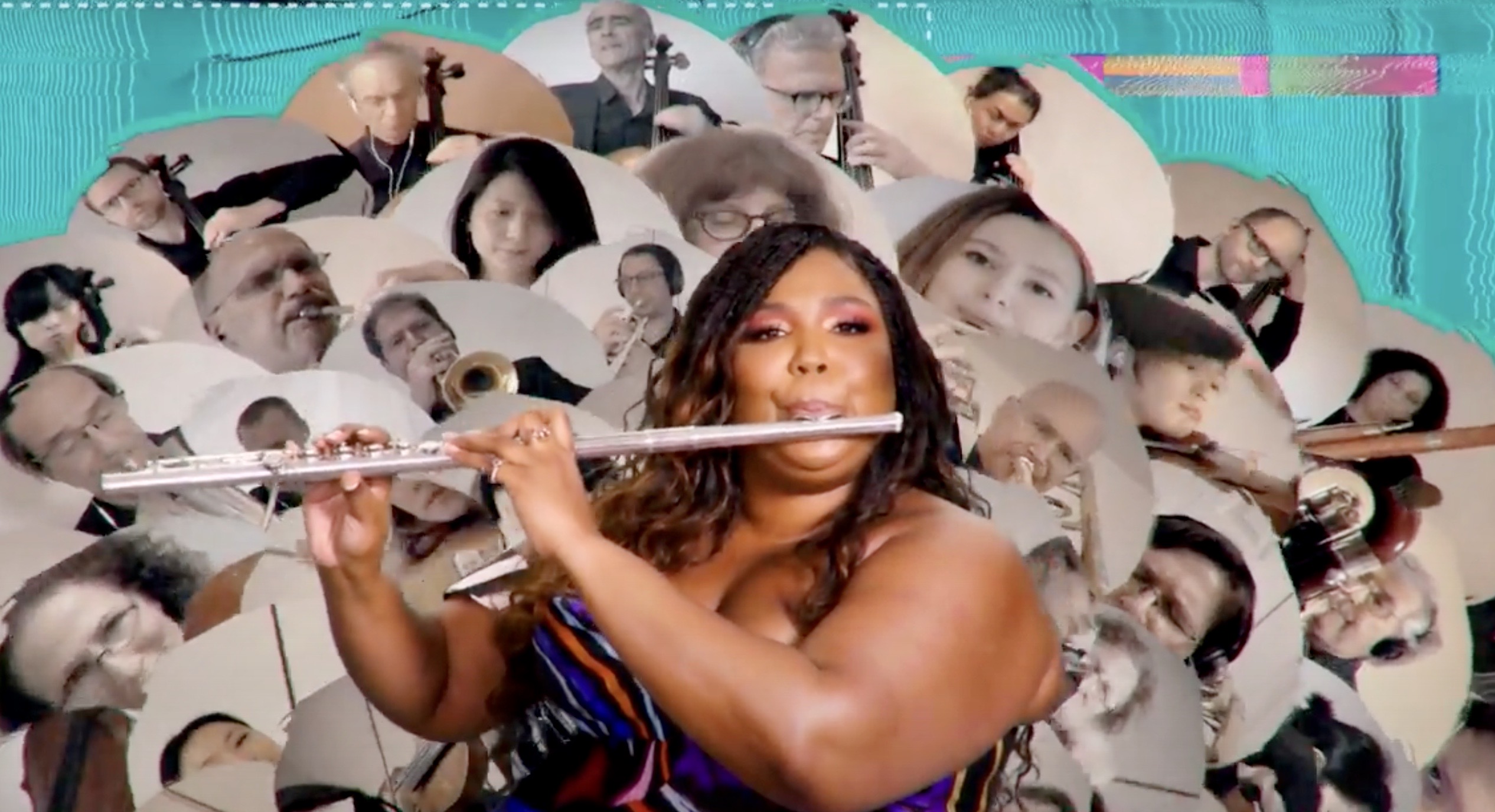 She really is a hoot with a flute.
Ah graduation, that special moment that every student dreams about where they get dressed up in an unbreathable gown and an unflattering cap and sit outside for hours somewhere on a great lawn in the middle of a heat wave just to receive that special piece of paper that says they have completed a super long chapter in their lives. While the ceremonies are not always the most exciting time ever, to be denied the chance to walk across a stage and turn the tassel on your cap due to the pandemic guidelines does seem like a real bummer. To help remedy the graduation blues of 2020, YouTube Originals live-streamed an event called Dear Class Of 2020 which featured some huge stars offering their support. One of those stars happened to be Lizzo who put her own spin on the classic graduation march "Pomp and Circumstance."
In her performance, Lizzo played the iconic two-minute section of the song that is most widely associated with graduations. After about 40-seconds, the "Juice" singer shares her congratulations to the graduating class and then lets them know it's time to "turn it up." With that, Lizzo is virtually accompanied by the New York Phil Harmonic as they jam out (is it still called jamming out when it's classical music?) to create a truly memorable performance. The performance is visually stunning showcasing some cool digital effects but what truly stands out in the video are the images of black graduates wearing their caps and gowns as they participate in Black Lives Matter protests that are happening throughout the nation. The entire video suddenly becomes much more hopeful as it becomes clear that the future of our nation rests in the hands of these courageous, intelligent and strong young people.
The video ends with a photo of Deveonte Joseph taken by photographer Nathan Aguirre, which went viral when first posted. In the photo, Joseph is wearing his graduation cap and gown on a street in St. Paul, Minnesota, with the lights of a police set up glowing behind him.
Check out the entire inspirational video below!
Like what you read? Follow me on Instagram