BREAKING PIZZA NEWS: What You Need To Know Before Having Your Next, Delicious Slice.
A new study is out that determines whether blotting a piece of pizza with a napkin to absorb the grease really amounts to anything. It does, much more than you probably imagine. My enthusiasm about this story is in part because I've been on an all-fresh/raw juice diet all day and this is suddenly the only thing I can think about. But let's get to the meat of the story. Ah…. pepperoni… Okay, I'm focused again… here goes:
A website called Labdoor (which I now will be reading regularly) brilliantly decided to see if it made any difference, and put together an infographic with the results. I'm posting PART of it here… but really to be fair, go visit the article in its entirety.
Researchers used slices from a 14-inch Domino's pepperoni pizza. Before dabbing, the slice was 117 calories. But after dabbing, it was 76.5 – cutting 40 calories and four and a half grams of fat. Pepperoni is a big grease producer, by the way… you've seen that swimming pool of grease collect when the edges of the pepperoni curls up – or in cases where the pepperoni stays flat – it just swims across the entire slice. I'm dying for pizza right now.
Americans eat about 23 pounds of pizza every year, amounting to about 87 slices! But if you blot, you're shaving off enough calories that it's as if you're 66 slices per year.
Count me in!
Foodies Rejoice! You Can Build Your Breakfast With This New Lego Waffle Maker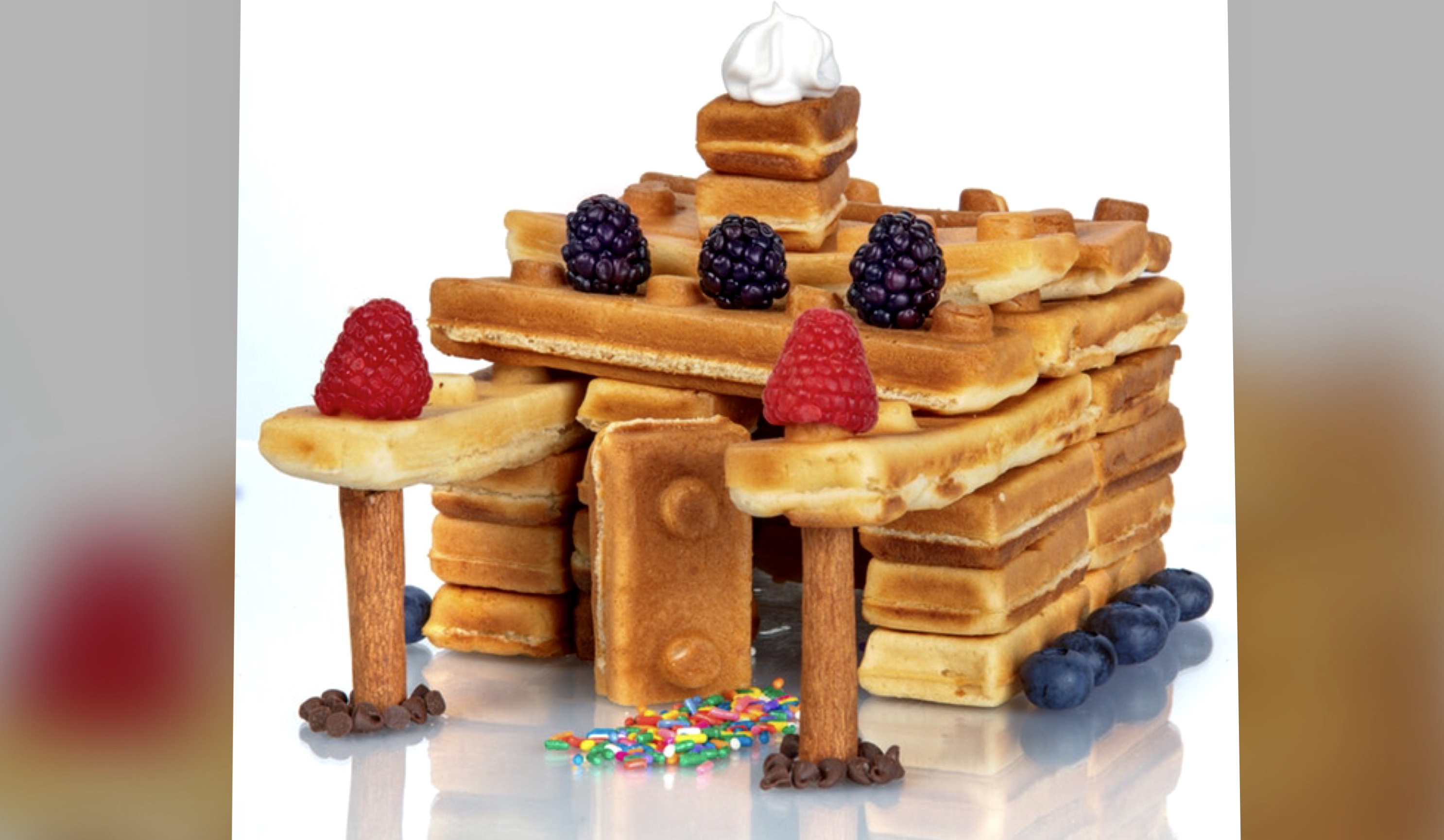 Finally an excuse to play with your food.
Breakfast is the most important meal of the day but maybe it can be the most fun too? Well there is a new kitchen gadget in the works that would definitely bring creativity to your morning routine. The Building Brick Waffle Maker turns ordinary waffle batter into interlocking building blocks so you can construct your own carb castle. The waffle maker makes 14 bricks at a time so there are plenty of pieces to play with. The company behind the maker also produces construction plates that make for the perfect base for your waffle creation.
If you're hankering for a waffle brick you might have to wait just a little bit longer sadly. The maker launched on Kickstarter with a goal of raising $7,500. At the time of writing this, the Kickstarter is up to a whopping $77,000! That's a lot of legos! According to the site, pledging $50 will get you one waffle maker, $75 will get you one waffle maker and two construction plates, $95 will get you two waffle makers, and $100 will get you one waffle maker and four construction plates – all of which will be delivered in August 2020.
Maybe it's time to Leggo the Eggo and start making waffle creations at home!
Like what you read? Follow me on Instagram
Twitter User Figures Out Why Triscuits Are Called "Triscuits" And Minds Everywhere Are Blown

Sometimes the internet answers a question you never even knew you had.
Nabisco invented Triscuits in 1900. They were granted a patent in 1902. Nabisco began producing Triscuits for mass consumption in 1903. Each wafer currently measures 1-3/4 inches square. There are currently dozens of different flavors of the popular wheat snack. While all of this information will make for perfect ice-breaker fun facts at your next dinner party, it doesn't really provide information on why Trsicuits are called "Triscuits," which truthfully I have never even thought about before. Until today that is.
Twitter user @SageBoggs asked a question that has shaken the social media platform to its very core. He asked "What does the word 'Triscuit' mean?" If you're like me you probably read that and thought "well everyone knows it has something to do with a biscuit" and while that is correct, Alex Trebek would have you escorted off of  Jeopardy for an answer so incomplete. Luckily for us, @SageBoggs continues his Twitter thread providing a ton of snack facts but not before warning us to "buckle up." And it definitely is a wild ride.
Originally, @SageBoggs thought the "Tri" in "Triscuits" could stand for three layers or three ingredients but when he asked Nabisco themselves he got a response saying that was incorrect. In that same official response, Nabisco said none of the records from the date of invention survived so they weren't 100% sure about the origin of the name either. WHAT?!? First mind explosion right there. After some more digging, @SageBoggs discovers one of the earliest ads for "Triscuits" features the slogan "baked by electricity," which was a unique method of baking at the time. And then it hit him, the "Tri" in "Triscuits" comes from "elec-TRI-city." They're "electricity biscuits!" Mind blown all over again! Obviously Twitter erupted with comments, many of which express gratitude for answering a burning question we never knew we needed answer.
Take a look at the educational thread below!
OK, buckle up. I wanna talk to you about Triscuit. pic.twitter.com/Tg7334OSbc

— Sage Boggs (@sageboggs) March 26, 2020
Like what you read? Follow me on Instagram
Get Hyped Over This DIY 'Whipped Coffee' Food Trend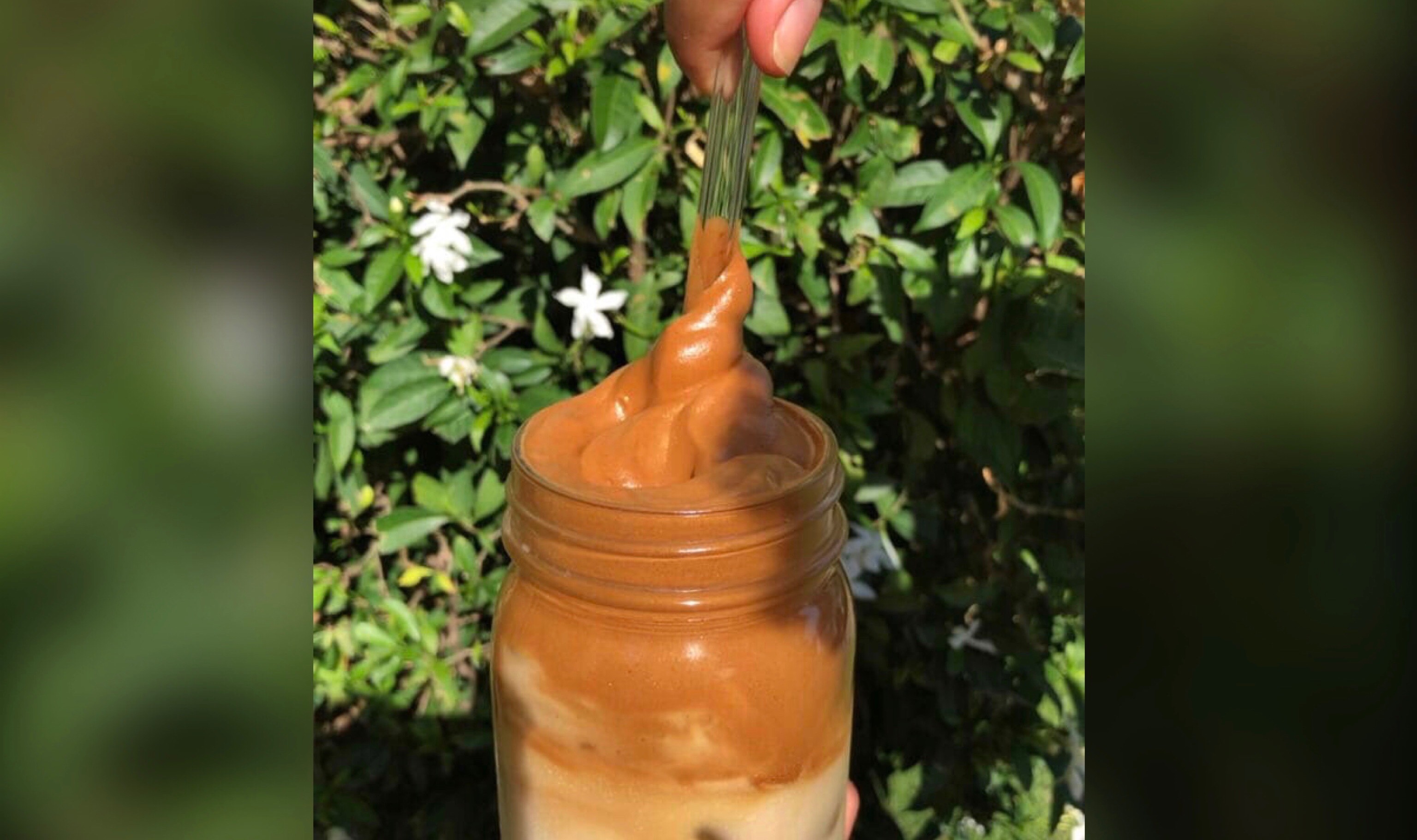 You're still drinking regular, old, liquid coffee? How 2019 of you.
Coffee has been a staple to mankind ever since someone figured out that drinking the hot water poured over ground beans actually made mornings bearable. Since then, coffee has become woven into our culture. Coffee shops have popped up on every corner. There are about a bajillion different ways to have your coffee now too. You can have it hot or iced or frapped or latte'd or macchiato'd or espresso'd. You can have it with milk, without milk, with almond milk, coconut milk, oat milk…I bet you're wishing I had less coffee while writing this huh? Well there is a new way for coffee lovers to enjoy their cup of joe and it is a piping hot new trend!
Whipped coffee has been popping up on Tik Tok over the last few weeks gaining a lot of attention from users. The airy coffee confectionary had a lot of people wondering how it's made. Turns out, it's not that complicated. One Tik Tok user, @JessicaInTheKitchen, broke down her recipe and demonstrated the simple process. Jessica's recipe is as follows:
2

 

tablespoons

 

instant coffee

2

 

tablespoons

 

granulated sugar

2

 

tablespoons

 

boiling water

a pinch of cinnamon

 

optional

1

 

cup

 

milk of choice
And then just like Devo said in 1980….you whip it, whip it real good. Take a look at the how-to video below and hop on this coffee trend before some giant, Seattle-based, coffee company has you paying $12 for a cup next month!
Like what you read? Follow me on Instagram