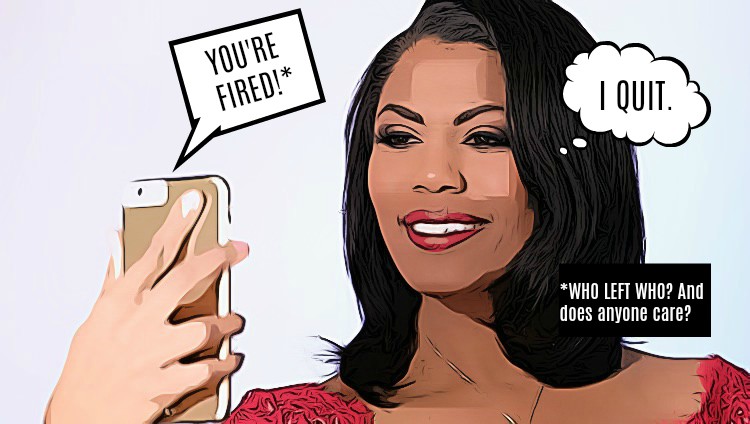 In phrases I never thought I'd write, Former "Apprentice" reality star and White House Office of Public Liaison Omarosa Manigault Newman is leaving her gig that included doing very little but ruffle feathers.
For clarity, the part I never thought I'd write was 'White House' and 'Omarosa' part. The 'leaving' development, which is less surprising to me, was released in a White House statement as a resignation "to pursue other opportunities." By the way, plenty of folks who have worked anywhere ever might recognize that the phrase "resigned yesterday to pursue other opportunities" leaves the faint scent of being asked to leave a job but given the opportunity to spin it as a resignation as an act of good will. Her departure "will not be effective until January 20, 2018." Translation: she will continue to do very little until January 20, 2018. Sources told American Urban Radio Networks' April Ryan that White House Chief of staff John Kelly fired her and that Manigault "acted very vulgar and cursed a lot and said she helped elect President Trump."
The most glaring problem with all of this is that Trump has done so little to staff his administration with non-white people that this departure leaves one wondering if he has anyone of color left in his circle. He has actually made news as having the most white and male cabinet since Reagan.
It's hard to see what the motivation behind hiring a reality show villain was. Manigault Newman joined the administration as director of communications for the White House Office of Public Liaison, working on outreach to various constituency groups, but mostly served as an additional element of the administatration to pull your hair out over. She infamously signed a letter inviting The Congressional Black Caucus to the White House with the name "The Honorable Omarosa Manigault." In an interview with "Frontline" prior to the election, she predicted that Trump would win and that "every critic, every detractor will have to bow down" to him.  In Aprilk she reportedly brought members of her 39-person bridal party to the White House for an extended wedding photo shoot that took the security team by surprise. Feel gross yet?
What Omarosa truly represented, though, was another example of the blurring of pop culture and politics. Omarosa became famous for being a troublemaker on a competition show. But a 'breakout' star on a reality series doesn't always translate to success in the real world. If you look at the minute-to-minute ratings of a TV show, sometimes a person popping up on a TV screen for a scene can result in a spike up in the numbers… a plot development involving that character can sometimes pique viewer curiousity. Or in social media, a polarizing TV personality can drive interest in a show and bring in viewers. But real life – and in particular, politics, has yielded different results for Omarosa. Rather than bringing in eyeballs for reality TV viewing, Omarosa simply brought eye ROLLS. There is already no shortage of people watching the reality show that is this administration, so an additional polarizing walk on character isn't needed. Omarosa may have had good intentionsn but her task of reaching out to the black community was a formidable one, given the President's consistent habit of disillusioning them with his policy and support of conservative (and in some cases racist) political allies. He has notoriously low approval ratings from the black community, and Trump's failure to get Roy Moore re-elected to the Alabama Senate was largely due to the overwhelming response from black voters, proving that as a liason, Manigault Newman may have been over her head, or simply not even wanted by the Trump administration anymore.
Whatever the case, whether Omarosa was asked to leave, or quit on her own. Both ends of this working relationship are better off.