Omarosa Is Leaving The White House.
Now the real life reality show that is the White House has one less cast member. Will it even make a difference?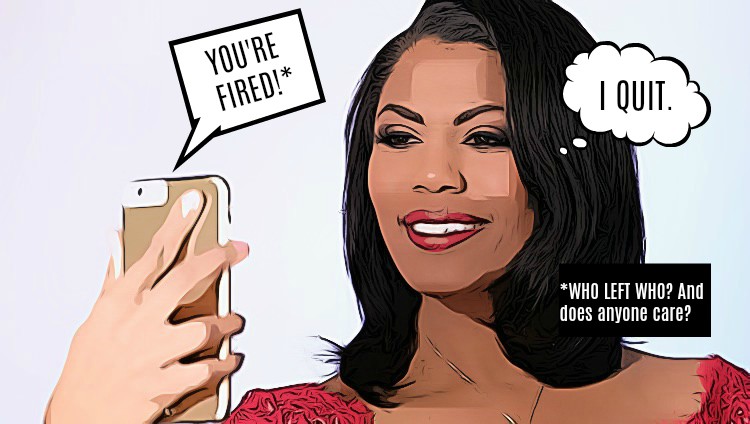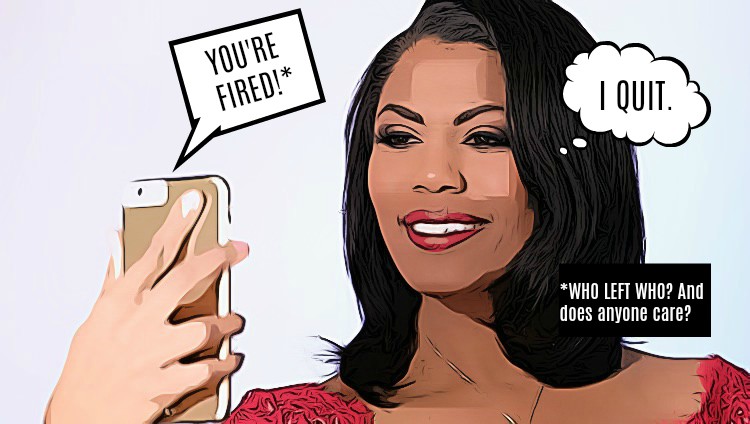 In phrases I never thought I'd write, Former "Apprentice" reality star and White House Office of Public Liaison Omarosa Manigault Newman is leaving her gig that included doing very little but ruffle feathers.
For clarity, the part I never thought I'd write was 'White House' and 'Omarosa' part. The 'leaving' development, which is less surprising to me, was released in a White House statement as a resignation "to pursue other opportunities." By the way, plenty of folks who have worked anywhere ever might recognize that the phrase "resigned yesterday to pursue other opportunities" leaves the faint scent of being asked to leave a job but given the opportunity to spin it as a resignation as an act of good will. Her departure "will not be effective until January 20, 2018." Translation: she will continue to do very little until January 20, 2018. Sources told American Urban Radio Networks' April Ryan that White House Chief of staff John Kelly fired her and that Manigault "acted very vulgar and cursed a lot and said she helped elect President Trump."
The most glaring problem with all of this is that Trump has done so little to staff his administration with non-white people that this departure leaves one wondering if he has anyone of color left in his circle. He has actually made news as having the most white and male cabinet since Reagan.
It's hard to see what the motivation behind hiring a reality show villain was. Manigault Newman joined the administration as director of communications for the White House Office of Public Liaison, working on outreach to various constituency groups, but mostly served as an additional element of the administatration to pull your hair out over. She infamously signed a letter inviting The Congressional Black Caucus to the White House with the name "The Honorable Omarosa Manigault." In an interview with "Frontline" prior to the election, she predicted that Trump would win and that "every critic, every detractor will have to bow down" to him.  In Aprilk she reportedly brought members of her 39-person bridal party to the White House for an extended wedding photo shoot that took the security team by surprise. Feel gross yet?
What Omarosa truly represented, though, was another example of the blurring of pop culture and politics. Omarosa became famous for being a troublemaker on a competition show. But a 'breakout' star on a reality series doesn't always translate to success in the real world. If you look at the minute-to-minute ratings of a TV show, sometimes a person popping up on a TV screen for a scene can result in a spike up in the numbers… a plot development involving that character can sometimes pique viewer curiousity. Or in social media, a polarizing TV personality can drive interest in a show and bring in viewers. But real life – and in particular, politics, has yielded different results for Omarosa. Rather than bringing in eyeballs for reality TV viewing, Omarosa simply brought eye ROLLS. There is already no shortage of people watching the reality show that is this administration, so an additional polarizing walk on character isn't needed. Omarosa may have had good intentionsn but her task of reaching out to the black community was a formidable one, given the President's consistent habit of disillusioning them with his policy and support of conservative (and in some cases racist) political allies. He has notoriously low approval ratings from the black community, and Trump's failure to get Roy Moore re-elected to the Alabama Senate was largely due to the overwhelming response from black voters, proving that as a liason, Manigault Newman may have been over her head, or simply not even wanted by the Trump administration anymore.
Whatever the case, whether Omarosa was asked to leave, or quit on her own. Both ends of this working relationship are better off.
Lizzo Is An Icon In The Making – And Here's Why
Mirror, mirror on the wall don't say it 'cause we know Lizzo cute. And by cute I mean extremely talented, gorgeous and totally inspiring!
A few months ago I was watching The Ellen Degeneres Show when I witnessed one of the most fun, exciting and awe-inspiring performances I've ever seen. Lizzo popped onto the screen in a sparkly, pink getup and began singing what would become her big hit song, "Juice," – I was immediately hooked (more like obsessed). During this performance she also jammed out on her flute alongside her plus-sized backup dancers and suddenly I knew I had been changed forever. I did some more research on the rapper/singer and found out I had been sleeping on this gem! Lizzo has been doing bad all by her damn self for years, having already released two albums in the past. I am suddenly mad at every single person who neglected to tell me to jump on the Lizzo train sooner! If you're like me and need a bit of catch up, I'm going to break down exactly why you need to know this icon in the making.
You can throw a stone in any direction and hit a triple threat nowadays. Lizzo's brings talents we have yet to see in the mainstream music industry.
If singing, rapping and dancing make Lizzo a triple threat, what does flute playing making her?!? A STAR THAT'S WHAT! Lizzo has displayed her abilities as a talented flautist, which is not an instrument you would necessarily think of in conjunction with the rap genre making this talent all the more extraordinary. Lizzo even used her flauting skills to compete (and defeat IMO) with Ron Burgundy. Not Will Ferrell, but Ron Burgundy.
Oh, and she can also twerk while playing the flute. 
As if playing the flute wasn't impressive enough, Lizzo can also twerk while playing. I really hope some high school kid is deciding to take band just so he/she can flutwerk their way around campus like their fav flautist, Lizzo.
Lizzo uses her platform to inspire and raise up everyone around her.
Lizzo uses her voice for more than just creating fire music, ya know. She uses her platform to defend the belief that beauty comes in all shapes and sizes. Her Twitter is filled with positivity and strong messages about acceptance.
MY MOVEMENT IS FOR EVERY 🗣BODY. IM LEAVING NO ONE EXCLUDED. "GOOD FATTYS" AND "BAD FATTYS" AND ANYONE ELSE WHO WANTS TO JUST FUCKING LIVE ARE WELCOME. NO TERMINOLOGY NO IDEOLOGY JUST FUCKING HAPPY PEOPLE IN MY MOVEMENT.

— |L I Z Z O| (@lizzo) March 4, 2019
Uhm…she's straight up gorgeous. 
We cant forget to mention that Lizzo is a straight up beauty queen. She is known to switch up her look but I've never seen a bad pic of this queen. To solidify my point, she is now officially the first, plus sized black woman to be featured in Playboy magazine!
Move over Avenger's, Lizzo has been in a comic book too!
Ok indulge the nerd in me on this one…Lizzo was even featured in a comic book!!! That's right, she has become so influential that even Marvel comics wanted a piece of the Lizzo-pie. Check out this shout-out in Unstoppable Wasp #4!
MY MOVEMENT IS FOR EVERY 🗣BODY. IM LEAVING NO ONE EXCLUDED. "GOOD FATTYS" AND "BAD FATTYS" AND ANYONE ELSE WHO WANTS TO JUST FUCKING LIVE ARE WELCOME. NO TERMINOLOGY NO IDEOLOGY JUST FUCKING HAPPY PEOPLE IN MY MOVEMENT.

— |L I Z Z O| (@lizzo) March 4, 2019
So now that you have become as obsessed as I have, you are probably wondering how you can get even more Lizzo in your life. Well lucky for you, her new album dropped TODAY! Her third studio album, Cuz I Love You, is available anywhere you listen to music and let me tell you, YOU WILL LOVE IT. The album is varied and showcases all of Lizzo's incredible range with some songs being upbeat and funky, and others being slowed down and heart wrenching. For a taste of what to expect, click below to listen to the title track of the album. If the new album still doesn't satisfy the hunger for more Lizzo, she's also on tour! You can click here for more info on tour dates.
Oh Lizzo…you are most definitely 100% that bitch.  
Like what you read? Follow @ChrisSiretz on Twitter and Instagram
LISTEN AND VOTE: Madonna Has A New Single. What Do You Think?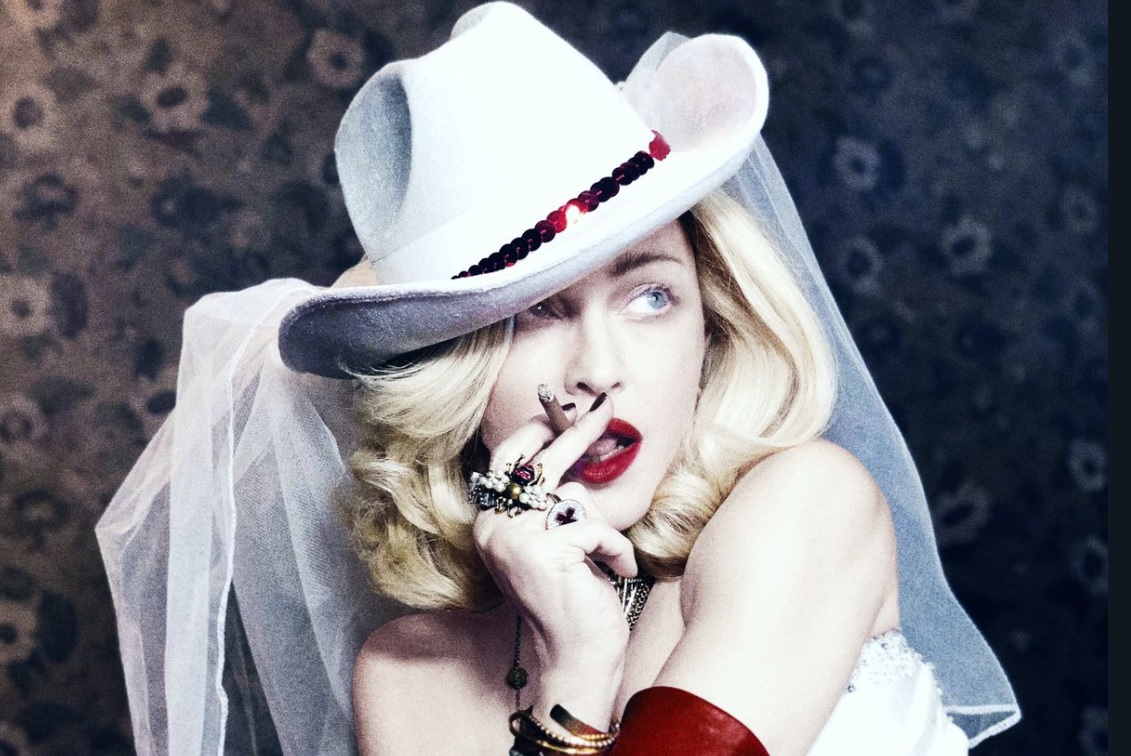 Madonna has released her first single in three years. Her highly-anticipated 14th studio album Madame X will be released on June 14 – but the first single is out now.
The premiere single, "Medellin,"features Colombian superstar Maluma. She credits her experiences living in Lisbon, Portugal over the past several years as a strong influence into the tracks. 15 new songs will lean heavily into Latin and global beats. (Not to mention Maluma's incredible popularity – he has nearly six million followers on twitter.)
"Lisbon is where my record was born," Madonna says. "I found my tribe there and a magical world of incredible musicians that reinforced my belief that music across the world is truly all connected and is the soul of the universe."
 LISTEN AND VOTE IN OUR POLL BELOW!

Nine Types Of Facebook Posts That Are Insufferable, Needy Or Annoying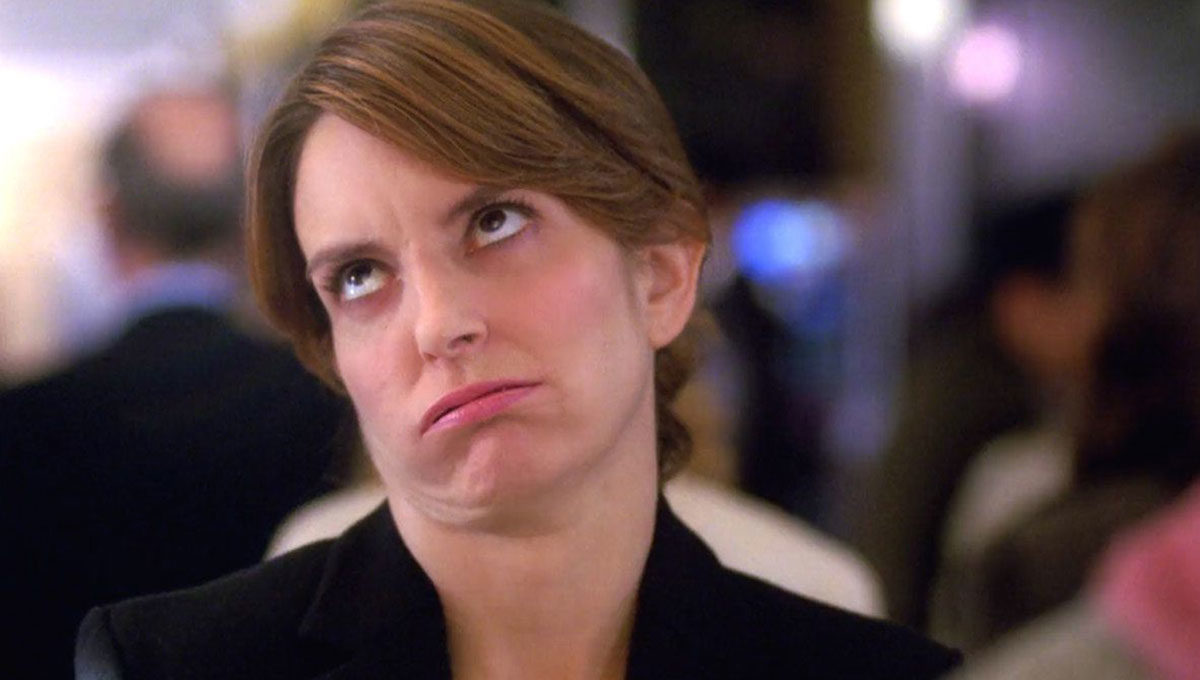 We all know someone who does these.
Facebook is like a window into a person's soul – and it doesn't take much to see when someone is looking for your attention. Do you know someone whose guilty of these nine Facebook faux pas?
THE "I'M CLEANING OUT MY FACEBOOK FRIEND LIST, HOPE YOU MAKE THE CUT!" POST
We all know a person who decides they are going to going to edit down their friend list and posts a not so thinly veiled warning to their friends that, horror of horrors, maybe they will be among those ousted! It's like the hunger games, except no one really cares if they're killed off. Let's examine the real intention here: they want you to say 'please don't unfriend me!' What they fail to realize is how many people are dying to sarcastically say 'I'm shaking… Oh no. How will I go on without you?' If you want to edit down your friend list, go nuts – but do it quietly, without the rallying cry for attention. Chances are the people who are begging you to keep them aren't going to be unfriended anyway because they feed into your exasperating neediness regularly already.
THE "I'M TAKING A BREAK FROM SOCIAL MEDIA FOR A WHILE. SEE YOU IN A COUPLE OF WEEKS" POST
If social media is such a drain on your life, why do you need to use social media to announce your desperately needed hiatus? The absence of posts more than likely will go completely unnoticed by your friends because, you see, they actually follow other people too. Again, this is a post that is seeking some sort of comforting or validation. If Facebook is the means in which you keep up with someone you truly have a close personal relationship with, you might instead tell them personally that you can be best reached by phone or email. If an announcement needs to be broadcast, the intention is not one of genuine concern. Again, it's done out of neediness.
THE "PLEASE RESPECT MY PRIVACY" POST
A recent friend posted a lot of details about their breakup. Details no one asked for, and followed it up with "please respect our privacy."
This, to me, was hilarious. This is the physical equivalent of getting a megaphone and going to a public park, shouting out about your painful breakup, and then saying 'but please, don't ask me about it, it's very personal." Think of Facebook like a town crier: it's shouting everything you say to a few thousand (or more) people. If you want privacy, don't say it at all. (Unless of course, you do want the attention, then by all means, do exactly this.)
Lastly, you're not Angelina Jolie and Brad Pitt. If you don't have a career that requires you to have a press agent, you probably don't need to worry about the paparazzi asking for more details.

THE "BIG ANNOUNCEMENT COMING SOON!" POST
No one cares about your vague announcement announcing a future announcement that no doubt will delight us all. Save the 'big news' for when there is actually big news to announce.
THE BLOODY CUTS, STITCHES OR BLISTERS POST
People cut themselves, it's true. But there is no reason to put your recent bloody injury on Facebook. Yes, you'll receive a flurry of 'are you okay?!,' or 'so sorry that happened to you!' comments, but the truth is, no one really cares to see it. It's gross.
If you want to see – or show – something gross, put it on YouTube where people can go looking for it.

POSING FOR A PICTURE WITH AN ELDERLY PERSON CLOSE TO DEATH IN A HOSPITAL BED AND POSTING IT
Ask yourself – when you're 90 years old, do you want someone taking your photo and showing the world what a wonderful person they are for being with you, and in turn revealing how frail and sick you've become? Think before you post deathbed photos. Are you really doing it for them? Or for you? Instead, how about a written status saying how much you love them, or a photo from when they were feeling better and fully themselves, living life to the fullest might be a better option.
THE "LET'S SEE WHO READS MY STATUSES. IF YOU DO, YOU'LL REPOST THIS RANT" POST.
No I won't. Yeah, I can see that post where you say 'if you see this and read it, you should copy and paste it and post it to prove it to me.' Then it goes on to comment about stuff most people have no interest in sharing. How lovely, a chain letter based on an imposed obligation to validate someone. In summary: Facebook isn't about testing people's friendship. Stop.
THE "PLEASE SEND PRAYERS" (BUT I'M NOT GOING TO TELL YOU WHY!) POST
I'm all for supporting people with the power of prayer. And it's actually because prayers are powerful – and a very personal request – that it seems only fair to explain what we're praying for. If you are going to ask for something from your peer group as sacred as prayer, it's only fair to explain what you're going through, rather than place the burden on the reader to dig and ask. Again, this is a status that brings it back to the poster, and not the potential recipient of the prayers themselves.
BONUS: this one might not make you needy, but it's worth noting:
THE "I HEREBY DO NOT APPROVE OF FACEBOOK USING MY PHOTOS FOR ANY REASON AND I THINK THIS IS ACTUALLY A LEGAL STATEMENT PREVENTING THEM FROM DOING SO" POST.
Here's the thing: You use Facebook for free, and you upload your photos onto their servers – drive space that is theirs, not yours. Your blah blah 'legal' proclamation gives you no rights. For nearly a decade there has been a hoax announcement saying Facebook was going to publish your photos for everyone to see, and it hasn't been true yet. And yet – by signing up for Facebook you are agreeing to their terms of service, (look them up if you're confused) which means no matter what you post in your status you're not going to have any legal right to change that agreement. Here's the bottom line: The best way to deny Facebook's access to your photos is not to upload them there.

For more pop culture ridiculousness follow @BrianBalthazar on twitter! He's also cleaning out his facebook friends soon, (everyone is so worried!) so there's room for more on facebook too!