POP INTERVIEW: Shoshana Bean On Broadway, New Music, And Her Viral Covers
What is the most versatile bean you can think of? Shoshana Bean of course!
The multifaceted star has lent her talents to Broadway, television, movies and is even a recording artist in her own right. Bean's rise to stardom began back in 2000 when she was cast in the Off-Broadway revival of Godspell. Her standout performance only catapulted her to even greater heights, as she went on to originate the role of Shelley in Hairspray on Broadway, and became the first replacement to Idina Menzel as Elphaba in Wicked. In 2015, she was cast as C.C. Bloom in the musical adaption of Beaches at the Drury Lane Theater in Chicago, and just last year was cast as Fanny Brice in the North Shore Music Theater's production of Funny Girl. Most recently, however, Bean has released her 4th studio album, Spectrum, which captures all the colors of who the artist truly is.
I planned the whole weekend around my phone call with Shoshana (I'm going to pretend like we are on a first name basis), and sat nervously perfecting my questions until the phone rang. Nerves are great until they give you dry mouth, which is usually no big deal…unless you have a lisp. So when I thanked her for taking out the time to chat a harsh "Thankth" came out instead…ugh I digreth. From the start Shoshana was unbelievably sweet and centered, with each of her answers being more insightful than the last.
"You have performed so many theatrical roles, which has been your favorite?"
"That would be Funny Girl. It has been my dream role for as long as I can remember, so to finally get to sink my teeth into it was a dream come true already. To be at a point in my life where I resonated so strongly with [Fanny Brice's] experiences and journey…and then to be able to actually bring authentic, personal experience to the role? That was one of the very few times I have been able to do that in a spot-on type of way."
**Gushing about Shoshana as Fanny**
"I think that I had been away from theatre for so long that when I have dipped my toe back in the choices were so gut driven. It doesn't matter what I am being paid. It is more about what roles I will show up for every day that just make me hungry for it. And Funny Girl  was that."
That's it. I'm only doing things that I hunger for!…Just kidding, I've got bills to pay.
"There is talk of Beaches heading to the West End. Know anything about that?"
"There has been a lot of talk about us going to London for a while now, so I don't spread any rumors. I will believe it when I sign my name on the dotted lines."
"If you were offered the chance to play C.C. Bloom on the West End, would you take it?"
"Right now, of course I would, but you never know what the circumstances are or where you are in your life when these moments come."
"Let's talk about your music, I've been in a Shoshana-wormhole all weekend! You have released 4 studio albums of your own. What makes Spectrum different than the first 3?"
"The first and easiest answer is that it is a big band album based on the tradition of big band swing that you would know from Frank Sinatra and Count Basie. We used the traditional set up, but put our own, fresh spin on it. The evolutionary difference would be that every project I have done up until this point has been a snapshot of where I was in my life. I think this project, which is why I named it Spectrum, is the fullest spectrum of all of my colors. It encompasses all of what I've learned about myself, all of what I bring to the table as an artist and what I communicate with my voice. I think if you listen to my first record I just had a lot to prove and I was singing as hard and as high, trying to get in as many notes in as I could. If you listen to the second one, I took it back to super vintage to pay homage to my roots and the music I was raised on. The third album stripped it all the way down to the most vulnerable I had been until that point. Spectrum utilizes all of those things."
"Is it ok to use the word 'maturity' when describing this album?"
"A lot of people have been using the word 'maturity' and I appreciate that because I think it is hard for me to believe my age. First of all, it is hard to accept. I don't view myself as the number that is attached to me. I still think of myself as so much younger. I feel younger. I just don't feel like I have aged like the normal 40 year old. It was hard for me to reconcile doing a project that I consider being mature, so I take the compliment of maturity in stride"
"In addition to this album, you have been killing it with YouTube covers. Would you ever consider doing a full album of covers?"
"Spectrum was all covers except for 3 originals. It is really, really hard to watch songs that I didn't write, that have just been reinterpreted, be of more interest to people because I don't just consider myself a singer or song interpreter. I consider myself a writer and an artist and a producer as well. So I do take a little bit of a beating every time [the cover] gets wild attention versus my own stuff which doesn't always gain as much traction. I do try to think about the fact that Barbra sang 99% covers, Aretha sang 95% covers, Frank Sinatra sang 100% covers and those are all people that I admire. I remember hearing a quote that Bette Midler used sometimes which was 'I'm not a writer, I am an interpreter of songs,' and I don't think that is a bad thing to be."
"How do you choose what songs to cover?"
"I only touch songs that really move and inspire me. I was legitimately inspired by Taylor Swift's song. I was legitimately a fan of 'Chandelier.' I'm only mining for gold. I'm not looking for sterling silver."
I am putting 'I'm only mining for gold' onto a t-shirt as we speak.
"The proceeds of 'This Is Me' go to the LA LBGT Center. How did you become involved with the organization?"
"I first worked with them this summer. They asked me to sing at their 'Glitter Run.' I knew I wanted the proceeds to go to youth. I wanted it to go to those who are struggling to find their identity and be accepted. From the moment I first sang it 3 years ago, I knew it was an anthem. I said to Benj and Justin (Pasek and Paul) that they wrote one of the most important songs ever written. I wanted it to be a battle cry."
"Lastly, what's next? Where do we look for more Shoshana?!"
"Right now, I am just working on routing a tour for the album. I'll just continue to collaborate with great artists and continue to put our more content, more videos."
The interview wrapped up,  so of course one more "thankth" slipped out, and we ended the call.  I didn't think I could become a bigger fan of Shoshana's, but after hearing how much careful thought goes into her art I am truly awe struck. Keep an eye out for her upcoming tour, as I am sure it will amazing. You'll definitely see me there. I'll be the one in the "I'm only mining for gold" t-shirt in the front row.
For more info on Shoshana Bean click here!
To buy Spectrum click here!
Subscribe to her YouTube page here!
B'WAY BUZZ: Ben Platt's Diverse Music Video For 'Temporary Love' Will Bring You To Tears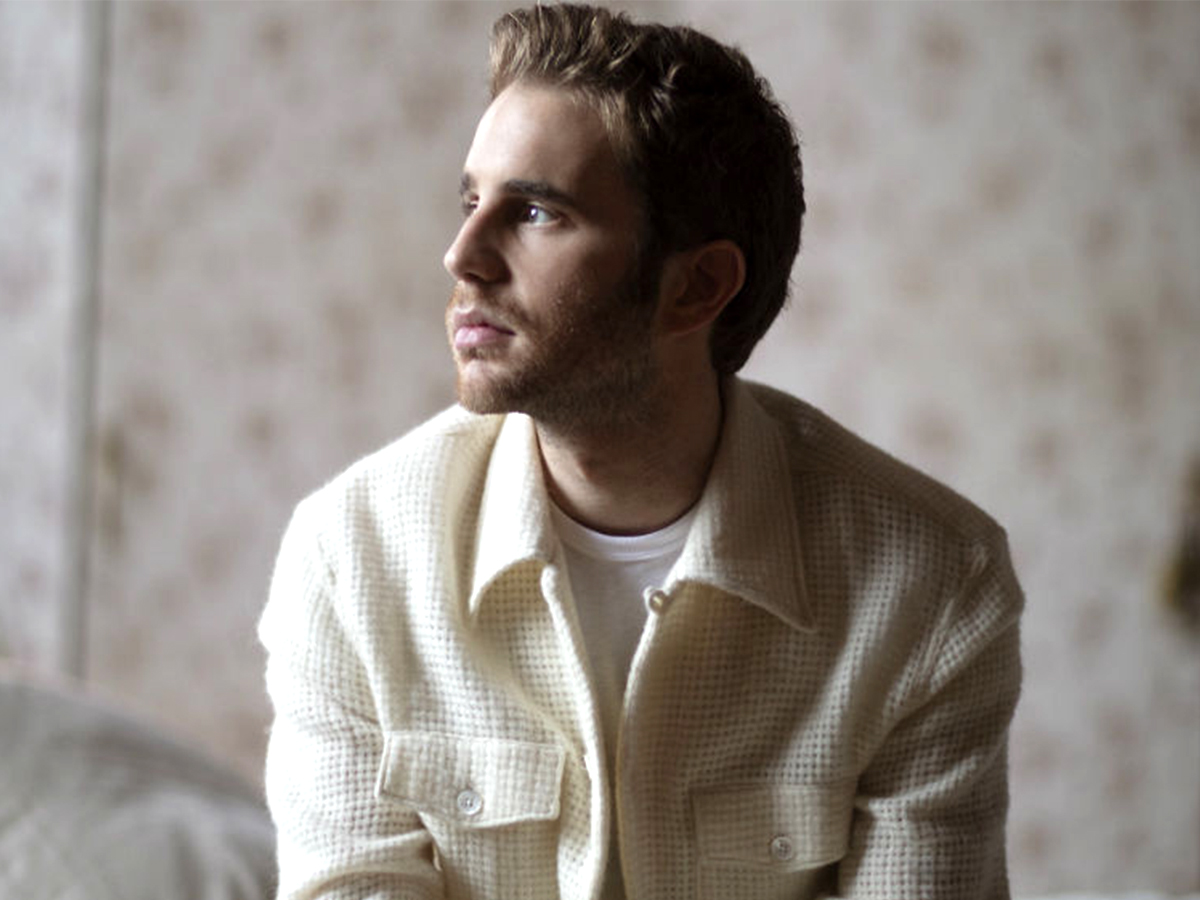 The tears streaming down my face certainly don't feel temporary! Broadway and film star, Ben Platt, just released a music video for his latest single, "Temporary Love," and it is the true definition of #feelgoodFriday. Not only is the song a beautiful one, the video has caused several coworkers of mine to ask if I'm alright because I have been staring at my computer teary eyed for what it is certainly too long for any workplace.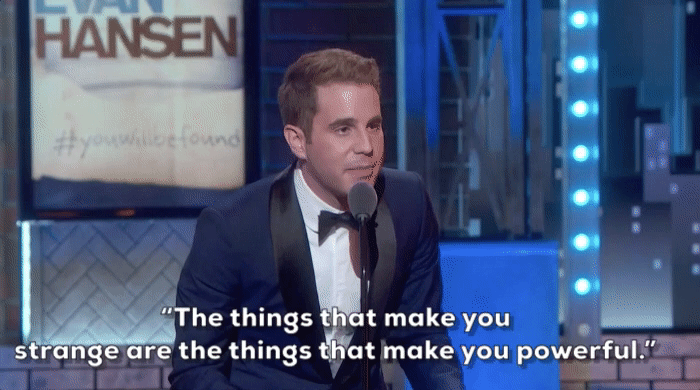 "Temporary Love" is the fourth single from the Dear Evan Hansen star's debut album, Sing To Me Instead. The music video, directed by Nick Lieberman, features various, romantic couples of all ages, races and orientations. The powerful imagery and the song's message combined with Platt's velvety smooth voice is enough to tug at anyone's heart strings.
Sing To Me Instead will be released on March 29th and will feature previous singles "Grow As We Go," "Bad Habit" and "Ease My Mind." Click below to watch the beautiful music video!
Like what you read? Follow @ChrisSiretz on Twitter and Instagram
B'WAY BUZZ: Jeremy Jordan And Laura Osnes Team Up In "The Next Ten Minutes Ago" To Create A Mashup That Will Restore Your Faith In Love
Who could have thought pairing one of Broadway's hottest heartthrob's with a literal Princess would create the romantic mashup to end all romantic mashups? I could. It's really kind of obvious, you guys.
The web series R&H Goes Pop! releases music videos featuring contemporary twists on classic Rodgers & Hammerstein songs. For this installment, Broadway stars Jeremy Jordan and Laura Osnes combined their beautiful talents to perform a mashup of "Ten Minutes Ago" from Rodgers & Hammerstein's Cinderella and "The Next Ten Minutes" from Jason Robert Brown's The Last Five Years. Jeremy starred in the film version of the Jason Robert Brown favorite and Laura Osnes was Cinder-freaking-ella on Broadway!
The mashup is beautiful and I suggest you warn your cubicle neighbor…they may hear sniffle halfway through. Click below to hear two of Broadway's finest!
B'WAY BUZZ: Ashley Parker Angel, Kyle Dean Massey And Other 'Wicked' Alum Give 'What Is This Feeling?' The Boy Band Treatment
The hit musical Wicked could only be improved with the addition of one thing…a boy band. You thought I was going to say jazz hands didn't you?
The #OutOfOz series offers new renditions of the music written by Stephen Schwartz for the hit Broadway musical. Since the inception of the series we have seen big names like Jennifer Nettles, Aaron Tveit and original witches, Idina Menzel and Kristin Chenoweth, add new twists to the popular songs. In the latest installment, several Wicked alum band together…pun definitely intended…to give "What Is This Feeling?" a boy-band-pop spin. Ashley Parker Angel dug deep into his O-Town past to nail the synched choreo and lead the boys through the charming music video. Kyle Dean Massey, Jeff Heimbrock, Daniel Quadrino and Jeremy Thompson round out the Broadway boy band and create an image for a poster I would so totally hang above my bed.
Check out the fun rendition of the Wicked hit below!
Like what you read? Follow me on Twitter and Instagram