POP INTERVIEW: Loren Allred On 'The Greatest Showman'…And You Won't Believe What She Caught Hugh Jackman Wearing!
Meet the woman who provided the powerful voice behind the jaw dropping perfomance of "Never Enough" in The Greatest Showman. Hear what happened behind the scenes!
If you are like me, then back in December you sat in a movie theater bawling your eyes out at the beautifully heartfelt and expertly executed, musical film, The Greatest Showman. The film told the story of P.T. Barnum's life and his creation of the circus we all grew up knowing and loving. The plot gave audiences everything they craved from huge romances, to layered characters, to massive musical numbers that have forever changed the genre. Of course, when you have a film and score written by Benj Pasek and Justin Paul (the dream team from La La Land and Dear Evan Hansen) you know to expect brilliance. Speaking of brilliance, there was one name on the soundtrack that instantly caught the attention of fans. That name was Loren Allred.
In the film, we are introduced to Jenny Lind who is an international singing talent dubbed "The Swedish Nightingale." The beautiful Rebecca Ferguson portrayed Lind's character, but needed a little help with singing the massive song Pasek and Paul had written for her character. Enter Allred. No stranger to high stakes, the former The Voice contestant was asked to step in. Allred nailed every note in in the powerful ballad "Never Enough," and made everyone cry when she perfectly captured the emotional gravitas of the song's reprise.
 (Loren Allred just casually blowing everyone away with her voice)
Do you know how cartoon princesses always have the most beautiful voices? So much so that even when they talk there is a melody that strings their words together? Well Loren Allred speaks like that. I, on the other hand, do not. It was like an interview between Sylvester the Cat and Snow White. Let us begin.
Did you anticipate the film's success? 
When I heard the script for the first time, I thought 'this is great. I love this. I know people who love theatre and musicals are going to love this.' I just wasn't sure if the masses were going to like it. So it is really exciting to see how it has been received. I think people of all walks, all over the world have loved the movie so much.
What do you think the major appeal to the movie is?
I think people love that it is an original musical because we don't see a lot of those debuting in the movies these days. It's pretty bold to just debut as a movie.
Did you go to the movies and listen to theater goers react to the film?
That's so funny that you say that. I went with my family and a bunch of neighbors of mine on Christmas Day. After the song "Never Enough" played, the people behind us said "Oh that was amazing." My friends got way too excited about the whole thing and turned around and said "that was her!" It was pretty cool to be sitting in the same theater and seeing how people reacted to the movie.
 (Ferguson as Jenny Lind)
What comes first: do you record the song and then have Ferguson lip sync to you, or does she lip sync to track and you match your vocals to her actions?
I met with her and got used to how she speaks and how her accent sounds because she is Swedish. Then I recorded the song. Then she lip synced to my vocals. When I was able to see the scene with my vocals on top, I went back in the studio and tweaked some things to make sure it really matched her emotions. So what you're seeing is a combination of me fixing some things in things in the end and some things I recorded before they filmed the scene.
*Embarrassingly gushes about how seamless it was*
I am glad you think so! It was my biggest paranoia. I wanted it to seem believable. We are different ages, from different places so it was hard. I am glad we pulled it off. I did the reprise after the fact because I needed to match her emotion. She is such an amazing actress and she really just sold it, so I needed to make sure I was on par with her. I didn't want to ruin her moment. She actually requested that I film myself singing the song so she could see my body language. We had to merge together so we could be sure to pull it off.
You should be Rebecca's outgoing message on her voicemail!
(laughter)
Nailed it.
Did you have to audition for this role?
There was no audition because I just happened to be friends with Benj and Justin and I was doing some demo work for them, which I have been doing for years. When they started working on this project they called me to do the female demos. I sang "Rewrite The Stars" at one point, "Tightrope" at one point, "A Million Dreams"…all the female parts pretty much. "Never Enough" was one of the last songs written for the movie and I recorded the demo for that too. When they hired Rebecca it kind of evolved into me being the singing voice for her. It was organic really. I just happened to be in the right place at the right time. I didn't think it was actually going to happen. It all started with Benj and Justin acting funny around me…whispery and stuff. And I was just like "what is going on?!" Eventually they said "we think you might be Rebecca's voice." And I thought it was so insane! I didn't believe it until I was in the theater hearing it.
 (Allred back when auditioning was par for the course on The Voice)
Eventually they said "we think you might be Rebecca's voice." And I thought it was so insane! I didn't believe it until I was in the theater hearing it.
Speaking of unbelievable experiences, you got to work with Hugh Jackman! How was that?
He is so nice and so normal! He feels like my uncle or something. Seeing him around all the time was nice because he makes everyone feel they are part of a family. (giggles) He has this little thing where he hands out lotto tickets to everyone everyday. It's so sweet! The first time he came in for a reading of the script, he was leaning over to grab something and poking out of his pants were Ellen Degeneres boxers. I've seen her give them out before, but I've never seen anyone wear them. He wears them!
Theres another weird story about him and me. Years ago, I was in a relationship and we were looking for a puppy to buy together. We went to this puppy store in the West Village and saw a little, french bulldog puppy. We weren't sure if we wanted to get that one so we decided to think on it. We thought about it and when we went back someone had already purchased the puppy. The woman at the store said "it's funny, the person who bought that dog was Hugh Jackman." She showed me a picture of him walking the puppy. Our puppy! That was 8 years ago. When I eventually met Hugh, I told him "I almost bought your dog!"
You went from singing covers on that show, to having people cover your song all over Youtube. How does that feel?
It is super crazy! I get covers everyday from all over the world. There are more lip syncs than covers though. People are in their showers or their cars just lip syncing away. I have seen many amazing covers and many strange things….People are just living with this song. People miss a good ballad.
What's next for you? Where can we find more Loren Allred?!
I am working own my own project now! I am going to LA to record with one of the producers who worked on the movie. He reached out to me so we are going to get together and see what we can come up with. Stay tuned for my own project soon!
I could have talked to Allred all day and still it would have been never enough…Her voice matches her personality and it was a treat to chat with her about the behind the scenes of such a great film.
Go out and grab The Greatest Showman on Blu-Ray and DVD available TODAY!
To follow Loren's adventures click here!
AWWW: A Rescue Team Of 9 Was Needed To Rescue 1 Adorably Chubby Rat
Over in Bensheim, Germany a rotund rodent got herself into a jam when she tried to squeeze through a hole of a manhole cover only to get stuck…and honestly, I can relate. When I was 8 years old I tried to squeeze my thunder-thighs-in-training into a children's swing and it took my dad and three other grown men to get me out. I am the German fat-rat!
Volunteer firefighters were called when a young girl noticed the fat rat was stuck and no time was wasted to help the poor critter. Eight firefighters and at least one animal rescuer appeared on the scene to safely extract the chubby critter. Animal rescuer Michael Sehr told BBC "She had a lot of winter flab and was stuck fast at her hip. There was no going forward or back." When asked why anyone would even want to save something so many are repulsed by Sehr said "Even animals that are hated by many deserve respect."
Alls well that ends well! Hopefully no authorites will be needed to help me shimmy out of these skinny jeans I thought looked cute this morning…in the meantime, check out the entire rescue below!
Elton John And Taron Egerton Performed A Fantastic Duet Of 'Tiny Dancer'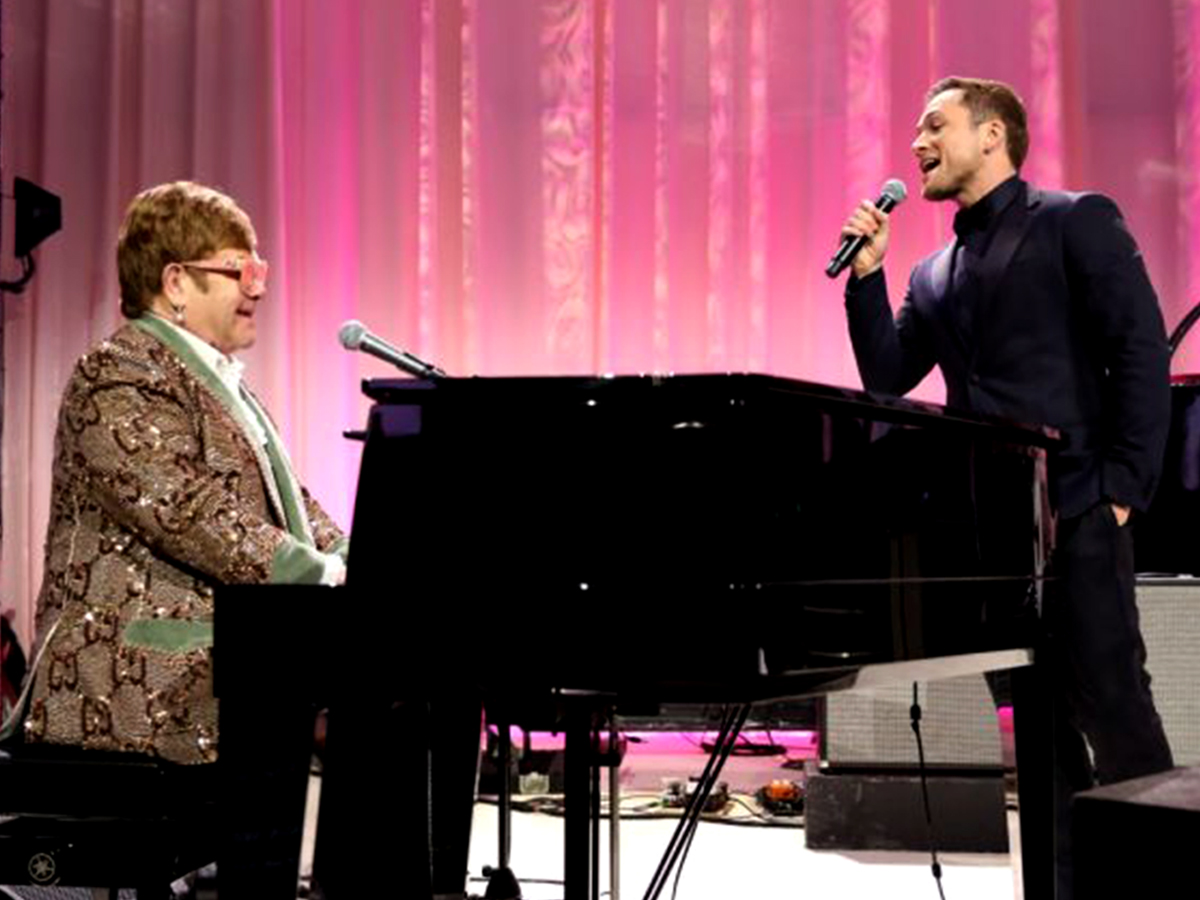 The dancer may be tiny but the talent on stage was massive! Taron Egerton and Elton John gave a fantastic performance of "Tiny Dancer" last night at the 27th Annual Elton John AIDS Foundation Academy Awards Viewing Party.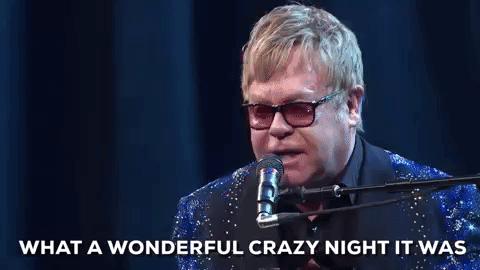 If you've been looking for a reason to toss on your bedazzled cape and brightly colored sunglasses then boy do I have good news for you. An "epic musical fantasy" about Elton John's life, entitled Rocketman, is expected to hit theaters in May 2019. Taron Egerton, from Robin Hood fame, plays the musical legend and judging by his performance last night, we are all in for a treat. The audience of the charity event felt like a candle in the wind when Taron suggested an off-the-cuff performance of "Tiny Dancer." There isn't even a pun creative enough to embody what the audience must have felt when Elton John himself volunteered to accompany Taron on the piano!
In addition to a truly moving performance, the 27th Annual Elton John AIDS Foundation Academy Awards Viewing Party raised more than $6.3 million for an effort to end AIDS.
Click below to take a look at the magical performance from last night!
VIRAL: There Is No Room For Love When This Dog Protects His Barney
I think this dog missed the whole "I love you, you love me" message Barney was trying to teach all those years ago…
In this viral video posted to Twitter, an adorable pup channels his inner Cujo anytime his owner gets close to the Barney the Dinosaur stuffed animal. While the frenzied attacks are comical in themselves, this video should definitely be played with the sound up. While we never see more than the dog owner's hand, we hear his high pitched screams of terror every time the dog take a lunge.
Click below to laugh along!