REALI-TEASE: Is This Why Bethenny And Carole Are Feuding On 'RHONY'?
As a nation we have suffered many a blow from our beloved entertainers. Geri Halliwell ditched the Spice Girls and left our favorite girl group hanging, never to be the same again. The Captain lost his Tennille, proving that love would not actually keep them together. Chris Pratt waited until he got outrageously hot to divorce Ana Faris…although his abs have somehow made up for that one. No matter what has happened in the wild world of entertainment, we have always been able to recover…until now. How can we possibly be prepared for the break up of former besties Bethenny and Carole over on The Real Housewives Of New York City?!
Back in season 7, Bethenny Frankel made her triumphant return to the series after taking three seasons off to focus on her hugely successful brand, Skinnygirl. From the moment she and Carole Radziwill sat down to an introductory lunch, the sparks flew and a true friendship was formed. The thing with these reality shows is that most of the time the friendships made are like those with coworkers. Sure, they will stand around the water-cooler and gossip about Helen in accounting, but once 5 o'clock hits those "work friends" don't get another thought. But it was different with Bethenny and Carole though, they seemed to have forged a true friendship over the years. So much so, in fact, that the other housewives often commented on how inseparable the pair had become and would even tease Carole for becoming Bethenny's sidekick. Whatever, the haters just didn't understand the love they shared!
When Bethenny was going through her painful divorce from ex-husband, Jason Hoppy, Carole was her true confidant and never risked that trust for the sake of interesting conversation with the other ladies. When Carole began dating a man 20 years her junior, Bethenny defended her bestie against LuAnn's judgements about the relationship. These girls really had each others backs, on and off screen. Well, that was until right before this season…
Something has happened to the dynamic duo and when season 10 kicked off there was palpable tension between Bethenny and Carole. Bethenny made several hints that Carole has grown awfully close to the newest housewife, Tinsley Mortimer, and perhaps that was the wedge that was forced between them. Carole, forever trying to mediate calmly, has simply stated that she did not like some of the things Bethenny has said about her and her (now ex?) boyfriend Adam. That's it? That's all it took for this relationship to dissolve? I let a bully in high school say all sorts of stuff about me for four years and still smiled and called him dad come dinnertime. Come on ladies!
Last week, the drama began to intensify as Carole finally snapped at Bethenny. She even flipped Bethenny's iconic saying and told the Skinnygirl creator to "Get off my jock." Savage. On Bravo's blog, Carole wrote:
"As a woman, it makes me sad to watch another woman, who I thought was my friend, talk behind my back with such cattiness and disrespect."
This week the drama continues with the two ladies having another go at it and this time a murdered body is involved…ok its part of murder mystery party but my soul can't be the only thing dead here! Hopefully we will get some more information about what's really at the crux of this tension and maybe that will lead to some sort of resolution. I am still rooting for Bethole….ok the name fusion thing doesn't work here…but I am rooting for the two ladies to mend fences and be besties once more! Check out the some of the tense moments below and check out The Real Housewives Of New York City tomorrow on Bravo at 8p EST.
AWWW: A Rescue Team Of 9 Was Needed To Rescue 1 Adorably Chubby Rat
Over in Bensheim, Germany a rotund rodent got herself into a jam when she tried to squeeze through a hole of a manhole cover only to get stuck…and honestly, I can relate. When I was 8 years old I tried to squeeze my thunder-thighs-in-training into a children's swing and it took my dad and three other grown men to get me out. I am the German fat-rat!
Volunteer firefighters were called when a young girl noticed the fat rat was stuck and no time was wasted to help the poor critter. Eight firefighters and at least one animal rescuer appeared on the scene to safely extract the chubby critter. Animal rescuer Michael Sehr told BBC "She had a lot of winter flab and was stuck fast at her hip. There was no going forward or back." When asked why anyone would even want to save something so many are repulsed by Sehr said "Even animals that are hated by many deserve respect."
Alls well that ends well! Hopefully no authorites will be needed to help me shimmy out of these skinny jeans I thought looked cute this morning…in the meantime, check out the entire rescue below!
Elton John And Taron Egerton Performed A Fantastic Duet Of 'Tiny Dancer'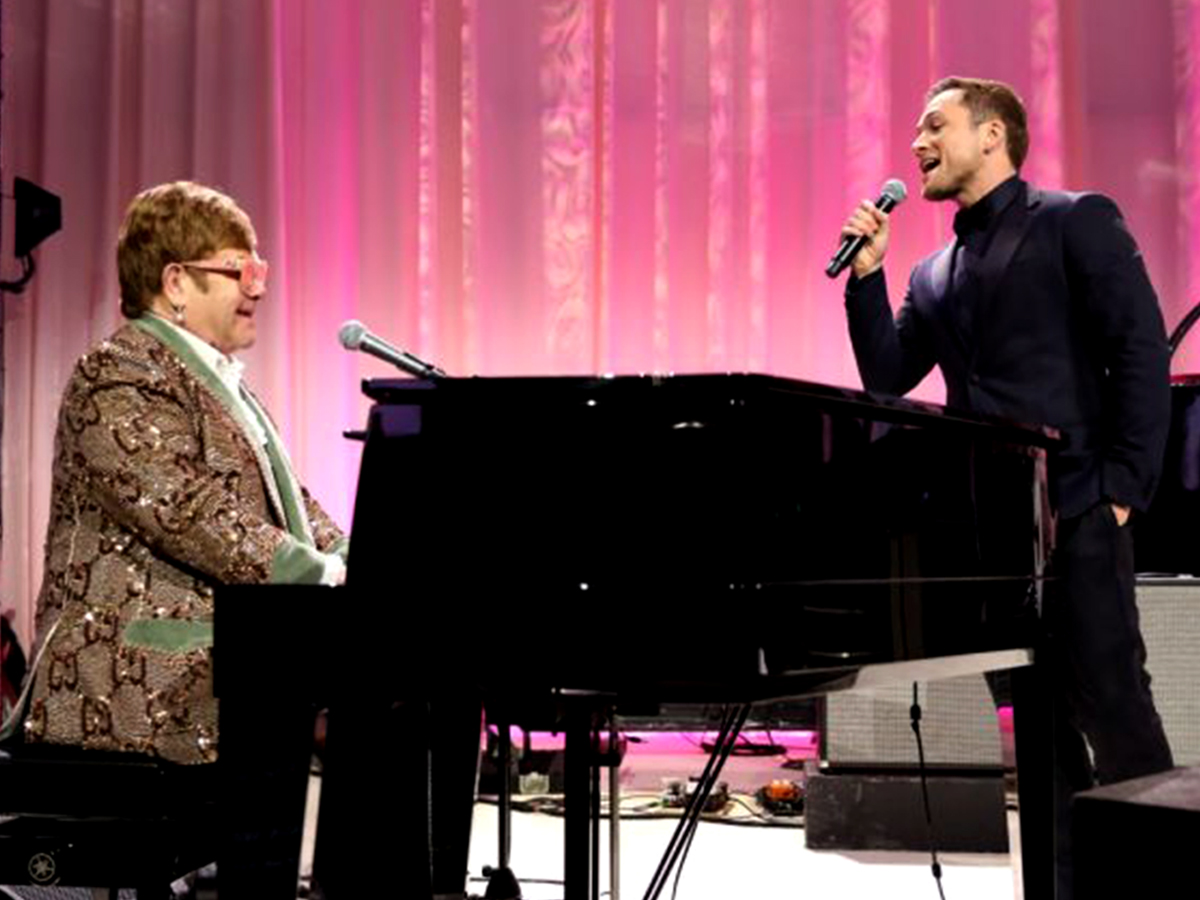 The dancer may be tiny but the talent on stage was massive! Taron Egerton and Elton John gave a fantastic performance of "Tiny Dancer" last night at the 27th Annual Elton John AIDS Foundation Academy Awards Viewing Party.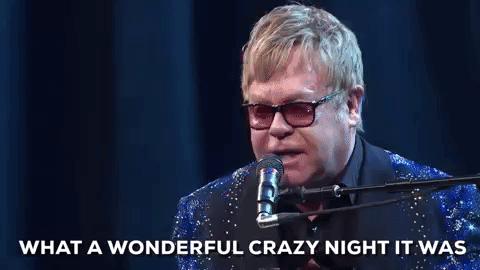 If you've been looking for a reason to toss on your bedazzled cape and brightly colored sunglasses then boy do I have good news for you. An "epic musical fantasy" about Elton John's life, entitled Rocketman, is expected to hit theaters in May 2019. Taron Egerton, from Robin Hood fame, plays the musical legend and judging by his performance last night, we are all in for a treat. The audience of the charity event felt like a candle in the wind when Taron suggested an off-the-cuff performance of "Tiny Dancer." There isn't even a pun creative enough to embody what the audience must have felt when Elton John himself volunteered to accompany Taron on the piano!
In addition to a truly moving performance, the 27th Annual Elton John AIDS Foundation Academy Awards Viewing Party raised more than $6.3 million for an effort to end AIDS.
Click below to take a look at the magical performance from last night!
VIRAL: There Is No Room For Love When This Dog Protects His Barney
I think this dog missed the whole "I love you, you love me" message Barney was trying to teach all those years ago…
In this viral video posted to Twitter, an adorable pup channels his inner Cujo anytime his owner gets close to the Barney the Dinosaur stuffed animal. While the frenzied attacks are comical in themselves, this video should definitely be played with the sound up. While we never see more than the dog owner's hand, we hear his high pitched screams of terror every time the dog take a lunge.
Click below to laugh along!