REVIEW: A Night With #CountessAndFriends…You'll Never Guess Which RHONY Star Is Luann's New Bestie!
Last night, I had the privilege of being "cool and not like, uncool." Thats right I scored an invite to see #CountessAndFriends at Feinstein's/54 Below right here in Manhattan. In case you are not privy to all of the cabaret goings-on here in NYC, this evening stars the one and only "Countess" Luann de Lesseps of The Real Housewives of New York City fame. With only an hour's notice, I had to figure out how to turn my musty, post-gym look into something suitable for royalty. Luckily, I have a generous roommate who helped iron out the perfect shirt for the occasion while I could shower…sure I owe him a week's worth of dinners but that's all part of the roommate code.
The venue is legendary here in NYC, and has hosted every kind of celeb from film, television and even Broadway.  The Countess needed to be sure she could rise up to those rankings to join such an elite group of predecessors and I have to say…she did. As the night began, Luann mocked her own singing abilities. She admitted that she isn't the best singer so going into the evening you know to expect less than stellar vocals from the reality star. But, her failure to hit a single note did not let the entertainment value suffer one bit. Over the course of the night, we were treated to 4 glamorous costume changes, 9 singing cameos from friends in the biz, secrets from her diary and even some RHONY gossip. What more do you need?!?
While the Countess is known more for etiquette and less for humor, she definitely had a field day making jokes about the painful year she just endured. Turning lemons into lemonade, the host of the evening used her public divorce, public arrest, and public stint in rehab to keep the audience in stitches. Luann even sings a few bars of Amy Winehouse's Rehab, only to then admit that unlike the lyrics suggest, she actually loved rehab. The group of talented singers to join the Real Housewife on stage was comprised of Murray Hill, Michael Mustro, Lauren Elder, Charles Busch, Marissa Rosen, Shockwave, Larry Owens, Tracy McDowell and Eric Michael Krop. Here are my favs:
Broadway's Lauren Elder showed off her talents with this stellar version of Paula Abdul's "Straight Up."
New York City's very own pint sized, powerhouse Marissa Rosen tore the stage up with her rendition of "Son Of A Preacher Man." The audience practically fell out of their seats when they heard the vocals that poured out of this singer's mouth.
Tracy McDowell and Eric Michael Krop, who happen to be headlining a night at Feinstein's/54 Below on June 8th, performed a romantic duet that brought the house down for a moment.
In between songs, the Countess shared some juicy tidbits from her actual diary. She recounted the time she surprised her ex boyfriend by showing up unannounced, only to find him in bed with someone else. She then told of the time her and her gorgeous, Italian boyfriend escaped to a romantic hotel, only to leave with crabs. Poor girl has never been lucky in love! The spilling of secrets led to a Q&A, where Luann actually revealed which housewife she is currently closest to. The audience assumed it would be Sonja Morgan, as the two have always been pretty tight knit. The duo even lived together for a short while. Instead, Luann revealed that she and Bethenny Frankel have actually grown to be quite the pair! The Countess joked that she had to be at her lowest point in life to finally receive sympathy from the Skinnygirl mogul.
A Countess cabaret would not be complete without a performance of her hit song "Money Can't Buy You Class." This time, she brought beatboxer Shockwave to incite a new rendition of the song. She ended the evening with a rendition of "L.O.V.E" and received a standing ovation while singing her equally as famous, "Chic, C'est la Vie."
I have to say I enjoyed the side of the Countess I saw last night. She was fun and clever, and really knew how to throw together an interesting evening. She did grab my hand during one performance so expect my name on the billing of the next #CountessAndFriends. Speaking of which, there are four more dates left in the show at Feinstein's/54 Below so for more info on tickets, click here!
AWWW: A Rescue Team Of 9 Was Needed To Rescue 1 Adorably Chubby Rat
Over in Bensheim, Germany a rotund rodent got herself into a jam when she tried to squeeze through a hole of a manhole cover only to get stuck…and honestly, I can relate. When I was 8 years old I tried to squeeze my thunder-thighs-in-training into a children's swing and it took my dad and three other grown men to get me out. I am the German fat-rat!
Volunteer firefighters were called when a young girl noticed the fat rat was stuck and no time was wasted to help the poor critter. Eight firefighters and at least one animal rescuer appeared on the scene to safely extract the chubby critter. Animal rescuer Michael Sehr told BBC "She had a lot of winter flab and was stuck fast at her hip. There was no going forward or back." When asked why anyone would even want to save something so many are repulsed by Sehr said "Even animals that are hated by many deserve respect."
Alls well that ends well! Hopefully no authorites will be needed to help me shimmy out of these skinny jeans I thought looked cute this morning…in the meantime, check out the entire rescue below!
Elton John And Taron Egerton Performed A Fantastic Duet Of 'Tiny Dancer'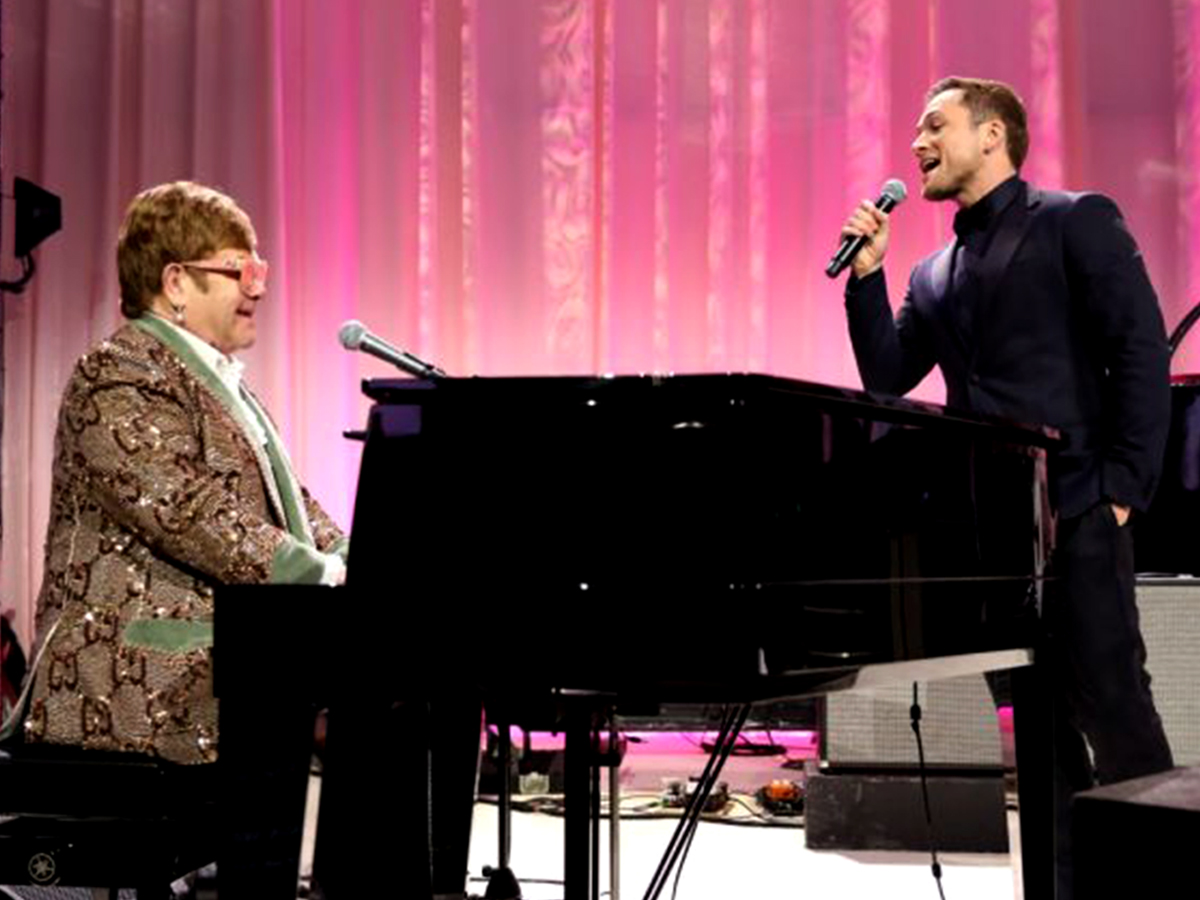 The dancer may be tiny but the talent on stage was massive! Taron Egerton and Elton John gave a fantastic performance of "Tiny Dancer" last night at the 27th Annual Elton John AIDS Foundation Academy Awards Viewing Party.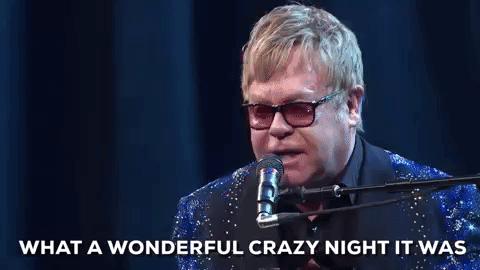 If you've been looking for a reason to toss on your bedazzled cape and brightly colored sunglasses then boy do I have good news for you. An "epic musical fantasy" about Elton John's life, entitled Rocketman, is expected to hit theaters in May 2019. Taron Egerton, from Robin Hood fame, plays the musical legend and judging by his performance last night, we are all in for a treat. The audience of the charity event felt like a candle in the wind when Taron suggested an off-the-cuff performance of "Tiny Dancer." There isn't even a pun creative enough to embody what the audience must have felt when Elton John himself volunteered to accompany Taron on the piano!
In addition to a truly moving performance, the 27th Annual Elton John AIDS Foundation Academy Awards Viewing Party raised more than $6.3 million for an effort to end AIDS.
Click below to take a look at the magical performance from last night!
VIRAL: There Is No Room For Love When This Dog Protects His Barney
I think this dog missed the whole "I love you, you love me" message Barney was trying to teach all those years ago…
In this viral video posted to Twitter, an adorable pup channels his inner Cujo anytime his owner gets close to the Barney the Dinosaur stuffed animal. While the frenzied attacks are comical in themselves, this video should definitely be played with the sound up. While we never see more than the dog owner's hand, we hear his high pitched screams of terror every time the dog take a lunge.
Click below to laugh along!