Selma Blair's Appearance At Vanity Fair Oscar Party Moves and Inspires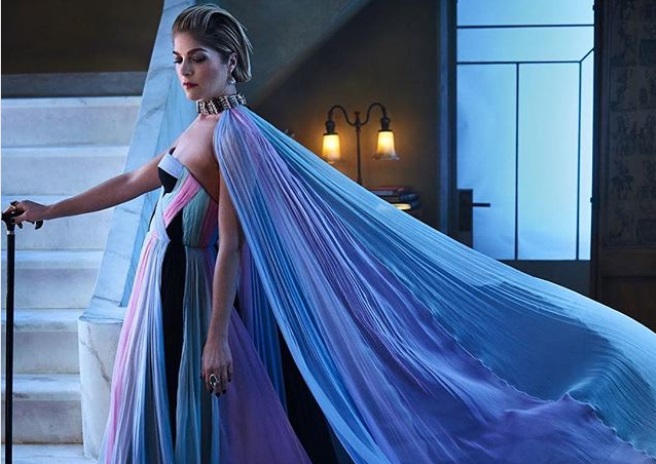 Her first appearance since announcing her MS diagnosis was both emotional and breathtaking.
Selma Blair attended the Vanity Fair Oscar party Sunday night, her first public appearance since revealing her diagnosis with multiple sclerosis.
An emotional Blair walked with a cane as wardrobe assistance was provided by a nearby gentleman (a practice common on red carpets, although not as frequently seen.)
Wearing Ralph and Russo and styled by Elizabeth Stewart , she looked absolutely stunning. But it was a tweet by Glamour magazine's Jessica Radloff that captured some of the emotion – video showing a fuller picture of Blair's challenges. Briefly wiping away a tear, her grace and poise took the forefront amidst the physical challenges of her condition.
The moment we will all be talking about tomorrow is the courageous #SelmaBlair, making her first appearance since announcing her MS diagnosis, at the VF Oscar party. She needs a cane to help walk, but she came to prove that no matter how tough this disease, she is a fighter. 🙌 pic.twitter.com/bCTo0hA59d

— Jessica Radloff (@JRadloff) February 25, 2019
Blair posted on instagram about her personalized cane.
"This is love," Blair, 46, wrote on Instagram of her cane, personalized with her own monogram. "How did I get so lucky?"
"I wanted a special cane for #vanityfair dinner," she continued. "So… @lyon_heartedwent out and found patent leather and @bic_owen and he stitched it on. Hours of love put in. And then #tombachick made it especially magical. I burst into tears. These gifts to get me through. #subtle #chic #love. I can't thank these three enough. There are angels."
In her moving post, she wrote: When my life flashes before my eyes, I want this portrait by @markseliger to be front and center.
Back in October, the 46-year-old star described her symptoms in an post online: "I am disabled. I fall sometimes. I drop things. My memory is foggy. And my left side is asking for directions from a broken gps."
"I am in the thick of it but I hope to give some hope to others. And even to myself," she continued, sharing more about her everyday struggles. "And the biggest thanks to @elizberkley who forced me to see her brother #drjasonberkley who gave me this diagnosis after finding lesions on that mri. I have had symptoms for years but was never taken seriously until I fell down in front of him trying to sort out what I thought was a pinched nerve. I have probably had this incurable disease for 15 years at least. And I am relieved to at least know."
MS, or Multiple Schlerosis, is an uncurable disease in which the immune system eats away at the protective covering of nerves. The nerve damage disrupts communication between the brain and the body resulting in many possible symptoms including vision loss, pain, fatigue, and impaired coordination, although the appearances and severity of those symptoms can vary widely between those suffering from it. Some people may live nearly symptom free lives, while others can have severe chronic symptoms that never go away.
Christina Anstead Is Having a Baby!
Congratulations, Christina and Ant! We are so excited for you!
The star of HGTV's Flip or Flop made the announcement in a photo with her husband Ant Anstead in a special post on instagram. The couple married this past December.
@ant_anstead and I are so excited to announce #babyanstead coming this September!! The kids are all so excited to meet their new sibling ♥️ #5
#Gonnaneedabiggercar! 🚌 😂
This will be her third child, both have two children from previous marriages.
Congratulations!!!!
Lee Daniels Speaks Out On The 'Pain, Anger, Sadness And Frustration' Surrounding The Jussie Smollett Scandal
Although never mentioned by name, it's clear that Empire creator, Lee Daniels, is still processing "the freaking roller coaster" Jussie Smollett has put him through.
Lee Daniels took to Instagram on Wednesday night to speak out about the Jussie Smollett scandal. The caption to the video states that Lee was "in [his] feelings last week," alluding to the further developments surrounding the case. In the video, after brushing his teeth, Lee takes a moment to address the fact that Jussie is still appearing in new episodes of the hit show because they were filmed prior to "the incident." In the wake of the allegations, the show has released a statement confirming the fact that Jussie has been written out of the last two episodes of the season. Lee's pain and frustration stems from something deeper than character arcs as he told his followers "this is not what the show was made for. This show was made to bring America together to talk about the atrocities that are happening right now in the streets."
On January 29th, Jussie made claims that he was the victim to a racially-motivated attack. After an extensive investigation, Chicago police believe that the alleged attack was fake. Since being charged, Jussie has pleaded not guilty on 16 felony counts for allegedly making false statements to police. Jussie also denies claims that he faked the ordeal due to his dissatisfaction with his salary. No word on whether Jussie will return to Empire next season as of yet.
Like what you read? Follow @ChrisSiretz on Twitter and Instragram
Dan And Eugene Levy Announce That Next Season Of 'Schitt's Creek' Will Be It's Last
Well ain't this some real, sad Schitt…
Very few television shows gain popularity over time which is why I am astonished by the news that Schitt's Creek will be ending after next season! It's got charm. It's got wit. It's got heart. Not to mention outstanding performances by LITERALLY everyone in the cast. Ugh, I'm more upset than a disgruntled pelican.
I guess we should all take comfort in knowing that the show is ending on the terms of  co-creators (and stars) Dan Levy and Eugene Levy. Just moments ago they released an official statement announcing their renewal for a 6th and final season. In the statement they express their gratitude for being given "the time and creative freedom to tell this story in its totality, concluding with the final chapter that [they] had envisioned from the very beginning."
Over the course of it's five seasons, Schitt's Creek has been praised by fans and critics alike for their hysterical yet positive storylines. Dan Levy, whose character is identifies as pansexual, has been clear since the show's beginning that the world of Schitt's Creek is a tolerant one that is free of bias and homophobia. I can't tell you how many times I laughed and then snot-cried on my couch while watching this show!
There are three more episodes of season 5 of Schitt's Creek to still be aired with a final fourteen episodes airing sometime in 2020. Seventeen episodes doesn't seem like nearly enough time for a proper bereavement to deal with this Schitt-y news but I guess we will have to make do.
Like what you read? Follow @ChrisSiretz on Twitter and Instagram