Lizzo Responded To Ron Burgundy's #FluteAndShoot With A Hilariously, Juicy Performance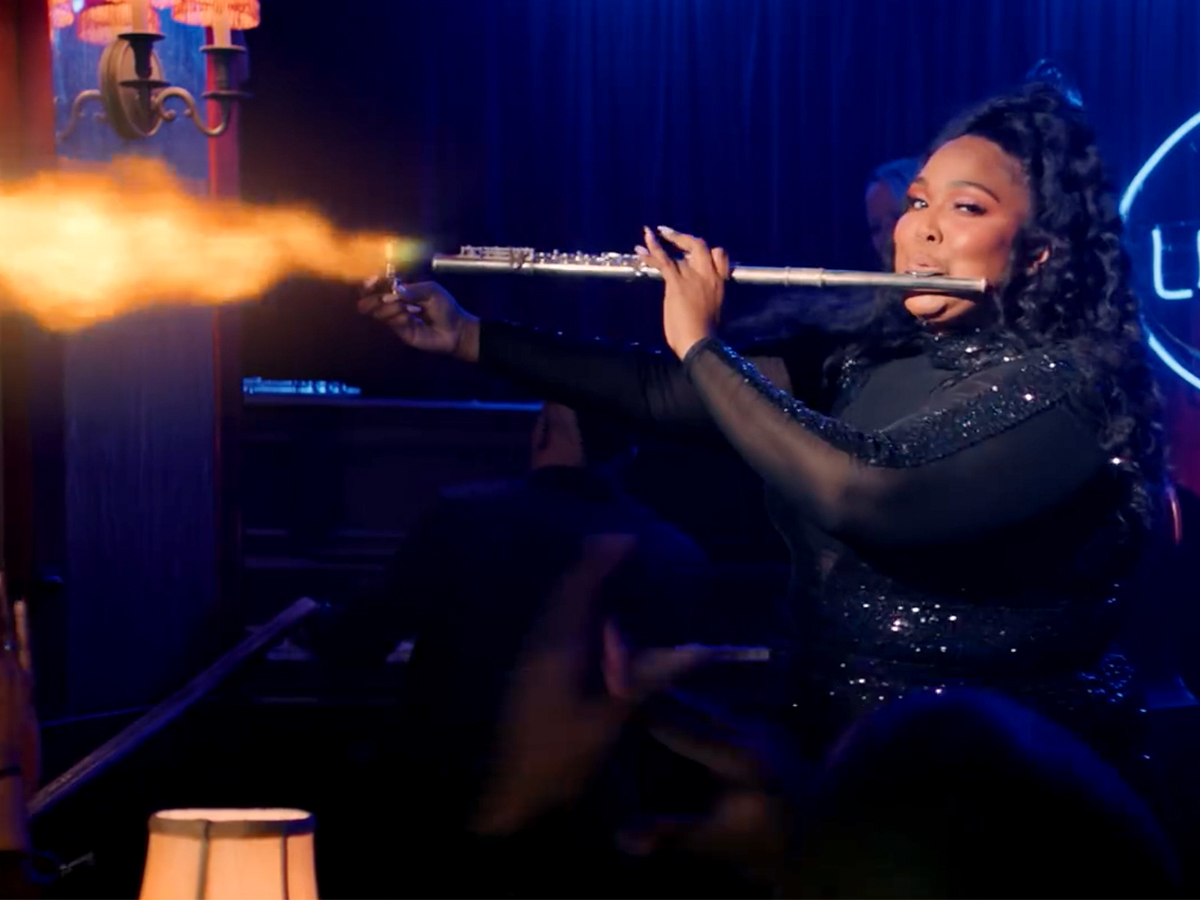 Mirror, mirror on the wall don't say it because we know she's cute! If you didn't catch that reference, what have you been listening to for the last three months?! Rapper, singer and songwriter Lizzo has been tearing up the game lately with the release of her two new singles "Juice" and "Cuz I Love You." Along with Lizzo's extraordinary singing and rapping abilities, she is also a talented flautist. Bet you didn't expect that plot twist did ya? She even displayed her fluting abilities on The Ellen Degeneres Show which left everyone breathless…a little wind-instrument humor for you.
Well, back in January Lizzo challenged Ron Burgundy…as in Anchorman's Ron Burgundy…to a #FluteAndShoot. Not Will Ferrell, the actor who plays the beloved anchorman, but Ron Burgundy. So Ron Burgundy took to his social media and gave this valiant effort.
.@LIZZO CHALLENGE ACCEPTED! YOU WANT ME? YOU GOT ME. pic.twitter.com/ddStCfUcKD

— BurgundyPodcast (@BurgundyPodcast) January 10, 2019
Lizzo responded in the most epic way possible with a fully produced music video parodying the famous Anchorman scene! In the video, Lizzo hangs out with Este Haim (from the band, Haim) and humbly accepts an invitation to perform. After telling the bassist to "twerk it bitch," a hilarious and impressive performance begins. I think it's safe to say Lizzo won this round.
Lizzo's third studio album, Cuz I Love You, is expected to drop on April 19th. Click below to watch the entire performance!
LISTEN: Lizzo And Missy Elliott's 'Tempo' Serves Bass By The Pound
Lizzo must have taken a page right out of Missy Elliott's book because she definitely put her thang down, flipped it and reversed it with this new single!
One of music's brightest, new stars has joined forces with a certified music legend to create a hot new single that will have everyone body-rollin' at the club. Yes, Lizzo has been blowing up after the release of her two consecutive hits "Juice" and "Cuz I Love You," and it seems she has no intentions of slowing down anytime soon. The third single off of her upcoming album, Cuz I Love You, is entitled "Tempo" and features the one and only Missy Elliot.  Lizzo told Travis Mills on Apple Music Beats I that she first heard Missy's verse via text message.
"She sent me a memoji of herself singing her verse, thats how I got the verse. I got a memoji of Missy like smiling and then she just started rapping, and I was like, 'OMG what the hell' so I had to hook it up to my speaker system. But it wasn't even the actual track, it was like her going along in her studio."
So Lizzo has Missy Elliott's phone number?!? Jealous. The new single's heavy bass will definitely make you want to move those hips. Crank up the volume…unless you're in an office or library or something because the song is kinda NSFW…and click below to hear "Tempo"
Cuz I Love You drops on April 19th.
Like what you read? Follow @ChrisSiretz on Twitter and Instagram
Wendy Williams Opens Up: "I Have Been Living In A Sober House."
The talk show host, who has been very supportive of both me personally and this website, bravely opened up to viewers today about her struggle with addiction. I wish her strength and applaud her courage.
She said she wanted to be honest with her viewers. "There are people in your family, it might be you, you have been struggling, and I want you to know more of the story… So, this is my autobiographical story, and I'm living it. I'm telling you this."
"For some time now, and even today and beyond, I have been living in a sober house. … And you know, I've had a struggle with cocaine in my past and I never went to a place to get the treatment. I don't know how, except God was sitting on my shoulder and I just stopped."
She says that now, after the show she attends meetings around the tri state area and then is driven to a sober house. She then shared details of the facility and a group of guys she shares the common areas with: "They hog the TV and watch soccer, we talk and read and talk and read and then I get bored with them. Doors locked by 10 p.m. Lights out by 10 p.m.. So I go to my room, and I stare at the ceiling and I fall asleep to wake up and come back here to see you. So that is my truth."
"I know, either you are calling me crazy or the bravest woman you know," she continued. "I don't care."
Williams' Hunter Foundation has already placed 56 people into facilities world wide since she announced a substance abuse hotline little more than a week ago.
It took a lot of bravery to stand before her audience and the world to share her truth. I personally admire her so much for taking this pivotal step, and opening up to her viewers.
We wish you the best, Wendy!
BUZZ: Is There A 'Drake And Josh' Reboot In The Works?!
Well, hug me brotha! Drake Bell hinted at a Drake And Josh reboot!
If you grew up in the early 2000's, then you remember watching a pair of goofy yet lovable step-brothers cause all sorts of trouble while having your after school snack. Shout out to the Little Debbie Cosmic Brownie! I digress. Drake And Josh was a hit sitcom that ran from 2004-2007 on Nickelodeon and fans have been hoping for a reboot for years.
Well, when Drake Bell walked down the red carpet at the iHeart Radio Awards, People asked about his latest project and he hinted at the highly anticipated reboot.
"We're working on something. I'm excited. I think we have a great idea. [The reboot] is going to be way more creative, way cooler than just you know the college years or something like that. We knew that if we were ever going to come back, it's got to be something cool. I'm excited to see what the fans think."
Drake went on to praise his co-star, Josh Peck, for his "amazing comedic wit and incredible timing" and says the two still "click." Which is good to hear since that whole wedding debacle. What wedding debacle you ask? Well in June 2017, Josh got married and much to everyone's surprise Drake was not invited to the soirée. Many a fan thought the best friends had disbanded but despite a few bitter barbs on Twitter, it seems as though the besties are their best ever. No word on when we can expect the reboot but sometimes hope is enough to hold you over.
Like what you read? Follow @ChrisSiretz on Twitter and Instagram