POP Poll: Has Your Opinion of Michael Jackson Changed?
The HBO Documentary "Leaving Neverland" is making tremendous waves: infuriating longtime fans for what they describe as a one sided story, changing longtime supporters into Jackson detractors, and leaving still others conflicted and at a loss for words.
The world looked on for years while Jackson toured the world and attended events with kids, most often young boys. In two cases where Jackson faced accusations of perpetrating sexual abuse he avoided jail time – one with an out of court settlement and another with a not guilty verdict. The documentary chronicles the lives of two men who claim to have been systematically and chronically abused by him when they were very young  – brainwashed and trained to support and protect him, even testify in defense of him. As time as passed, a new era is shining a light on sexual abuse around the world both in and out of the entertainment industry. Awakened, people are taking a closer look.
So today's POP Poll asks – what's your take on Michael Jackson now?
Justin Carter Accidentally Killed With Gun During Music Video Shoot
Country/rap singer Justin Carter was carrying a gun in his pocket during for the video when it went off and hit him in the corner of the eye. His mother Cindy McClellan spoke with Fox News of the incident, which reportedly took place in his apartment in Houston.
Carter had recently signed with a management company. The 35-year-old singer left behind two young children.
Below is one of this recent songs.
LISTEN: Lizzo And Missy Elliott's 'Tempo' Serves Bass By The Pound
Lizzo must have taken a page right out of Missy Elliott's book because she definitely put her thang down, flipped it and reversed it with this new single!
One of music's brightest, new stars has joined forces with a certified music legend to create a hot new single that will have everyone body-rollin' at the club. Yes, Lizzo has been blowing up after the release of her two consecutive hits "Juice" and "Cuz I Love You," and it seems she has no intentions of slowing down anytime soon. The third single off of her upcoming album, Cuz I Love You, is entitled "Tempo" and features the one and only Missy Elliot.  Lizzo told Travis Mills on Apple Music Beats I that she first heard Missy's verse via text message.
"She sent me a memoji of herself singing her verse, thats how I got the verse. I got a memoji of Missy like smiling and then she just started rapping, and I was like, 'OMG what the hell' so I had to hook it up to my speaker system. But it wasn't even the actual track, it was like her going along in her studio."
So Lizzo has Missy Elliott's phone number?!? Jealous. The new single's heavy bass will definitely make you want to move those hips. Crank up the volume…unless you're in an office or library or something because the song is kinda NSFW…and click below to hear "Tempo"
Cuz I Love You drops on April 19th.
Like what you read? Follow @ChrisSiretz on Twitter and Instagram
VIDEO: Keira Knightley Can Play 'Despacito'…On Her Teeth!?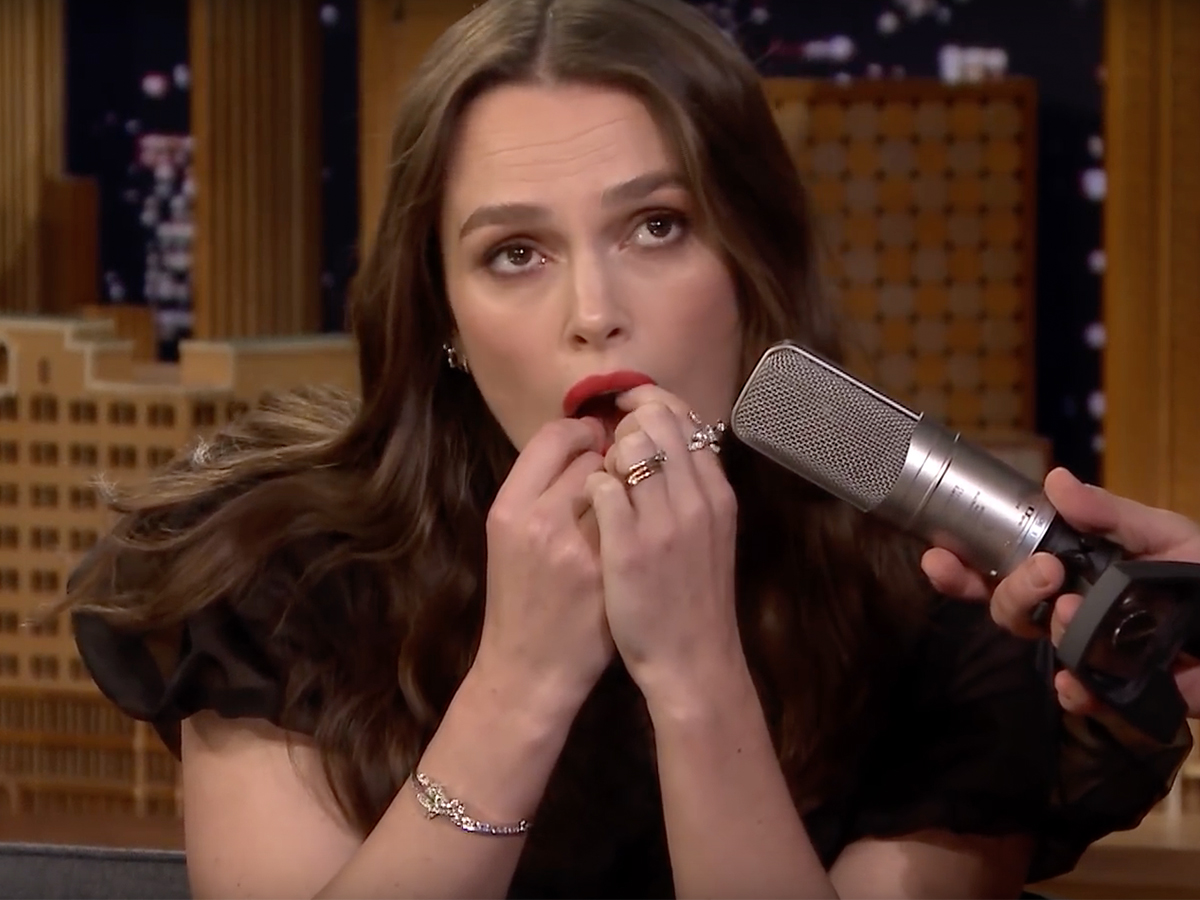 Chew on this! Keira Knightley has a secret talent…she can make music with her teeth!
The beautiful Keira Knightley stopped by The Tonight Show Starring Jimmy Fallon to talk about her upcoming war film, The Aftermath. While the film sounds enticing, it was Keira's unusual talent that stole the show. Jimmy Fallon casually asked if Keira had any musical abilities to which she confessed to playing the flute back in her schooling days. That wasn't exactly the answer the host was hoping for. After a gentle nudge, Keira proudly boasts about her ability to "play [her] teeth." She demonstrated her ability with a quick rendition of "Raindrops Keep Falling On My Head" but then brings her talents to the 21st Century and makes the crowd go wild with a little "Despacito." You have to click below to check out this bizarre talent for yourself! Jump to 2:40 to dive right into the action!
Like what you read? Follow @ChrisSiretz on Twitter and Instagram