Cher Slapped, Sang And Lip-Synched Her Way Through Her 'Tonight Show' Takeover
If I could turn back time, I would watch Cher take over The Tonight Show again and again.
Give me a rapid vibrato and a strong hair flip and I am just about the happiest man on earth. There isn't much the iconic Cher can't do as proven by her lengthy career as an actress, singer and now broadway producer, so it was no surprise when she became one of The Tonight Show's most memorable guests in history last night. Cher wasted no time diving into the fun, giving host, Jimmy Fallon, a helping hand with his opening monologue. And by helping hand I mean she slapped him…not once but twice! I am now twice as jealous of Jimmy Fallon. The slap was of course a recreation of Cher's legendary slap from her Oscar-award winning role in Moonstruck. All these years later and it is still a very effective way of shutting people up.
The Cher-takeover didn't stop there! Cher hit the couch to answer some burning questions that fans (me) wanted to know about life as a living legend. During her chat she opened up about how painfully shy she was and is despite growing up in show business. She revealed that she was actually so afraid to sing in intimate settings that she lied about disliking "I Got You Babe" when Sonny Bono first introduced it to her just so she wouldn't have to sing on the spot. It's hard to imagine the showgirl being so shy but she confirmed that "it was really terrible, I was so shy." During the chat Cher also confessed that she's never actually heard a good impression of her! Even though she has to be one of the most impersonated celebrities of all time, she said she struggles to find any inkling of herself in all of the weird facial expressions and "bullish*t"!!! God I love her. The hour then segued to Cher's new, autobiographical, hit Broadway musical The Cher Show which prompted a performance of "I Got You Babe" by the musical's Sonny and young Cher, Jarrod Spector and Micaela Diamond. The audience nearly fell out and I audibly gasped when Cher herself joined Spector to finish the performance.
Of course a Tonight Show takeover would not be complete without a little lip-sync battle. This lip-sync battle was different than any other, however, as both Cher and Jimmy lip-synched to drunk bar patron renditions of Cher's "Believe." That's right, Jimmy sent a camera crew to a karaoke bar at 1am and filmed their takes on the classic hit and used those vocals as the source of the lip-sync! Everything about this is hilarious!
The hour seemed to fly by and things only got more exciting as Jimmy brought the three leads from The Cher Show to the couch. Stephanie J. Block, Teal Wicks and Micaela Diamond cozied up next to Cher and gushed about what an incredible experience it has been working with such an icon. All four ladies closed the hour with an incredibly performance of "If I Could Turn Back Time" and how I wish I could just to be able to relive this hour over and over! I do believe this hour will go down in books as one of the best Tonight Show moments in history.
Like what you read? Follow @ChrisSiretz in Twitter and Instagram
Laura Dern Honors Her Parents In Touching Academy Award Win Speech
Laura Dern, who has been slaying awards season this year for her role in "Marriage Story," took home the ultimate prize – a Best Supporting Actress Academy Award – and thanked her actor parents in a touching acceptance speech.
Her parents, actors Diane Ladd and Bruce Dern brought her to the Oscars with them when she was just 7 years old.
"Some say never meet your heroes. I say if you're really blessed, you get them as your parents. I share this with my acting hero my legends, Diane Ladd and Bruce Dern. You got game. I love you."
Dern's mother has been nominated three times, her father twice, but neither have won. Her mother can be seen during the speech crying in the audience.
Congrats Laura!!!
POP UPDATE: Justin Bieber, "Friends" For Life, And The Critics Choice Awards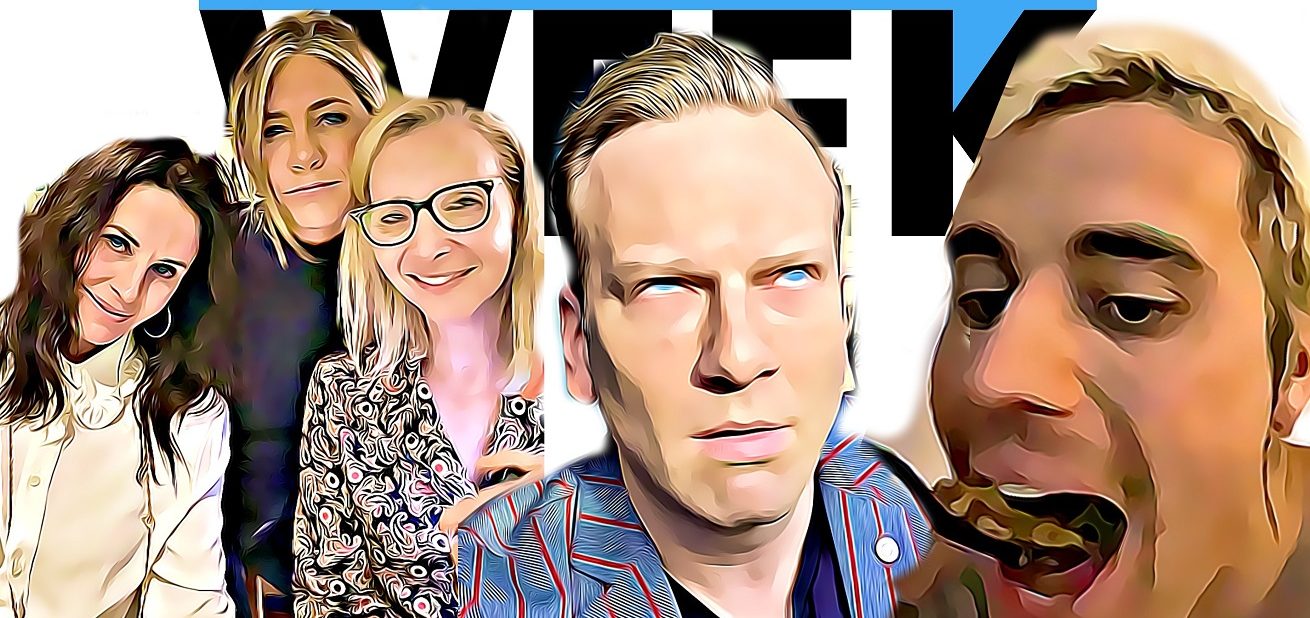 We're going to be doing some quick video updates whenever we can! Here's the latest! Justin Bieber begging for streams, (while you can hear him chew – ew), the ladies of Friends reunited, and mother nature. Take a look!
Courteney Cox's Instagram Caption Is Every Parent With A Teenage Kid
Have you heard? It's 2020 and we're all supposed to music videos on TikTok. Courteney Cox is no exception. The TV star posted an instagram of her and her daughter Coco dancing it out, with the hilarious caption, "Wanna see your child lose their patience? Do a TikTok with them."
Also, how long does it take to actually learn one of these routines? It seems very time consuming.
What I was really hoping for was video of her daughter losing her patience, but what we got was a pretty strong routine!