Broadway Stars Are Fundraising With A Hand Washing Challenge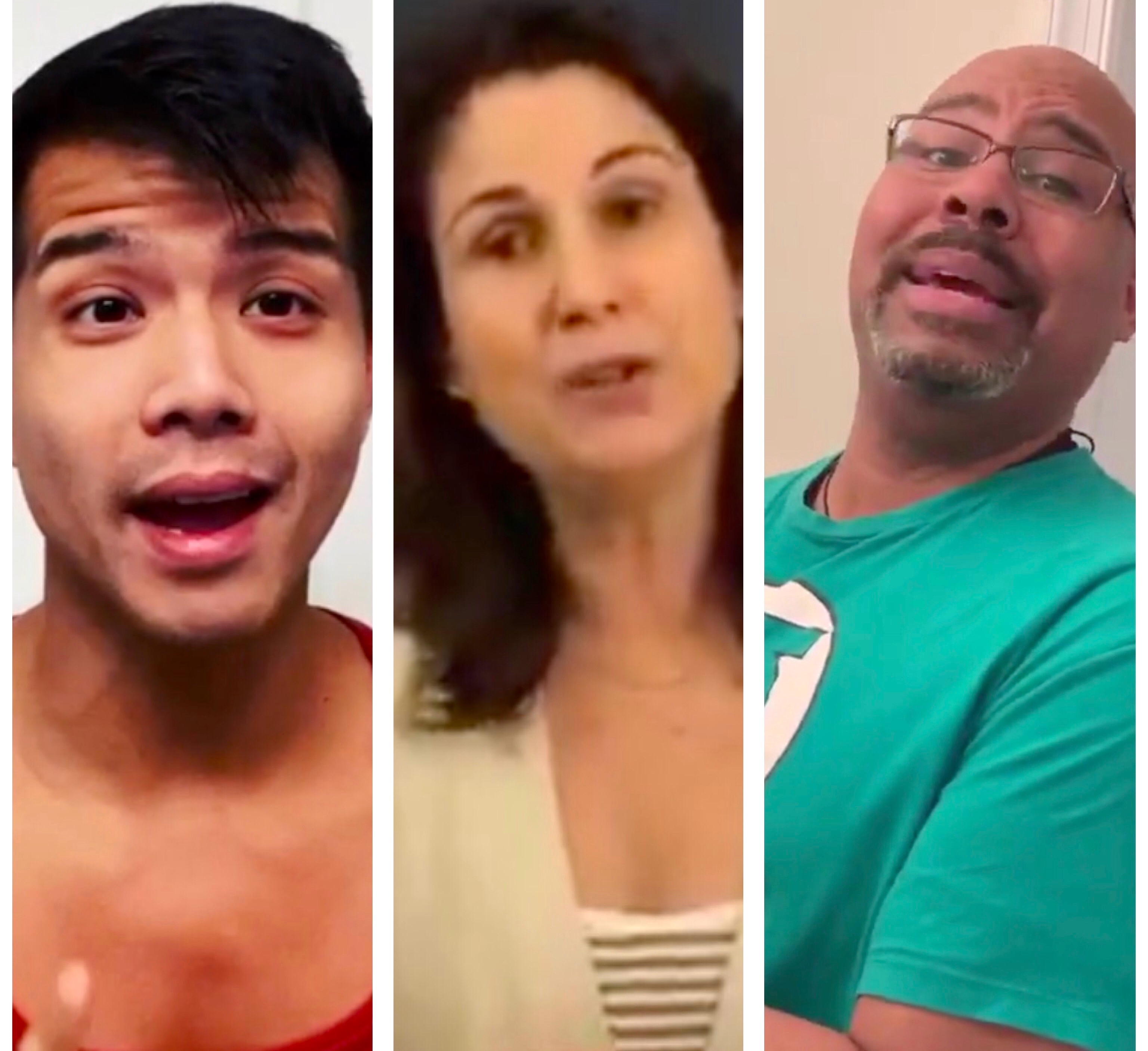 Turns out jazz hands are the second most impressive thing broadway performers can do with their digits.
Last week it was announced that all Broadway shows will be closed until at least April 12 due to the COVID-19 pandemic. While it certainly is unsettling to see New York City's symbol of resilience go dark, the broadway community has banned together to raise hope once again. Many of Broadway's finest have taken part in the viral #BWayHandWashChallenge, a challenge aimed at raising funds for members of the Broadway community who will need financial assistance while not working.
The #BWayHandWashChallenge, initiated by Theater Mania, calls for Broadway stars to choose a theater charity and then sing a show tune for twenty seconds while washing their hands. Twenty seconds is the recommended amount of time to wash your hands according to the CDC. No word yet on how much time they think is appropriate for belting Broadway show tunes but according to my roommates, hearing me sing "Don't Rain On My Parade" four times during one shower is more than enough. Many of the performers taking part in the challenge are asking fans to support the Actors Fund, which is an organization that provides performers with emergency financial assistance, health care, affordable housing and more. Since its formation in 1882, the organization has proven to be essential for performers who are living through dire situations like they are now.
Take a look at some of the big Broadway stars taking part of this amazing challenge!
Stephanie J. Block
Let's raise some money with @theatermania. Choose a charity (@TheActorsFund, @BCEFA, etc.), wash, sing, nominate, and post to pass along. @LeslieKritzer @WesTayTay #GavinLee, you're up. 🤲🏼🚰🧼🙌🏻 #BroadwayHandwashingChallenge pic.twitter.com/IhHUta3nvL

— Stephanie J. Block (@StephanieJBlock) March 17, 2020
James M. Iglehart
I'm taking the @theatermania #Broadwayhandwashchallenge (yeah I said it wrong in the video) for @BCEFA! Please donate! I nominate @NikkyWalks & @fergsters95! #MusicOfTheNight #IWillBePhantomSomeday! pic.twitter.com/ia0u9b9qLj

— james m. iglehart (@jamesmiglehart) March 17, 2020
Bonnie Milligan
Telly Leung
Lesli Margherita
Like what you read? Follow me on Instagram
The 'Dear Evan Hansen' Cast Performed From Home And It's Exactly What We Need Right Now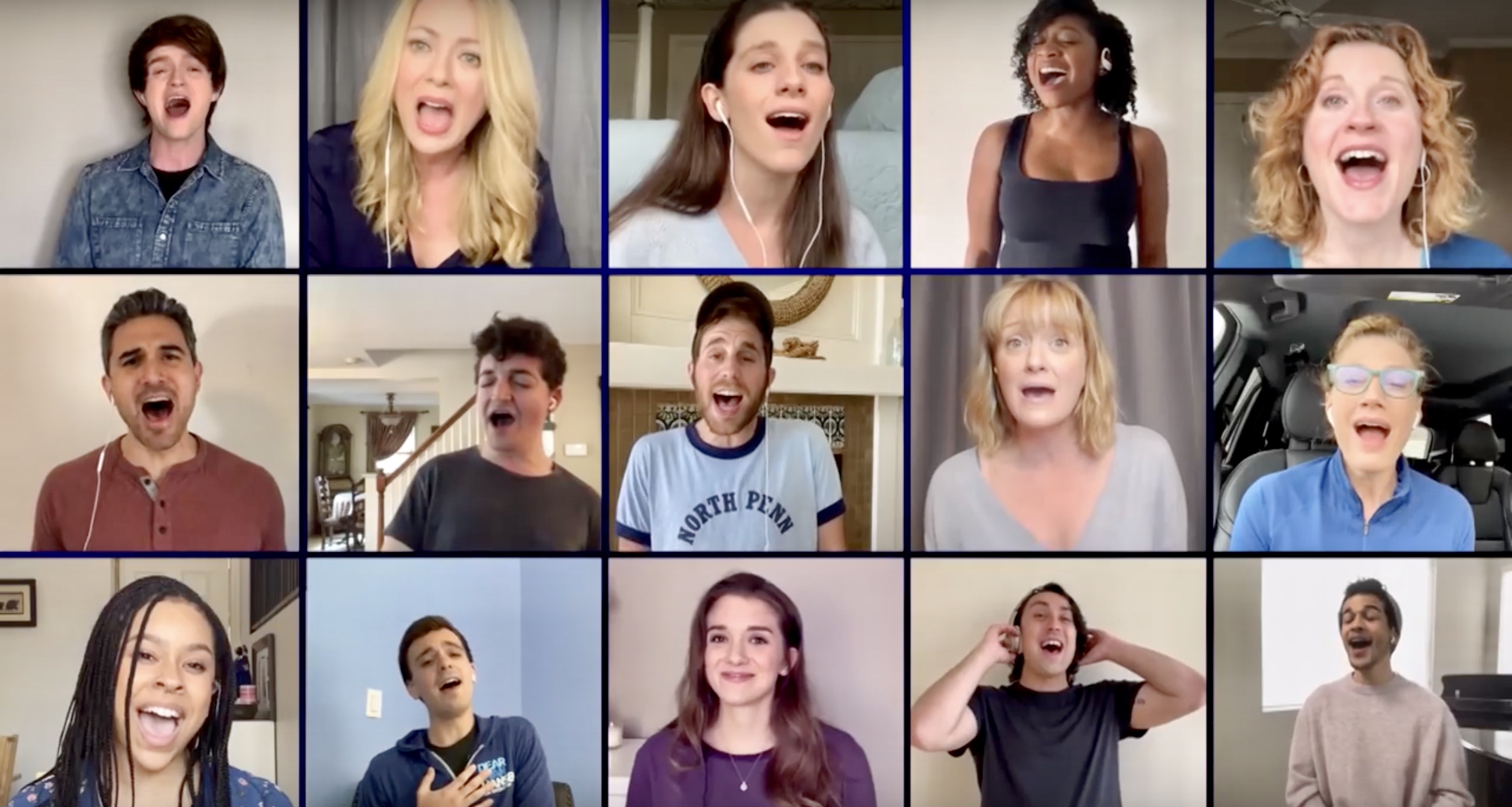 Sometimes you just need a good quarantine cry.
Last night James Corden wrapped up the #HomeFest version of his show, The Late Late Show, with an emotional monologue. He discussed the range of emotions he has felt during these unprecedented times. He also reminded viewers just how important it is to be there for one another even if we can't physically be close to our loved ones right now. It's hard not to get a little misty eyed hearing the comforting words of the talk show host. That mist quickly turns into a downpour, however, as Corden shares that the hope-filled song "You Will Be Found" from the hit Broadway musical, Dear Evan Hansen, perfectly conveys the message he would like to spread. And with that, Corden introduces a very special home version of the song performed by o.g. Evan Hansen, Ben Platt, along with the current Broadway company and national touring company of the show.
Paper products are in short supply so instead of having tissues handy, just let those tears fall and enjoy the emotional performance below!
Like what you read? Find me on Instagram
Family Shares Just How Miserable They've Been With A Hilarious Quarantine Rendition Of 'One Day More'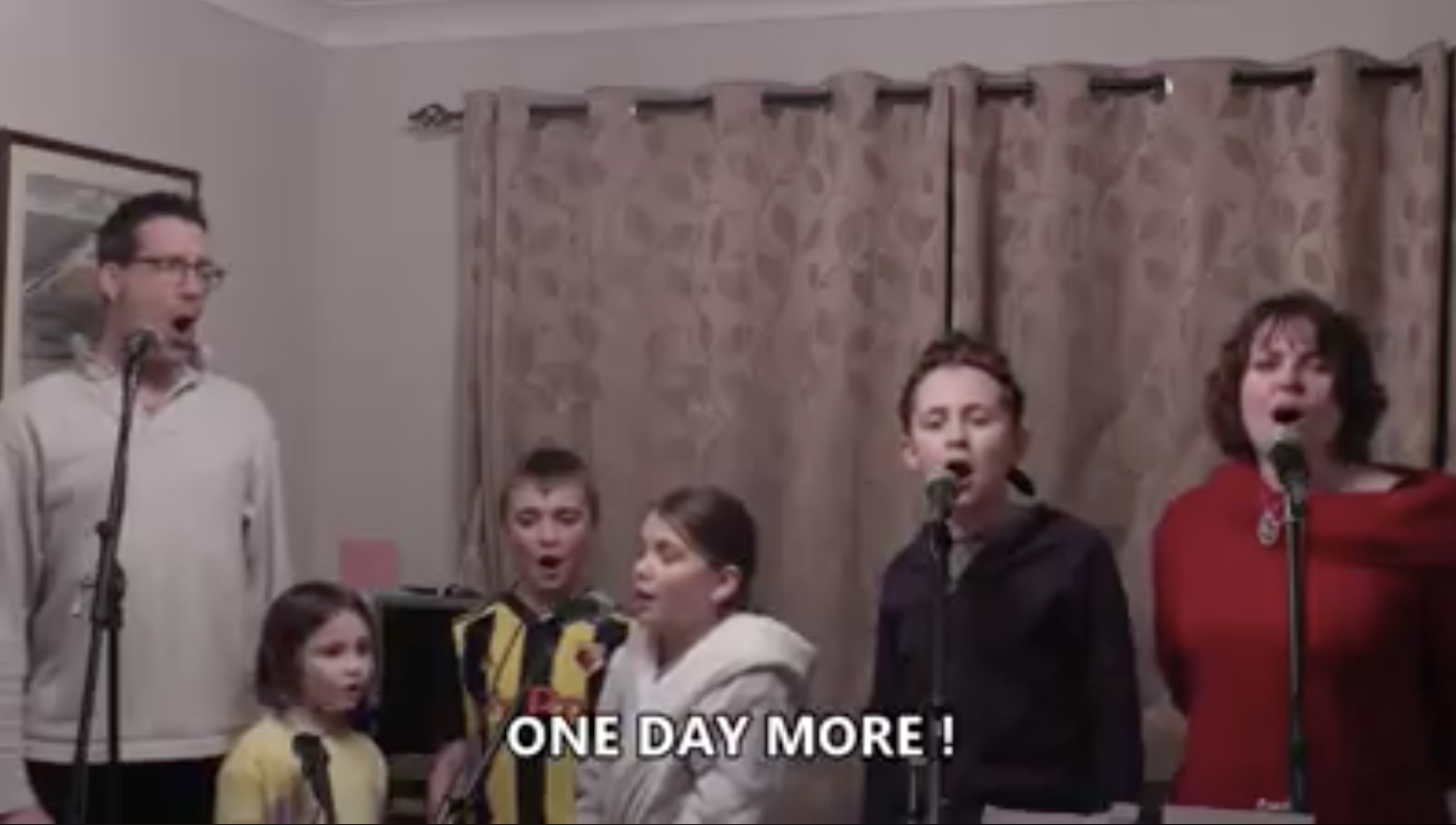 Safe to say this quarantine has us all feeling a little misérables.
As parts of the world remain shut down due to the coronavirus pandemic, it is growing increasingly challenging to keep entertained. I imagine it'd be even harder to keep children occupied when they can't attend school, after school activities, see friends or family members etc. One family channeled their isolation frustrations into an updated version of the song "One Day More" from the popular musical hit, Les Misérables and trust me this remix is all that and a loaf of bread.
Ben Marsh shared the video of him and his family performing the Broadway classic on Facebook with hopes of cheering up some of his friends. The updated lyrics are hilariously relatable. At one point the kids sing "Our grandparents are miles away / They can't work Skype! We're brokenhearted." Ben also takes to the mic expressing his almost potty-mouthed grief about home schooling, "One more day's home education / Let's just let them run amuck / We're not ready for these schoolboys / cos' they just don't give a f-."
Aside from the lyrics, the best part of the video is the first few seconds that show what quarantine life with small children is really like. Before harmoniously singing together, the children hit one another and bicker about nonsense which just adds to the humor of it all. On Ben's post he writes "Decided to include a bit of the intro so that you can see what kind of madness Danielle Marsh and I would be dealing with, if we didn't occupy them with music making." Luckily it seems music making really does keep the kids at bay!
Don't wait one minute more and check out the hilarious video below!
Like what you read? Follow me on Instagram
B'WAY BUZZ: Ryan Murphy Announces Netflix Film Adaptation Of 'The Prom'
At a charity performance on Tuesday, Ryan Murphy took to the stage to announce his plans to adapt the Broadway musical for Netflix. Theater lovers everywhere were like:
Back in November a new musical hit Broadway and before you knew it everyone wanted to be back in high school. The Prom follows an Indiana teen who simply wants to bring her girlfriend to her high school prom. Once the PTA catches wind of the news, the openly gay teen is banned from going to dance altogether. A gaggle of Broadway performers with questionable intentions decide to head to Indiana to help the teen get to the prom of her dreams. The musical made history when the cast performed at the Macy's Thanksgiving Day Parade and featured the parade's first same-sex kiss ever. The shows jam packed with talent as it is directed and choreographed by Casey Nicholaw and features such stars as Beth Leavel, Brooks Ashmanskas, Christopher Sieber, Caitlin Kinnunen, Angie Schworer, Josh Lamon, Michael Potts and Isabelle McCalla.
On Tuesday, there was a benefit performance at the Longacre Theatre which helped raise money for the Hetrick-Martin Institute, GLAAD and the Trevor Project. Ryan Murphy hosted the special performance and it was there where he made the big announcement. Murphy obtained the rights to turn The Prom into a Netflix film! It's no surprise that Murphy has chosen to take on this project as he is a huge advocate for LBGT+ community having created such inclusive projects such as Pose, The Normal Heart, and Glee. The audience – filled with celebs such as Sarah Jessica Parker, Glenn Close, Jane Krakowski, Ben Platt, Gus Kenworthy, Sandra Bernhard, Laura Dreyfuss, Janet Mock, Matthew Morrison, Bernadette Peters, Billy Porter, Andrew Rannells, MJ Rodriguez, and Christian Siriano – went wild when they heard the news. Murphy told the overjoyed crowd:
"I know, it's exciting. I'm really tired of hearing about bad news and Trump. I want to see entertainment that is optimistic and uplifting. I was absolutely blown away by Casey's work and the incredible cast. I cried at the end from pure joy, which has not happened to me since Patti LuPone was the flower girl at my wedding. I wish this show was around when I was a kid."
It remains to be seen if any of the Broadway cast will appear in the film but what has been confirmed is the expected release date; September 2020. It's no coincidence that the release date falls right around the 2020 election as Murphy closed his speech by saying "We want to change hearts, minds and votes."
Like what you read? Follow @ChrisSiretz on Twitter and Instagram