The New Trailer For The 'Saved By The Bell' Reboot Has Us All So Excited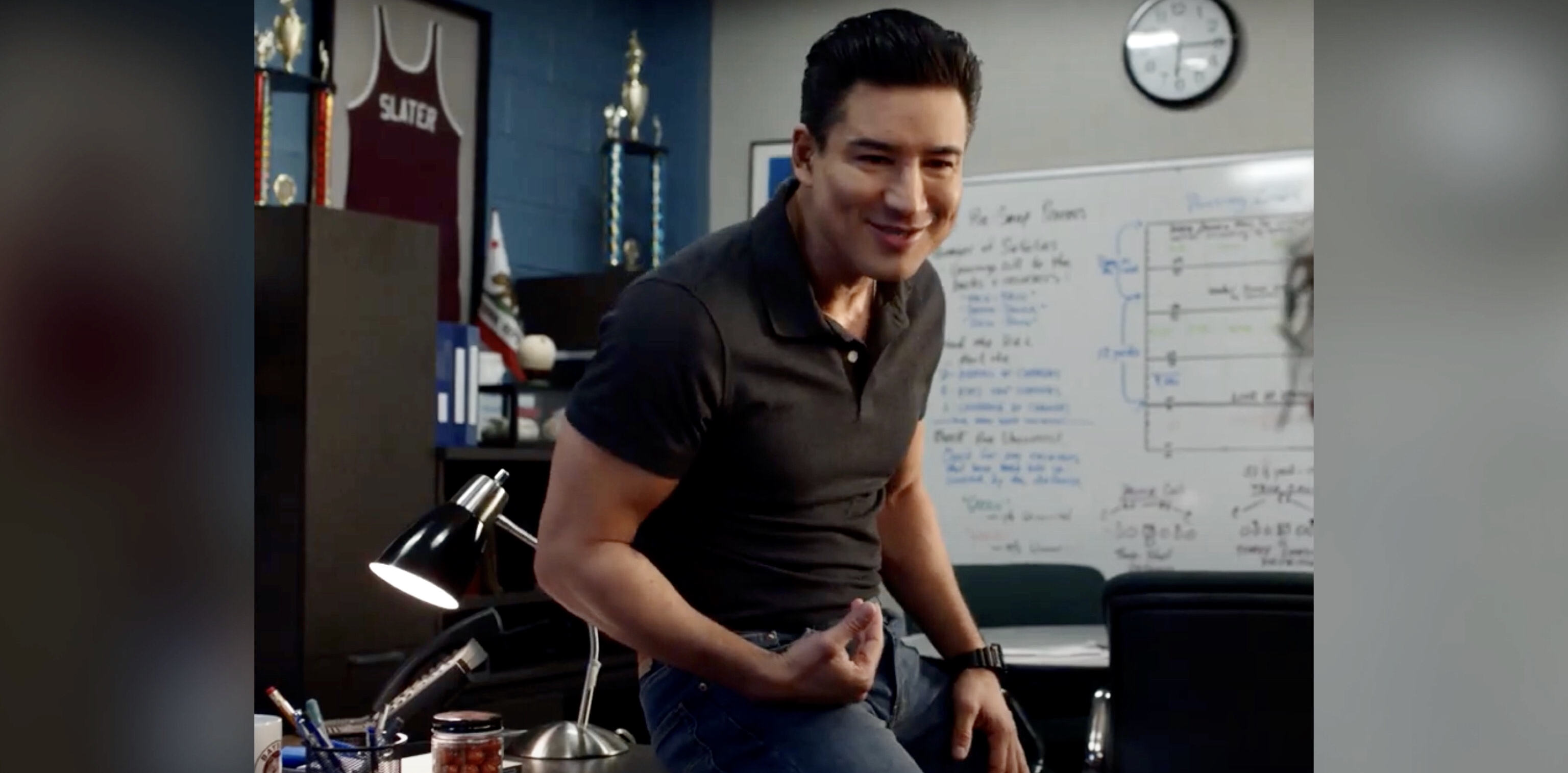 Get ready for some 90's nostalgia.
When I woke up this morning and the alarm gave me a warning I had no idea that I'd be Saved By The Bell today. The beloved 90's sitcom is making a comeback on NBC's upcoming Peacock streaming service and a lot has changed since we last saw Bayside High. In the newly released trailer we see Mario Lopez and Elizabeth Berkley reprise their iconic roles as A.C. Slater and Jessie Spano, who are two of the school's teachers now. The two take a trip down memory lane as A.C asks Jessie if she remembers "how much fun high school used to be" with Jessie aging us all as she responds with "Can you believe that was like 30 years ago?" Suddenly the gray hairs in my beard feel more prominent.
The rest of the trailer shows off some of Bayside's newest faces, including what appears to be the son of Zach Morris (Mark-Paul Gosselaar). One of the students even uses Zach's signature "time-out" causing everything to freeze around her…that's right, Zach's not the only one breaking the fourth wall this time.
No news of a release date yet as production of the series came to a halt due to the coronavirus pandemic. There are reports that Peacock is confident the reboot will still debut sometime in 2020.
Get excited, so excited and watch the trailer below!
Like what you read? Follow me on Instagram
Adorable Kid Dressed As 'Avatar: The Last Airbender' Character Goes Viral And Gets A Sweet Gift From Creator
And when the world needed him most…he went viral!
Earlier this month one of the best cartoons ever became available on Netflix. That's right 12 years after its series finale aired, Nickelodeon's Avatar: The Last Airbender is now streaming and fans everywhere are binging the series in just a matter of days. And I know this personally because I've proudly run through the series already…twice. Well one of the show's biggest little fans has gone viral after a photo posted three years ago resurfaced and everyone's taking notice.
Avatar fan Natasha Townsel Jenkins took to social media to share the news that three year old photos of her son, Noah, have started gaining attention since the animated series is back in the headlines. In the photos, Noah is dressed as the shows protagonist, Avatar Aang, and his costume is amazing! Not only is the clothing spot on but the look is completed with a replica of Aang's staff and miniature version of his flying bison, Appa. Of course social media blew up with users applauding the cute cosplay but one important person in particular took notice. Dave Scheidt, the writer for the canonical comics which were created after the series ended, loved the costume so much he decided to send Noah a gift, a signed copy of the latest comic.
In the post, Natasha thanks everyone for the overwhelming support and jokes that Noah has no clue he is an internet celebrity. Humble just like an avatar!
Like what you read? Follow me on Instagram
There Is A New Reality Show Where 15 Men Compete For A Chance To Impregnate One Lucky Woman
An unrivaled "mother of all reality shows."
We've seen contestants compete for love, money and fame on reality television but never a baby. We are truly living in unprecedented times.
The newest reality show making waves is called Labor Of Love, which premiered on Fox last night, as it follows a 41-year old divorcee on her quest to get knocked up. Kristy is recently single and tired of navigating through the dating world to find the man she would like to procreate with, so when all else failed she turned to reality tv. I guess Craigslist has grown too cliché? With her eggs frozen and a fertility doctor on standby, Kristy now has to choose between 15 lucky(?) hopefuls as they all vie for a chance to put their bun in her magic oven. According to the show's trailer these hunky men "are ready to skip the dating and go straight to baby making"…which just sounds like the Tinder of reality television to me.
The new show is being produced and hosted by Kristin Davis of Sex and the City fame and the irony isn't lost here when you remember just how badly Charolette wanted a husband and kids. Davis helps Kristy on her journey by hosting a series of challenges for the competitors which, according to the trailer, will be filled with things like contraction stimulators and costumed black bears. This show is really striving for the "most outrageous" superlative. On last night's episode the men were given a hand's on challenge as they each had to hop into a port-a-potty and deposit their…uh specimen…into a cup. Then, on national television, their results were measured and ranked according to fertility. I guess we can call it "must seed" tv.
With all the things we've seen on reality television over the years Labor Of Love isn't the most preposterous thing to emblazon our screens but it's definitely high on the list. You can catch the show every Thursday night on Fox and for a tease of what's to come this season, check out the trailer below!
Like what you read? Follow me on Instagram
The Trailer For Michelle Obama's 'Becoming' Is The Glimmer Of Hope We All Need Right Now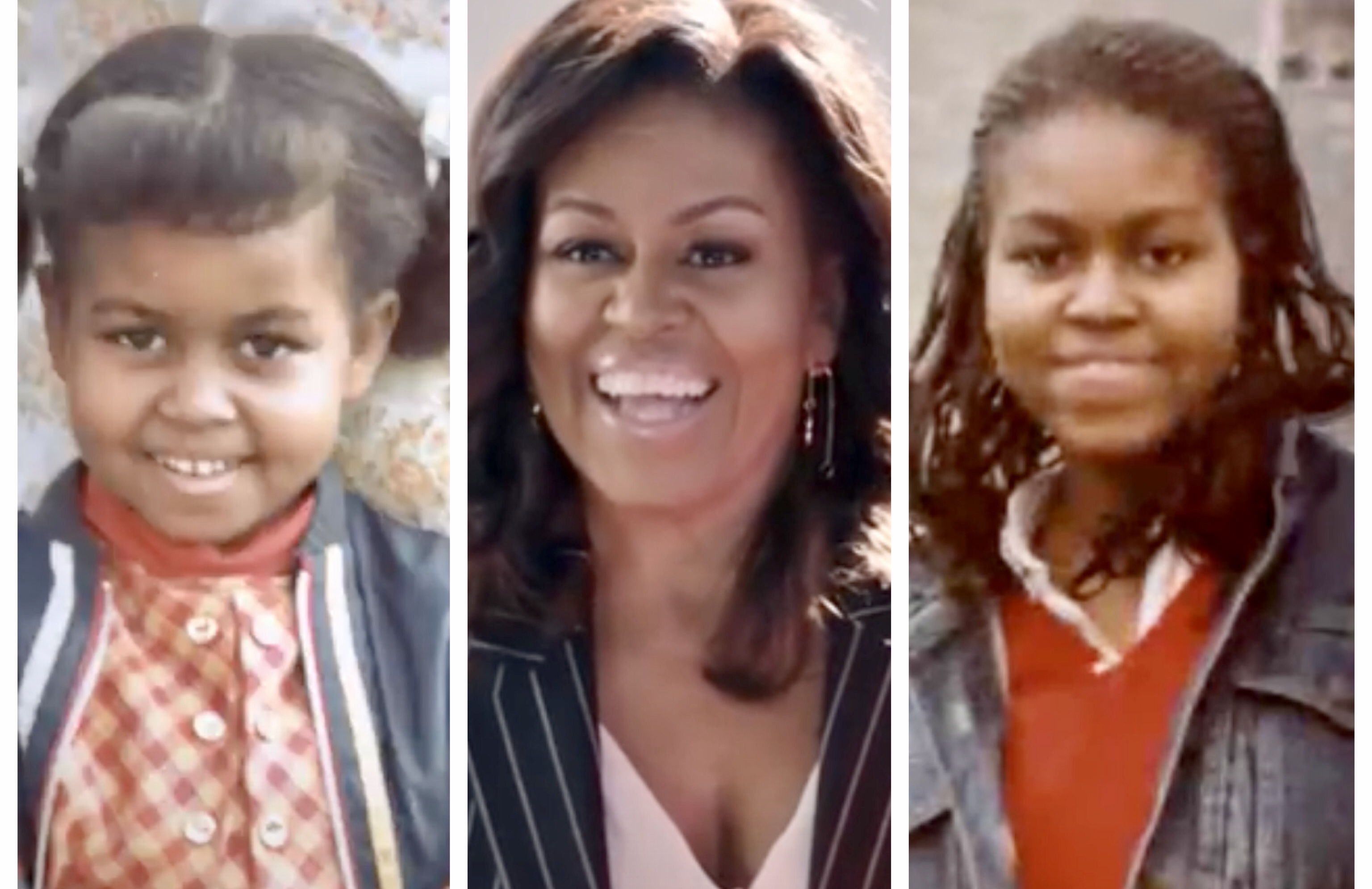 Netflix is quite becoming on the former First Lady.
If you woke up today looking for a boost of hope in your coffee cup, I've got something even better because the trailer for Michelle Obama's documentary just dropped and it is chock filled with good feelings. The Netflix documentary follows the former First Lady on a 34-city book tour for her best selling memoir, Becoming. In the book, Obama divides her life into three parts: "Becoming Me," "Becoming Us," and "Becoming More." The documentary seems to heavily focus on "Becoming More" as the trailer depicts many instances of Obama speaking to young women and children about taking charge of their future.
Politics aside, there's no denying the grace, strength and positivity of the former first lady. The trailer begins with Obama saying "I am from the South Side of Chicago. That tells you as much about me as you need to know," and she is so right. Growing up in one of the roughest cities in the country could have led to a completely different life if it wasn't for her determination and perseverance. This message of hope is EXACTLY what our country…no, the world…needs right now!
Becoming premieres on Netflix on May 6th. Check out the trailer below!
Like what you read? Follow me on Instagram