About 200 Goats Broke Free From An Enclosure And Wreaked Havoc On California Neighborhood
Just when you thought you've herd everything.
About 200 goats broke free from their enclosure and roamed the streets of an east San Jose neighborhood in California. According to KNTV while munching on some flowers, one of the goats tapped an electric fence which ultimately led to the breaking of a few boards on the fence. Well, 200 goats plus a broken fence…you can probably guess what happened next. The goats began running through town snacking on potted plants and leaving their droppings wherever they so dropped. Luckily for us, local resident Zach Roelands captured the goat parade on film and posted it to Twitter along with the caption ""I'm dead. When I got back from the store all the goats had broken through the fence and were [wreaking] havoc on our street."
The goats were rounded up pretty quickly Zach reported. According to Zach's mom, Terry, the 200 goats are kept nearby to eat through the brush that grows due to a wildfire that occurred some years ago. No matter how practical this is still the funniest story ewe will see today, I kid you not.
Take a look at the video below!
I'm dead 😂☠️ When I got back from the store all the goats had broken through the fence and were recking havoc on our street

This is the craziest thing to happen all quarantine 🐐🐐🐐 pic.twitter.com/Hc7XpuiBdT

— Zach Roelands (@zach_roelands) May 13, 2020
Like what you read? Follow me on Instagram
'Static Shock' Co-Creator Reacts To Racism Episode Going Viral For Still Being Relevant
The news came as a shock.
One of the greatest animated series of the early 2000's was undoubtedly Static Shock. The show followed a teenaged Virgil Hawkins as he became an electromagnetic superhero after being exposed to mutagen gas after a gang fight. What made the show so impressive was its ability to combine action-packed storytelling with unfiltered truths about social injustice. Recently, a clip from the season 1 episode "Sons Of Fathers" has gone viral because its subject matter is unfortunately still relevant nearly 20 years later. In the clip, Virgil is having dinner with his best friend, Richie, and his parents when Richie's dad spews out some micro-aggressions towards rap music. Then, Richie's dad racism becomes blatantly clear during a heated conversation with his wife where he shares his outrage in having "one of them" in his house.
Over 49k likes…I had no idea people felt this way.. amazing. A bright spot in a crazy world right now https://t.co/m8nhiJMRfX

— Denys Cowan (@DenysCowan) June 2, 2020
The show's co-creator, Denys Cowan, took to Twitter to express his amazement in Static going viral. The clip has been viewed nearly 900k times with fans applauding the show's courage to shed light on societal issues. Cowan wrote "I had no idea people felt this way.. amazing. A bright spot in a crazy world right now."
During it's four seasons the show tackled a bunch of poignant topics including gun violence, bullying and diversity. Static Shock is now available for streaming on DC Universe.
Like what you read? Follow me on Instagram
Adorable Kid Dressed As 'Avatar: The Last Airbender' Character Goes Viral And Gets A Sweet Gift From Creator
And when the world needed him most…he went viral!
Earlier this month one of the best cartoons ever became available on Netflix. That's right 12 years after its series finale aired, Nickelodeon's Avatar: The Last Airbender is now streaming and fans everywhere are binging the series in just a matter of days. And I know this personally because I've proudly run through the series already…twice. Well one of the show's biggest little fans has gone viral after a photo posted three years ago resurfaced and everyone's taking notice.
Avatar fan Natasha Townsel Jenkins took to social media to share the news that three year old photos of her son, Noah, have started gaining attention since the animated series is back in the headlines. In the photos, Noah is dressed as the shows protagonist, Avatar Aang, and his costume is amazing! Not only is the clothing spot on but the look is completed with a replica of Aang's staff and miniature version of his flying bison, Appa. Of course social media blew up with users applauding the cute cosplay but one important person in particular took notice. Dave Scheidt, the writer for the canonical comics which were created after the series ended, loved the costume so much he decided to send Noah a gift, a signed copy of the latest comic.
In the post, Natasha thanks everyone for the overwhelming support and jokes that Noah has no clue he is an internet celebrity. Humble just like an avatar!
Like what you read? Follow me on Instagram
'Can You Spot The Predator?' Is The Latest Challenge Driving The Internet Insane
It's an apex puzzle.
Nothing gets my mind churning more than a good internet challenge. Seriously, when I am laying in bed in the middle of the night fixating on some embarrassing thing I said in the third grade, a good internet challenge is just the distraction I look for. Well, the latest one to go viral involves a trick on the eyes and let me assure you, it's greeeeaaaaat!
Twitter user @Joy_Bishnoi posted a photo of a deer and asked followers if they could spot a predator. Now, the deer is in the middle of a heavily wooded area so the answer might not be as easy to find as you may think. I stared at the photo for longer than I'd care to admit and even thought that there could be a deep, existential answer like "humans are the predators to all wildlife," but no there is actually a predator lurking in this photo. Can you spot it?
Eye contact with predator and prey. Can you spot the predator? @aakashbadhawan @NalinYadavIFS pic.twitter.com/XLUN2YyNvw

— Ramesh Bishnoi (@joy_bishnoi) May 27, 2020
Need a hint? Ok the predator is striped and loves Frosted Flakes. Still can't find it? *SPOILER ALERT* It's a tiger and it's hiding in the bushes in the top left corner of the photo! The camouflage of the big cat makes it nearly impossible to see at first glance.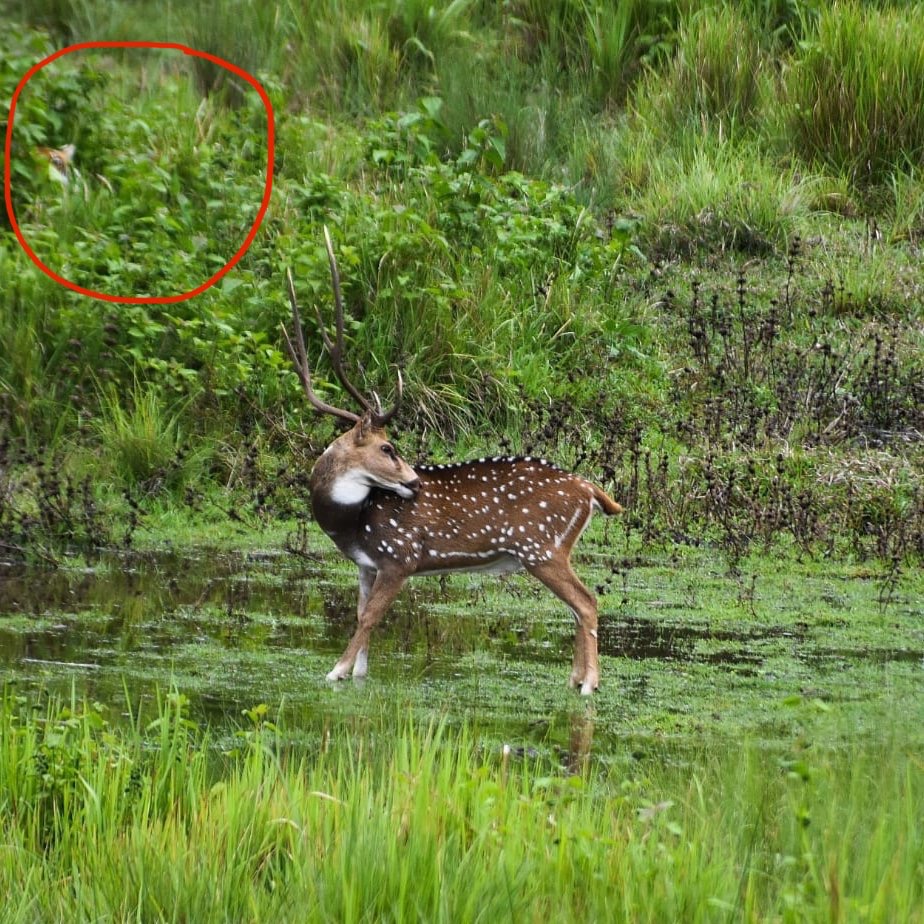 The post has garnered a ton of answers with some hitting the nail on the head and others missing the mark completely. One user figured it out because "the ear gave it away." Another looked a little deeper into the picture and said "the predator is the deer whereas its prey could be the grass I believe." I mean he's not wrong but I don't think deer are considered a threat unless you're driving down the New Jersey Turnpike in the middle of the night and one of these guys challenges you to a game of chicken. And one user who gave up on the search completely wrote "after seeing this picture I didn't get busy searching for a predator, but got lost in the beauty of nature." Still wrong but at least it's a beautiful way to be wrong. 
So, did you spot the predator? Share with your friends and see which one of you has the eye of the tiger!
Like what you read? Follow me on Instagram