Totally Didn't Know 'Tumbleweed Tornadoes' Were A Thing Until Seeing This Video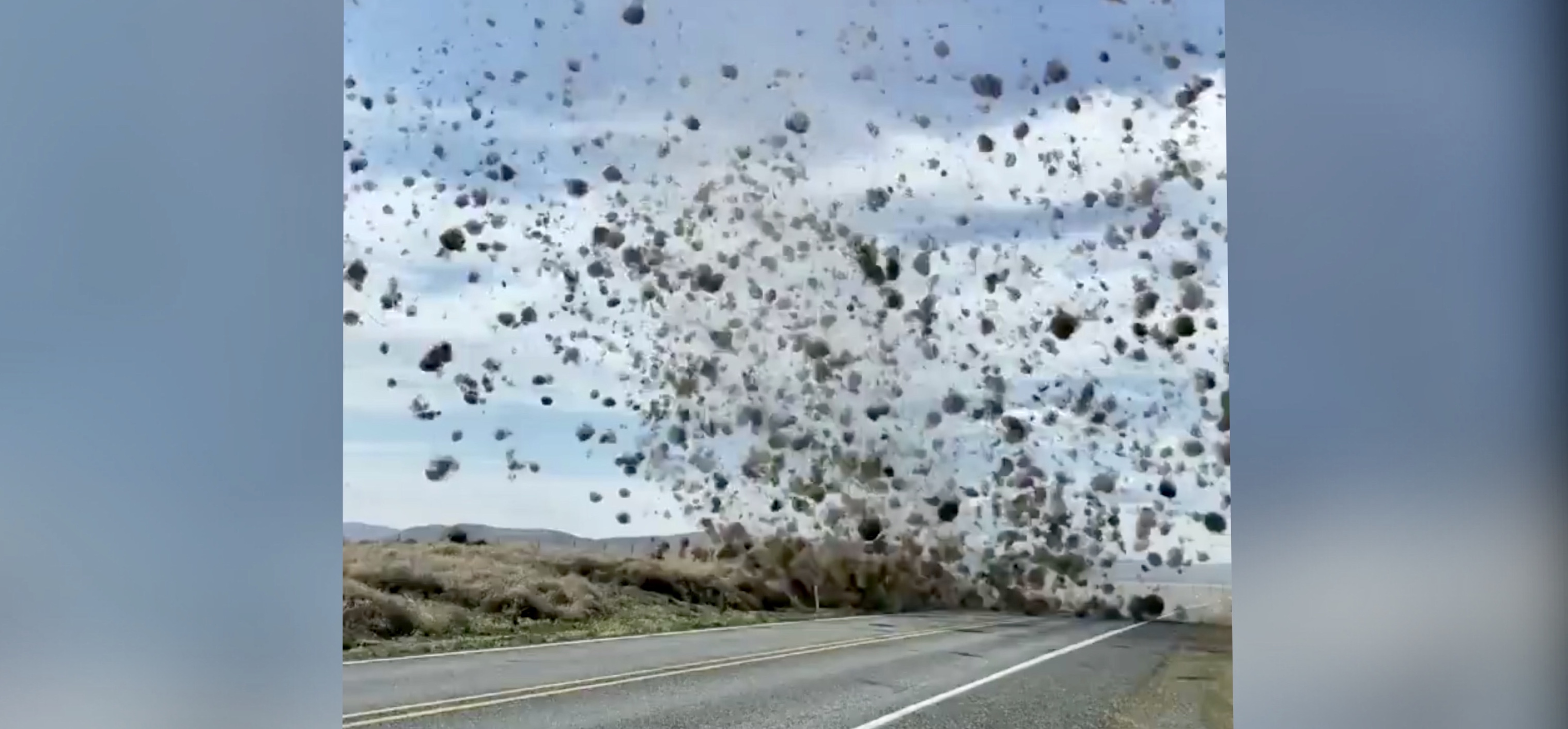 There's a whole new meaning to "going out for a spin."
I don't claim to be anything but a city boy. I hate bugs. Can't stand when it's hot outside. And up until know I was like fifty percent certain that tumbleweeds only existed in cartoons. Clearly this city boy needs a trip out west because there are some things I'll just never see while at Whole Foods.
Journalist, Matt M. McKnight, was on a drive in his VW (named Bessie) when he found himself staring straight into a tumbleweed vortex. What's a tumbleweed vortex, you might wonder? Well, to put it into terms I can understand, it's like when you're walking around New York City and a slight gust kicks up some street trash and then swirls it into the air creating a tiny, disgusting tornado… except much bigger, faster moving and with tumbleweeds. The hairy incident occurred in Eastern Washington near the decommissioned Handford nuclear complex and luckily for us McKnight captured the entire thing on film.
Take a look!
OMG TUMBLEWEED TORNADO! 🌪 Saw this approaching and pulled over along WA-240 a few minutes ago near Hanford Site. #wawx pic.twitter.com/NL9Nny1j7a

— Matt M. McKnight (@mattmillsphoto) April 30, 2020
Like what you read? Follow me on Instagram
Randy Rainbow Wants You To 'Cover Your Freakin' Face' In Hilarious New Parody
Is it really such a daunting task to wear a freakin' mask?!
I don't know about you but my preferred method of learning is through song. If they put the pythagorean theorem to the tune of the ABC's I might have actually passed high school geometry. Well perhaps the board of education could take a few notes from Randy Rainbow because his latest viral video is teaching everyone an important lesson all to the tune of "Put On A Happy Face."
The comedian's latest post tackles the unreasonably controversial subject of wearing a mask during the ongoing coronavirus pandemic. While I'm not entirely sure why there are people who want to put their health and the health of others at risk, Rainbow uses his signature style of comedy singing to ask everyone to sincerely "Cover Your Freakin' Face." The video takes place at a presidential press hearing where Trump speaks about his refusal to mask up which leaves Rainbow with no choice but to burst into song. Wasn't it Newton that said "Singing is fundamental"?
The over 3-minute video is filled with hilarious quips to the president such as "so back up gurl, don't get in my space and cover your freakin' face." And this friendly reminder, "it's not taboo, think of your poor old ailing nana she's counting on you." The list goes on and on but the message is clear, wear a mask!
Check out the hilarious video below!
🎶Don't spread droplets all over the place, just cover your freakin' face🎶 #CoverYourFreakinFace #WearAMask 😷🙄 pic.twitter.com/KsdLbrkRkj

— Randy Rainbow (@RandyRainbow) June 29, 2020
Like what you read? Follow me on Instagram
High School Senior Creates A Coronavirus Inspired Prom Dress Made Entirely From Duct Tape
The dress has gone viral.
Lots of seniors missed out on prom night this year due to the school closures that occurred when the coronavirus began sweeping the globe. What's to miss though really, a night filled with mediocre chicken marsala and overwhelming panic about where to put your hands while dancing with someone that makes you stutter every time you speak? Ugh, I miss high school. In any event, one high school senior didn't let the unfortunate circumstances of 2020 stop her from creating a truly amazing prom dress and she has now gone viral for her epic design.
Peyton Manker created a coronavirus-inspired prom dress after her dad told her about an interesting scholarship contest. The contest guidelines were simple; make an entire prom dress out of only duct tape. The Illinois senior spent over 400-hours detailing her masterpiece and created shoes, a mask, a purse and accessories to match. The dress is filled with intricate portraits displaying frontline workers, people in masks and even a tribute to the graduating class. Her purse is designed to look like a coronavirus cell, which you know we will see on every shelf at H&M in six months. No word on whether Manker won the scholarship but her dress has definitely caught the attention of the internet.
Of here new viral fame she told WSLS  ""I didn't even know people would see it. I just thought it would be people around my town would probably know about it. People from everywhere around the world have been telling me how much they like my dress."
Like what you read? Follow me on Instagram
A Botched Painting Restoration Has Gone Viral But The Internet Reactions Are The True Masterpieces
A restoration so botched not even Drs. Terry Dubrow and  Paul Nastiff could save it.
Art is interpretive…which is why it is so impressive that everyone has unanimously interpreted the restoration of "The Immaculate Conception" as being just awful.
An art collector in Valencia, Spain paid €1,200 to a furniture restorer to have his copy of Bartolomé Esteban Murillo's famous painting cleaned. Something went wrong with the cleaning and the painting left the Virgin Mary's face unrecognizable. As if poor Mary hadn't already suffered enough, the two attempts to restore the painting left the masterpiece looking like something found at a second grade art fair.
Images of the botched restorations traveled faster than a rampaging bull in Pamplona which led the Royal Academy of Arts to post this tweet:
For today's #RAdailydoodle, who can do a better job at restoring this copy of baroque artist Bartolomé Esteban Murillo's 'The Immaculate Conception of Los Venerables'?

(you can also start from scratch) pic.twitter.com/TXphAJr4JG

— Royal Academy (@royalacademy) June 23, 2020
And obviously the responses have been hilarious.
A shocking take.
I'm so sorry. pic.twitter.com/jy1o1Au8CO

— Mark 🏴󠁧󠁢󠁷󠁬󠁳󠁿🏴󠁧󠁢󠁳󠁣󠁴󠁿🇪🇺 (@TheBeardyBoyo) June 23, 2020
Good art is hard to lego of.
Here's my Lego version #RADailyDoodle pic.twitter.com/msTxAQrNTR

— Thomas Cogley (@JohnnyPixels) June 23, 2020
Eye-popping.
Here you go. pic.twitter.com/tPj6AwSnd3

— Smallbrainfield (@Smallbrainfield) June 23, 2020
Self restoration is key.
https://twitter.com/jaceb77/status/1275464732032598018
And this troll.
— Brendan Donlon (@brendandonlon) June 23, 2020
And this painfully accurate observation.
Quarantine Day 1/Quarantine Day 50/Quarantine today pic.twitter.com/UWiT4fODw7

— Stephen Colbert (@StephenAtHome) June 24, 2020
The incident has sparked a further discussion about the importance of restoration with some believing laws should be put into place to protect these valuable works of art. I totally agree but until then let's just enjoy the inevitable, valuable memes that will come from this.
Like what you read? Follow me on Instagram