Watching Mayim Bialik Learn TikTok Dances Is Pure Joy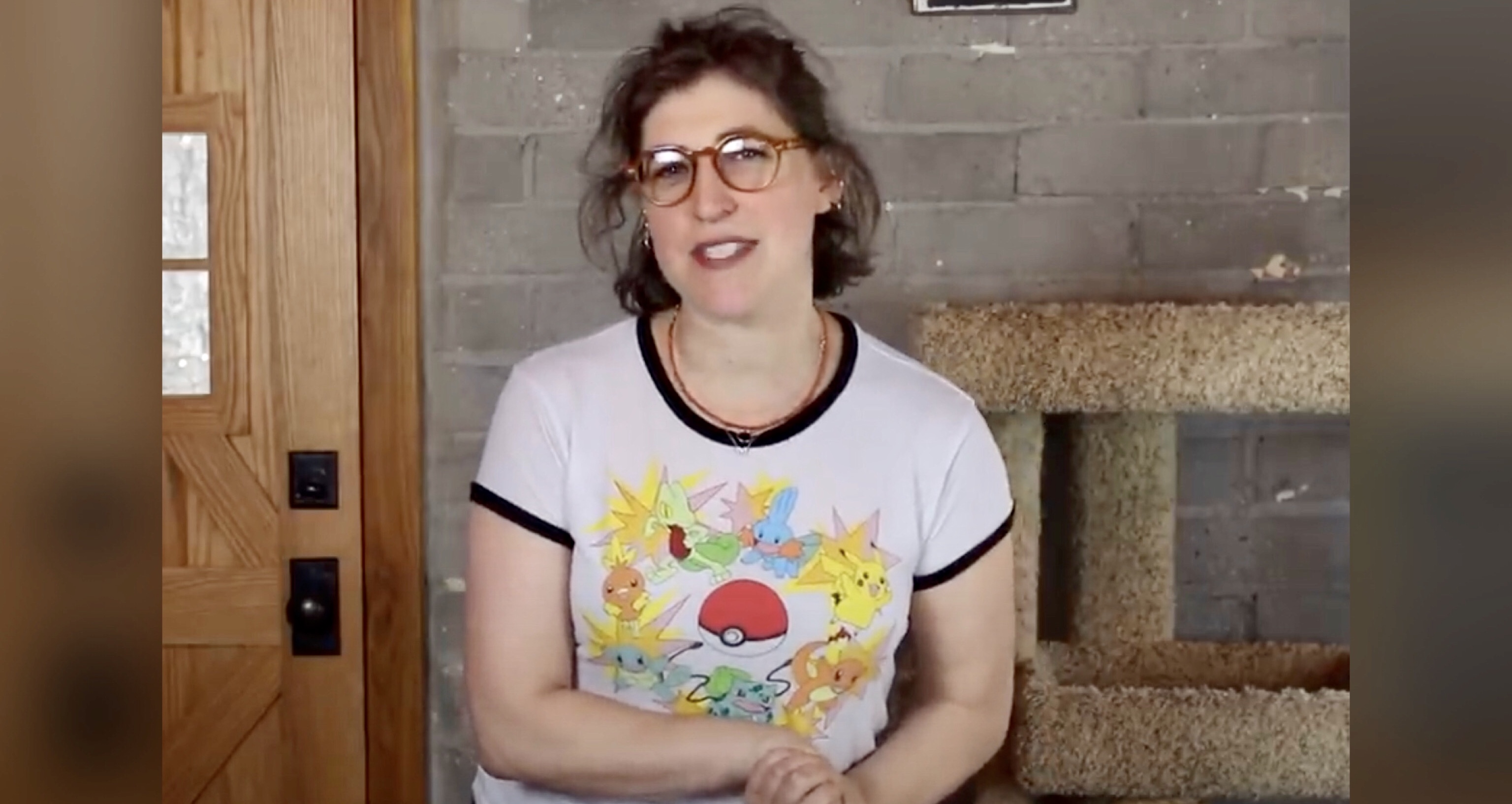 It is so fun watching this mom's viral dance moves blossom.
Nowadays you can't go on social media without being introduced to some new viral dance craze and I am only salty about it because I was given the curse of two left feet. Once in awhile, however, I come across a video so entertaining that me and my sense of incoordination can't help but to put our jealousy aside and let the amusement take over. And that has happened with Mayim Bialik's latest post on her YouTube channel.
While we know the actress from her charmingly quirky roles in the hit tv shows Blossom and The Big Bang Theory, Bialik spends her days like most moms just trying to keep up with the latest trends that have her children so captivated. In her video entitled "My Son Teaches Me TikTok Dances" the mom of 2 makes it her mission to learn some of the viral dances sweeping the popular app from her teenage son. Bialik starts the video by calling the app "Tik-Toke" so you know we are in for a treat. The Ph.D (yes she has a Ph.D in neuroscience) then describes Tik Tok as being "impossible" to explain only for her son to quickly inform her that this is a very simple explanation of how the app works. It's going well. Oh and Bialik is wearing a Pokémon t-shirt throughout the entire video…which should automatically make her TikTok famous imo.
Rather than just join the app and potentially humiliate herself and become a meme, Bialik decided to post her dance attempts to her own channel. Who would dare meme this queen!? The tv star then goes onto learn and demonstrate some of the most viral videos we've seen recently such as "The Renegade" and "Say So." The video will keep a smile on your face for the entire 10+ minutes and is definitely worth sharing. We need all the good vibes we can get nowadays and trust me they don't get much better than this!
Check out the charmingly quirky video below!
Like what you read? Follow me on Instagram
Kelly Ripa Shared A Sexy Picture Of Marc Consuelos And Warns More Male Nudity To Come!
July's heat ain't got nothing on Mr. Consuelos.
Ok let's be honest when someone shares a thirsty photo of their new man on social media it's cause for an immediate eye roll…unless of course you're Kelly Ripa showing off your hunky husband of over twenty years in which case that eye roll turns into tongue wag.
On Wednesday, the Emmy award winning talk show host took to Instagram to show off a photo of her incredibly buff husband Marc Consuelos. The 49-year old actor has bulked up for a two reasons; 1. He plays an ex-fighter on Kingdom which is now available for streaming on Netflix and 2. I needed a new wallpaper on my phone. In any event, the impeccable physique is obviously stunning as is the affection this couple shares after their nearly 25 years of marriage. In her caption Ripa wrote:
"KINGDOM is out on @netflix today! Warning: this show is brilliantly written, beautifully acted and jam packed with male nudity 🔥🔥🔥 you've been warned."
Now that's a heat advisory I can get behind. Check out the hunky photo below and tune into Kingdom on Netflix!
Like what you read? Follow me on Instagram
Celebrate The Last Day Of Pride Month With Megan Hilty's Beautiful Rendition Of 'The Rainbow Connection'
🎶For all the lovers, the dreamers and LBGT.🎶
With only a few hours left to celebrate the magic of Pride month, the LBGTQ+ heavens opened up and sent down one more gift. Megan Hilty.
The Smash star gave a special Pride performance of the appropriately-themed classic "The Rainbow Connection" for ABC's LA! Pride and of course she crushed it. The song was first sung by Kermit the Frog in the 1979 film The Muppet Movie and shares a message of hope and inspiration which obviously resonates strongly with the LBGTQ+ community. The only way Hilty's rendition would be better is if she was covered in Muppet fur honestly.
The Broadway belter captioned the post with a sweet sentiment which read "Happy #pride🌈 kids! It doesn't end today. Be proud of who you are every day of the year, and find your rainbow connection. 💕✨" And she's right, every day should be filled with Pride!
Check out the moving performance below and Happy Pride y'all!
Like what you read? Follow me on Instagram
Here Are Some Of The Funniest Reactions To Kim Kardashian's New Horse
She ain't no pedestrian equestrian.
Kim Kardashian West is so rich. How rich is she? Kim Kardashian West is so rich that even her horse has a perfectly laid hair do.
On Monday night, Kim shared a series of photos from North's 7th birthday party which was celebrated "Wyoming style." The cowboy themed party included such extravagances as a cowboy hat shaped cake, customized ATV's and a race around the family's go-kart track because of course they have a go-kart track on their ranch. None of those things received nearly as much attention as Kim's tweet about North's brand new "Freesian" horse however, and let's just say the internet never disappoints.
The Tweet:
Meet North's Freesian horse. We have 14 gorgeous Freesians on the ranch. pic.twitter.com/TO87I25YKJ

— Kim Kardashian West (@KimKardashian) June 29, 2020
The spellcheck.
Kim…It's Friesian.

— Oopopotanus (@oopopotanus) June 30, 2020
The probable.
That horse is wearing a fucking wig!

— David Alan Grier (@davidalangrier) June 29, 2020
The ingenuity.
https://twitter.com/Rizzy_ZA/status/1277818704223502336
The observant.
Kim that hair looks awfully familiar… pic.twitter.com/mMCuEJ5Cou

— Michael Puente (@Michael_Ray3) June 30, 2020
The relatable.
The sad truth.
This horse looks like it
only drinks sparkling water.

— Fluffy Cat (@Erik_Allen) June 30, 2020
The reason I love the internet.
Meet my Freesian horse. I have 14 gorgeous Freesians in my apartment. They're my roommates and I hate them. pic.twitter.com/jUQuOgv1ZJ

— Robby Slowik (@RobbySlowik) June 30, 2020
Like what you read? Follow me on Instagram