YouTube Star Let A 'Murder Hornet' Sting Him And I'm Officially Terrified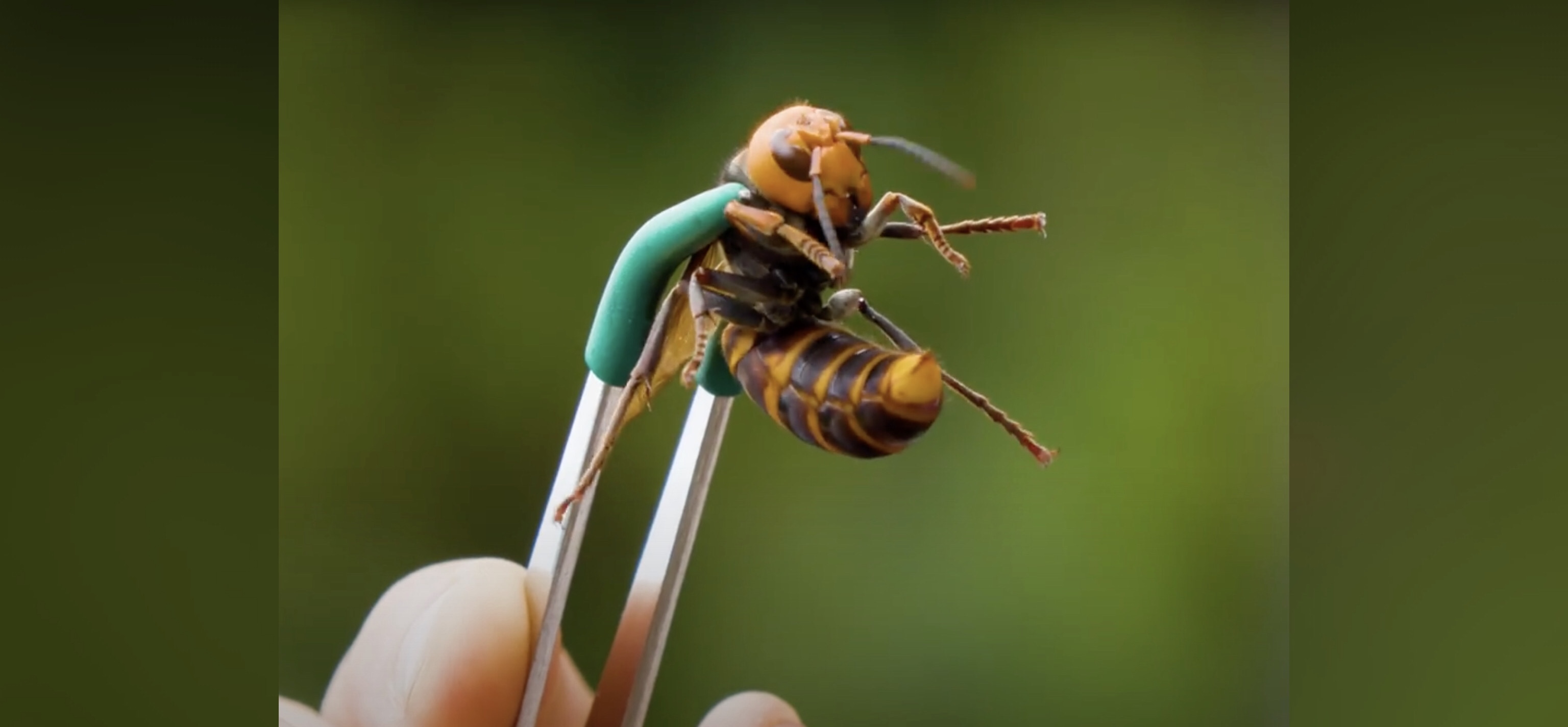 So obviously don't try this home.
As if 2020 hasn't been brutal enough, what with the fears of a third World War, the numerous natural disasters and the global pandemic we are currently enduring, it was just discovered that murder hornets have been spotted in America. As you can probably guess by the terrifying nickname, murder hornets aren't exactly something we should be excited to find in our own backyard. In fact, if you see one of these buzzing baddies flying at you, you should run in the other direction. While a sting from one murder hornet aka Asian giant hornet aka Japanese giant hornet is not likely to kill you, it will leave you with dizziness, agonizing pain and swelling. If you're curious as to what those symptoms might look like you're in luck because YouTuber, Coyote Peterson, actually allowed himself to be stung back in 2018.
For his channel "Brave Wilderness," Coyote and his crew headed to Japan with the goal of finding the giant hornet to show the effects of its sting. Maybe we should introduce Coyote to knitting or adult coloring books because there are definitely safer hobby options out there. In any event, the crew was successful in their hunt and the YouTuber allowed the two-inch terror to sink it's stinger into his arm. As soon as the stinger pierced the flesh, which we get to cringe-watch thanks to a good zoom-in, Coyote recoiled and screamed out that he is in "Searing pain! Absolute searing pain!" Followed by the sting, Coyote also recounted an immediate bout of dizziness and then displayed some horrific swelling. Seriously Coyote, if knitting isn't your thing we can try pottery or tie-dying…
Obviously these big bugs are terrifying to humans but they are also a huge threat to honeybees. The hornets go through a "slaughter phase"…because of course they do…in which they kill honeybees by biting off their heads and feeding them to their young. By now we know just how important honeybees are and we also know how quickly they are declining. If murder hornets thrive here in the states, it could be the final blow to the honeybee population. The shred of silver lining to catching the hornet's introduction so early is that there is a chance to eradicate them before the population grows out of control according to Washington State Department of Agriculture entomologist Chris Looney. Come on 2020, now's your chance to redeem yourself!
Like what you read? Follow me on Instagram
TikToker Goes Viral As He Transforms Into Favorite Superheroes In Amazing Video
Slap a cape on this video because it's just super.
TikTok videos are like Halloween costumes. Some are cute, some are scary but 9 out of 10 are just plain bad. So it's exciting when a video from the social platform goes viral for being so well done and that's exactly what happened with Julian Bass.
On his account @TheJulianBass, Bass shared a video of himself transforming into three different superheroes. The first is a Jedi, the second is Ben10 and the third is Spiderman. Not only are the costumes impressive but so are the special effects. The Jedi slices through the scene to cut to Ben10 who transforms into a computer animated alien who backflips into Spiderman. Trust me, it's so much cooler than some awkward dance challenge.
In less than a day the post has already garnered over 1.7 million views on TikTok and a whopping 10million views on Twitter. On Twitter Bass wrote "if y'all can retweet this enough times that Disney calls, that'd be greatly appreciated." Get on this Disney!
Check out the video below!
if y'all can retweet this enough times that Disney calls, that'd be greatly appreciated pic.twitter.com/GrKlIRxg3J

— Julian Bass (@thejulianbass) July 2, 2020
Like what you read? Follow me on Instagram
Randy Rainbow Wants You To 'Cover Your Freakin' Face' In Hilarious New Parody
Is it really such a daunting task to wear a freakin' mask?!
I don't know about you but my preferred method of learning is through song. If they put the pythagorean theorem to the tune of the ABC's I might have actually passed high school geometry. Well perhaps the board of education could take a few notes from Randy Rainbow because his latest viral video is teaching everyone an important lesson all to the tune of "Put On A Happy Face."
The comedian's latest post tackles the unreasonably controversial subject of wearing a mask during the ongoing coronavirus pandemic. While I'm not entirely sure why there are people who want to put their health and the health of others at risk, Rainbow uses his signature style of comedy singing to ask everyone to sincerely "Cover Your Freakin' Face." The video takes place at a presidential press hearing where Trump speaks about his refusal to mask up which leaves Rainbow with no choice but to burst into song. Wasn't it Newton that said "Singing is fundamental"?
The over 3-minute video is filled with hilarious quips to the president such as "so back up gurl, don't get in my space and cover your freakin' face." And this friendly reminder, "it's not taboo, think of your poor old ailing nana she's counting on you." The list goes on and on but the message is clear, wear a mask!
Check out the hilarious video below!
🎶Don't spread droplets all over the place, just cover your freakin' face🎶 #CoverYourFreakinFace #WearAMask 😷🙄 pic.twitter.com/KsdLbrkRkj

— Randy Rainbow (@RandyRainbow) June 29, 2020
Like what you read? Follow me on Instagram
High School Senior Creates A Coronavirus Inspired Prom Dress Made Entirely From Duct Tape
The dress has gone viral.
Lots of seniors missed out on prom night this year due to the school closures that occurred when the coronavirus began sweeping the globe. What's to miss though really, a night filled with mediocre chicken marsala and overwhelming panic about where to put your hands while dancing with someone that makes you stutter every time you speak? Ugh, I miss high school. In any event, one high school senior didn't let the unfortunate circumstances of 2020 stop her from creating a truly amazing prom dress and she has now gone viral for her epic design.
Peyton Manker created a coronavirus-inspired prom dress after her dad told her about an interesting scholarship contest. The contest guidelines were simple; make an entire prom dress out of only duct tape. The Illinois senior spent over 400-hours detailing her masterpiece and created shoes, a mask, a purse and accessories to match. The dress is filled with intricate portraits displaying frontline workers, people in masks and even a tribute to the graduating class. Her purse is designed to look like a coronavirus cell, which you know we will see on every shelf at H&M in six months. No word on whether Manker won the scholarship but her dress has definitely caught the attention of the internet.
Of here new viral fame she told WSLS  ""I didn't even know people would see it. I just thought it would be people around my town would probably know about it. People from everywhere around the world have been telling me how much they like my dress."
Like what you read? Follow me on Instagram