Stan Lee Said The Only Way To Combat A Racist Is To 'Expose Them' In A Periodical From Over Fifty Years Ago
A man truly ahead of his time.
The concept of finding strength within a community has never been more pressing than it is right now. Our country is divided in so many ways but amongst the fractures you can see groups joining together in an effort to show that unity is always stronger than division. If anyone can attest to that belief it was the ingenius comic book writer, editor, publisher, and producer Stan Lee.
The man responsible for the Marvel universe we know and love today was behind a number of comic books which featured outcasts who looked beyond their differences in order to unify and protect the greater good. A concept our world might need reminding of. In the back of the comics Lee wrote for was a section entitled "Stan's Soapbox," where the wordsmith would write short articles expressing some things that were on his mind. One soapbox article from 1968 has resurfaced and gone viral because of how eerily fitting it is for today.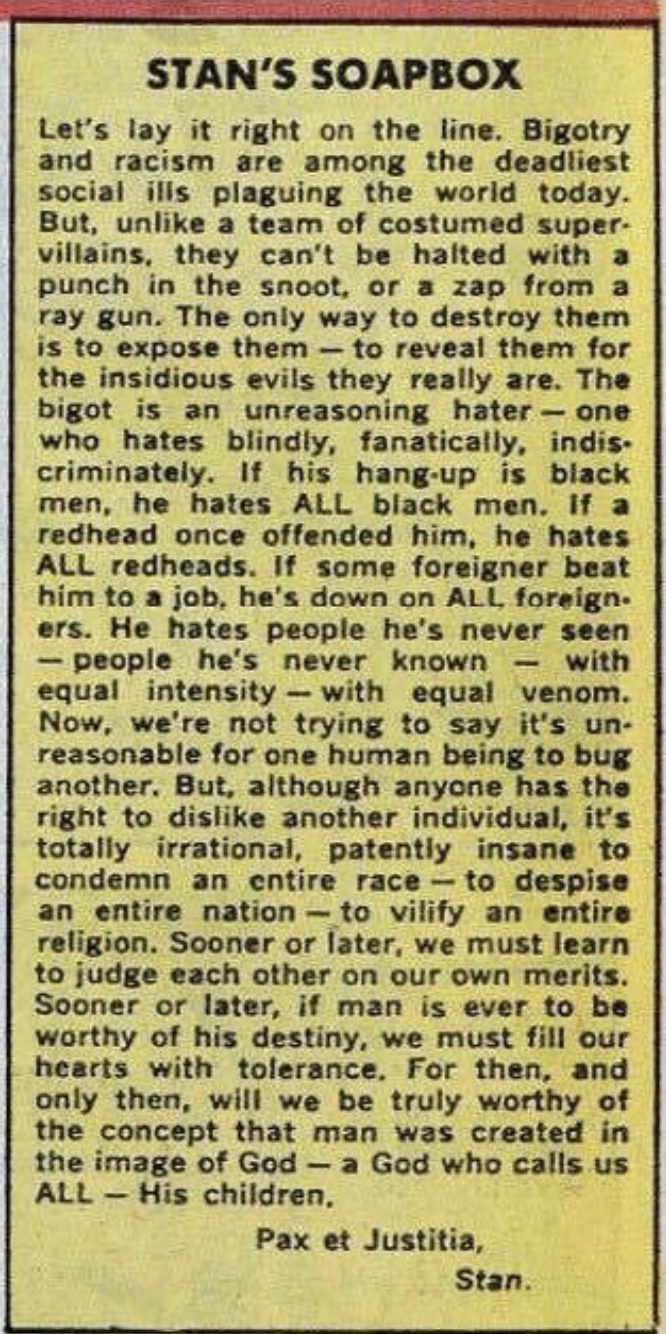 In the article Lee calls bigotry and racism "the deadliest social ills plaguing the world today." But unlike a super villain from one of his comics, racism and bigotry cannot be defeated by a "punch in the snoot, or a zap from a ray gun," he says, rather "the only way to destroy them is to expose them – reveal them for the insidious evils they really are." The comic book creator suggests the only way for our world to continue peacefully is to "judge each other on our merits" and to "fill our hearts with tolerance."
Along with the soapbox article, a clip from an interview with Larry King has gone viral with Lee once again wishing to see more tolerance in the world. When asked what the one thing he would change about the world Lee responded "I'd make people not hate each other because of their religion, because of their nationality, because of any stupid reason. If we can abolish hatred, we live on this gorgeous planet."
One thing you would change about the world?

Stan Lee: " I'd make people not hate each other because of their religion, because of their nationality, because of any stupid reason. If we can abolish hatred, we live on this gorgeous planet." pic.twitter.com/lxHzUWSkCL

— Sílvia (@JustMe_Silvia) June 9, 2020
Why couldn't he be the celebrity that ran for president!? Hopefully the villains Lee warned us about over fifty years ago will soon seem like a thing in the past and that beautiful, tolerant world he dreamed of will become a reality.
Like what you read? Follow me on Instagram
Bill Nye Goes Viral For TikTok Demonstrating The Importance Of Wearing A Face Mask
Perhaps we should listen to the SCIENCE GUY.
It has been well over a hundred days since the coronavirus began shutting down the United States and for some reason there is still a debate roaring about why we should be taking the simplest of measures to protect ourselves and others from the potentially deadly virus. Well luckily for us, scientist Bill Nye just shared a very informative TikTok explaining just how important the use of face masks is during this unprecedented time.
The 64-year old tv star made a series of two TikToks (meaning it literally takes less than 2 minutes to understand this message) demonstrating the effectiveness of different face coverings and then explaining just how important it is to wear one. "Face masks… prevent particles from my respiratory system from getting into the air and getting into your respiratory system" Nye shares. 
The experiment shows the scientist trying to blow out a lit candle while wearing a knitted scarf, a homemade double layered mask, and then an N-95 mask. Obviously the medical grade N-95 mask garnered the best results but Nye goes on to reiterate the importance of face coverings in general by saying "Everybody, this is a matter literally of life and death. And when I use the word 'literally', I mean literally a matter of life and death." Eerie to hear it put it that way but that is the truth!
Check out the videos below and get yourself a good mask!
Listen to Bill Nye. pic.twitter.com/F34Ke3xlsC

— Andrew Cuomo (@NYGovCuomo) July 9, 2020
Bill, Bill, Bill, Bill, Bill, Bill
Bill Nye the Science Guy perioddddd pic.twitter.com/EEhkmXdWwL

— Tori⛸ (@skateonclouds) July 9, 2020
Like what you read? Follow me on Instagram
Mariah Carey Is Nearly 'Crushed' In Blooper From Last Year's #BottleTopChallenge
That's one high-octane octave.
Mariah Carey has a vocal range that leaves even dogs cheering for more, so it was no surprise when she took part in last year's #BottleTopChallenge. The social media challenge forced singers to open a bottle top with only the use of their voices. Well obviously there isn't a bottle top big enough to stand up to Carey's whistle register so she shared a video demonstrating just how easy it was for her to complete the challenge.
Challenge accepted! #bottletopchallenge pic.twitter.com/Rygijd6z5W

— Mariah Carey (@MariahCarey) July 7, 2019
I bet you she has never needed help opening a jar of pickles. It has been one year since the 5-time Grammy winner shared the original post and to commemorate the occasion Carey shared an outtake in which she is nearly "crushed" by the bottle. Of course the word "crushed" is a bit over-dramatized but it makes for a good post, darling.
Last year I tried to crush the bottle cap challenge, but the bottle almost crushed me 😬😳 Here's the take you didn't see… https://t.co/VKGKnIXkLl pic.twitter.com/mkCVrbbG65

— Mariah Carey (@MariahCarey) July 7, 2020
Quite possibly the most impressive blooper ever. Knocking over a bottle of champagne is way more exciting then just spinning off the cap!
You can follow all of Mariah Carey's social media adventures here.
Like what you read? Follow me on Instagram
Chrissy Teigen's 'World Famous T***y Biscuit's' Receive Some Hilarious Reactions
Hey, her biscuits are down there man.
Does your mouth ever water when you watch cooking shows like Barefoot Contessa or 30 Minute Meals? Well if you saw the dough-rolling-hack Chrissy Teigen posted over the weekend, you might be drooling for a whole different reason.
The supermodel mom is not only known for her beauty and her humor, she is a great chef too. Her website CravingsByChrissyTeigen features dozens of fun recipes that all look delicious. Well one recipe you won't find on her website (although I really hope she puts it in her next cookbook) is her "World Famous Titty Biscuits." On Twitter, Teigen shared a video where she is rolling out biscuit dough with a wine bottle and let's just say the blouse she is wearing highlights her biscuits perfectly. Biscuits which have recently been reduced by the way. Teigen took to social media in June to share the news that she would be removing her breast implants to improve her quality of life.
Making my world famous titty biscuits! pic.twitter.com/rJiOkBOFIj

— chrissy teigen (@chrissyteigen) July 4, 2020
Leave it to Twitter to come up with some priceless reactions to the video of course. Some haters chimed in but we can only assume it's out of jealousy as they just wish their biscuits were as fluffy as Teigen's. The rest of the comments were pure comedy. Take a look at some of the funniest.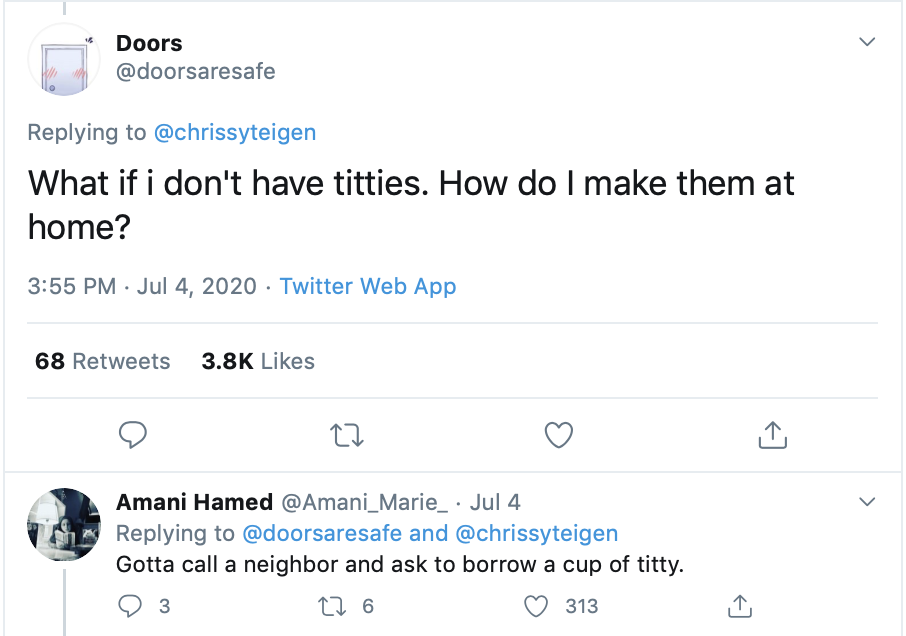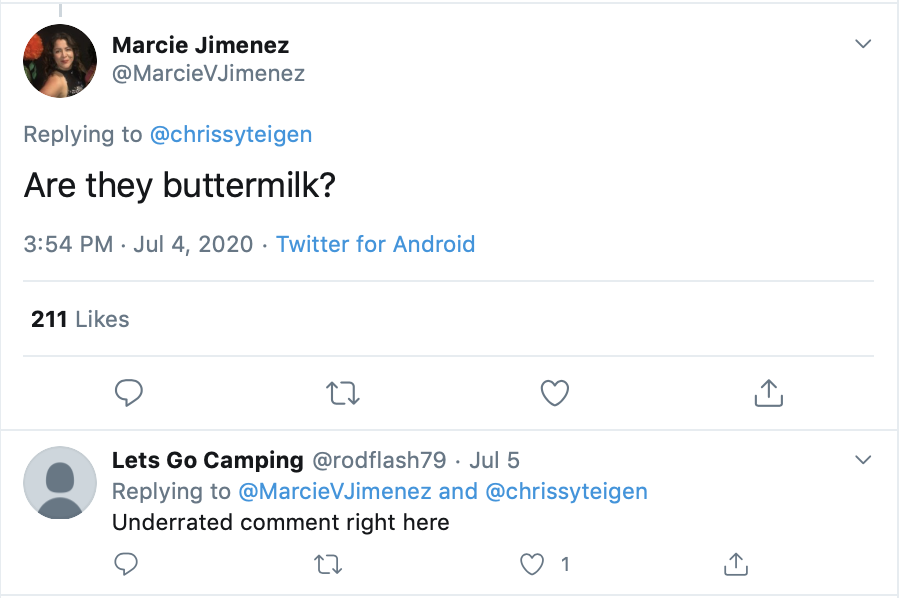 To follow Chrissy Teigen in all of her comedic adventures click here. For more cooking tips and tricks click here.
Like what you read? Follow me on Instagram