POP INTERVIEW: Celina Jade of The CW's "Arrow"
Describing Celina Jade packs bad ass and beauty in the same sentence. Yes, she is currently starring in a recurring role on The CW's Arrow, but she also has a softer side. The martial arts diva and singer has modeled for the high end Japanese makeup brand, Shu Uemura, and was just featured in Vanity Fair España. Jade is a hot new actress for moviegoers in the United States – expect to see her doing movies akin to Sin City in her future.

Did you ever watch The CW or as it was called in its early "Buffy the Vampire Slayer" days, The WB? What were your favorite shows? What shows do you like recently on The CW?
My sister was a huge Buffy fan back in the day. I saw a few episodes and enjoyed them, but never had the time to really chase it. I was more focused on trying to get the best grades I could in school. I was a geek back then. My favorite show on The CW is Arrow right now…I watch a few episodes of Supernatural and Nikita too. I actually started watching Arrow just before I got my part because Byron Mann (who plays my father Yao Fei) was in it and we had worked together on The Man with the Iron Fists. I love TV series' based on comic books! It's been a dream to play a Comic Book character. I feel very blessed and honored to be part of this.
As a result of being on the network, are your fans predominantly young girls? What do they want to know when they meet you?
To be honest, I don't know whether my fans are predominantly girls or boys. It used to be predominantly boys who followed my movie career and girls who followed my music career. I'm hoping they will even out with time. 🙂 Usually the first question they ask is, 'Do you really speak Chinese?' That's why it's kinda ironic Oliver says in 'Salvation,' "She speaks English." I can't help but laugh.
In your UDN.com interview, you talk about filming in the cold. This sounds like doing professional sports in cold weather. What do you do to adapt?
I don't know if there's ever such a thing as fully 'adapting to the cold'. I'm just a warm weather kind of girl. Haha! Although, James Bamford, our fight choreographer has been amazing in giving me tips… obviously lots of stretching, hydration and using Epsom salts in my bath after a long shoot day. I once accidentally breathed it in trying to figure out if Epsom salts smelled good… quite embarrassing really.
In March, you attended the Asian Film Awards in Hong Kong. Who are some amazing actors and actresses who need to start appearing in American/UK crossover films like Zhang Ziyi?
Asia is definitely full of new talent! I think it's difficult for a lot of Asian actresses to cross over because of the language barrier. Not a lot of locals speak fluent Chinese. I think the ones that will crossover will be the ones who are able to embrace the Western culture fully. I am hoping that Wu Jing will get more noticed in American/ UK films because he's simply an amazing fighter. After all, he was the national champion in Wushu in China after Jet Li.
Meanwhile, when American movies have roles for Asian women, it is always the supporting character: the quiet best friend, the temporary girlfriend getting dumped when the American lead actress rekindles with her boyfriend, etc. The CW is amazing on a resume. How are you going to avoid being trapped in the wrong roles now that you have a starting point for nighttime dramas, comedy and the, maybe, girl character whom every guy dumps the women for in a movie?
I don't really have a strategy to avoid being trapped in the wrong roles per se. Usually, my attitude is pick the roles you believe in and especially the ones you strongly relate to. If it doesn't get you excited it's best to leave it for someone else which it will excite cause she will play it better than you. I think, more and more, we will see Asian actresses in lead roles in film as well as TV. China is a huge market as well as growing and producers are very aware of that. Arrow has millions of views every week in China. It's so cool to have Chinese fans' support… I hope I don't end up the girl character that gets dumped. Ha! I will do my best to fight for it so we can all celebrate together 😉 LOL.
Sometimes, I will try to get someone to watch a kung fu movie for the sheer fun of it. Nobody wants to do it. Is this out of fear of the unknown?
Haha, I don't know! Although my cousin who is American once told me he doesn't think there's much of a market for Kung Fu anymore… because realistically, the bad guy can just pull out a gun and the scene is done. I think if guns were not becoming so prominent, people would appreciate martial arts more. In HK, you cannot get a gun license… so it's fair combat. Guess that's why there's still a market for Kung Fu films? Honestly though, this is a farfetched hypotheses. Who knows…
I'm not familiar with Asian action films at all. What is a good way to begin watching them? More often than not, I don't feel like watching a really old movie. Are there any really good recent films? I also love movies about women in strong roles – what are your picks for that kind?
My favorite Asian action films are: 'Hero', 'House of the Flying Daggers', 'Crouching Tiger, Hidden Dragon' – if you haven't seen those, then you have to get going on them. They're old, but not super old, so not the cult film type… 😉 Also some great action comedies, the classics, are the ones with Stephen Chow like 'Kung Fu Hustle' and 'Shaolin Soccer.' In terms of movies about women in strong roles, I think I know more American film in that genre… although I heard 'The Lady' was pretty good with Michelle Yeoh. I haven't seen it yet, but it's definitely on my list to watch.
On Twitter, when you photographed a bistro sandwich, you wrote, "I forgot I'm in America. The portion sizes are huge!" What else do you notice is different about living and working in America? What is special about working in Asia?
Wow! You read my twitter! I'm impressed! Now I feel like I need to write more meaningful things other than the portion size of my food. 🙂 Working in Asia is different in the sense that the timelines are much shorter… it takes on average a week to shoot an episode whereas over here it takes approx. 2-weeks. People working in action films in Asia often joke that work-life is so much easier in the States…such as the safety; the unions in the West really protect actors. In Asia, we don't really have unions… so it's longer hours, no meal penalties and the risk-taking in doing action is higher. I like to think working in the East has prepared me for working in the West. It definitely gives you thicker skin in some ways.
What are you doing with music in Chinese and English?
Well, I recently released my first self-written English album on iTunes. When I finish shooting Arrow over here in April, I will be returning to Hong Kong to play the lead role in our very own musical, Good Morning HK. I'm really excited because it's an original story born out of HK about HK and is set in the context of the handover in 1997. I think we're far enough along to talk about it now and feel comfortable. I'm really excited to be playing opposite London West End actors and honored to be working with multi-award winning director / musical directs as Warren Wills & Frank Howson. It's gonna be fun doing 14 shows on stage at the Lyric Theatre, APA and not on screen for a change. In terms of Chinese music, I still write and place my songs in the projects that I do. I love not having a record label in that sense. I have complete creative control… if my fans find my music, it's a hidden gem for them, not an over-marketed commercial item. I like to think of it that way… 😉
Thank you so much for interviewing me. I really appreciate your questions being different than most interviews I do. I can see you put a lot of effort into asking interesting questions. Thank you for that!
Celebrate Memorial Day By Watching Cynthia Erivo Perform This Touching Tribute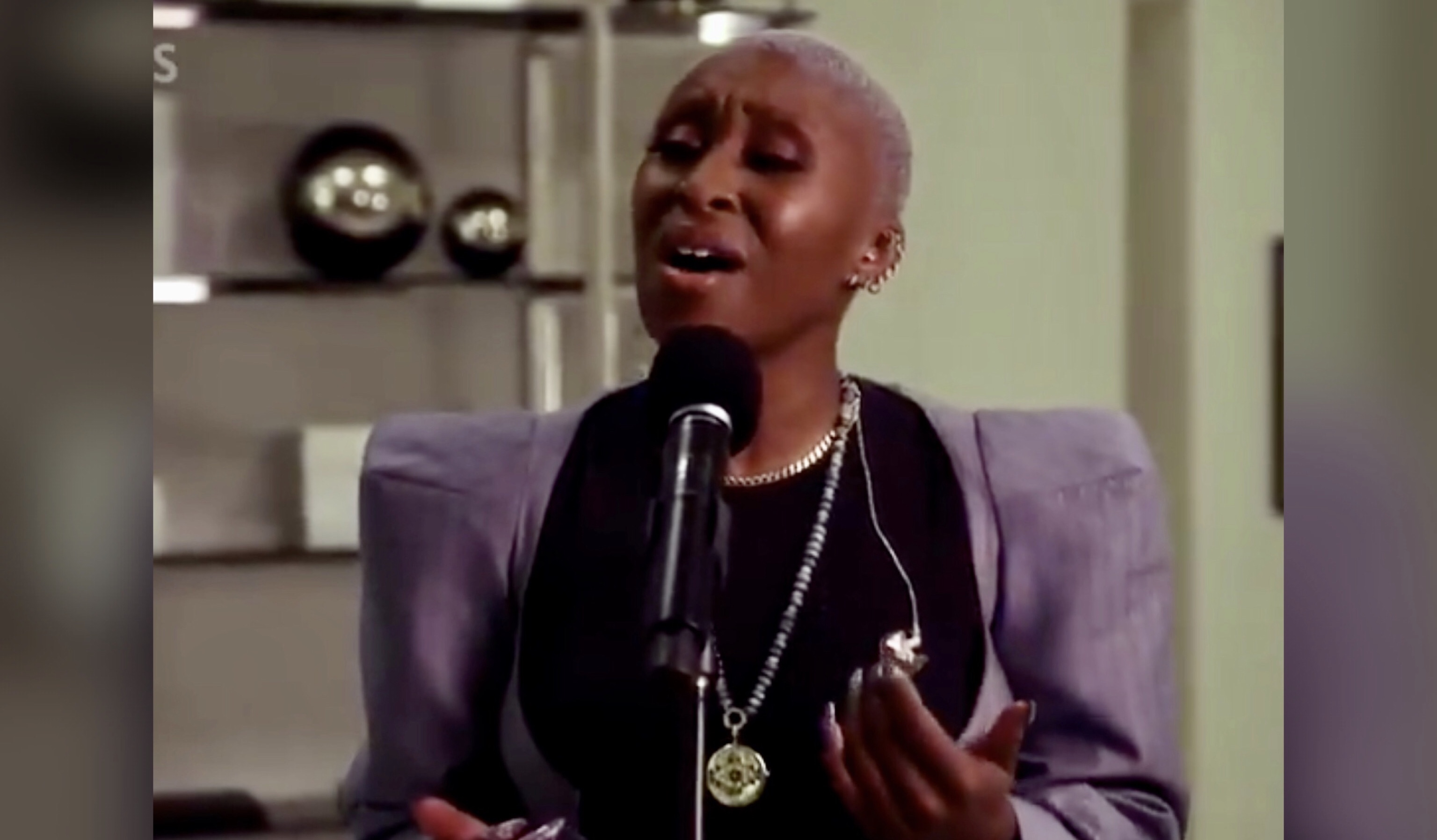 To all the heroes.
On this Memorial Day, as with every Memorial Day, it's important to take a moment to reflect on the sacrifices made to keep all of us safe. This year the the global coronavirus pandemic has the holiday feeling a bit more hefty since we are all forced to celebrate a little differently. Regardless, it is a day worth celebrating and what better way to celebrate than a special tribute from the incomparable Cynthia Erivo.
Musicians from the National Symphony Orchestra as well as stars like Erivo, Kelli O'Hara, Renée Fleming, CeCe Winans and Trace Adkins all took part in a special event for PBS called the "National Memorial Concert." This year's socially distant version of the celebration paid a special tribute to the healthcare workers on the front lines of the coronavirus crisis. Erivo performed a cover of the Mariah Carey classic "Hero" and it was obviously amazing. Watching the tribute is the perfect way to reflect on exactly why this holiday is so important.
Check out the heartfelt performance below!
Their life lives in our memory and gives us our breath. Thank you #MemDayPBS for allowing me to honor ALL of our heroes. pic.twitter.com/yfr5DYSLaY

— Cynthia Erivo (@CynthiaEriVo) May 25, 2020
Like what you read? Follow me on Instagram
POLL: Musical Theater Fans, Which Are You Most Excited To Watch From Home?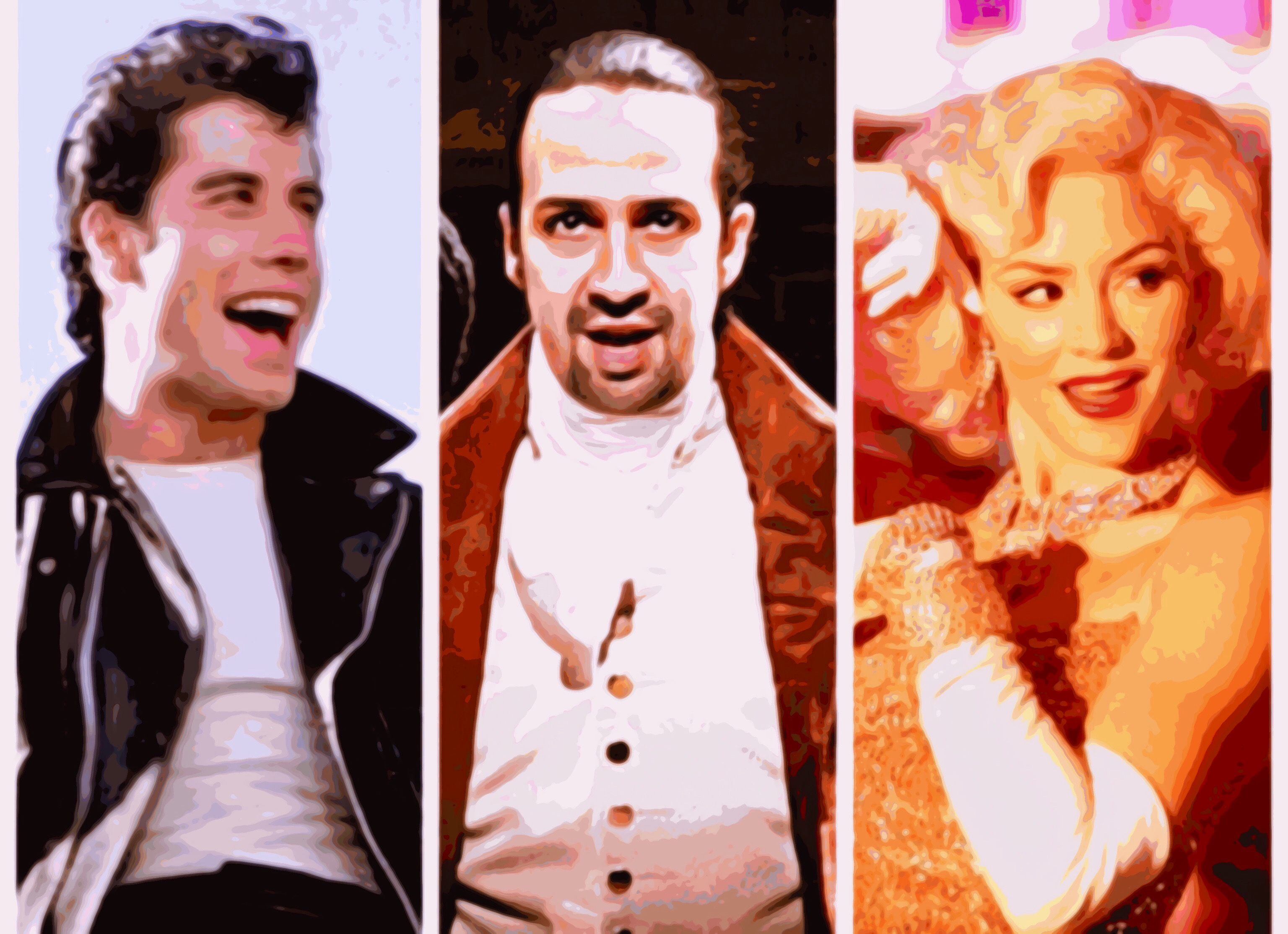 Now I understand why parent's can't pick a favorite child.
It has been a week filled with highs and lows for musical theater fans. For starters, it was just announced that the coronavirus-related closures on Broadway will remain in effect until at least September. Then, Disney announced that their musical Frozen, based on the hit animated film, will not reopen at all even after the social distancing guidelines are loosened, an announcement that has Broadway fans concerned for the fate of other beloved shows on the Great White Way.  Amidst all the darkness there is always a glimmer of hope (any good Broadway musical will teach you that) and this week's glimmer…or glimmers I should say…came in the form of three exciting announcements.
First, Lin-Manuel Miranda and Disney announced that a previously-recorded Broadway production of Hamilton will be available for streaming on on Disney+ starting July 3rd…which is ironically right before Independence Day and yet I will be tethered to my couch watching this masterpiece on repeat for at least a week.  Then, it was announced that the cast of NBC's Smash is going to virtually reunite for a benefit concert on PeopleTV on May 20th, giving us just enough time to dust off our old Marilyn wigs. And finally, musical theater geeks everywhere were screaming "a wop baba lumop a wap bam boom" when CBS announced they will be airing a sing-along version of the 1978 musical-movie classic, Grease on June 7th. So. Much. Good. Content.
I truly could not pick which one I am most excited to watch but because curious minds have questions so I have to know…which musical event are you most excited for? Click on the poll below to submit your answer and see what everyone else is thinking!
Like what you read? Follow me on Instagram
Kevin James Keeps Inserting Himself Into Famous Movies As A Boom Operator And It's Hilarious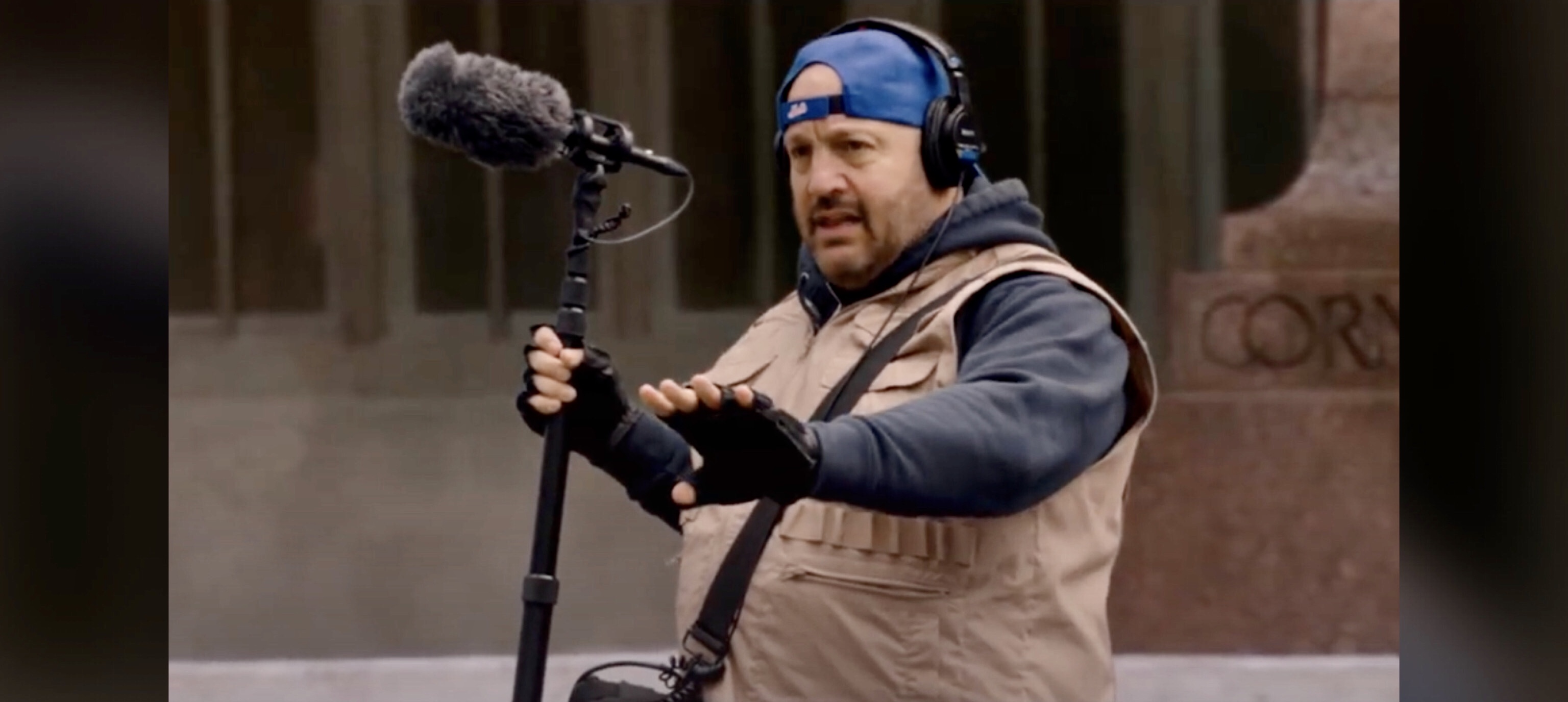 The King Of Queens is now the King of the green screen.
Plenty of people fantasize about making it big in the movies some day but not everyone hopes to be working the boom mic when they do. While it's definitely an integral part of the movie making process, it's not quite as flashy as being the Ryan Gosling or the Bradley Cooper. And yet somehow, Kevin James has found a way to shine a bright spotlight on boom operators in his YouTube series appropriately entitled Sound Guy.
The concept is pretty brilliant. James and his production team use a green screen to insert the actor into famous scenes from iconic films. After what I can only assume is hours and hours of editing, James appears seamlessly as a sound guy just trying to get some good audio from stars like Lady Gaga and Will Smith. The original dialogue flows perfectly with the bits James is edited into so the end result is pretty damn hilarious.
The Notebook
The Joker
A Star Is Born
I Am Legend
Who would have guessed Paul Blart was capable of such cinema mastery?! There is no denying the genius behind these movies shorts! To see more of the Sound Guy click here!
Like what you read? Follow me on Instagram