POP INTERVIEW: Jackie Collins Hits Up Chicago for "Confessions of a Wild Child," Her Riveting New Novel
The Jackie Collins phenomenon circles around all that glitters.
The Jackie Collins phenomenon circles around all that glitters. Two icebound Chicago days shy of Valentine's Day, the Hollywood living legend and icon to the gay community and straight women alike is, in true luminary fashion, at my favorite downtown haunt. It's a place I called a part time childhood home away from home and wish I could reveal, overlooking Michigan Avenue's grandeur.
She can't wait to talk about how good the local fare is. She is Jackie Collins, the effervescent megastar…and a foodie inside her soul. "We arrived yesterday. We immediately went out, and I had the most fantastic pizza I've ever had!" she raves in her English rose intonation on partaking in authentic deep dish pizza, the first time in her 76 years on this earth. And dinner. "Last night, I went to Michael Jordan's steakhouse."
Since rolling into town, Collins visited with television actress Sydney T. Poitier. "I call her 'Little Sidney Poitier.' She's his daughter," she tells me. "She's currently filming Chicago PD here, so yeah. I'm going to be on The Steve Harvey Show tomorrow. I love Chicago."
Aside from good cuisine and friendships, the bestselling novelist says she loves good, or at the very least, "good" guilty pleasure television. "I'm a TV junkie too," she divulges. "I like The Following, The Blacklist, Orange is the New Black, House of Cards, Scandal, Veep. I like documentaries too. I'd love to have six more hours everyday. Wouldn't you?"
Collins fans will crave six extra hours daily to read her newest selection, Confessions of a Wild Child. The book is so sure to be a wildfire hit in sales numbers, it procured a movie rights contract with Romeo and Juliet production company Amber Entertainment.
"I think we are going to make it as a theatrical movie," Collins says, not a made for TV film, "and I would love to do a nationwide search for Lucky. Once the script is done, I'll have a space on my website. I want to have girls send in audition tapes for ages 15 to 19."
Differing from her previous books, the novel is marketed to young women, aka. the Snooki & JWOWW generation. "I wrote Confessions of a Wild Child as a young adult book," she says. "When I took it to my publisher, they said, 'Oh, no. This is your most popular character. You've written seven books about her. We have to put this out for everyone.' I've found that adults are loving it too."
For her new batch of teen and college age readers, she says, "I think they should be prepared for a trip. I think they should take away the fact that they can be strong. Lucky is street smart at a very young age. She is an old soul. Also, she kind of sees life in a way that women see life. She wants to do something. She wants to have a career. Her father wants her to do 'X,' and she says, 'No, I want to take over the family business.' Women should aspire to something else, even if it's making cupcakes, recording music or a yoga class. They should have something else they want to achieve."
In 1968, before haters, Instagram and modern day nuisances, Collins' first book was banned in Australia. 46 years into the future, she hasn't bypassed the Debbie Downer brigade. "The biggest critics are people who've never read my books," she confesses.
One read converts the critics into fans. "Journalists will come to interview me, and they'll plop down, say, 'I've never read any of them, but my editor had me talk to you, and I loved it.'"
Whereas with regular people, "The only negative comments I've had on Twitter was when I said, 'Jay-Z was fully dressed, and Beyoncé not so much.'" She adds, "But I love them!"
I weigh her parallels against those of The Adventures of Tom Sawyer scribe Mark Twain, a gentleman panned by the literary elite yet more famous today than any of his conspicuous contemporaries. "My books are like water; those of the great geniuses are wine. Fortunately, everybody drinks water," Twain is allegedly quoted.
"The literary elite are never going to embrace commercial fiction," Collins answers. "You don't need the literary elite when you have so many readers, and I appreciate my readers' opinions, not what some critic is going to say about my books. If I give people pleasure, that gives me pleasure. I get wonderful notes from people. 'I broke up with my boyfriend. I was lying on the floor crying. I thought about Lucky. What would she do? And I faced life.' My books help people too."
She links her success with the Lucky character to how fans "like to get away to a different place. I think they like the Santangelo family because it's a family saga that goes on and on and on, with brothers, sisters and the love. The fact that I've created this very strong character. Most young women say, 'I want to be famous,' which is pretty sad."
Confessions of a Wild Child "was a step back in time a little bit, but I tried not to say what time period it was. I didn't do any popular culture references. I wanted girls to feel it wasn't now because we didn't have cell phones and selfies. It's just growing up. Questions. Do you go all the way? Do you not go all the way? Is it right? I wanted them to think about it."
Sex, drama and materialism will always be in style because people "see it on television. I don't think they [young people] watch Real Housewives or Shahs of Sunset or Rich Kids of Beverly Hills for the characters. They see the swimming pools, the handbags, the table settings, and that's what they aspire to have, and then, they think to themselves the only way to get that is to be famous. Because the people are famous, in fact, for nothing. When you look at the Housewives, there are 50 of them, and they all aspire to be famous."
"When I was still in school, she"—Collins remembers, the "she" being her famous Dynasty sister Joan Collins—"was off making movies with Paul Newman. Our teen years were very different. After she was 19, she was off in Hollywood, and I was being expelled from school. I think we had those experiences at different times."
I compare her novel, which I read last night in one sitting, my first foray into a Jackie Collins storyline, to my favorite young adult tales: Pretty Little Liars, practically anything on The CW, The Sisterhood of The Traveling Pants and, yes, my beloved television adaptation of The Carries Diaries. Breaking away from my serious professionalism, I declare it "awesome!" for its accuracy with coming of age. I was a bit of her "wild child" myself. She agrees. "Most teen girls will go through this horror of your first kiss and first sexual awakening."
As it turns out, there is a lot of teenage Jackie in Lucky. "I had an older friend who was kind of like Olympia," she says. "It's not my story. It's Lucky's story. But there are certain aspects of this story that are mine because I did spend a lot of time as a teen in the south of France."
Next, I bring up her recent interview with The Advocate and her masses of gay fans. Will she ever have a main character who happens to be gay: the lesbian Hollywood femme fatale or an openly gay Bradley Cooper type? "I would definitely do that in the future. I have so many ideas of books I want to write," she assures me (and her astonishingly large gay fan base). "I'm thinking about bringing back Flynn from The Power Trip, who's a very dynamic male character. I never know what I want to do until I sit down and write it. I never say, 'I might write a lesbian main character.' My pen takes me on the trip. I've had several lesbian characters in my books."
In the new book, Lucky makes a momentous decision at the end. Collins wants fans to understand it was representative of the character's clout. "The reason she did it was because she is a strong person, and she had a choice. The whole pattern would happen again, or she would have more power. It was about giving herself power. It was a stepping stone for her. She thought about it carefully: 'Am I going to be a kid forever?'"
Before she leaves, off to another interview, I ask her what her fans would be surprised to learn if only they chatted her up. "I think they know more or less everything about me," she replies. "That I'm a TV junkie and chocaholic. Combine the two. There's nothing like watching TV on your bed eating chocolate."
To me, and to every person wanting a dosage of her sass and career gold, she warns, "It's not so glamorous when you're writing. You're shut up for hours on end."
"But," she says, "if you want to be a writer, my advice to everybody out there is don't talk about it. Do it. If you wrote a page a day, every day for a year, you'd have a book. Write. Do it. Follow your dreams."
GIVE ME MORE!
Want to buy Jackie Collins' new book, Confessions of a Wild Child? It's available in the USA, UK and Australia at retailers like Amazon and your local bookstore.
Bill Nye Goes Viral For TikTok Demonstrating The Importance Of Wearing A Face Mask
Perhaps we should listen to the SCIENCE GUY.
It has been well over a hundred days since the coronavirus began shutting down the United States and for some reason there is still a debate roaring about why we should be taking the simplest of measures to protect ourselves and others from the potentially deadly virus. Well luckily for us, scientist Bill Nye just shared a very informative TikTok explaining just how important the use of face masks is during this unprecedented time.
The 64-year old tv star made a series of two TikToks (meaning it literally takes less than 2 minutes to understand this message) demonstrating the effectiveness of different face coverings and then explaining just how important it is to wear one. "Face masks… prevent particles from my respiratory system from getting into the air and getting into your respiratory system" Nye shares. 
The experiment shows the scientist trying to blow out a lit candle while wearing a knitted scarf, a homemade double layered mask, and then an N-95 mask. Obviously the medical grade N-95 mask garnered the best results but Nye goes on to reiterate the importance of face coverings in general by saying "Everybody, this is a matter literally of life and death. And when I use the word 'literally', I mean literally a matter of life and death." Eerie to hear it put it that way but that is the truth!
Check out the videos below and get yourself a good mask!
Listen to Bill Nye. pic.twitter.com/F34Ke3xlsC

— Andrew Cuomo (@NYGovCuomo) July 9, 2020
Bill, Bill, Bill, Bill, Bill, Bill
Bill Nye the Science Guy perioddddd pic.twitter.com/EEhkmXdWwL

— Tori⛸ (@skateonclouds) July 9, 2020
Like what you read? Follow me on Instagram
Mariah Carey Is Nearly 'Crushed' In Blooper From Last Year's #BottleTopChallenge
That's one high-octane octave.
Mariah Carey has a vocal range that leaves even dogs cheering for more, so it was no surprise when she took part in last year's #BottleTopChallenge. The social media challenge forced singers to open a bottle top with only the use of their voices. Well obviously there isn't a bottle top big enough to stand up to Carey's whistle register so she shared a video demonstrating just how easy it was for her to complete the challenge.
Challenge accepted! #bottletopchallenge pic.twitter.com/Rygijd6z5W

— Mariah Carey (@MariahCarey) July 7, 2019
I bet you she has never needed help opening a jar of pickles. It has been one year since the 5-time Grammy winner shared the original post and to commemorate the occasion Carey shared an outtake in which she is nearly "crushed" by the bottle. Of course the word "crushed" is a bit over-dramatized but it makes for a good post, darling.
Last year I tried to crush the bottle cap challenge, but the bottle almost crushed me 😬😳 Here's the take you didn't see… https://t.co/VKGKnIXkLl pic.twitter.com/mkCVrbbG65

— Mariah Carey (@MariahCarey) July 7, 2020
Quite possibly the most impressive blooper ever. Knocking over a bottle of champagne is way more exciting then just spinning off the cap!
You can follow all of Mariah Carey's social media adventures here.
Like what you read? Follow me on Instagram
Chrissy Teigen's 'World Famous T***y Biscuit's' Receive Some Hilarious Reactions
Hey, her biscuits are down there man.
Does your mouth ever water when you watch cooking shows like Barefoot Contessa or 30 Minute Meals? Well if you saw the dough-rolling-hack Chrissy Teigen posted over the weekend, you might be drooling for a whole different reason.
The supermodel mom is not only known for her beauty and her humor, she is a great chef too. Her website CravingsByChrissyTeigen features dozens of fun recipes that all look delicious. Well one recipe you won't find on her website (although I really hope she puts it in her next cookbook) is her "World Famous Titty Biscuits." On Twitter, Teigen shared a video where she is rolling out biscuit dough with a wine bottle and let's just say the blouse she is wearing highlights her biscuits perfectly. Biscuits which have recently been reduced by the way. Teigen took to social media in June to share the news that she would be removing her breast implants to improve her quality of life.
Making my world famous titty biscuits! pic.twitter.com/rJiOkBOFIj

— chrissy teigen (@chrissyteigen) July 4, 2020
Leave it to Twitter to come up with some priceless reactions to the video of course. Some haters chimed in but we can only assume it's out of jealousy as they just wish their biscuits were as fluffy as Teigen's. The rest of the comments were pure comedy. Take a look at some of the funniest.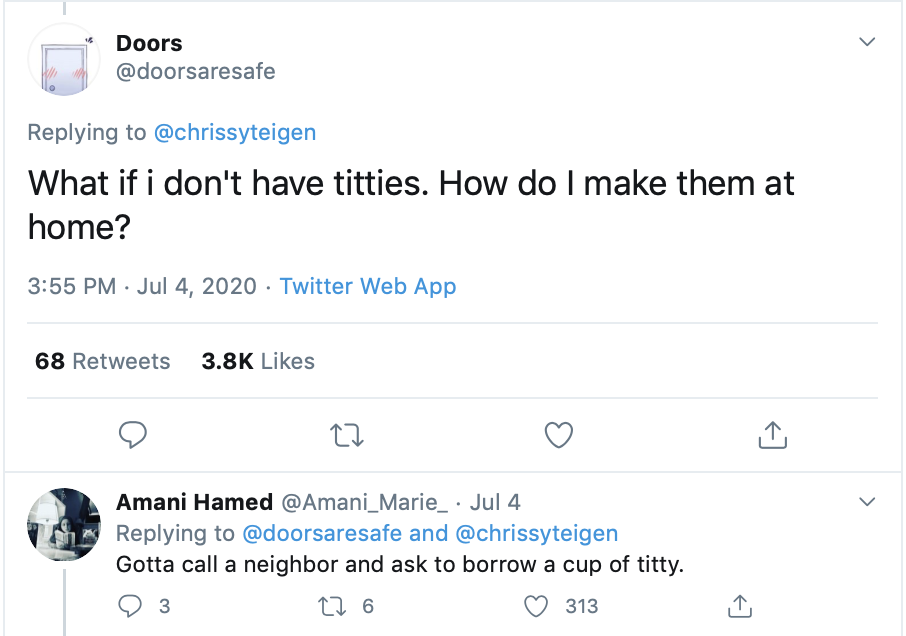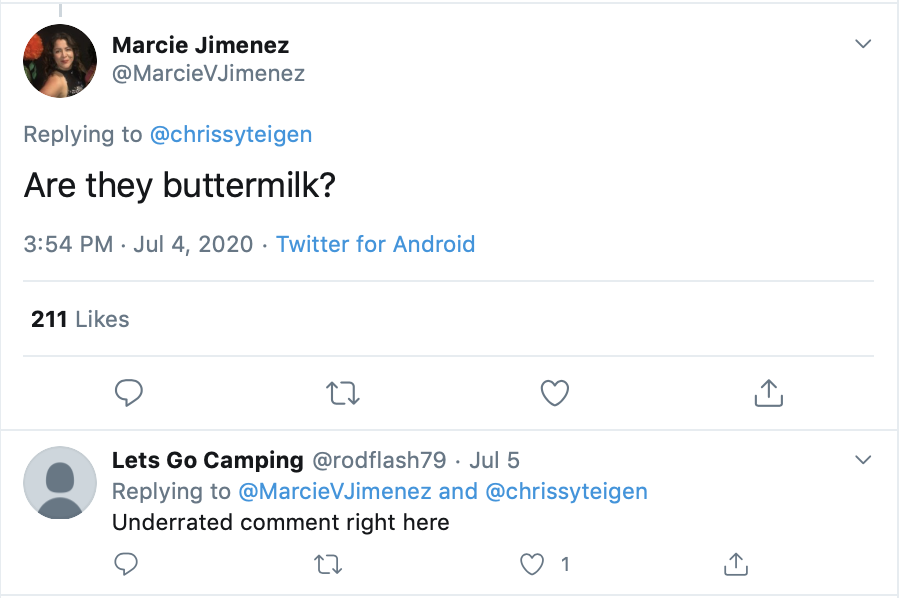 To follow Chrissy Teigen in all of her comedic adventures click here. For more cooking tips and tricks click here.
Like what you read? Follow me on Instagram