POP INTERVIEW: Jackie Collins Hits Up Chicago for "Confessions of a Wild Child," Her Riveting New Novel
The Jackie Collins phenomenon circles around all that glitters.
The Jackie Collins phenomenon circles around all that glitters. Two icebound Chicago days shy of Valentine's Day, the Hollywood living legend and icon to the gay community and straight women alike is, in true luminary fashion, at my favorite downtown haunt. It's a place I called a part time childhood home away from home and wish I could reveal, overlooking Michigan Avenue's grandeur.
She can't wait to talk about how good the local fare is. She is Jackie Collins, the effervescent megastar…and a foodie inside her soul. "We arrived yesterday. We immediately went out, and I had the most fantastic pizza I've ever had!" she raves in her English rose intonation on partaking in authentic deep dish pizza, the first time in her 76 years on this earth. And dinner. "Last night, I went to Michael Jordan's steakhouse."
Since rolling into town, Collins visited with television actress Sydney T. Poitier. "I call her 'Little Sidney Poitier.' She's his daughter," she tells me. "She's currently filming Chicago PD here, so yeah. I'm going to be on The Steve Harvey Show tomorrow. I love Chicago."
Aside from good cuisine and friendships, the bestselling novelist says she loves good, or at the very least, "good" guilty pleasure television. "I'm a TV junkie too," she divulges. "I like The Following, The Blacklist, Orange is the New Black, House of Cards, Scandal, Veep. I like documentaries too. I'd love to have six more hours everyday. Wouldn't you?"
Collins fans will crave six extra hours daily to read her newest selection, Confessions of a Wild Child. The book is so sure to be a wildfire hit in sales numbers, it procured a movie rights contract with Romeo and Juliet production company Amber Entertainment.
"I think we are going to make it as a theatrical movie," Collins says, not a made for TV film, "and I would love to do a nationwide search for Lucky. Once the script is done, I'll have a space on my website. I want to have girls send in audition tapes for ages 15 to 19."
Differing from her previous books, the novel is marketed to young women, aka. the Snooki & JWOWW generation. "I wrote Confessions of a Wild Child as a young adult book," she says. "When I took it to my publisher, they said, 'Oh, no. This is your most popular character. You've written seven books about her. We have to put this out for everyone.' I've found that adults are loving it too."
For her new batch of teen and college age readers, she says, "I think they should be prepared for a trip. I think they should take away the fact that they can be strong. Lucky is street smart at a very young age. She is an old soul. Also, she kind of sees life in a way that women see life. She wants to do something. She wants to have a career. Her father wants her to do 'X,' and she says, 'No, I want to take over the family business.' Women should aspire to something else, even if it's making cupcakes, recording music or a yoga class. They should have something else they want to achieve."
In 1968, before haters, Instagram and modern day nuisances, Collins' first book was banned in Australia. 46 years into the future, she hasn't bypassed the Debbie Downer brigade. "The biggest critics are people who've never read my books," she confesses.
One read converts the critics into fans. "Journalists will come to interview me, and they'll plop down, say, 'I've never read any of them, but my editor had me talk to you, and I loved it.'"
Whereas with regular people, "The only negative comments I've had on Twitter was when I said, 'Jay-Z was fully dressed, and Beyoncé not so much.'" She adds, "But I love them!"
I weigh her parallels against those of The Adventures of Tom Sawyer scribe Mark Twain, a gentleman panned by the literary elite yet more famous today than any of his conspicuous contemporaries. "My books are like water; those of the great geniuses are wine. Fortunately, everybody drinks water," Twain is allegedly quoted.
"The literary elite are never going to embrace commercial fiction," Collins answers. "You don't need the literary elite when you have so many readers, and I appreciate my readers' opinions, not what some critic is going to say about my books. If I give people pleasure, that gives me pleasure. I get wonderful notes from people. 'I broke up with my boyfriend. I was lying on the floor crying. I thought about Lucky. What would she do? And I faced life.' My books help people too."
She links her success with the Lucky character to how fans "like to get away to a different place. I think they like the Santangelo family because it's a family saga that goes on and on and on, with brothers, sisters and the love. The fact that I've created this very strong character. Most young women say, 'I want to be famous,' which is pretty sad."
Confessions of a Wild Child "was a step back in time a little bit, but I tried not to say what time period it was. I didn't do any popular culture references. I wanted girls to feel it wasn't now because we didn't have cell phones and selfies. It's just growing up. Questions. Do you go all the way? Do you not go all the way? Is it right? I wanted them to think about it."
Sex, drama and materialism will always be in style because people "see it on television. I don't think they [young people] watch Real Housewives or Shahs of Sunset or Rich Kids of Beverly Hills for the characters. They see the swimming pools, the handbags, the table settings, and that's what they aspire to have, and then, they think to themselves the only way to get that is to be famous. Because the people are famous, in fact, for nothing. When you look at the Housewives, there are 50 of them, and they all aspire to be famous."
"When I was still in school, she"—Collins remembers, the "she" being her famous Dynasty sister Joan Collins—"was off making movies with Paul Newman. Our teen years were very different. After she was 19, she was off in Hollywood, and I was being expelled from school. I think we had those experiences at different times."
I compare her novel, which I read last night in one sitting, my first foray into a Jackie Collins storyline, to my favorite young adult tales: Pretty Little Liars, practically anything on The CW, The Sisterhood of The Traveling Pants and, yes, my beloved television adaptation of The Carries Diaries. Breaking away from my serious professionalism, I declare it "awesome!" for its accuracy with coming of age. I was a bit of her "wild child" myself. She agrees. "Most teen girls will go through this horror of your first kiss and first sexual awakening."
As it turns out, there is a lot of teenage Jackie in Lucky. "I had an older friend who was kind of like Olympia," she says. "It's not my story. It's Lucky's story. But there are certain aspects of this story that are mine because I did spend a lot of time as a teen in the south of France."
Next, I bring up her recent interview with The Advocate and her masses of gay fans. Will she ever have a main character who happens to be gay: the lesbian Hollywood femme fatale or an openly gay Bradley Cooper type? "I would definitely do that in the future. I have so many ideas of books I want to write," she assures me (and her astonishingly large gay fan base). "I'm thinking about bringing back Flynn from The Power Trip, who's a very dynamic male character. I never know what I want to do until I sit down and write it. I never say, 'I might write a lesbian main character.' My pen takes me on the trip. I've had several lesbian characters in my books."
In the new book, Lucky makes a momentous decision at the end. Collins wants fans to understand it was representative of the character's clout. "The reason she did it was because she is a strong person, and she had a choice. The whole pattern would happen again, or she would have more power. It was about giving herself power. It was a stepping stone for her. She thought about it carefully: 'Am I going to be a kid forever?'"
Before she leaves, off to another interview, I ask her what her fans would be surprised to learn if only they chatted her up. "I think they know more or less everything about me," she replies. "That I'm a TV junkie and chocaholic. Combine the two. There's nothing like watching TV on your bed eating chocolate."
To me, and to every person wanting a dosage of her sass and career gold, she warns, "It's not so glamorous when you're writing. You're shut up for hours on end."
"But," she says, "if you want to be a writer, my advice to everybody out there is don't talk about it. Do it. If you wrote a page a day, every day for a year, you'd have a book. Write. Do it. Follow your dreams."
GIVE ME MORE!
Want to buy Jackie Collins' new book, Confessions of a Wild Child? It's available in the USA, UK and Australia at retailers like Amazon and your local bookstore.
Watch How This Hasselhoff Deepfake Takes Years Off The Actor!
Visual effects artist Chris Ume takes countless images of David Hasselhoff from his past Baywatch days, then creates a younger avator, blending the new, artificial Hof onto the real life Hoff.
The process of this crazy magic? It's called a Deepfake = combining and superimposing existing images and videos onto a source image or video. The process is incredible, and yet still relatively in its infancy. If things keep progressing this genre as we can only expect they will, it's not a stretch to imagine that we could someday see an actor actress play a younger version of themselves so convincingly we won't see how they did it.
To follow more of his work, subscribe to Chris' youtube channel.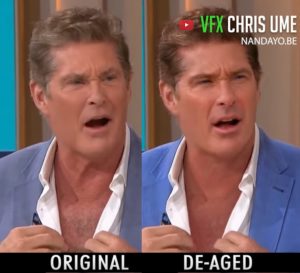 Chatting With Charo: The "Hair" Edition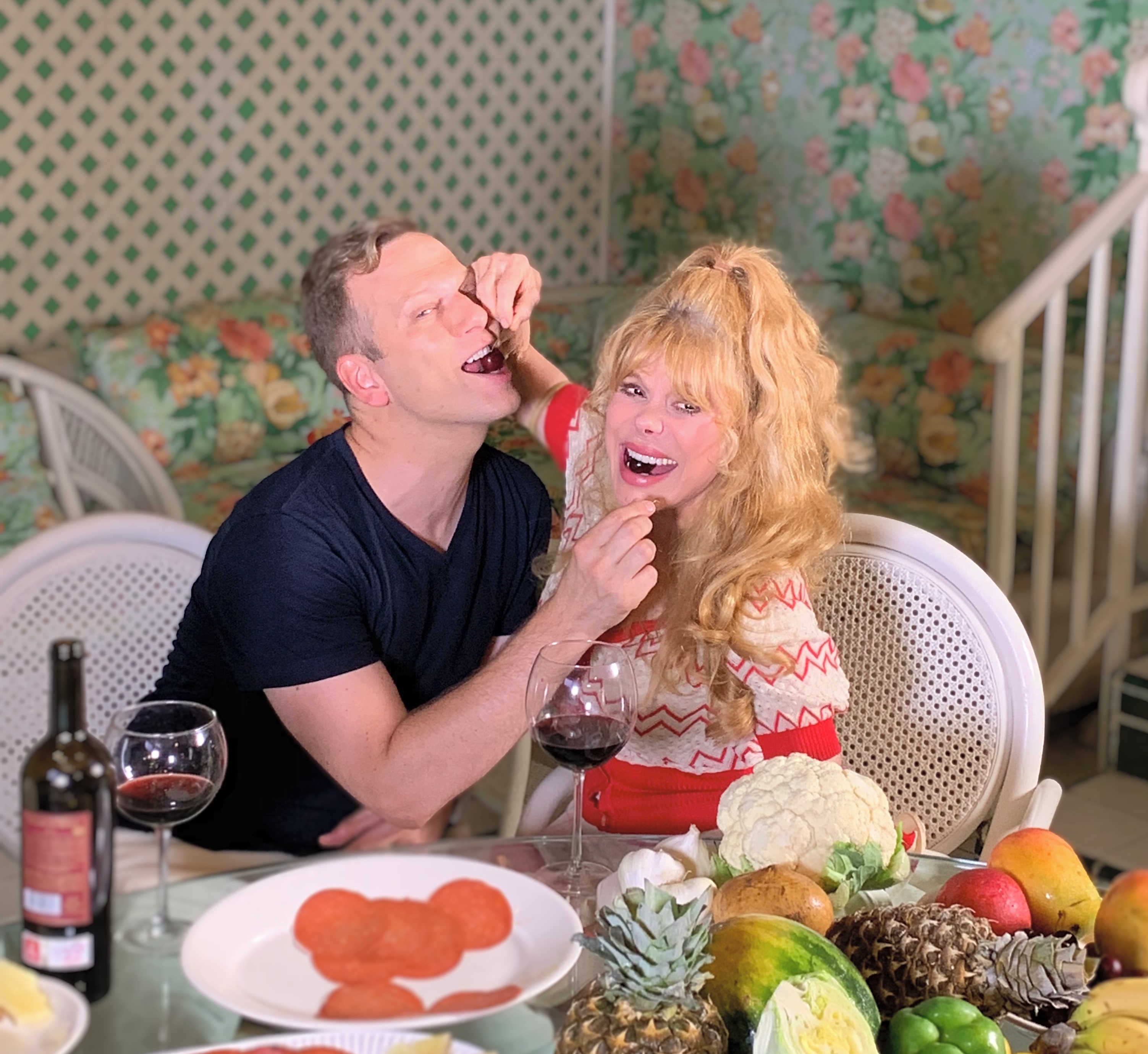 Brace yourself! There is a lot you don't know about Charo's hair! Listen, learn – and laugh your ass off – all along the way!
I got to visit Charo at her home just a week ago (I've known her wonderful family for many years) and we started out chatting about food (which explains all the tapas on the table!) But not so shockingly, we got sidetracked! This conversation about her hair had me laughing until I was crying!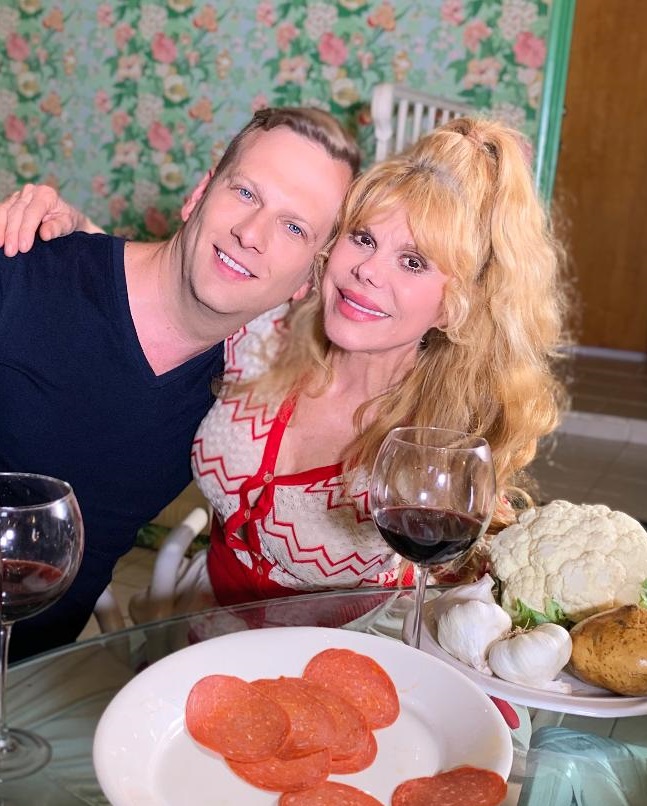 Catch more chatting with charo! Follow her on Twitter!
Follow her on Instagram!
And Hey, why not follow me too! On twitter and instagram!
Lizzo Is An Icon In The Making – And Here's Why
Mirror, mirror on the wall don't say it 'cause we know Lizzo cute. And by cute I mean extremely talented, gorgeous and totally inspiring!
A few months ago I was watching The Ellen Degeneres Show when I witnessed one of the most fun, exciting and awe-inspiring performances I've ever seen. Lizzo popped onto the screen in a sparkly, pink getup and began singing what would become her big hit song, "Juice," – I was immediately hooked (more like obsessed). During this performance she also jammed out on her flute alongside her plus-sized backup dancers and suddenly I knew I had been changed forever. I did some more research on the rapper/singer and found out I had been sleeping on this gem! Lizzo has been doing bad all by her damn self for years, having already released two albums in the past. I am suddenly mad at every single person who neglected to tell me to jump on the Lizzo train sooner! If you're like me and need a bit of catch up, I'm going to break down exactly why you need to know this icon in the making.
You can throw a stone in any direction and hit a triple threat nowadays. Lizzo's brings talents we have yet to see in the mainstream music industry.
If singing, rapping and dancing make Lizzo a triple threat, what does flute playing making her?!? A STAR THAT'S WHAT! Lizzo has displayed her abilities as a talented flautist, which is not an instrument you would necessarily think of in conjunction with the rap genre making this talent all the more extraordinary. Lizzo even used her flauting skills to compete (and defeat IMO) with Ron Burgundy. Not Will Ferrell, but Ron Burgundy.
Oh, and she can also twerk while playing the flute. 
As if playing the flute wasn't impressive enough, Lizzo can also twerk while playing. I really hope some high school kid is deciding to take band just so he/she can flutwerk their way around campus like their fav flautist, Lizzo.
Lizzo uses her platform to inspire and raise up everyone around her.
Lizzo uses her voice for more than just creating fire music, ya know. She uses her platform to defend the belief that beauty comes in all shapes and sizes. Her Twitter is filled with positivity and strong messages about acceptance.
MY MOVEMENT IS FOR EVERY 🗣BODY. IM LEAVING NO ONE EXCLUDED. "GOOD FATTYS" AND "BAD FATTYS" AND ANYONE ELSE WHO WANTS TO JUST FUCKING LIVE ARE WELCOME. NO TERMINOLOGY NO IDEOLOGY JUST FUCKING HAPPY PEOPLE IN MY MOVEMENT.

— |L I Z Z O| (@lizzo) March 4, 2019
Uhm…she's straight up gorgeous. 
We cant forget to mention that Lizzo is a straight up beauty queen. She is known to switch up her look but I've never seen a bad pic of this queen. To solidify my point, she is now officially the first, plus sized black woman to be featured in Playboy magazine!
Move over Avenger's, Lizzo has been in a comic book too!
Ok indulge the nerd in me on this one…Lizzo was even featured in a comic book!!! That's right, she has become so influential that even Marvel comics wanted a piece of the Lizzo-pie. Check out this shout-out in Unstoppable Wasp #4!
MY MOVEMENT IS FOR EVERY 🗣BODY. IM LEAVING NO ONE EXCLUDED. "GOOD FATTYS" AND "BAD FATTYS" AND ANYONE ELSE WHO WANTS TO JUST FUCKING LIVE ARE WELCOME. NO TERMINOLOGY NO IDEOLOGY JUST FUCKING HAPPY PEOPLE IN MY MOVEMENT.

— |L I Z Z O| (@lizzo) March 4, 2019
So now that you have become as obsessed as I have, you are probably wondering how you can get even more Lizzo in your life. Well lucky for you, her new album dropped TODAY! Her third studio album, Cuz I Love You, is available anywhere you listen to music and let me tell you, YOU WILL LOVE IT. The album is varied and showcases all of Lizzo's incredible range with some songs being upbeat and funky, and others being slowed down and heart wrenching. For a taste of what to expect, click below to listen to the title track of the album. If the new album still doesn't satisfy the hunger for more Lizzo, she's also on tour! You can click here for more info on tour dates.
Oh Lizzo…you are most definitely 100% that bitch.  
Like what you read? Follow @ChrisSiretz on Twitter and Instagram