REVIEW: Fox Brings Back a Classic with the Return of The X-Files
WARNING: This article may include spoilers!
Oh, X-Files.
I wanted to be romanced. Courted. Wooed until I willingly, breathlessly surrendered to your wiles. But, no. You handed me a single gas station rose and went right for second base. You brute.
That rose came in the form of an alien craft, crashed and smoking in the high desert of New Mexico, within the first two minutes of the show. Yep. You played the Roswell card. I believe that's called cutting to the chase.
Well, so be it. I'd been geeking out in anticipation all day, sitting through an excruciating extra 30 minutes of football post-game coverage before the show started, well past its scheduled 10:00 p.m. premiere slot. Once the first notes of that iconic theme music chimed in, I was practically giddy. I'd been a mere girl of 25 when the original series first aired back in 1993, and 20-plus years is a long time to wait for THE TRUTH. It was reportedly still out there, and I was ready for it.
Enter Joel McHale as "Tad O'Malley," the charismatic host of a self-titled internet show, "The Truth Squad with Tad O' Malley." And wouldn't you know it, he's got a couple of bombs to drop on Mulder and Scully, before he shares the news with the world.
Quickly we're whisked away by bullet-proof limo, to a remote location where we meet a young woman who's the victim of a supposed alien abduction. And shocker: she believes that her unborn babies have been harvested by said aliens. Later, at yet another undisclosed location, we're introduced to the ARV, or "Alien Replica Vehicle." Sounds like an ATV, but looks like a stealth bomber. And it's man-made. With technology that's been around for 70 years. Whew. That's a lot to take in.
Thankfully, X-Files writer/creator Chris Carter is the man responsible for getting the band back together. Gillian Anderson and David Duchovny reprise their roles as former special agents Dana Scully and Fox Mulder, and from promos we know that much of the original cast will join them as well. While nostalgia was enough to make me tune in for this six-episode event, the stories and characters will have to ring true for me to stick around. So far, so good.  Check out this sneak peek:
As a longtime fan of sci-fi television, I freely admit that a certain suspension of disbelief, and an appreciation for the camp aspects of creature-dom is necessary to enjoy a series like this. Still, I want the actors to commit. Make us BELIEVE you believe. When comparing the new version with the old series, I remember Fox Mulder as being smart and tenacious, but far more earnest in his quest, desperately seeking the answers to his questions. Now, I normally love David Duchovny, but maybe we've both become jaded in the past two decades. Last night the actor seemed fairly lukewarm in his delivery. In other words, phoning it in.
Understandable, though, given the script he had to work with. If I had to name one weak point of the show, it was the dialogue.  At times it was full of either trite-sounding throwaways, or stilted and overwrought pronouncements. At the 45-minute mark, there was a whole run of multi-verb lines that just became ridiculous. Apparently a "venal conspiracy of men" have been plotting to "distract, enrage, and enslave" Americans, not to mention "fatten, dull, sicken, and control" the populace, and won't rest until they "cull, kill, and subjugate" us all.
Bummer.
But perhaps Scully said it best:
"It's fear-mongering claptrap isolationist techno-paranoia so bogus and dangerous and stupid that it borders on treason."
Yeah, bitches! And check out my 4-inch stilettos!
As Gillian Anderson marches bravely ahead in her upgraded footwear, so shall I. By the time the "Smoking Man" finally made his appearance (puffing a cigarette through a stoma in his throat, no less), I had come to a decision. I was all in. For better or worse.
A quick wiki-check tells me that the third episode is titled, "Mulder and Scully Meet the Were-Monster." Oh. It's like that, is it? Well, I remember when the Six-Million-Dollar Man met Bigfoot. And it was awesome. (two squirts of breath spray) Bring it on.
So, yes, X-Files. I will be showing up for our second date. I may even shave my legs.
Episode 2 airs tonight at 8:00 p.m. on Fox.
Well Sh-t, Leslie Jordan Has Shared Three Videos Of Himself Dancing In One Week And They're All Perfect
Doing much better now, Leslie.
If you've never believed that "good things come in small packages" then you've never seen Leslie Jordan's instagram. The 4'11" actor known for his iconic roles in shows like Will & Grace and American Horror Story has recently developed a whole new fanbase who loves him for his viral Instagram videos. Usually starting each video by greeting fans with "Well shit, how y'all doing?", viewers have grown to anticipate Jordan's hilarious recounting of stories from his time in show biz or growing up in the south. This week, however, the Tennessee native has shared 3 videos of himself dancing within 5 days and honestly it's precisely what we all need right now.
The first video was posted on August 12th and shows Jordan taking part of the "Git up and dance challenge" which swept the internet about a year ago. Even though he is a little late, the video is still perfection.
On August 13th, Jordan does a dance to "You Can't Stop The Beat" from Hairspray a with special guest dance partner Katie Couric!
Finally, on August 15th, Jordan does an epic "tootsie roll" and challenges Real Housewives Of Beverly Hills star, Lisa Rinna, to do the tootsie roll herself. Of course Rinna commented with a big "ON IT ❤️😂." Who could say no to the viral star?!?
The moral of the story here is that the world is going through some tough times right now but maybe, even for a few seconds, we could all feel better if we'd just dance it out. Thanks for the inspo Leslie Jordan!
Like what you read? Follow me on Instagram
Planters 'Baby Nut' Has Somehow Already Turned 21 And People Are Not Loving The News
2020 keeps getting nuttier.
The world was shocked when the iconic Mr. Peanut was killed during a pre-Super Bowl ad earlier this year. There wasn't much time to mourn, however, before a new nut was thrust onto us like back-to-school commercials in July. Yes, after the 59-year-old mascot met his untimely death consumers were introduced to his reincarnate, Baby Nut. With big, expressive eyes and a tiny stature fans began to swoon over the cute branding revamp and accepted him as the new mascot. Well as if 2020 hasn't been crazy enough, Planters just released a new commercial celebrating Baby Nut's 21st birthday and I'm not sure how to feel about it.
I'm officially 21, my friends! Before you ask, yes, I was just a baby. What can I say? It's been a nutty year. Now someone get this peanut a beer! #MakeMyBirthdayNuts pic.twitter.com/P1UfBIi4N8

— Peanut Jr. (@MrPeanut) August 11, 2020
According to a quick Google search, a peanut plant takes 4-5 months to reach maturity. So with Baby Nut being born in February, he is technically right on track in his growth cycle. The OG Mr. Peanut was the reigning mascot for 59 years so does that mean he was actually over 3,000 peanut-years old? The accelerated aging is not explained in the new ad with Baby Nut (Young Adult Nut?) simply saying "it's been a weird year." Reactions on Twitter are largely negative but as always, hilarious. Here are some of the best: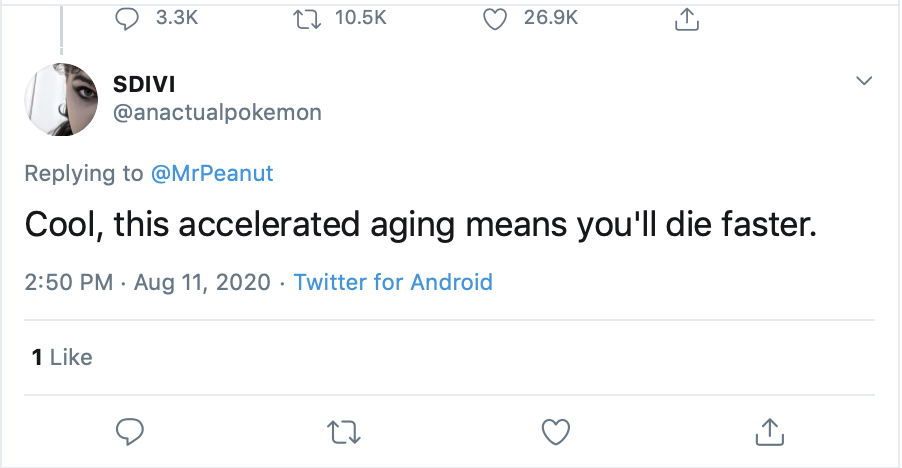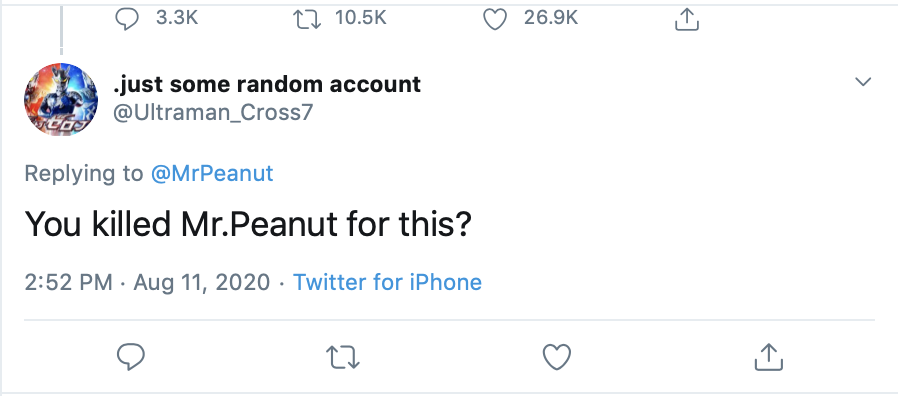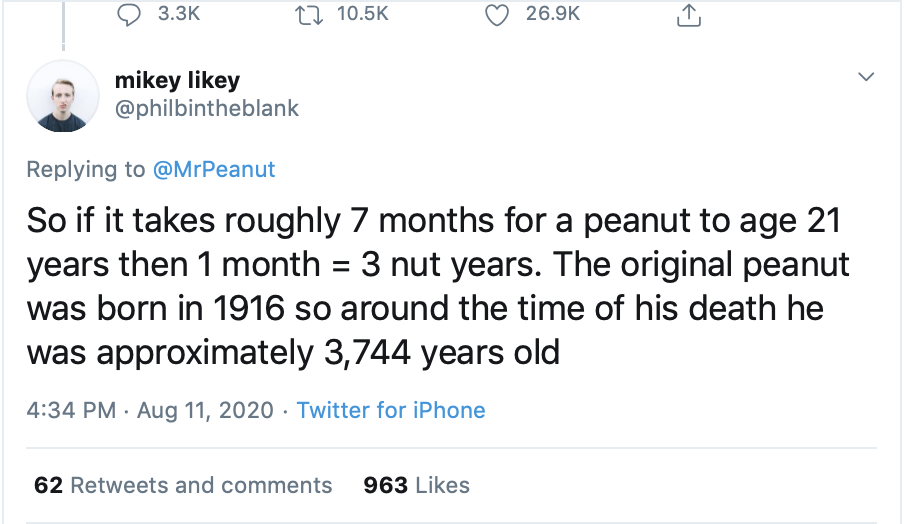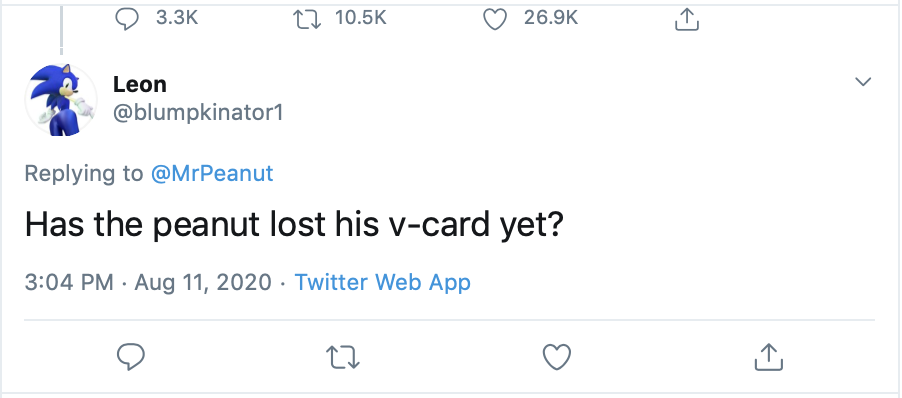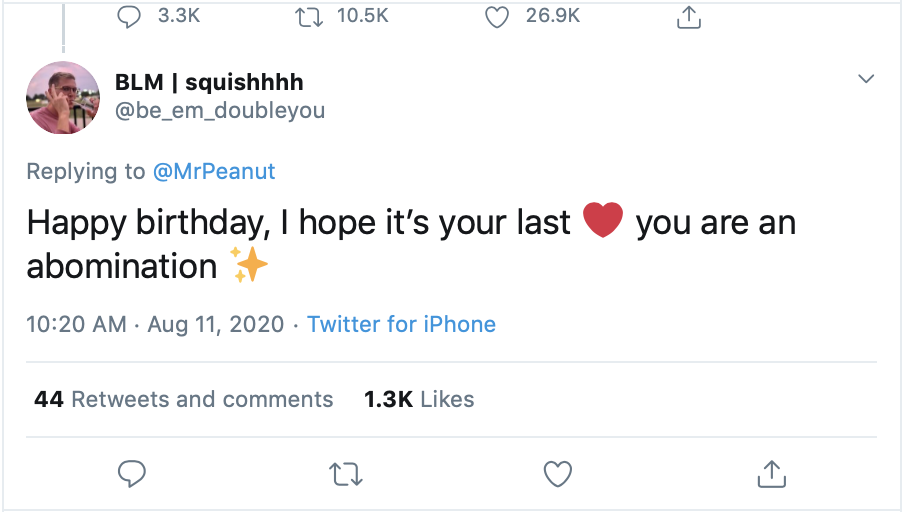 Yikes. Good thing Baby Nut is old enough to drink now…looks like he might need to throw back a few to handle some of these reactions.
To follow Peanut Jr.'s official account click here.
Like what you read? Follow me on Instagram
The Last Blockbuster Store In Existence Is Now Listed On AirBNB
Netflix could never.
Remember how exciting it was to take a trip to Blockbuster back in the 90's? You'd try to get there early enough to rent one of the latest "new releases" before everyone else in the neighborhood got to them. You'd beg your parents for some popcorn and candy which were conveniently placed on the checkout line. And if it was a whole family outing, you'd wander off to look at all the films and games that you were never going to rent but found comfort in knowing you could rent someday. Gosh, it felt like you could spend days inside one of those movie meccas. Well good news, now you can because the last Blockbuster in existence is now listed on AirBNB!
The retailer, located in Bend, Oregon is offering up three one-night stays for up to four guests for folks who want an "end of summer sleepover." The store has added an adorable living room set up which includes a pull out sofa and a big screen tv so guests can binge all their favorite films. Oh and there's snacks! Along with providing ideas for a perfect 90's night the ad also suggests that you should "help yourself to some NERDS, Raisinets and popcorn (heavy on the butter), but make sure you save room for a couple slices."
There is a catch to the whole experience though, the listing is only available to Deschutes County residents. Is it too late to move!?! Manager Sandi Harding explained that the publicity stunt is a response to the newfound economic uncertainty due to the pandemic. "Not much has changed at our store – not even our prices – and that's just how we like it! We think of ourselves as a family, and that includes everyone from the global travelers who come to visit, to the lifelong friends and couples who first met as Blockbuster employees. The Covid-19 pandemic has been a test of our community unlike any other, so we decided to list this stay to keep this tradition alive during these uncertain times."
Such a clever way to keep this iconic 90's treasure trove alive! To check out the AirBNB listing, click here!