"The Carrie Diaries" Premiere Review: It's Like, Totally 80's Rad, AnnaSophia
Nicole weighs in on "The Carrie Diaries."
Blame it on me going to college and doing journalism like a workaholic freak when I was in high school. At 25 and a half years old, I live and breathe The CW and all it declares to be tween/teen entertainment. I'm too old for this, but as are you, you sneaky old timer Googling The Carrie Diaries! Touché, dweeb.
Most people complain about not relating to the subject matter. When Carrie got her dad to get her out of school so she could work in Manhattan, miles away from Connecticut, I relived how I spent my teen years out of school in Chicago and Springfield during the daytime. Screw you, HBO's Girls. I have little to zero understanding of what it must be like to be Miss "Hot Thighs I Show All Day to Demonstrate I Am Every 'Real' Woman," aka. Lena Dunaham, the "voice of my generation." This is my series, where a silly, somewhat ridiculously optimistic, but smart teen girl goes from her peers' boringville to adulthood in the big city all by herself. "Will I need a briefcase!?" Carrie asks, grinning. I remember getting my own awesome work planner book like I was the stuff. Both Carrie and I want to have it all.
I love how this series understands diversity is alive in Manhattan. The stylist at Interview Magazine, whom Carrie meets when she needs to replace her ripped hose, is a cool, nice, British blipster, our 2013 term for black hipster. Nice, pending you discredit how she shoplifted at Century 21 – way to go, everyone who wrote this, for perpetuating the Antebellum myth, "All black people steal." When Carrie skips her school dance for the hipster city get together, I related. I understood when she spoke about her high school being run with "conformity" by the Donnas, not giving a care in the world as she hung with the very chic city crowd much older than her. Like my younger self, Carrie loves the rush when she drinks champagne underage, stays out late in a hot dress, gets her start in journalism where no one realizes she's just a high school girl and soon splits into two people, beginning life as her adult-but-opportunistic-teen-good-girl alter ego. By day, she is bored schoolgirl who doesn't fit in but isn't unpopular enough for the geek team. Outside of school, she's the girl everyone wants to be.
Allow me to nitpick the obvious. For starters, the hot guy character is rich and talks about his wealth. Hello, writers? Rich people don't discuss their wealth, nor does anyone talk so lavishly without wealth, and certainly, not so oddly the way he describes how "the maid still keeps dinner on the table," as his mother left his dad for the tennis instructor. A more normal guy might have said, "My dad doesn't know how to make dinner. I wish mom were still home with us. She kept the family going." Unless you happen to be among the new rich, in '97 Titanic speak, which nowadays is someone like a former call girl now married to an ugly, mean, old Beverly Hills studio executive or faux rich, the reality show people pretending to be cool, nobody talks like that.
When the girls are in the library talking their first times, ah the beloved loss o' virginity, the air feels like Sex and the City for Little Tykes. The corporate speak is gone, without Miranda and company, but the corporate flow and too scripted discussion was there. A brilliant woman such as Candice Bushnell, who oversees the show in her role as a producer, should have known better. Surely, this woman must have gone to high school at some point in her life. I recall my own high school library sex talks being a whole lot more giggly, goofy, to the point, containing slight narcissistic worrying and with a tablespoon of the American Pie series. We didn't speak like fifty-something romance novelists recreating an HBO soap. We were teens! We were unscripted! We did something bizarre called laughing and made jokes! The CW knows what laughing is, right?
AnnaSophia Robb looks nothing like Sarah Jessica Parker – actually, she looks like Miley Cyrus – and why should she? She's the young Carrie Bradshaw, the idealist. Another actress might have made The Carrie Diaries become SATC meets unintentional SNL parody. Robb sells the younger character pretty well by playing Carrie as AnnaSophia deems appropriate. She successfully achieves the impossible, carrying a huge show without any big credits to her acting resume. The show is for sure worth a second viewing. And yes, the popular girls' hairstyles are impossibly funny-ugly to no avail. How they achieved super popularity status, like a Tootsie Roll pop's lick count? The world may never know.
What's Brian Tryin'? The Crispy Sandwich Maker by Apod!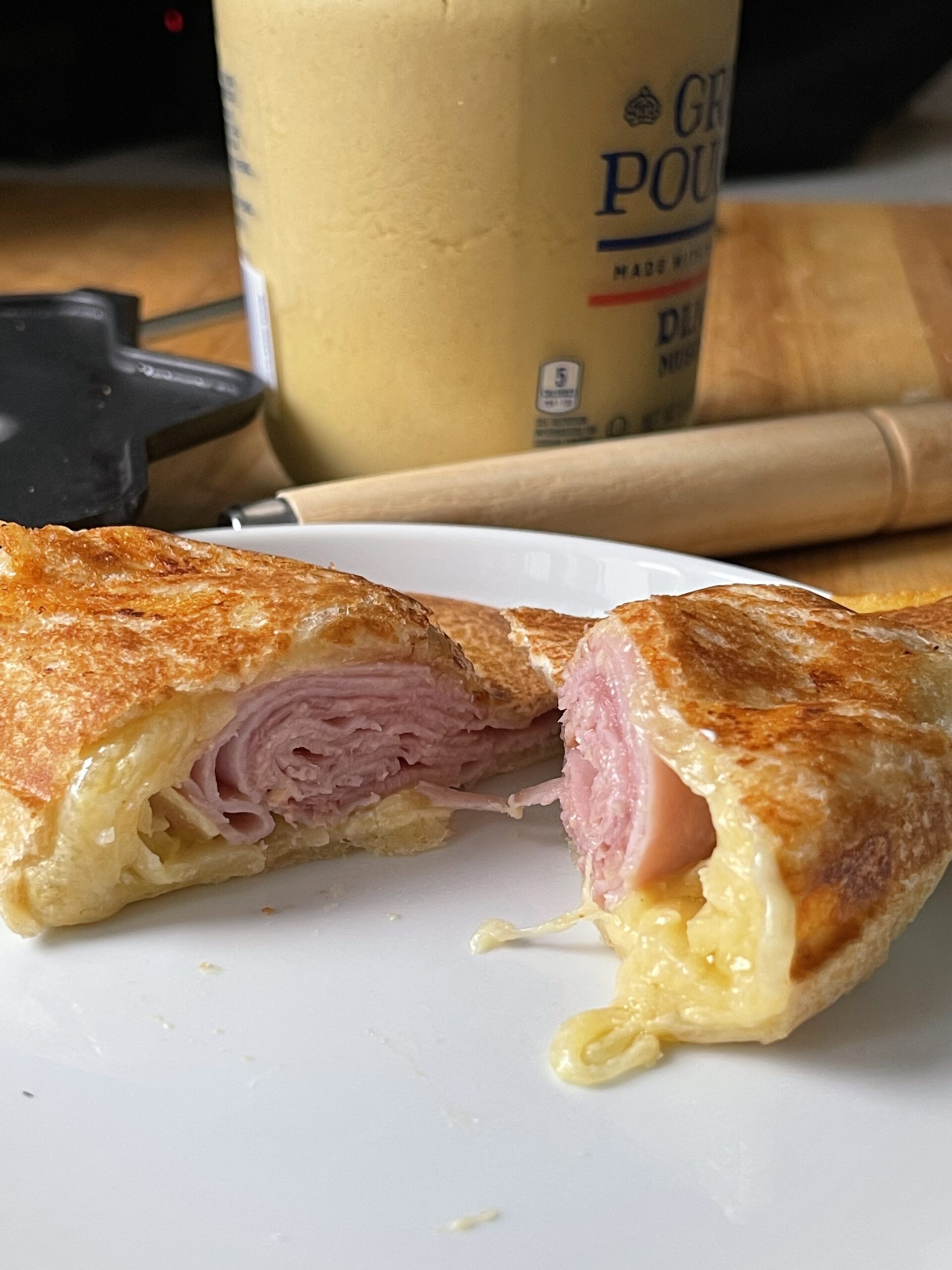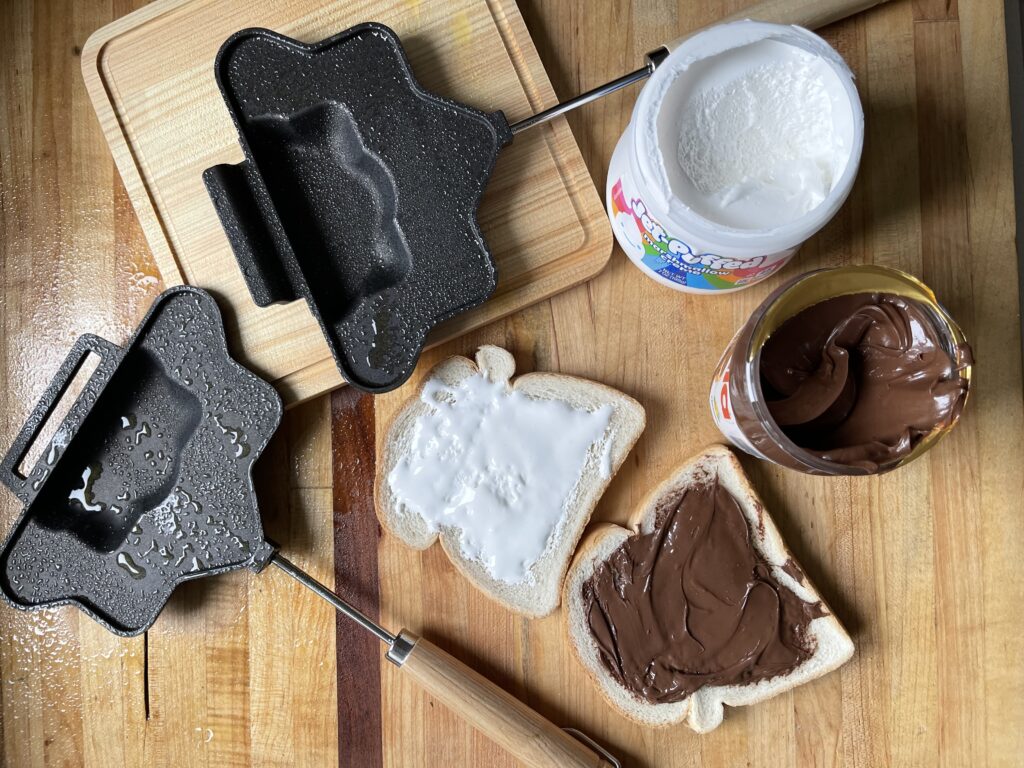 This weekend I tried out a new product that's been crowdsourcing on IndieGogo. (The link is here.)
It's called a Crispy Sandwich Maker, made by Apod.
I always love trying out a new gadget, so it was fun to see how this one would play out.  What makes this one a bit different than most sandwich makers is that this only requires just one single slice of bread to make a compact, easy to eat snack that can be sweet or savory. It can be used over a gas stove flame, or, with caution, a campfire, although the design's arm length better lends itself to a smaller flame like a home kitchen stove.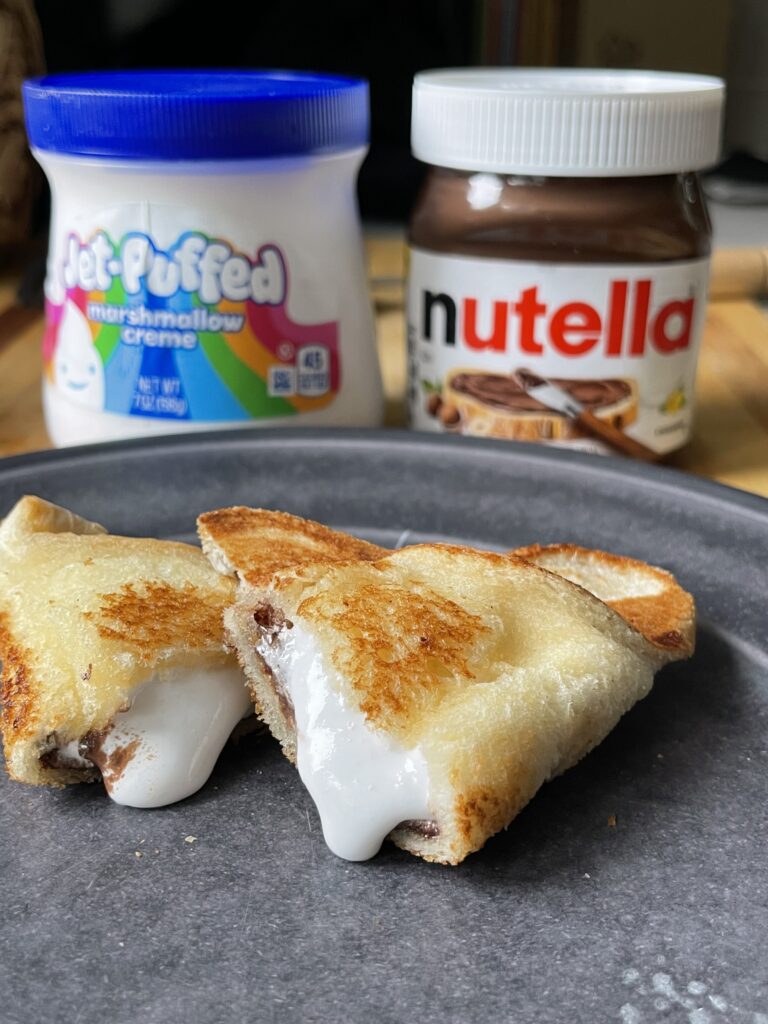 Because I love a s'more, I decided to do an interpretation of that using  nutella spread and marshmallow spread. My friend John and I were happily making these little sandwiches in the kitchen while I friends taste tested the results along the way.
While the product description says that it requires no oil, we did decide to butter the bread to give a nice brown color to the sandwich, although it could easily be done without it.
The results of the nutella and marshmallow spread crispy sandwiches were consistent and delicious. After about two minutes per side, sandwiches were golden brown and the inside filling was oozy and delicious.
Then it was on to make a savory snack in the form of a crispy ham and cheese with dijon. Again, about two minutes on each side over the flame was just enough to brown the bread and warm up the savory fillings.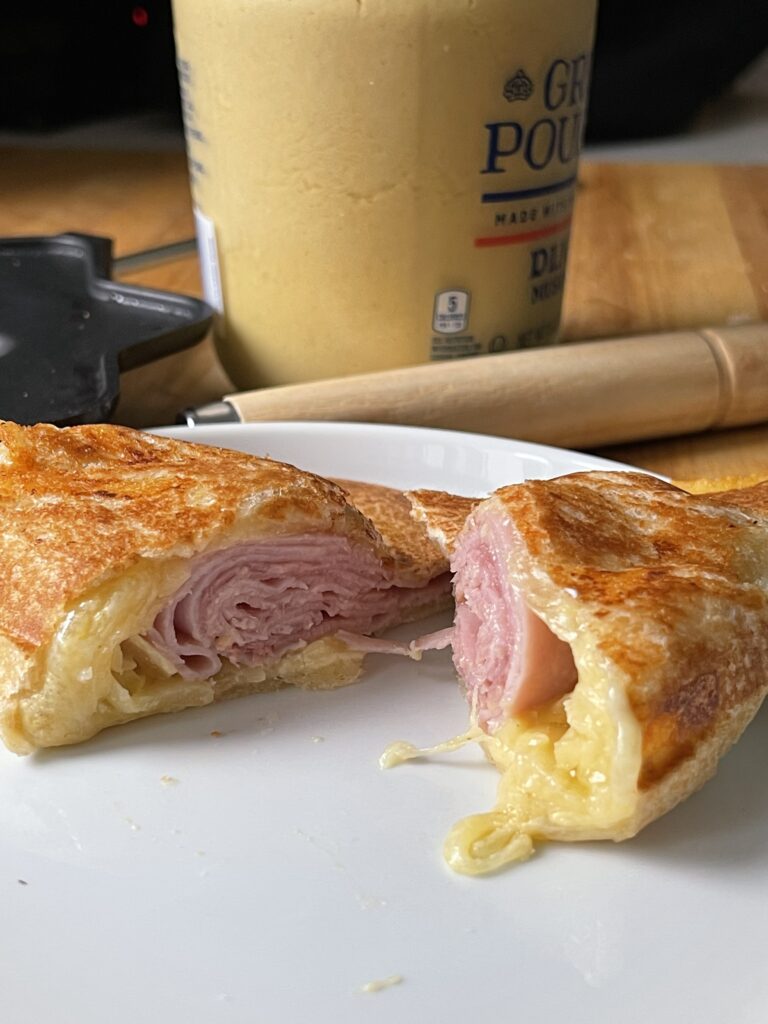 This was a fun gadget to play with, and the results were delicious. All in all, everyone gave the results a thumbs up!
Get The Look! A Buyer's Guide To Brian Balthazar's Philadelphia Home Redesign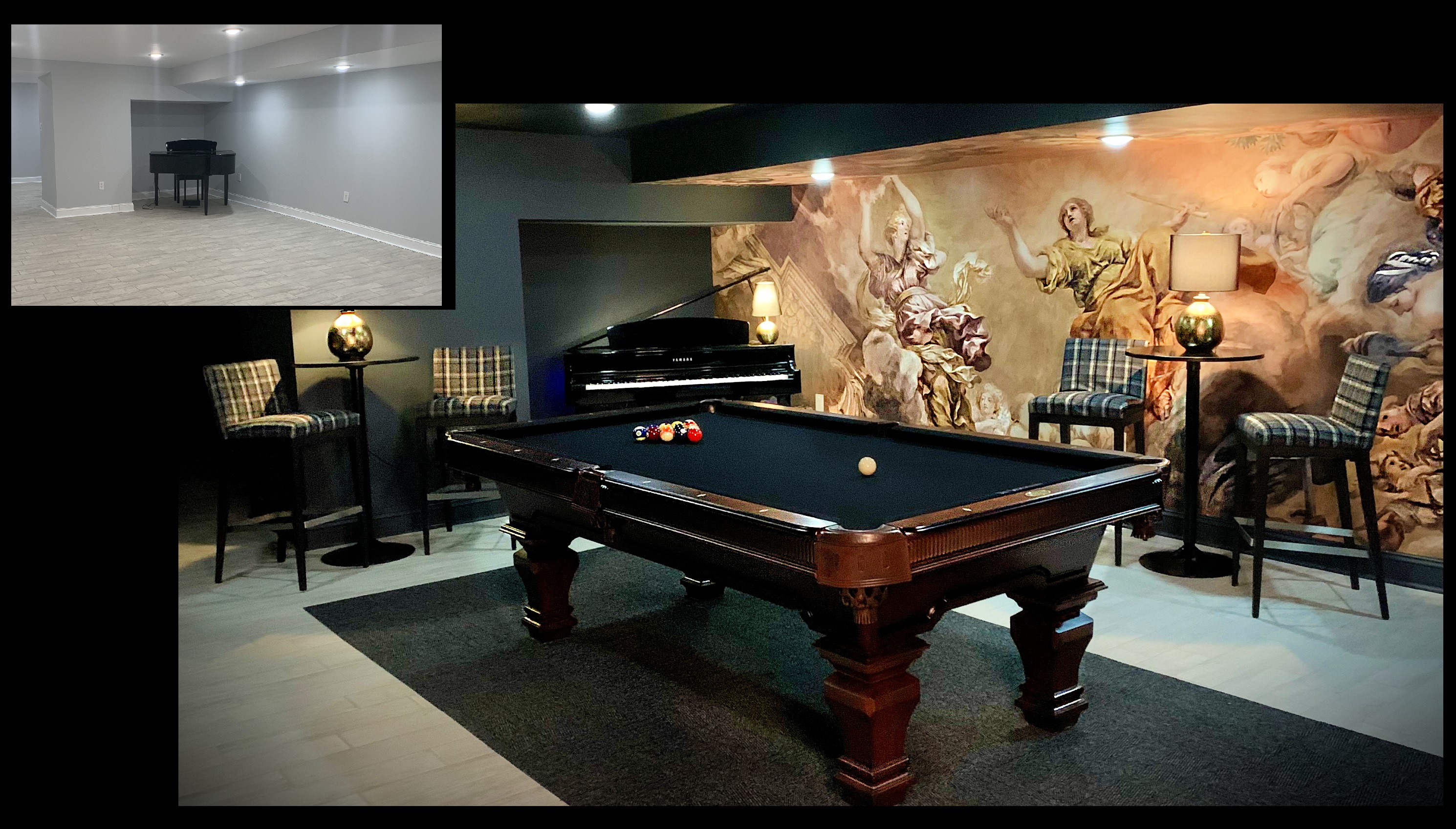 As the world was forced to spend more time at home, Brian Balthazar found himself in a position where he had sold a house before the lockdown and had to find a new one.
"We sold our home with all the furniture in it, so not only did we find ourselves struggling to find a new place, once we found one we didn't have any furniture to put in it."
And so, Brian and partner Dennis got resourceful, turning to refurbishing and buying store floor models. They were inspired to make bold, fun choices in color and style when they started shopping around for wallpaper.
Below is the segment as it appeared on the Today Show, and further down, a rundown of where you can find the pieces or ones with a similar look!
THE DINING ROOM
Let's start with the Dining Room!
Move the slider dividing the image to see all of the before or all of the after!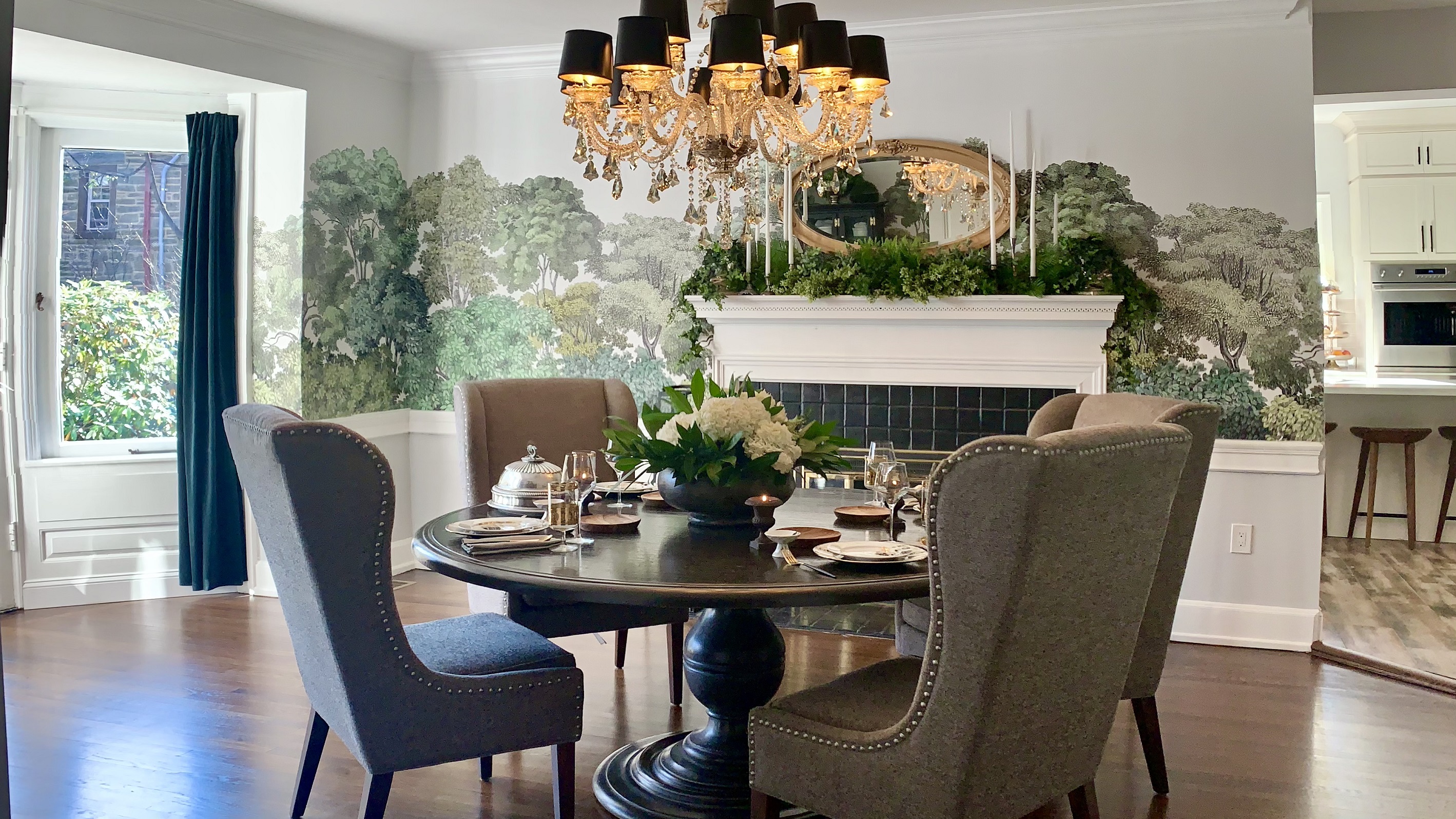 Brian says: The dining room was the first space we wanted to do. I haven't had a true dining room since I was a kid, and I've always wanted a big table for dinner parties! There were no tables within the price range we wanted, so we found a floor model at one of our favorite go-to stores, Arhaus. We easily saved 75 percent on this table by getting the one that they weren't going to carry anymore. The chairs are from Wayfair.  On each side of the fireplace (not seen in the photo, but visible in the Today Show video) are two black tall lanterns flanking the fireplace. I got them at Target. I can't currently find them on their app, but similar versions pop up every year. Get thee to Homegoods! Homegoods and Homesense (same parent company) are my go-to spots for home accessories for virtually every room in the house. You never know what you're going to find, which is part of the fun.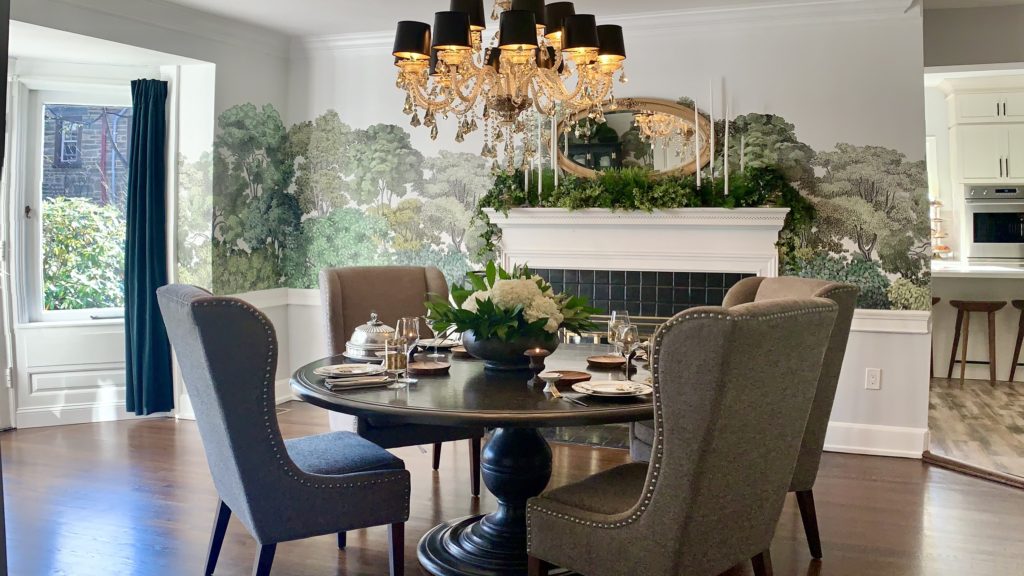 But let's focus on the real WOW element to this room – the wallpaper! This pattern is called Bellewood, by RebelWalls.   As you will soon see, I'm sort of obsessed with their patterns. To me, this room is magical with the added whimsy of this forest pattern. (They also have a more muted version with grays and even one with blues.) I also love that by hanging the paper from the chair rail up, you almost get the feeling that you're standing on a balcony overlooking the forest. I surrounded the whole room with this paper, which I love, but you could easily add the same magical feeling by just doing one feature wall. Their website shows how it can translate to a bedroom or office. You might be intimidated by hanging wallpaper but don't be! This pattern has so much going on that it really looks perfect when it goes up!
ON TO THE GUEST BEDROOM!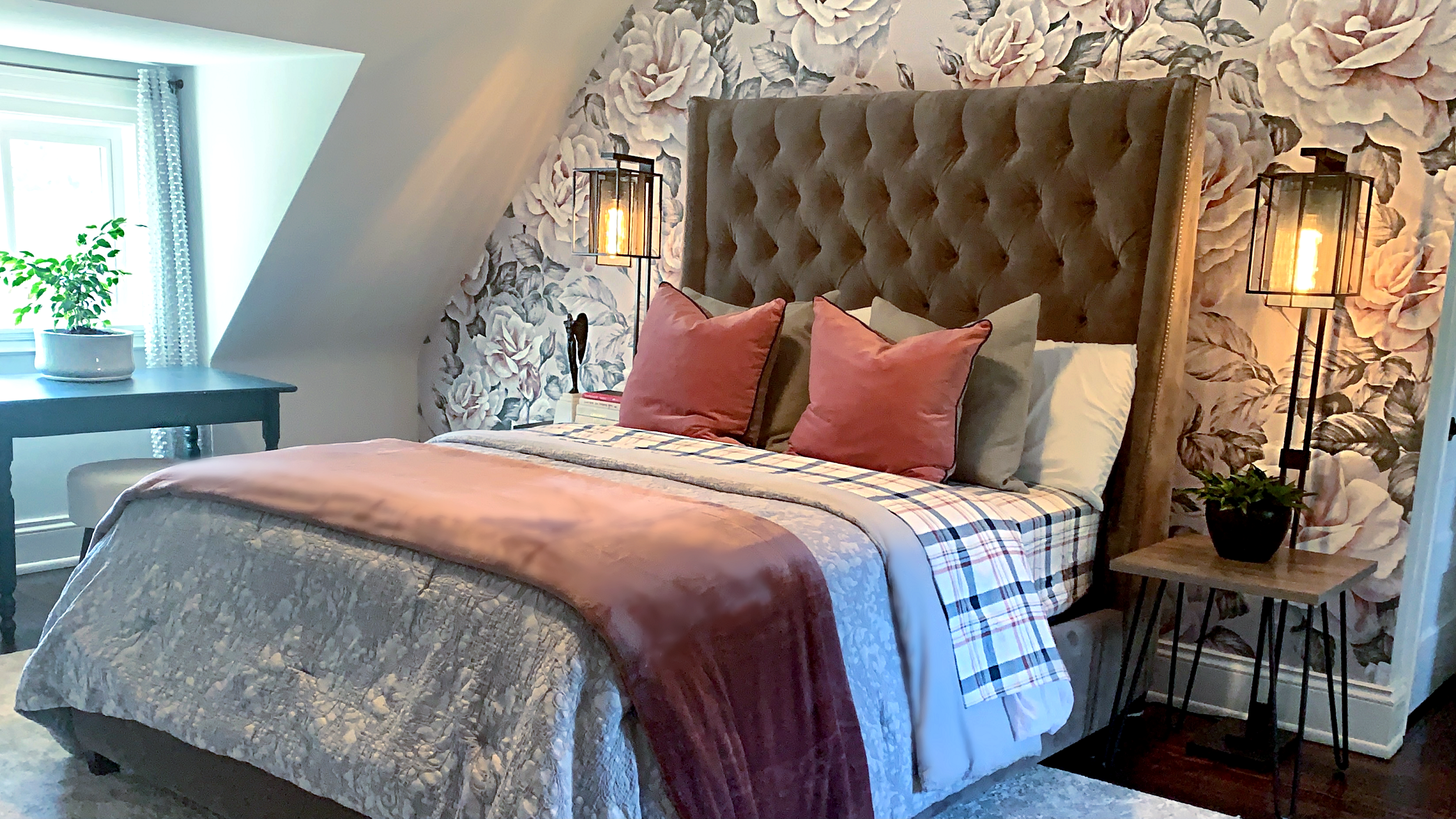 Brian says: The guest bedroom is on the top floor of the house, so it's got roof lines on two sides that make it a tricky space to navigate if you're not careful. The planning of this space alone resulted in a few bonked heads. On the upside, the wall where the bed goes is tall, so it was an obvious place to create some visual pop. Again, the wallpaper takes the spotlight.  Called "Nude Roses," also by RebelWalls, I love this design. Floral wallpaper was 'big' in popularity back in the 1920s when this house was built, but the patterns at that time were smaller, repeated more often, and were often really bold in color. This interpretation is so fun to me! Gone are the small roses in favor of oversized blooms, and the bold colors are more subdued pink and gray hues, with touches of dark green and creamy whites.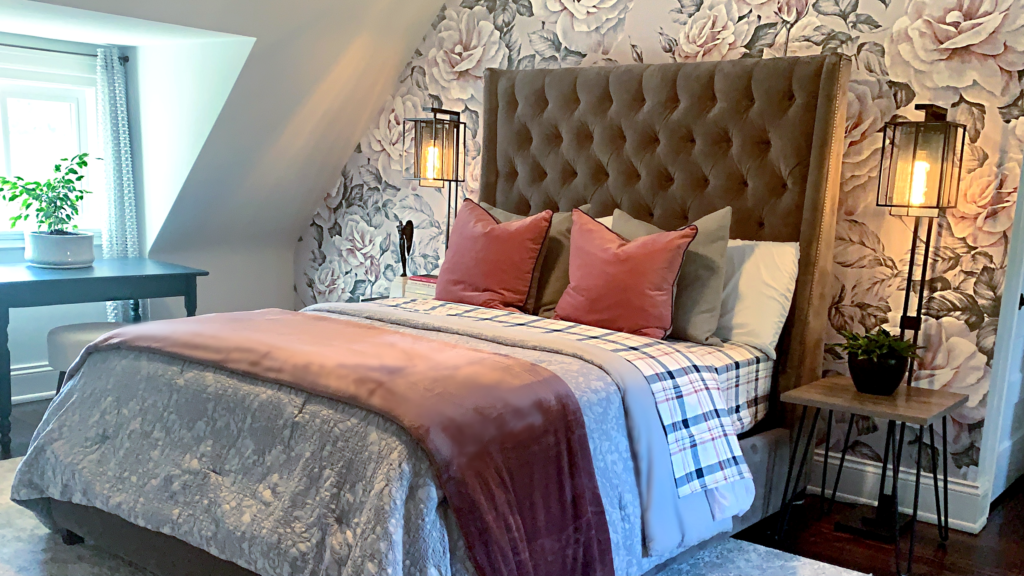 While roses can inherently feel feminine, the plaid bedding (30 dollars for a queen set from Target) are a surprising complement that keeps everything from feeling a little stereotypical. The side tables are mismatched – partly because we didn't want to go too "matchy=matchy" – but also to save some money – the one on the left side (hard to catch here) was from West Elm. Normally $199, we got it for half off as the floor model. The one on the right we found in the trash. It was perfectly fine, clearly someone had just gotten tired of it! Nothing some disinfectant can't fix. That gave us some extra money to spend – To reduce the softeness we went with industrial lamps and edison bulbs. The lamps  are called "Ginyard," from Wayfair. The headboard was on sale at Arhaus. The dark gray takes balances out the pink hues well. The pillows are from Target and Homegoods.
For the 360 degree view of this room, watch the Instagram reel below!  You'll see the dresser, on sale for $599 from Arhaus, a lamp from Homegoods, and mobiles from Amazon which we fashioned into a 'piece of art' that keeps you from hitting your head on the angled wall opposite the bed. Watch the video to check it out!
View this post on Instagram
THE GAME ROOM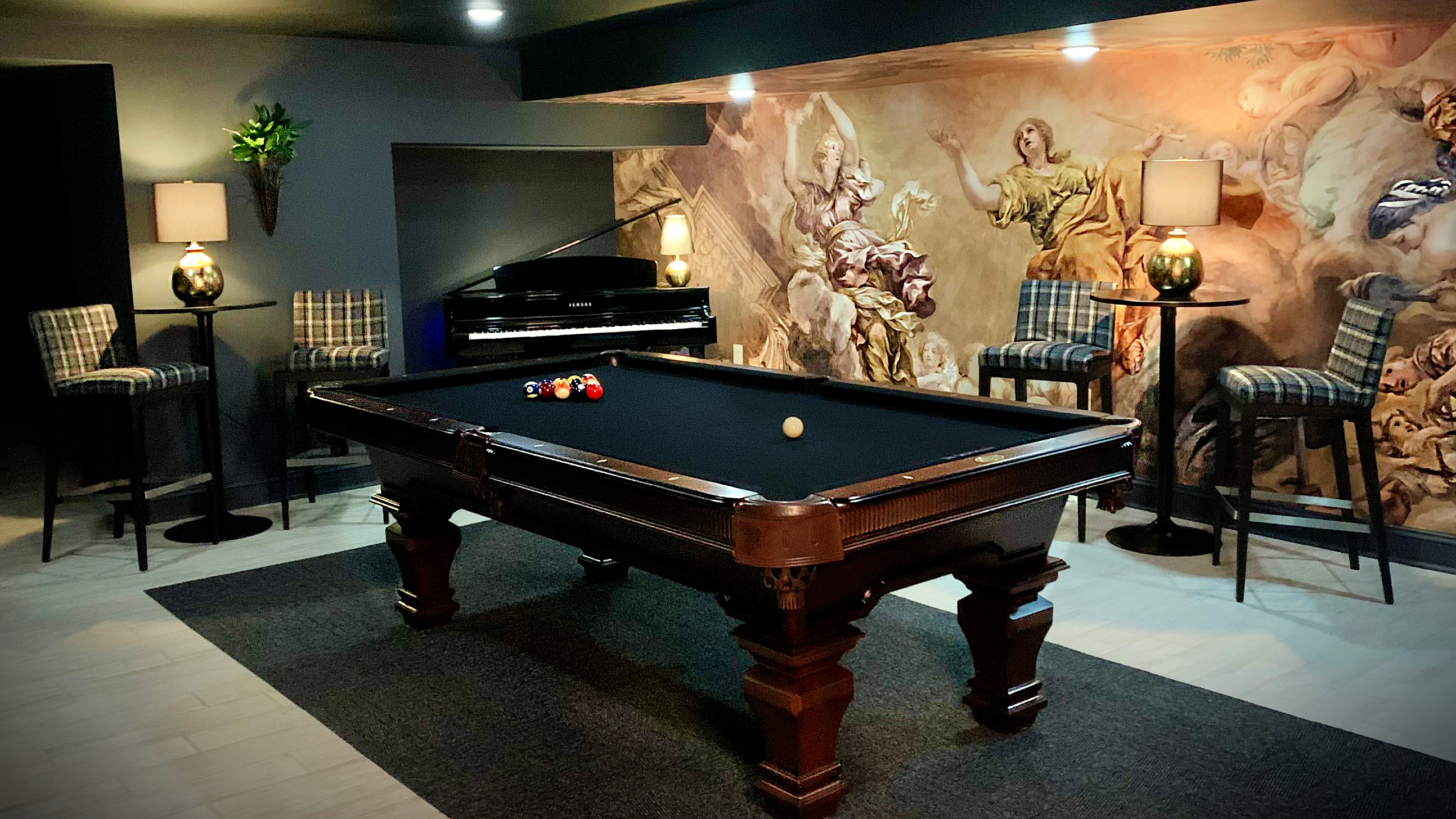 Brian says: The idea for the basement game room was to create a space that feels like a lounge you might find if you went out with friends. When you go into this basement it definitely feels like you've gone someplace unique! Believe it or not, I found out the Today Show had invited me to to record my house tour just a few days in advance, and so we turned around this spot in just THREE days! There was literally no pool table at the time, (although it had already been scheduled to come on Friday, the wallpaper came on Saturday, (as well as the floor tiles!) and by Sunday we were covered in paint and glue and drinking wine to celebrate it's completion! I recorded the final video that Monday.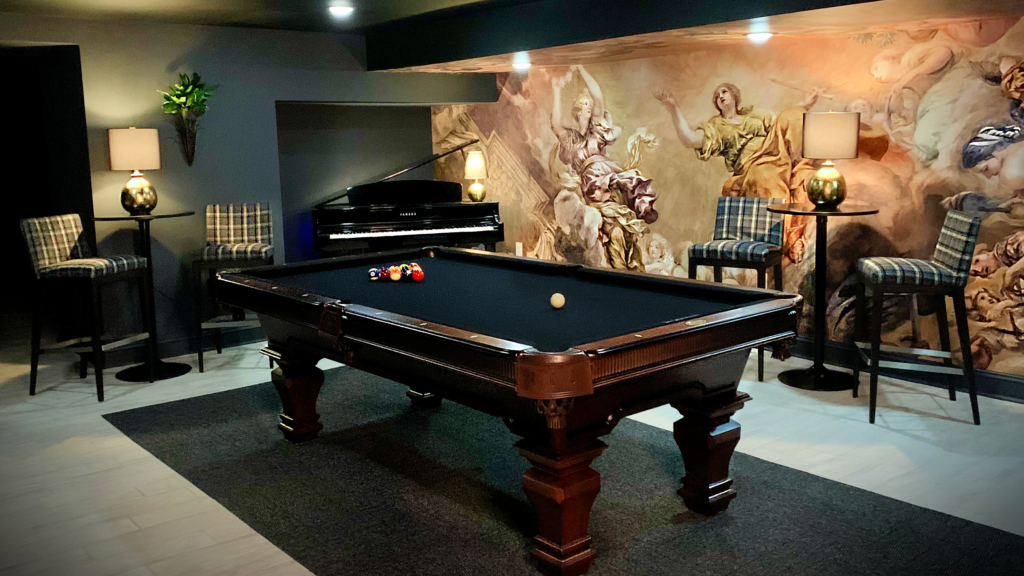 Some people might not think to take a bright basement and make it dark, but that was our first instinct. Clubs are dark and moody, and we wanted this to feel like that. We painted the walls Wrought Iron by Benjamin Moore, which is a very dark gray that seems to take on different hues based on where you paint it and the light that shines on it. We painted the ceiling black. This was Thursday night! Then Friday the pool table came. The floor tiles ("Tweed Indeed" in black by Flor) hadn't arrived until the next day, so when they did arrive I meticulously trimmed four tiles to fit around the pool table legs so it looks like they were there the whole time. I had ordered the pool table online weeks before from PoolTables.com and by sheer coincidence it was scheduled to arrive in time for me to shoot the redesign. This was the second time I have ordered a pool table from them (which was initially scary because you're not even seeing it beforehand!) but it always arrives in perfect condition to your specific selections. I love that the felt jet black and keeps things dark and moody. In the time that has passed since this photo was taken, I've added more of the carpet tiles to make the carpeted floor area darker and bigger.
But once again, the wall mural steals the show in a marvelous way! This mural is called "A Priori" from Rebelwalls, and is inspired by The Allegory of Divine Providence and Barberini Power, a famous fresco by Italian artist Pietro da Cortona. Fitting, because this house is Italian in style on the outside. You can't see it from this photo but the wallpaper runs up part of the ceiling as well. It truly gives the room a wow factor when you enter it. The lamps are from Homegoods, (we've since added some industrial floor lamps for extra mood lighting) and the piano was something we brought with us. The bar tables are from Amazon ($72 each) and the stools we brought with us – they were discards from someone who didn't like their original bright colors and thought they were dated! We covered them ourselves with gray plaid fabric and they're better than they were new!
So there you have it! Hope you enjoyed the rooms and find something you like!
Well Sh-t, Leslie Jordan Has Shared Three Videos Of Himself Dancing In One Week And They're All Perfect
Doing much better now, Leslie.
If you've never believed that "good things come in small packages" then you've never seen Leslie Jordan's instagram. The 4'11" actor known for his iconic roles in shows like Will & Grace and American Horror Story has recently developed a whole new fanbase who loves him for his viral Instagram videos. Usually starting each video by greeting fans with "Well shit, how y'all doing?", viewers have grown to anticipate Jordan's hilarious recounting of stories from his time in show biz or growing up in the south. This week, however, the Tennessee native has shared 3 videos of himself dancing within 5 days and honestly it's precisely what we all need right now.
The first video was posted on August 12th and shows Jordan taking part of the "Git up and dance challenge" which swept the internet about a year ago. Even though he is a little late, the video is still perfection.
On August 13th, Jordan does a dance to "You Can't Stop The Beat" from Hairspray a with special guest dance partner Katie Couric!
Finally, on August 15th, Jordan does an epic "tootsie roll" and challenges Real Housewives Of Beverly Hills star, Lisa Rinna, to do the tootsie roll herself. Of course Rinna commented with a big "ON IT ❤️😂." Who could say no to the viral star?!?
The moral of the story here is that the world is going through some tough times right now but maybe, even for a few seconds, we could all feel better if we'd just dance it out. Thanks for the inspo Leslie Jordan!
Like what you read? Follow me on Instagram