For a Top Chef super fan, this episode is the shiz! A "walk down memory lane." The episode pays homage to the past ten seasons by asking the contestants to take an infamous dish from a previous season and recreate in a battle royale. The twist: the dish has to have a healthy spin because the winner's creation will serve as inspiration for a new variety for a Healthy Choice Top Chef Steamer. You can learn more about Top Chef's partnership with Healthy Choice here, pretty cool idea.
The remaining cheftestants will serve their healthy adaptations to Top Chef superfans (along with some "super chefs" including Wolfgang Puck). The winner also gets $15K. Not bad, right?
During the episode we learn that the cute-as-a-button Brooke USED TO BE FAT! At first I found this hard to believe, but we see photo evidence. Girl lost like, 80lbs or something. Rock you, Brooke.
If you remember last week, Brooke was partnered with John. And if you also remember from past weeks, I hate John. Something I'm happy about is that John is selected to make risotto. And as fans of Top Chef, we all know of the infamous risotto curse. Everyone who has attempted to make it has either gotten eliminated or absolutely SLAMMED by the judges. As I watch, I'm hoping tradition holds true for our little Johnny Boy.
As for the rest of the cheftestants:
–          Kristen makes her variation of a pot pie. Not surprisingly, she kills it. No, more like slays it. She doesn't take the challenge to literally and this ultimately plays to her favor.
–          Brooke was tasked with re-creating her variation of a pea puree. Everyone seems to like it. And I like that, since Brooke is starting to become a favorite of mine.
–          Josie makes a roast chicken / parsnip puree. She roasted chicken nicely, but it really wasn't anything special. This is Top chef, people! If you're going to make roast chicken it better be pretty damn good!
–          Stefan created a roasted red pepper soup with bacon and a grilled mimolette cheese sandwich. I honestly don't see any health value in this dish, but I'm sure it's tasty as hell. In fact, this sounds like something I'd totally make on my own.
–          Sheldon makes beef carpaccio, but it's not so successful. Also, I don't think I could see this as a frozen meal.  Can you?
–          Lizzie makes something that seems so absolutely simple, scallops. But she bought a bad batch from the market, and ain't nothing stankier than rotten fish. I sense trouble ahead.
–          Josh was tasked with recreating a pork belly recipe. How do you even attempt to make pork belly healthy? Josh was smart enough to re-think the and makes a killer pork tenderloin. A favorite of mine.
–          Micah serves a spiced duck breast, which looks DAMN good.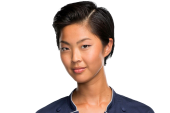 Josh, Brooke and Kristen took highest honors, and Kristen winds up winning the challenge – this girl's on fire! [Calling it now, I see Kristen in the finals]
Lizzie and John wind up in the losing category. John of course contrives a lame excuse and blames his ill performance on faulty equipment. If I had a nickel for the amount of excuses John's given this season…
TWIST TIME!
To determine who packs their knives and leaves, the judges throw in one final challenge for Lizzie and John…they must go head-to-head to recreate a memorable dish from this season: CJ's burger. If you remember a few weeks back, CJ (a Last Chance Kitchen rock star!) was tasked with creating a spiced dill pickle, and he did that, but he placed it on a sub-par burger which bit him in the butt. This ultimately led to his elimination.
John goes for lamb while Lizzie opts for a chicken burger (keep in mind, they needed to make a healthy burger). Since pickle is the main ingredient to highlight, John grabs a large container of pickles and "allows" Lizzie to use some. How generous (sarcasm).
At some point, John steals dill from Lizzie's work station and uses ALL OF IT. What a shyster.
In the end, good prevails and John is sent packing with these final words "I'm not bitter, BUT I think it's bull s***" Aw… not bitter at all. Don't let the door hit you on the way out, buddy.
The only question I'm left with is, who the HELL will be voting for him on last chance kitchen?
SO WHAT CAN YOU LOOK FORWARD TO NEXT? DELICIOUS TENSION WITH JOSIE! (Karma's a doozy.)
Content and/or other value provided by our partner, Bravo.
For more Bravo updates, follow me on Twitter!