Five Things We've Learned From This Weekend's Box Office
Behind the numbers from this weekends box office report, some interesting lessons about what resonates, what doesn't and who is excited about their upcoming checks.
Behind the numbers from this weekends box office report, some interesting lessons about what resonates, what doesn't and who is excited about their upcoming checks.
LESSON ONE – Horror isn't Just For Halloween / Recycling Works – Texas Chainsaw 3D is reigning supreme, with an impressive 23 million in its opening weekend. January has become a surprising new home for horror films in recent years. Perhaps folks need a break from the good cheer of December. Previous January releases on the more morbid side include The Devil Inside and My Bloody Valentine. Meanwhile, its success is proof positive that sometimes an old idea can still mow down the competition. The first Chainsaw movie was The Texas Chainsaw Massacre in 1974. There have been no less than SEVEN Chainsaw inspired films since.
Bette Midler and Billy Crystal 'Still Got it' – Parental Guidance has proven to be the little comedy that could. After just two weeks in theaters, it is number five at the box office and has already made a nice 52 million gross. Not bad, considering the movie's budget was only about 25 million. (Compare that to Django Unchained, that after two weeks has made 106 million, but cost about 100 million to make! Still, Unchained stands to make considerably more internationally than Guidance.) Note also that Guidance is beating Tom Cruise at the box office too… don't think for one second that he isn't noticing. Could we see a resurgence of family style movies?
The Hobbit in fourth after four weeks is not such a crisis. Taking in what sounds like a "mere" 17.5 million this weekend might sound dire… but think again. According to BoxOfficeMojo that's the highest fourth week take ever for a Lord Of The Rings Movie. It's important to note that die-hard fans of the Lord franchise usually see it the very minute a new installment comes out, which explains the impressive gross dollars of nearly 264 million in just four weeks. No one is crying over at Warner Brothers.
Les Miserables Races On – Despite a significant drop in weekend box office after an increase in theaters showing the film Les Miserables, the movie musical is performing well, surpassing the 100 million dollar mark and breaking the final tally for the last big movie musical, Dreamgirls, which tallied 103.4 million. Many are crediting a publicity campaign aimed at Christians for boosting its totals.  
Tom Cruise Isn't "Reaching" As Jack Reacher – Even though many It may be that Tom Cruise's role as International Movie Star Tom Cruise is eclipsing the roles he portrays on film. Some have said that the role is just Tom Cruise playing Tom Cruise in typical action hero mode. After three weeks at the box office, it's 64 million plus gross isn't as high above its 60 million dollar budget as the studio would like.
Here are the early box office reports for January 4th Through the 6th:
1 TEXAS CHAINSAW 3D                                                 23,000,000
2 DJANGO UNCHAINED                                                 20,082,000
3 THE HOBBIT: AN UNEXPECTED JOURNEY            17,525,000
4 LES MISERABLES                                                                    16,117,000
5 PARENTAL GUIDANCE                                                        10,125,000
6 JACK REACHER                                                                        9,300,000
7 THIS IS 50                                                                                    8,559,000            
8 LINCOLN                                                                                       5,258,000
9 THE GUILT TRIP                                                                     4,530,000            
10 PROMISED LAND                                                                  4,312,000
For more movie updates follow @BrianBalthazar on twitter!
Watch Brian Balthazar and Wendy Williams Talk About What's Trending Now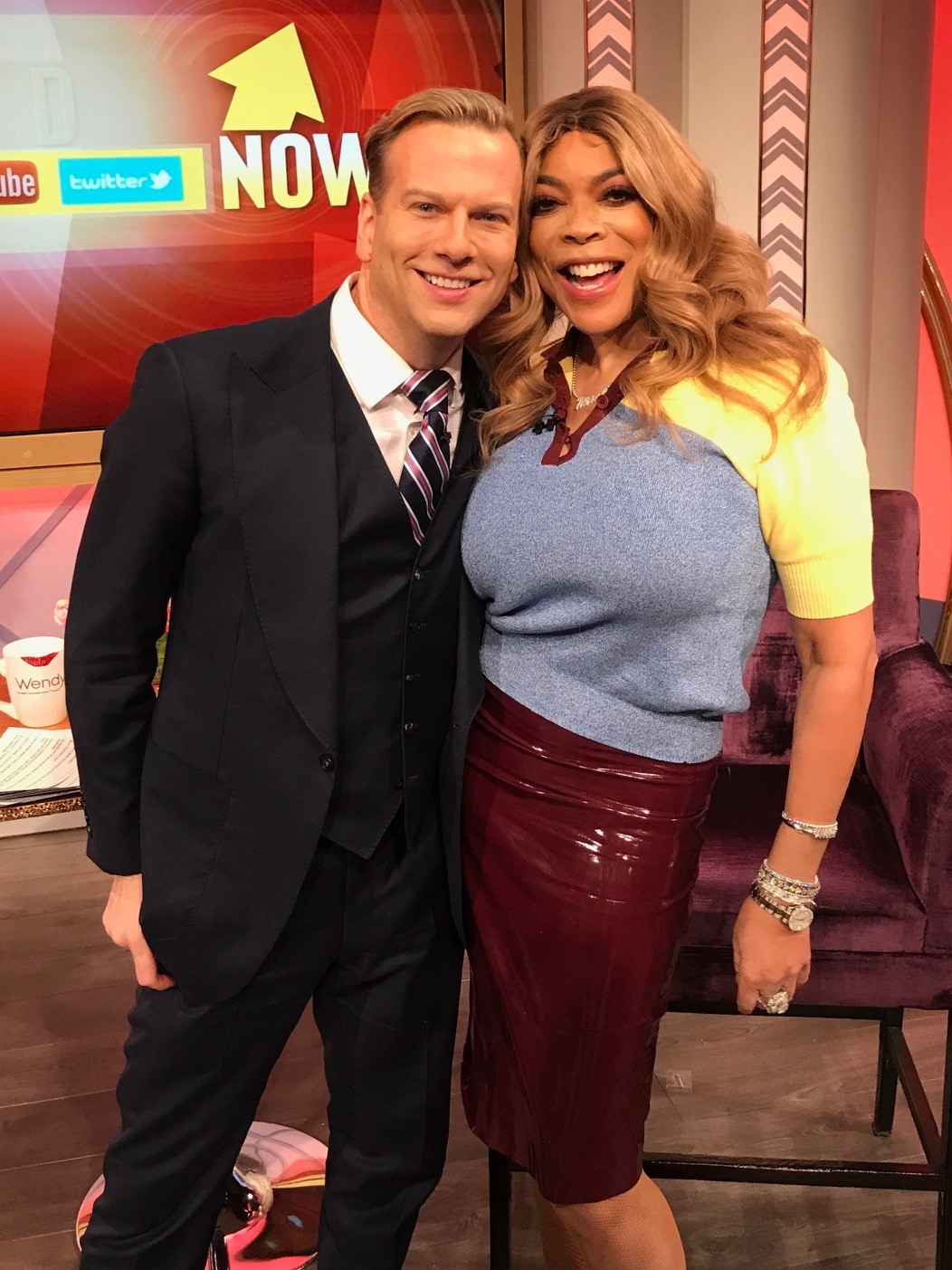 Always SO much fun going on the Wendy Williams show to talk about what's trending! In this case, the best part (for me at least!) was wearing a creating by art director Michael Lee Scott, who recreated the iconic hat worn by Billy Porter at the Grammys! What a recreation!
Brian Balthazar Billy Porter Hat
Wendy Stuart Kaplan Knows How To Party – Now She's Throwing An Epic One Of Her Own!
Wendy Stuart Kaplan knows her way around a party. In her book, 'She's The Last Model Standing," she wrote about her headline grabbing days at Studio 54, and now throws more than a few of her own. The latest is her "Reading For Filth" and her birthday extravaganza, where she, hosts Eileen Dover and Nick Lion and others (including yours truly!) will perform a collection of wildly entertaining essays, poems, comedic rants and more. The kind of person who is so 'on the go' you get exhausted just thinking about it (she, however, does not) I caught up with her as she was taking a break between a radio show, a modeling job and a party tonight. If you want to catch up with Wendy, you have to be flexible… she's probably got a full schedule that day! Her party this Friday is one that will not only celebrate a wildly varied and entertaining life, but also celebrate the spoken word from a variety of performers.
Anyone who's ready your book "She's The Last Model Standing" knows you've been partying since studio 54 – when did you first realize you were a party girl?
I first realized when I came back to New York after college! I wasn't until then, because there was no good place to party.
Where did you go to school?
SUNY Binghamton where I majored in anthropology – and then I went to Nigeria! I definitely enjoyed partying eventually, but back then I really, really wanted to go to Africa, which I did! I have gone back often, most recently to work on my documentaries.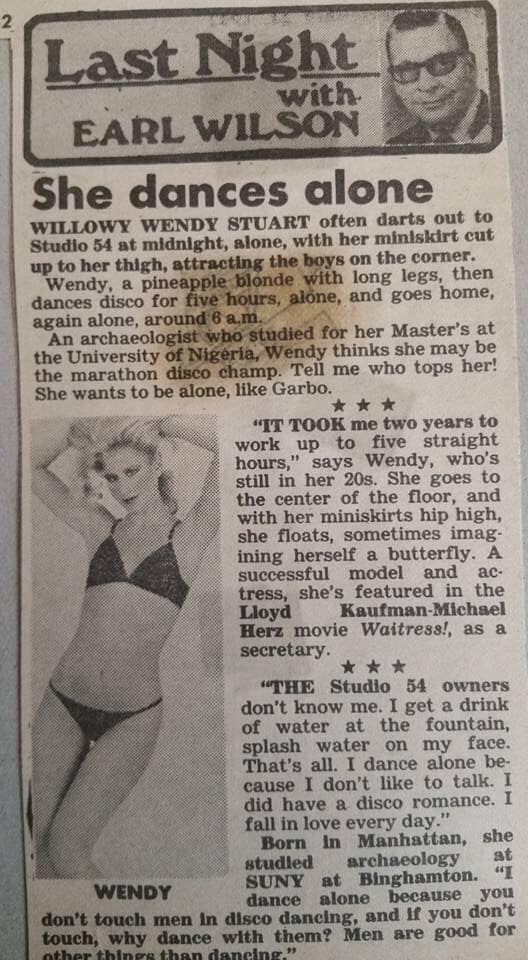 That's wild! But it's not surprising to hear of that passion since you make films about wildlife conservation there. But your festive side eventually DID come out! We all know you now as a social butterfly! Whether you're at a party, or working a film premiere – but were you as confident and comfortable in the spotlight as a kid as you are now?
I was an oddball kid. I had two things: I had my friends in the Bronx, and the ones that I had in school and they didn't mix all that well. I loved growing up there, that was home – but I remember as a kid I would get stomachaches before parties! How weird is that? Until you asked me I had forgotten all about that.
What were you worrying about?
Social pressures – what if nobody talks to me – oh my god, I'm not pretty. I had a short mop of brown hair because my mom thought I looked better with short hair, and I had chubby cheeks. I didn't love that look. I used to put on wigs as a kid and imagine myself with long blonde hair!
And here we are!
Here we are, right? Long blonde hair. I morphed into it. I'm totally self made!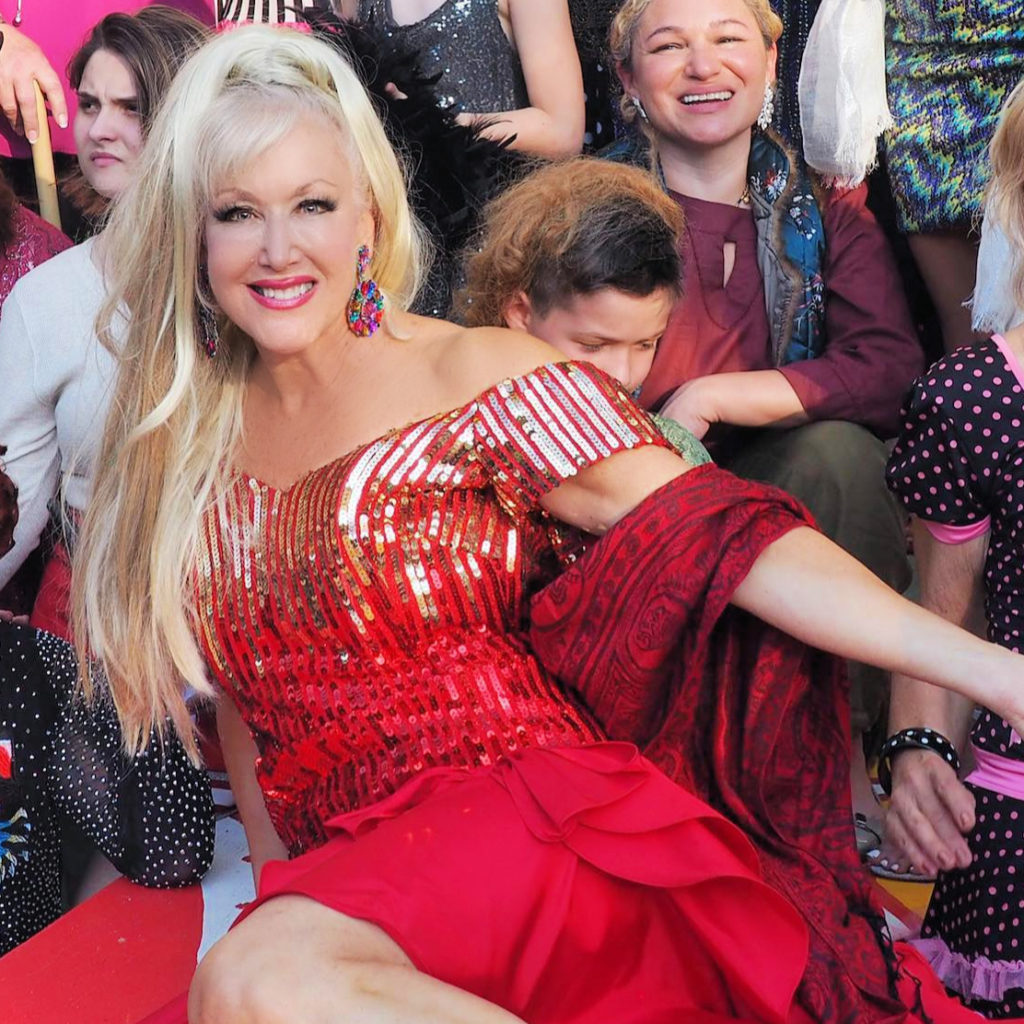 Tell me more about Reading for Filth – your event this Friday at Club Bedlam.
Reading for Filth came about when Brian Butterick, also known as Hattie Hathaway, used to have these events. One had the byline, "low rent reading for a high rent city." Reading for filth is an expression for 'I'm going to read you to filth,' as in, "I'm gonna tell you what I really think." The performers would do a reading of their choice. Something personal, maybe about an old boyfriend, or something someone else wrote, and they'd get up and read it in front of a room. At the last one we had, Michael Musto read from Suzanne Somers' poetry book. I didn't even know she wrote poetry… here the same person who wrote about African violets is also behind the Thighmaster! Brought me to tears! I imagine her thighs going back and forth as she sits next to a table with a sole African violet in its little pot, which inspired her to write the poem.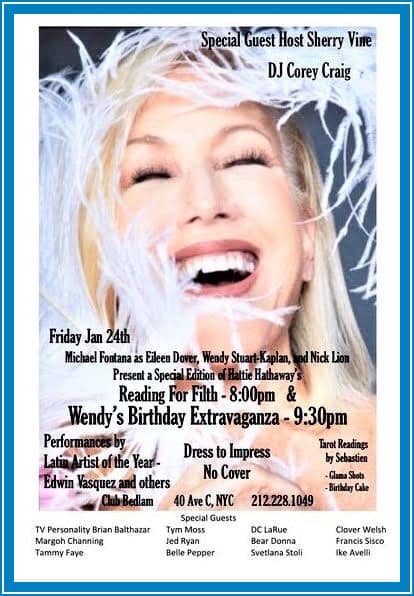 The reason we chose to open my birthday party with it is, when Hattie passed away, my friend and partner in crime Michael Fontana (Eileen Dover) really wanted to keep it going. We say it's such a downtown New York thing but it's a New York thing. It's a nationwide thing. Think about what's hot right now: storytelling. And here we have had Reading for Filth going on long before all that other stuff. Brian Butterick had been doing it for six to ten years. He was very ahead of his time. We brought it back this past year.
You love people and being around them, entertaining them, but you also love your home life – please describe your NYC living situation. You have a beautiful place… but describe your roommates.
Well, we will have to go back about 30 years when I got my first rabbit. I haven't lived without one for 30 years, so when one dies I always have one in the wings. Fast forward to now, we always have two rabbits. It's nice if they have another rabbit to hangout with. Also, 33 years ago we got a baby cockatoo, named her Louise, fed her formula, and she is now hanging out with me in my living room. Did I also mention our blue merle chihuahua?
In my New York apartment everyone is loose. No one is caged. Everybody is trained to go on those wee-wee pads you buy for dogs, and everybody goes on a wee-wee pad including the rabbits… but not the dog.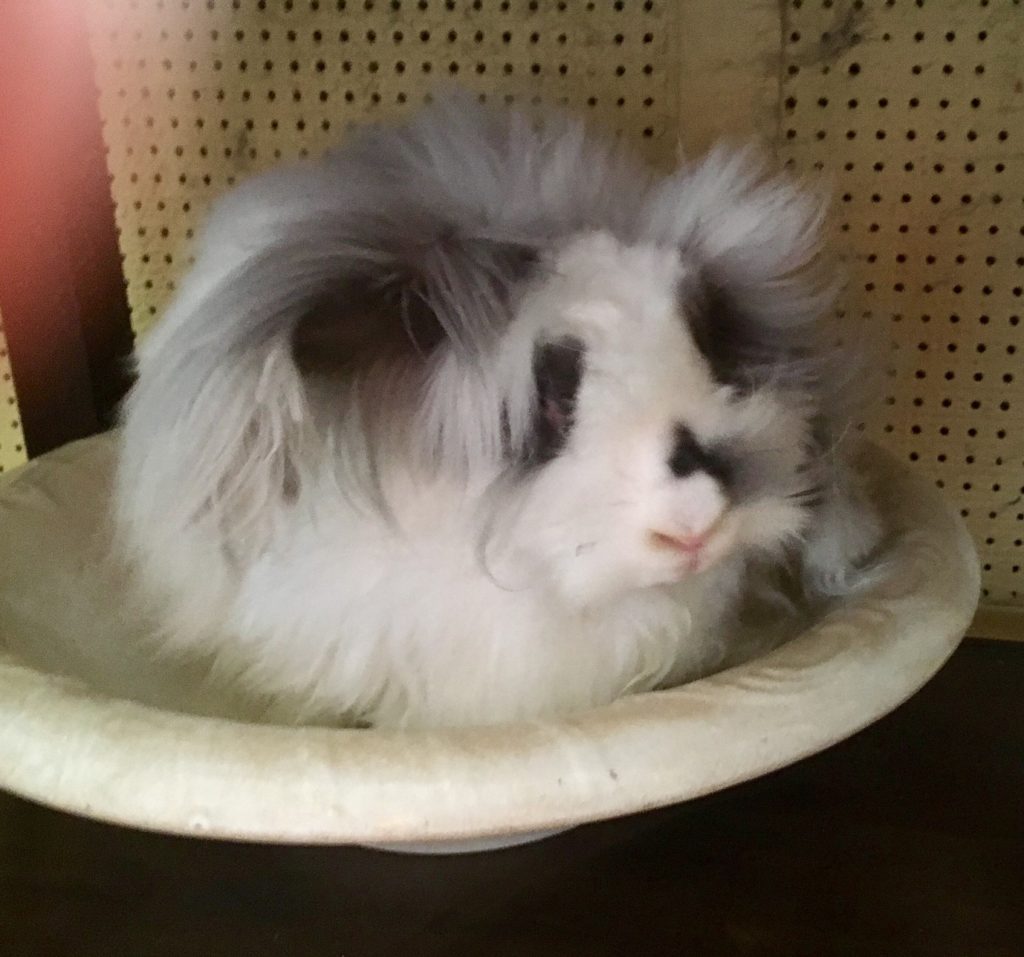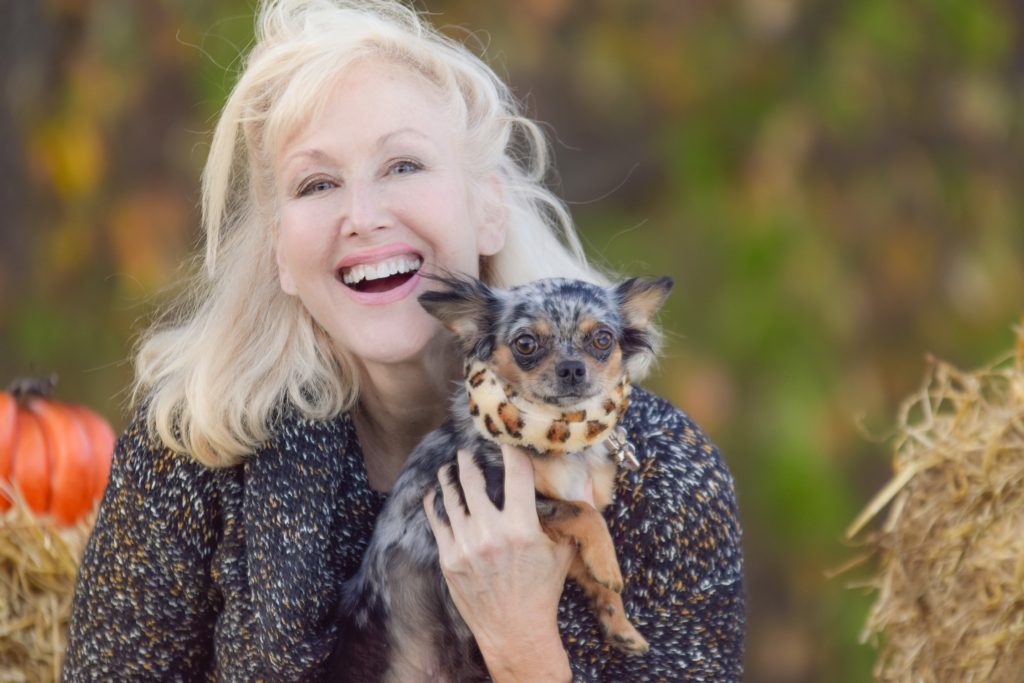 You know how to party – we know that – your wedding was no exception…describe your epic wedding.
So my wedding was 32 or so years ago. I should know that! Alan (a renowned photographer) and I got married in our huge loft, and you had to come dressed as members of a bridal party. It was on Halloween – you could be a bride, or a groom or a bridesmaid. The only problem was a lot of people thought it was a costume party and not an actual wedding. So we had people dressed as bridesmaids with five o'clock shadows and brides with full beards. They thought this was just going to be a big loft party – because we always gave huge parties – and not a wedding. But it was actually our wedding. I didn't get many gifts because no one took it seriously. I won't make that mistake again!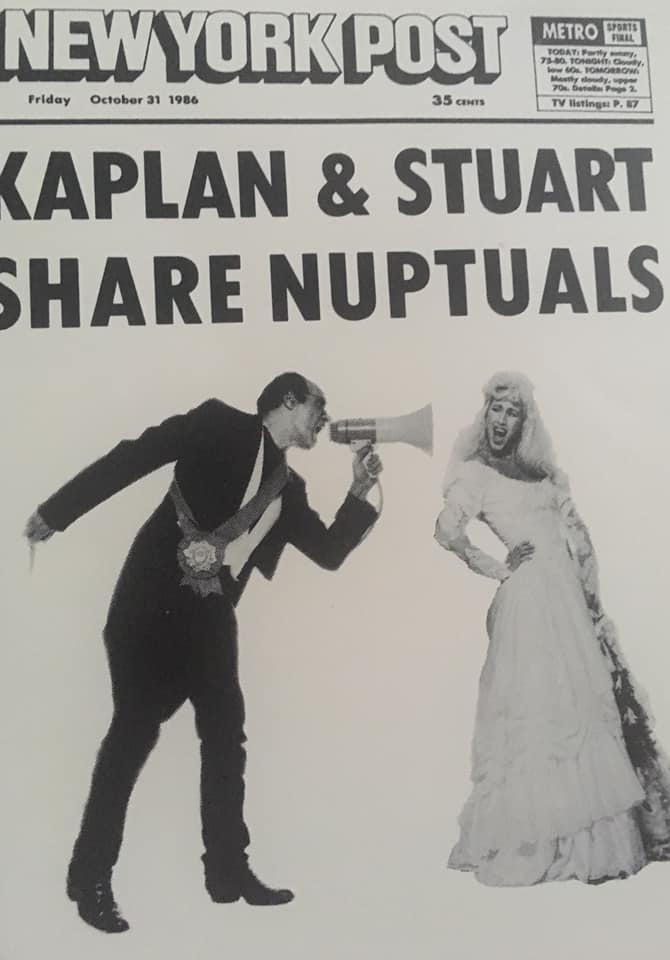 You've been modeling since you were in your twenties – what's the best thing anyone can do to look and feel like a model whether they're walking down the street or working it in the office?
You have to know who you are. What's your style? What makes you feel good? What floats your boat? When you put on a certain dress how does that make you feel? Don't go with trends, go with what you're attached to! Listen to your inner fashionista. And you know what? We all have that.
Reading For Filth is open to the public this Friday at 8pm at Club Bedlam, 40 Avenue C, NYC. For more on Wendy visit her book's Facebook page, her personal facebook page, or her instagram.
Visit her website, and buy her book on amazon!
All 18 of the BAFTA Acting Nominees Are White, All Directing Nominees Are Male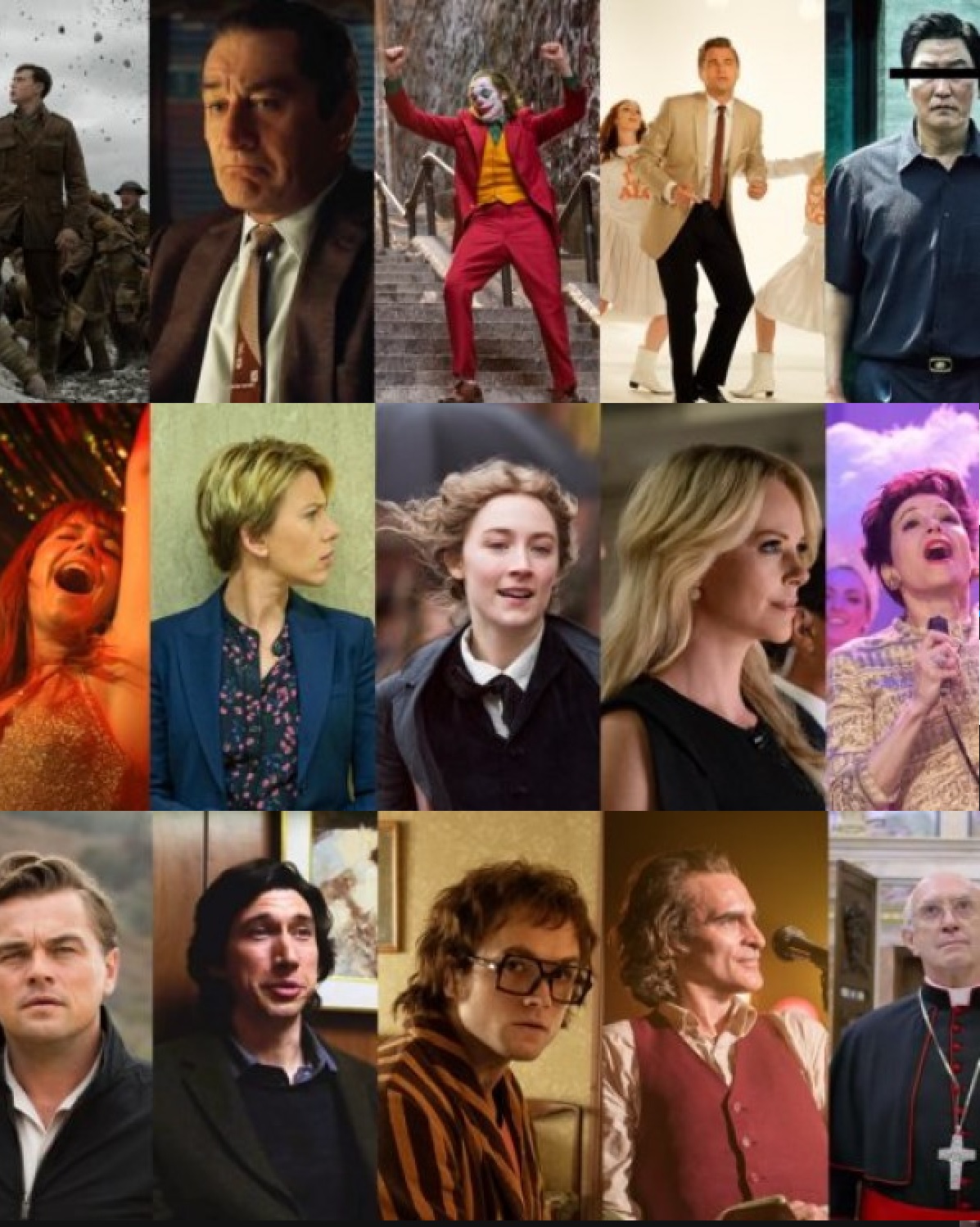 "Joker" is the one to watch at the upcoming BAFTAs, but if you're looking for diversity and female directors, sadly you'll have to look somewhere else. All the acting nominees are white, and all the directors are male.
Led by a lead actor nomination for Joaquin Phoenix, "Joker" received 11 nominations for Britain's equivalent to the Oscars, competing with familiar Golden Globe nominees Taron Egerton, "Rocketman,"  Leonardo DiCaprio for "Once Upon a Time … in Hollywood," Adam Driver for "Marriage Story," and Jonathan Pryce for "The Two Popes."
Renée Zellweger leads the nominations for the best actress category for her role in "Judy," alongside Jessie Buckley,  "Wild Rose," Scarlett Johansson, "Marriage Story," Saoirse Ronan, "Little Women," and Charlize Theron for "Bombshell."
Here are the other notable highlights:
See the full nomination page HERE.
11 nominations for Joker
10 nominations for The Irishman and Once Upon a Time… in Hollywood
Nine nominations for 1917
Six nominations for Jojo Rabbit
Five nominations for Little Women, Marriage Story and The Two Popes
Four nominations for For Sama, Parasite and Rocketman
Three nominations for Bombshell, Judy, Le Mans '66 and Star Wars: The Rise of Skywalker
The ceremony will be held on Feb. 2 at the Royal Albert Hall in London.