Your Full List Of Oscar Nominations!
Here is your full list of Oscar Nominations!
Here is your full list of Oscar Nominations!  People celebrating the most today: Anyone attached to Lincoln (11 nominations), Les Misérables (8 nominations) and Silver Linings Playbook (8 nominations). Celebrating a little less is Ben Affleck, who as the Director and star of Argo was snubbed in both categories while the film itself received 7 nominations, including one for Best Picture.  On a happier note, a little girl named Quvenzhane Wallis is probably very excited now. At nine years old, she is now the youngest ever Best Actress nominee, for her role in the movie "Beasts Of The Southern Wild." She was six when she shot the movie. She probably has no idea how many actresses have strugged for years for such recognition! Beasts, which also received Best Picture, Director and Adapted Screenplay nominations will probably reap the most reward from the accolades. It has been a largely unknown film by many – but will enjoy a lot of buzz with it's four nominations.
Here's the list!
Best picture
"Amour" Nominees to be determined
"Argo" Grant Heslov, Ben Affleck and George Clooney, Producers
"Beasts of the Southern Wild" Dan Janvey, Josh Penn and Michael Gottwald, Producers
"Django Unchained" Stacey Sher, Reginald Hudlin and Pilar Savone, Producers
"Les Misérables" Tim Bevan, Eric Fellner, Debra Hayward and Cameron Mackintosh, Producers
"Life of Pi" Gil Netter, Ang Lee and David Womark, Producers
"Lincoln" Steven Spielberg and Kathleen Kennedy, Producers
"Silver Linings Playbook" Donna Gigliotti, Bruce Cohen and Jonathan Gordon, Producers
"Zero Dark Thirty" Mark Boal, Kathryn Bigelow and Megan Ellison, Producers
Director
"Amour" Michael Haneke
"Beasts of the Southern Wild" Benh Zeitlin
"Life of Pi" Ang Lee
"Lincoln" Steven Spielberg
"Silver Linings Playbook" David O. Russell
Lead actor
Bradley Cooper in "Silver Linings Playbook"
Daniel Day-Lewis in "Lincoln"
Hugh Jackman in "Les Misérables"
Joaquin Phoenix in "The Master"
Denzel Washington in "Flight"
Lead actress
Jessica Chastain in "Zero Dark Thirty"
Jennifer Lawrence in "Silver Linings Playbook"
Emmanuelle Riva in "Amour"
Quvenzhané Wallis in "Beasts of the Southern Wild"
Naomi Watts in "The Impossible"
Supporting actor
Alan Arkin in "Argo"
Robert De Niro in "Silver Linings Playbook"
Philip Seymour Hoffman in "The Master"
Tommy Lee Jones in "Lincoln"
Christoph Waltz in "Django Unchained"
Supporting actress
Amy Adams in "The Master"
Sally Field in "Lincoln"
Anne Hathaway in "Les Misérables"
Helen Hunt in "The Sessions"
Jacki Weaver in "Silver Linings Playbook"
Animated feature film
"Brave" Mark Andrews and Brenda Chapman
"Frankenweenie" Tim Burton
"ParaNorman" Sam Fell and Chris Butler
"The Pirates! Band of Misfits" Peter Lord
"Wreck-It Ralph" Rich Moore
Cinematography
"Anna Karenina" Seamus McGarvey
"Django Unchained" Robert Richardson
"Life of Pi" Claudio Miranda
"Lincoln" Janusz Kaminski
"Skyfall" Roger Deakins
Costume design
"Anna Karenina" Jacqueline Durran
"Les Misérables" Paco Delgado
"Lincoln" Joanna Johnston
"Mirror Mirror" Eiko Ishioka
"Snow White and the Huntsman" Colleen Atwood
Documentary feature
"5 Broken Cameras" Emad Burnat and Guy Davidi
"The Gatekeepers" Nominees to be determined
"How to Survive a Plague" Nominees to be determined
"The Invisible War" Nominees to be determined
"Searching for Sugar Man" Nominees to be determined
Documentary short subject
"Inocente" Sean Fine and Andrea Nix Fine
"Kings Point" Sari Gilman and Jedd Wider
"Mondays at Racine" Cynthia Wade and Robin Honan
"Open Heart" Kief Davidson and Cori Shepherd Stern
"Redemption" Jon Alpert and Matthew O'Neill
Film editing
"Argo" William Goldenberg
"Life of Pi" Tim Squyres
"Lincoln" Michael Kahn
"Silver Linings Playbook" Jay Cassidy and Crispin Struthers
"Zero Dark Thirty" Dylan Tichenor and William Goldenberg
Foreign language film
"Amour" Austria
"Kon-Tiki" Norway
"No" Chile
"A Royal Affair" Denmark
"War Witch" Canada
Makeup and hairstyling
"Hitchcock" Howard Berger, Peter Montagna and Martin Samuel
"The Hobbit: An Unexpected Journey" Peter Swords King, Rick Findlater and Tami Lane
"Les Misérables" Lisa Westcott and Julie Dartnell
Original score
"Anna Karenina" Dario Marianelli
"Argo" Alexandre Desplat
"Life of Pi" Mychael Danna
"Lincoln" John Williams
"Skyfall" Thomas Newman
Original song
"Before My Time" from "Chasing Ice" Music and Lyric by J. Ralph
"Everybody Needs A Best Friend" from "Ted" Music by Walter Murphy; Lyric by Seth MacFarlane
"Pi's Lullaby" from "Life of Pi" Music by Mychael Danna; Lyric by Bombay Jayashri
"Skyfall" from "Skyfall" Music and Lyric by Adele Adkins and Paul Epworth
"Suddenly" from "Les Misérables" Music by Claude-Michel Schönberg; Lyric by Herbert Kretzmer and Alain Boublil
Production design
"Anna Karenina" Production Design: Sarah Greenwood; Set Decoration: Katie Spencer
"The Hobbit: An Unexpected Journey" Production Design: Dan Hennah; Set Decoration: Ra Vincent and Simon Bright
"Les Misérables" Production Design: Eve Stewart; Set Decoration: Anna Lynch-Robinson
"Life of Pi" Production Design: David Gropman; Set Decoration: Anna Pinnock
"Lincoln" Production Design: Rick Carter; Set Decoration: Jim Erickson
Animated short film
"Adam and Dog" Minkyu Lee
"Fresh Guacamole" PES
"Head over Heels" Timothy Reckart and Fodhla Cronin O'Reilly
"Maggie Simpson in "The Longest Daycare"" David Silverman
"Paperman" John Kahrs
Live action short film
"Asad" Bryan Buckley and Mino Jarjoura
"Buzkashi Boys" Sam French and Ariel Nasr
"Curfew" Shawn Christensen
"Death of a Shadow (Dood van een Schaduw)" Tom Van Avermaet and Ellen De Waele
"Henry" Yan England
Sound editing
"Argo" Erik Aadahl and Ethan Van der Ryn
"Django Unchained" Wylie Stateman
"Life of Pi" Eugene Gearty and Philip Stockton
"Skyfall" Per Hallberg and Karen Baker Landers
"Zero Dark Thirty" Paul N.J. Ottosson
Sound mixing
"Argo" John Reitz, Gregg Rudloff and Jose Antonio Garcia
"Les Misérables" Andy Nelson, Mark Paterson and Simon Hayes
"Life of Pi" Ron Bartlett, D.M. Hemphill and Drew Kunin
"Lincoln" Andy Nelson, Gary Rydstrom and Ronald Judkins
"Skyfall" Scott Millan, Greg P. Russell and Stuart Wilson
Visual effects
"The Hobbit: An Unexpected Journey" Joe Letteri, Eric Saindon, David Clayton and R. Christopher White
"Life of Pi" Bill Westenhofer, Guillaume Rocheron, Erik-Jan De Boer and Donald R. Elliott
"Marvel's The Avengers" Janek Sirrs, Jeff White, Guy Williams and Dan Sudick
"Prometheus" Richard Stammers, Trevor Wood, Charley Henley and Martin Hill
"Snow White and the Huntsman" Cedric Nicolas-Troyan, Philip Brennan, Neil Corbould and Michael Dawson
Adapted screenplay
"Argo" Screenplay by Chris Terrio
"Beasts of the Southern Wild" Screenplay by Lucy Alibar & Benh Zeitlin
"Life of Pi" Screenplay by David Magee
"Lincoln" Screenplay by Tony Kushner
"Silver Linings Playbook" Screenplay by David O. Russell
Original screenplay
"Amour" Written by Michael Haneke
"Django Unchained" Written by Quentin Tarantino
"Flight" Written by John Gatins
"Moonrise Kingdom" Written by Wes Anderson & Roman Coppola
"Zero Dark Thirty" Written by Mark Boal 
VIDEO:Rolled Ice Cream, Cheetos Bagels And Grasshoppers Are Just Some Of The Unusual Things Brian Balthazar Has Eaten On 'The Wendy Williams Show'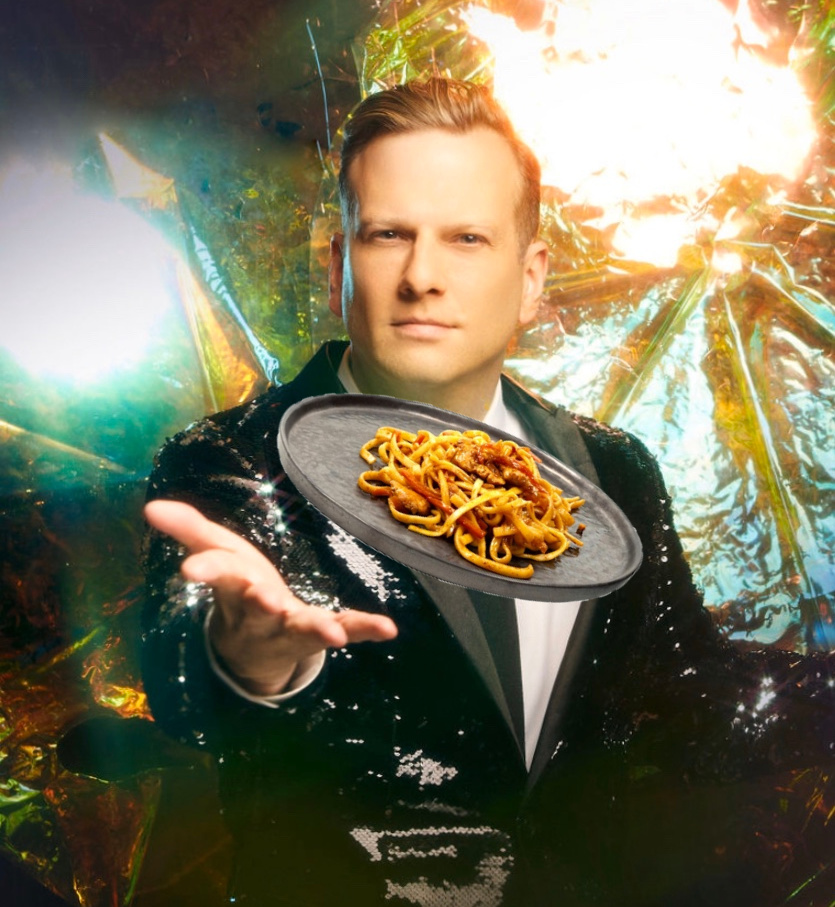 You've seen pop culture expert, Brian Balthazar, appear on The Wendy Williams Show quite a bit over the last few years. He even co-hosted the show on three separate occasions. It wasn't until his last visit where he and Jason Biggs chowed down on a KFC Cheetos Chicken Sandwich that it hit me: Being on the daytime talk show makes Brian Balthazar hungry!

The proof is in the pudding…pun definitely intended. Carla Hall made sure to bring some snacks for Brian when they cohosted together.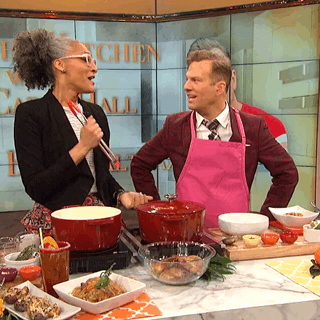 Sure, Wendy is known for telling us to "grab a snack and come on back"…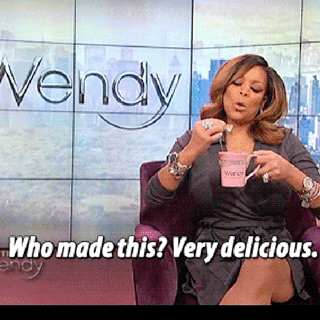 But you'd have to be absolutely famished to want to eat fish sliders at 10am.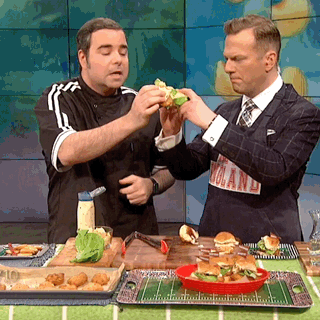 He's gotten so hungry he resorted to eating GRASSHOPPER TACOS on the show!

Could it be that Brian isn't actually hungry though? Could he just be a brave soul willing to be the taste tester so we don't have to? Could my theory be flawed?!
I suddenly feel like maybe we owe Brian a big thanks…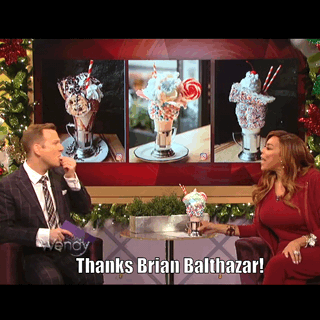 Either way, it's fun to watch! Click below to take a look at a compilation of all the fun stuff Brian Balthazar has eaten on The Wendy Williams Show!
Get The Look! A Buyer's Guide To Brian Balthazar's Philadelphia Home Redesign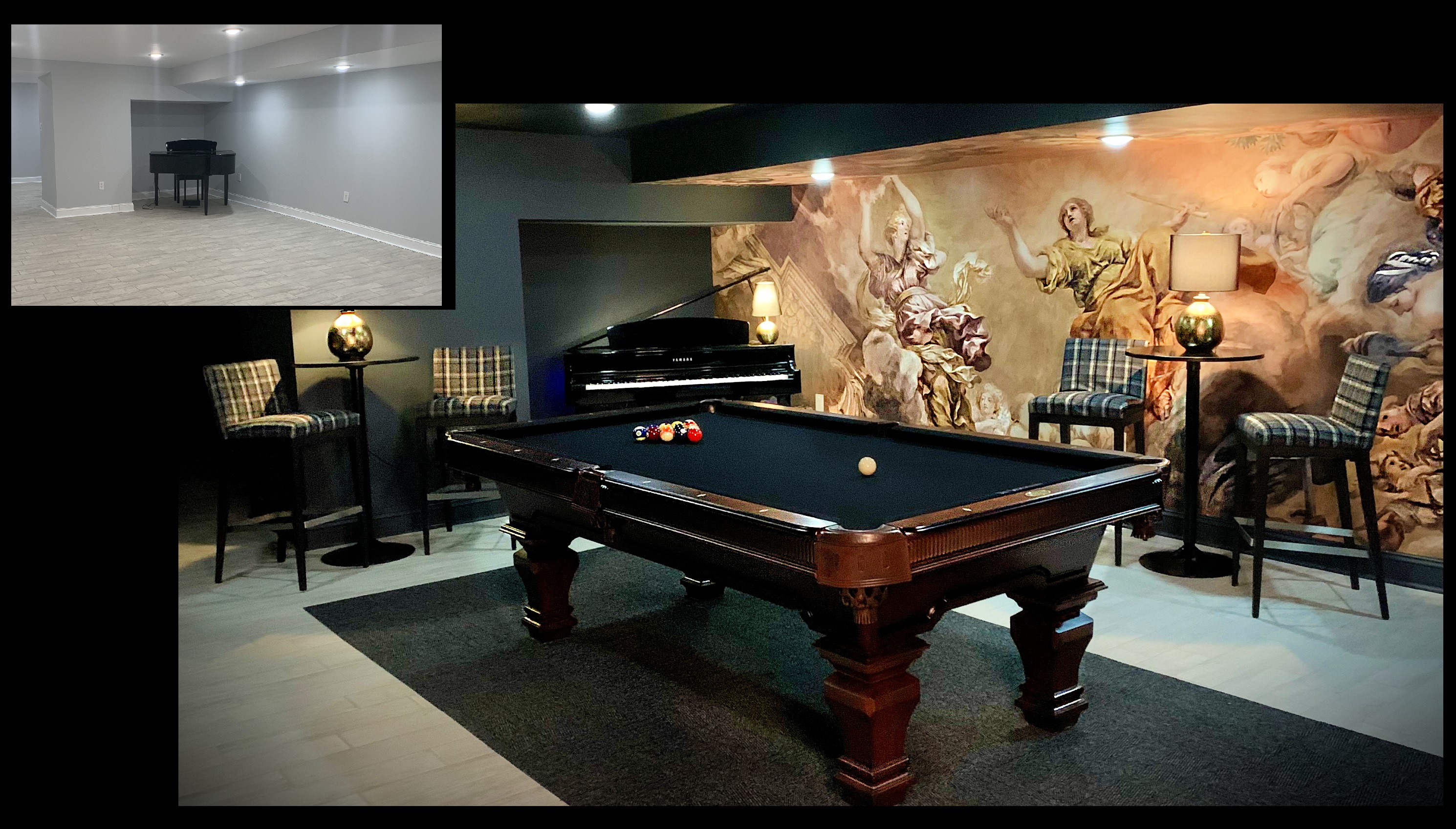 As the world was forced to spend more time at home, Brian Balthazar found himself in a position where he had sold a house before the lockdown and had to find a new one.
"We sold our home with all the furniture in it, so not only did we find ourselves struggling to find a new place, once we found one we didn't have any furniture to put in it."
And so, Brian and partner Dennis got resourceful, turning to refurbishing and buying store floor models. They were inspired to make bold, fun choices in color and style when they started shopping around for wallpaper.
Below is the segment as it appeared on the Today Show, and further down, a rundown of where you can find the pieces or ones with a similar look!
THE DINING ROOM
Let's start with the Dining Room!
Move the slider dividing the image to see all of the before or all of the after!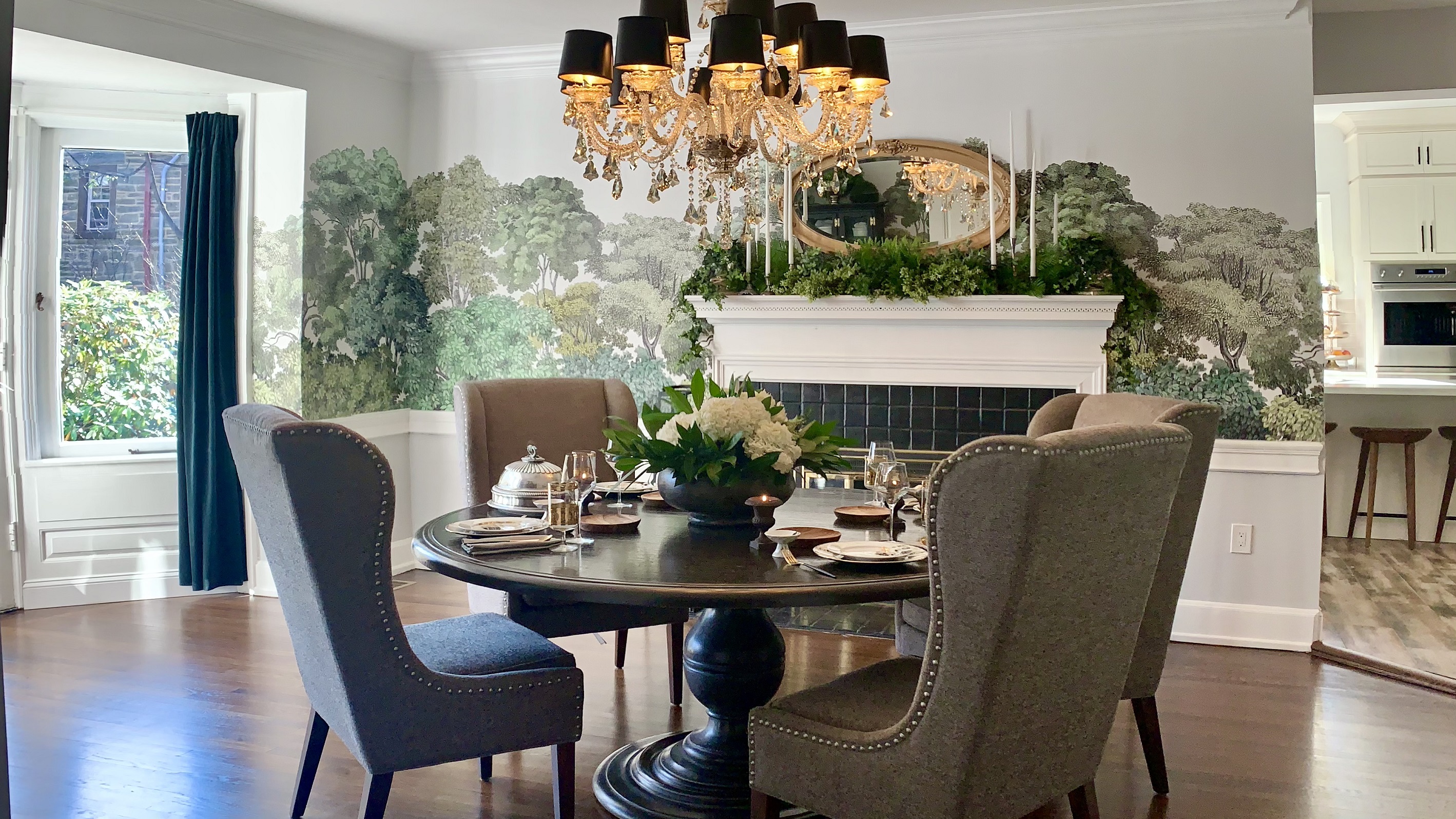 Brian says: The dining room was the first space we wanted to do. I haven't had a true dining room since I was a kid, and I've always wanted a big table for dinner parties! There were no tables within the price range we wanted, so we found a floor model at one of our favorite go-to stores, Arhaus. We easily saved 75 percent on this table by getting the one that they weren't going to carry anymore. The chairs are from Wayfair.  On each side of the fireplace (not seen in the photo, but visible in the Today Show video) are two black tall lanterns flanking the fireplace. I got them at Target. I can't currently find them on their app, but similar versions pop up every year. Get thee to Homegoods! Homegoods and Homesense (same parent company) are my go-to spots for home accessories for virtually every room in the house. You never know what you're going to find, which is part of the fun.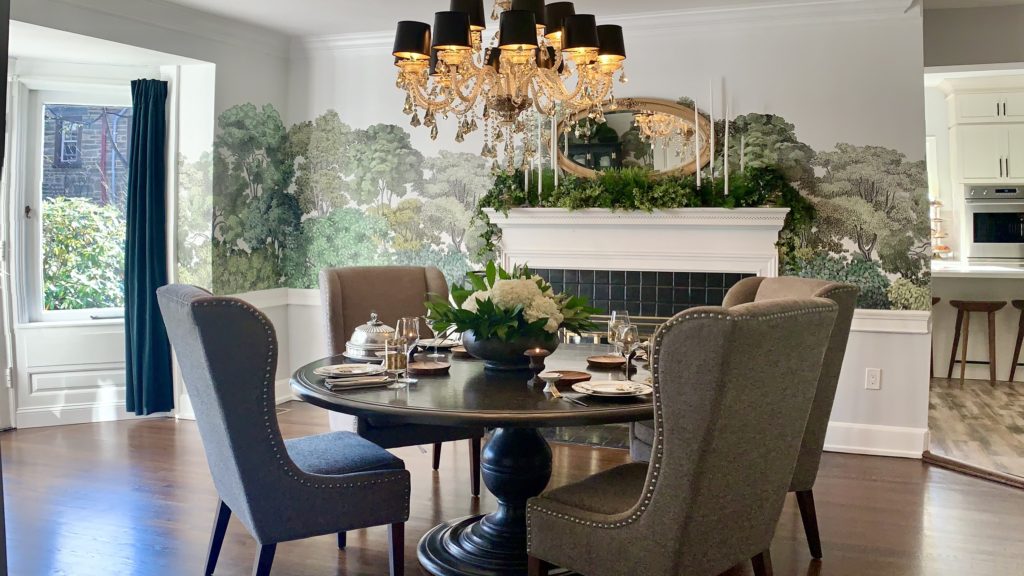 But let's focus on the real WOW element to this room – the wallpaper! This pattern is called Bellewood, by RebelWalls.   As you will soon see, I'm sort of obsessed with their patterns. To me, this room is magical with the added whimsy of this forest pattern. (They also have a more muted version with grays and even one with blues.) I also love that by hanging the paper from the chair rail up, you almost get the feeling that you're standing on a balcony overlooking the forest. I surrounded the whole room with this paper, which I love, but you could easily add the same magical feeling by just doing one feature wall. Their website shows how it can translate to a bedroom or office. You might be intimidated by hanging wallpaper but don't be! This pattern has so much going on that it really looks perfect when it goes up!
ON TO THE GUEST BEDROOM!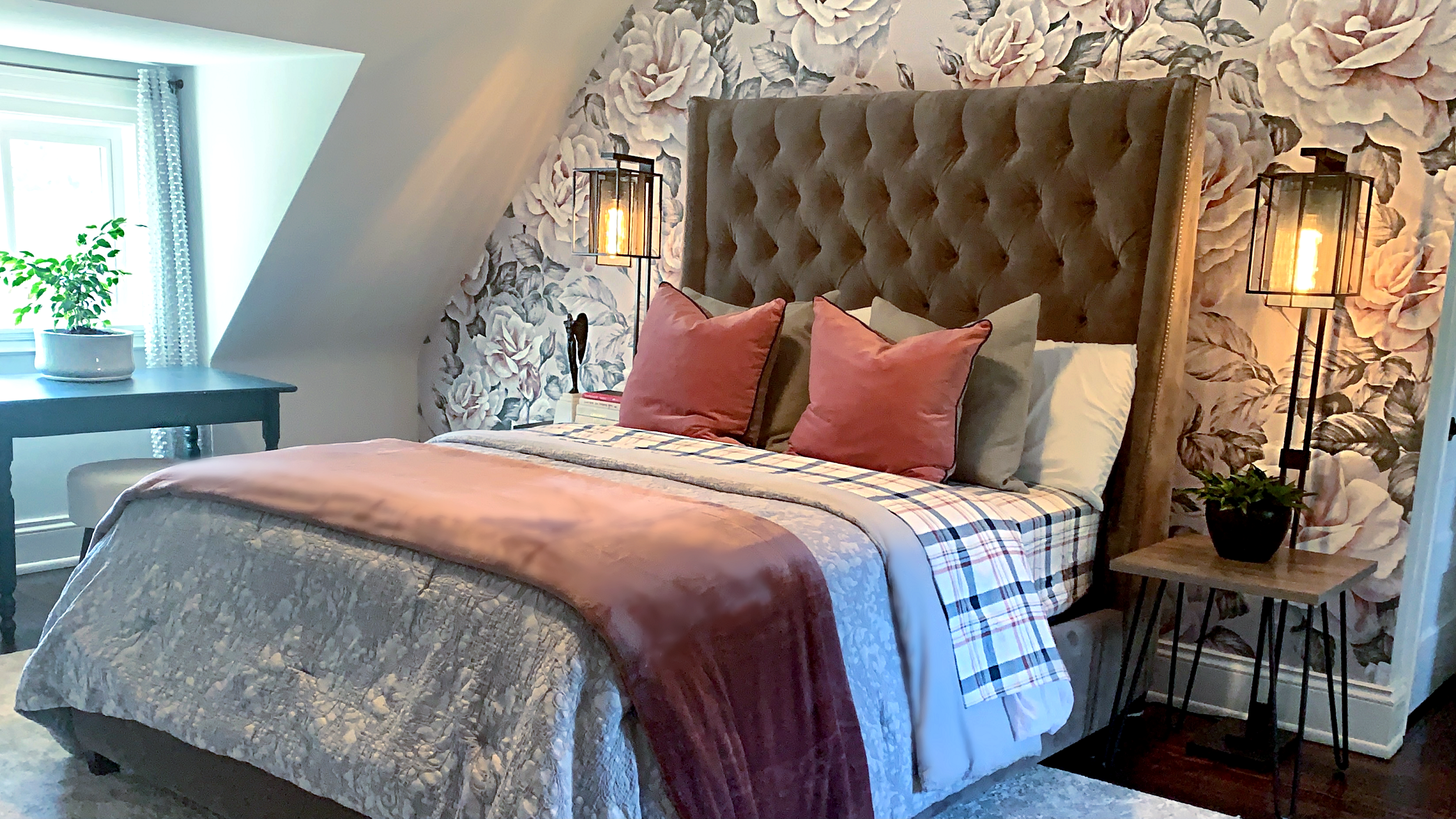 Brian says: The guest bedroom is on the top floor of the house, so it's got roof lines on two sides that make it a tricky space to navigate if you're not careful. The planning of this space alone resulted in a few bonked heads. On the upside, the wall where the bed goes is tall, so it was an obvious place to create some visual pop. Again, the wallpaper takes the spotlight.  Called "Nude Roses," also by RebelWalls, I love this design. Floral wallpaper was 'big' in popularity back in the 1920s when this house was built, but the patterns at that time were smaller, repeated more often, and were often really bold in color. This interpretation is so fun to me! Gone are the small roses in favor of oversized blooms, and the bold colors are more subdued pink and gray hues, with touches of dark green and creamy whites.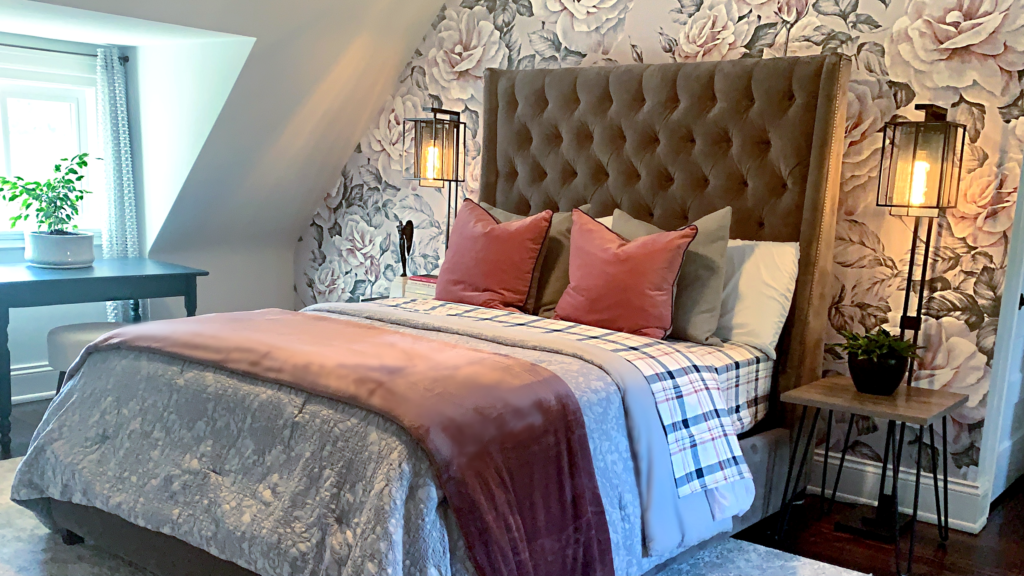 While roses can inherently feel feminine, the plaid bedding (30 dollars for a queen set from Target) are a surprising complement that keeps everything from feeling a little stereotypical. The side tables are mismatched – partly because we didn't want to go too "matchy=matchy" – but also to save some money – the one on the left side (hard to catch here) was from West Elm. Normally $199, we got it for half off as the floor model. The one on the right we found in the trash. It was perfectly fine, clearly someone had just gotten tired of it! Nothing some disinfectant can't fix. That gave us some extra money to spend – To reduce the softeness we went with industrial lamps and edison bulbs. The lamps  are called "Ginyard," from Wayfair. The headboard was on sale at Arhaus. The dark gray takes balances out the pink hues well. The pillows are from Target and Homegoods.
For the 360 degree view of this room, watch the Instagram reel below!  You'll see the dresser, on sale for $599 from Arhaus, a lamp from Homegoods, and mobiles from Amazon which we fashioned into a 'piece of art' that keeps you from hitting your head on the angled wall opposite the bed. Watch the video to check it out!
View this post on Instagram
THE GAME ROOM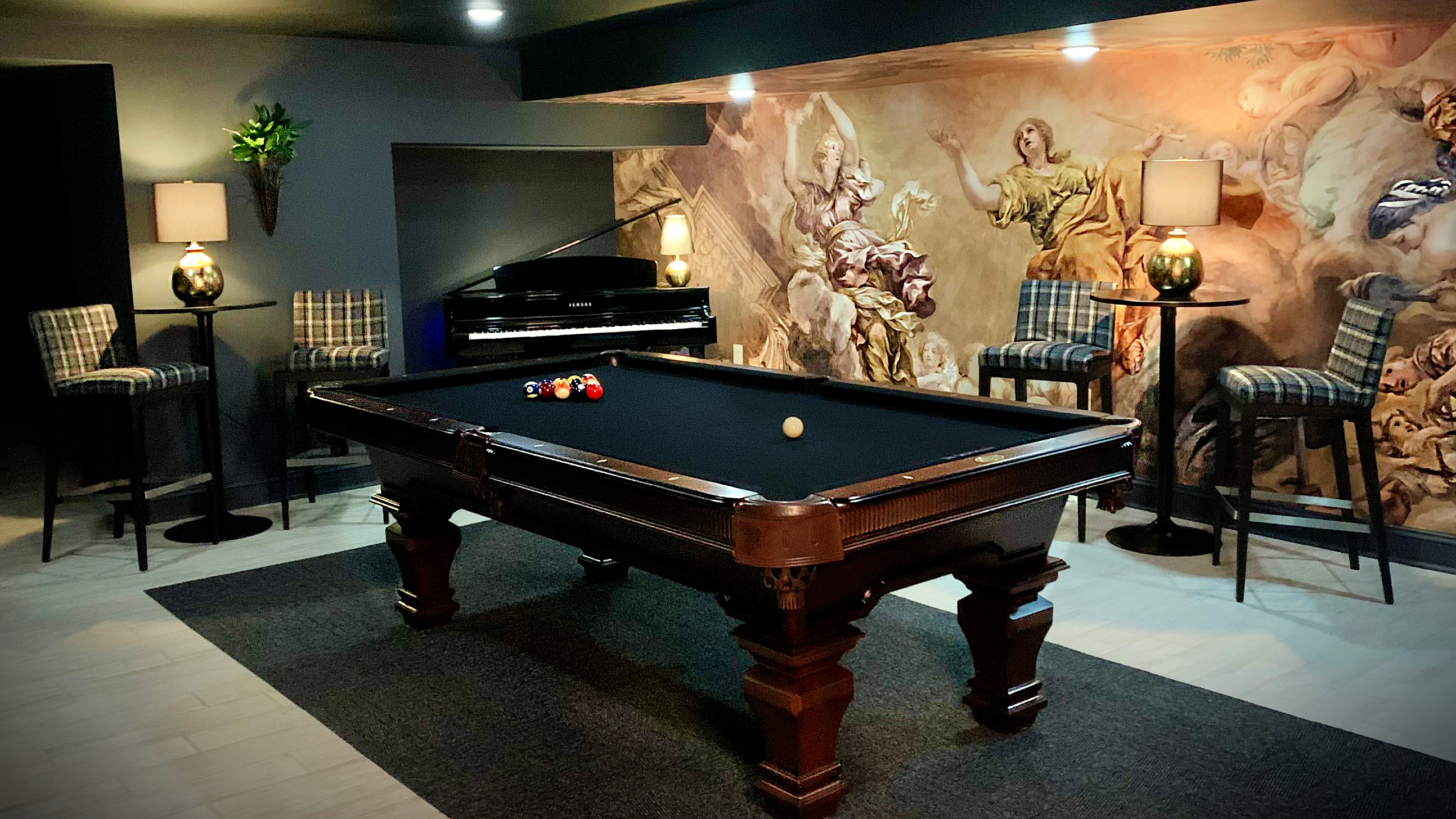 Brian says: The idea for the basement game room was to create a space that feels like a lounge you might find if you went out with friends. When you go into this basement it definitely feels like you've gone someplace unique! Believe it or not, I found out the Today Show had invited me to to record my house tour just a few days in advance, and so we turned around this spot in just THREE days! There was literally no pool table at the time, (although it had already been scheduled to come on Friday, the wallpaper came on Saturday, (as well as the floor tiles!) and by Sunday we were covered in paint and glue and drinking wine to celebrate it's completion! I recorded the final video that Monday.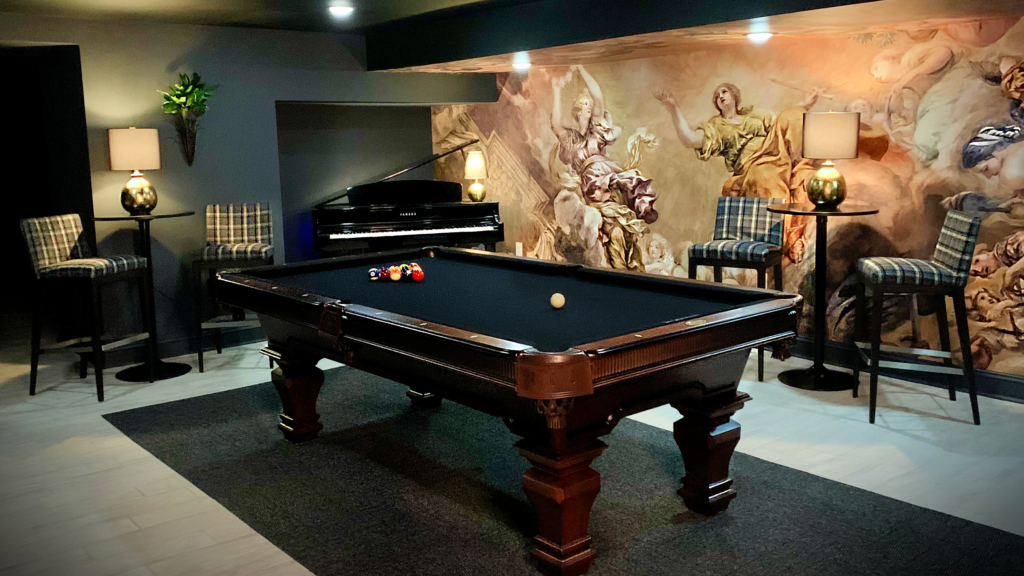 Some people might not think to take a bright basement and make it dark, but that was our first instinct. Clubs are dark and moody, and we wanted this to feel like that. We painted the walls Wrought Iron by Benjamin Moore, which is a very dark gray that seems to take on different hues based on where you paint it and the light that shines on it. We painted the ceiling black. This was Thursday night! Then Friday the pool table came. The floor tiles ("Tweed Indeed" in black by Flor) hadn't arrived until the next day, so when they did arrive I meticulously trimmed four tiles to fit around the pool table legs so it looks like they were there the whole time. I had ordered the pool table online weeks before from PoolTables.com and by sheer coincidence it was scheduled to arrive in time for me to shoot the redesign. This was the second time I have ordered a pool table from them (which was initially scary because you're not even seeing it beforehand!) but it always arrives in perfect condition to your specific selections. I love that the felt jet black and keeps things dark and moody. In the time that has passed since this photo was taken, I've added more of the carpet tiles to make the carpeted floor area darker and bigger.
But once again, the wall mural steals the show in a marvelous way! This mural is called "A Priori" from Rebelwalls, and is inspired by The Allegory of Divine Providence and Barberini Power, a famous fresco by Italian artist Pietro da Cortona. Fitting, because this house is Italian in style on the outside. You can't see it from this photo but the wallpaper runs up part of the ceiling as well. It truly gives the room a wow factor when you enter it. The lamps are from Homegoods, (we've since added some industrial floor lamps for extra mood lighting) and the piano was something we brought with us. The bar tables are from Amazon ($72 each) and the stools we brought with us – they were discards from someone who didn't like their original bright colors and thought they were dated! We covered them ourselves with gray plaid fabric and they're better than they were new!
So there you have it! Hope you enjoyed the rooms and find something you like!
The Pentagon Has Released Official UFO Videos Because 2020 Is The Absolute Worst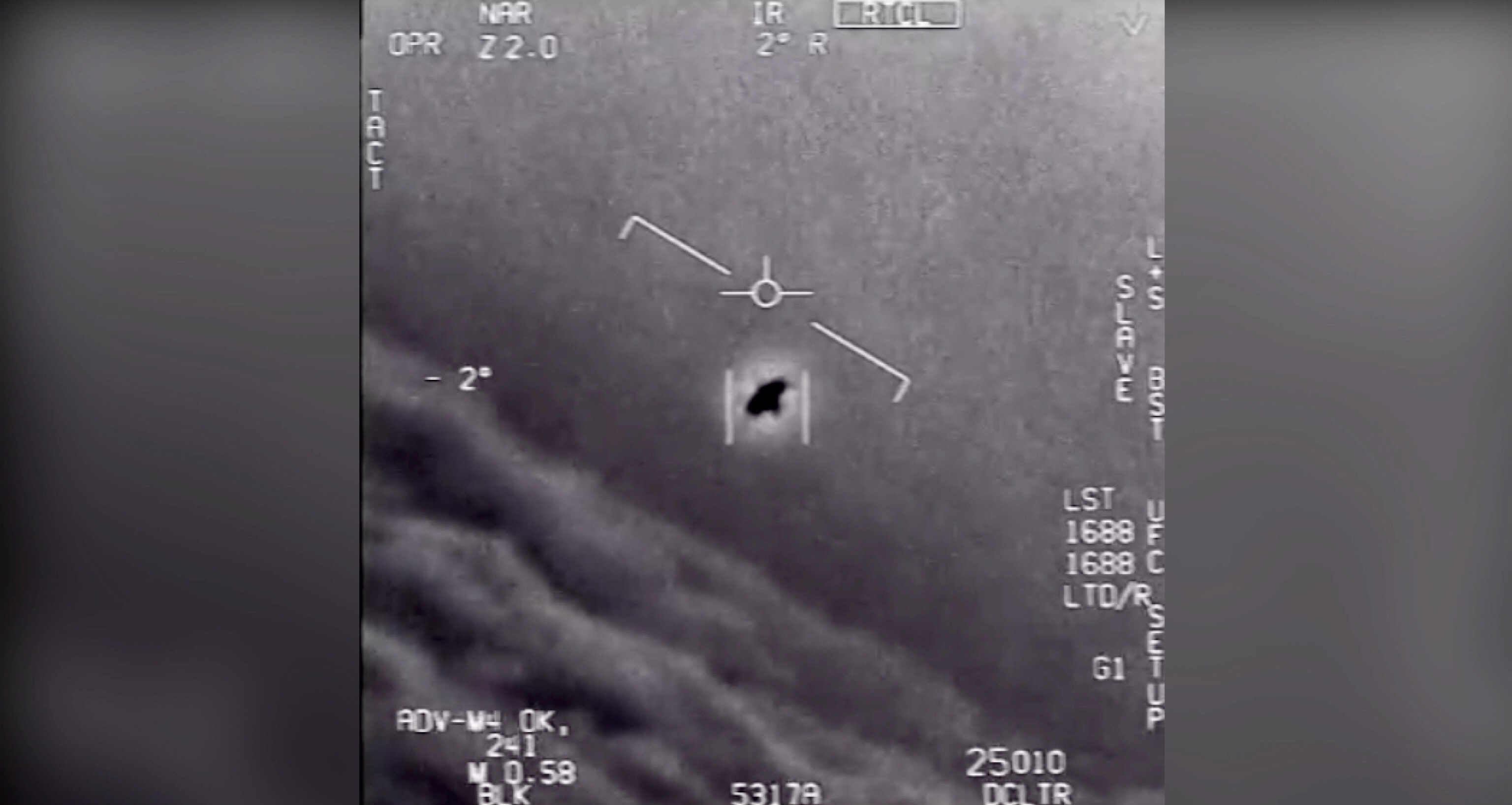 Aren't swarms of locusts supposed to be the next installment of this plague?!
Can we finally declare 2020 as the worst year ever? In January there were fears of a third World War. In February the coronavirus began its rapid spread. In March the world essentially shut down due to social distancing and quarantining. And now in April…with only two days left in the month…we have official government footage of unidentified flying objects. I'm sorry but Milton Bradley's game of "Life" never prepared me for any of this!
The Pentagon has confirmed the authenticity of three videos that have been circulating the web but didn't really answer what is visible in them. In the videos, now declassified by the Department of Defense, navy pilots capture "unidentified aerial phenomena" aka unidentified flying objects aka UFOs! Pentagon officials were sure to state that the videos do not show "any sensitive capabilities or systems," meaning we probably won't be seeing any little green men any time soon.
"Look at that thing!"

Pentagon declassifies three previously leaked top secret U.S. Navy videos of "unexplained aerial phenomena"—and that some believe could show UFOs. https://t.co/YTuvaPHykM pic.twitter.com/YaKImrnl5M

— ABC News (@ABC) April 27, 2020
The first video dates back to November 2004 and the other two from January 2015. Of the Pentagon's confirmation of authenticity, Pentagon spokesperson Sue Gough said the videos were released "in order to clear up any misconceptions by the public on whether or not the footage that has been circulating was real, or whether or not there is more to the videos."
So great. We now know that these strange videos are real but what exactly are we looking at? Well, the Department of Defense says it has no concrete answer as to what might be floating around the skies and has classified the phenomena as "unidentified." And…just like that I suddenly feel less defended.
Social media is having a field day with this revelation of course. The #AliensAreReal has been trending high on Twitter since the news broke. One user referenced Independence Day and said the aliens are "getting ready for July 4th." Of the bad timing, another wrote "Et tu aliens?" And finally one user couldn't help avoid sarcasm and wrote"Where's the space force when you need it?"
Well 2020, you have worked your awful black magic once again. What's next, cat videos get banned from the internet?! You've taken everything else from us!
Like what you read? Follow me on Instagram