POP INTERVIEW: Singer/Songwriter Carter Beckworth Wants to "Lead the Resurgence"
Meeting Carter Beckworth at lunch, I realized through the course of the interview he was unique. He is an artist you haven't heard of whom you probably will hear a lot about when history looks back at his songs. He himself sums his style up, "Aside from the Black Keys, who plays rock 'n' roll that's popular today? The most recent band before them was probably Kings of Leon. The reason it's hard to classify my music for me is because it's meant for a mainstream audience, but its not riding the coattails of anything that's currently breaking ground or any kind of scene that currently exists. It's more my music has a unique personality to it. I could see it sort of changing the landscape."
"There's a song called 'Terrified' on my first solo-album (There is also a version on the Baker Hotel album). I remember writing that song when I was 19 in the bedroom of my first apartment, in Oxford, Mississippi and thinking 'That is a good song!' I've always believed that the best songs almost write themselves. Songs that are written in one sitting tend have a sound that is both cohesive and Satisfied. 'Let's Just Dance' (from the new album) is another one that was written that way. So is 'Humble Heart,'" says the man whose songs have been on the soundtracks of several indie films.
An English major at the University of Texas at Austin, Carter Beckworth learned that once acquired, strong writing skills apply to anything, including song. "Language was the one subject in which I excelled in school, so naturally I got more excited about it than the other required classes. More than anything, I think it facilitated the space and time for me to practice writing. I am fortunate in that I have always knew that I wanted to write, so studying literature and creative writing just provided me with more incentives," he said.
""I've lived a lot of places. I've lived in Mississippi and Alaska in addition to Texas. I used a fishing guide in Alaska. I would play for guests at the lodge I worked at. I guess I started playing in high school, in seventh grade, but I started playing professionally while I was in college in Mississippi. Which is where I lived when I putout my first album in 2007."
His arrival in Austin was preceded by tragedy. "When I was 20. I got stabbed."
"It was a catalyst. I had been playing shows in Mississippi, Tennessee and Georgia for the college crowd. I'm kind of a hippie at heart, and the Deep South wasn't a conducive environment for my style of art. That incident sort of, it sounds cliched to say it, it put everything in perspective, but it made me realize I knew I always wanted to live in Austin. I first started coming here in high school. I knew I wanted to play music. It was a wake up call of sorts. It sort of it scared me bec I thought, 'Anything can happen. Today can be the last day of your life. If you're not doing what you want to do right now, you better have a good reason. I transferred to St. Edward's University for a year and ended up finishing my degree at UT Austin." His degree also included a minor in Spanish.
"From the time that I moved to Austin in 2008 until I graduated in 2010, I was playing with a band called Baker Hotel. We wee gigging full time. I was having to build my schedule and make up classes we put out two albums, played some major festivals and big shows and did a lot of tours around Texas. I started the band with two other guys that went to Ole Miss. We all relocated to Austin except our drummer. We still play shows every once in a while, but everybody got involved with other projects. I released two of my own albums and have done several tours across the country as a deal with the cellist and Steve Bernal. He and I play a lot together as a duo and when we do full band shows, he'll play electric bass."
For women, there's nothing like a guy singing love songs with his guitar. "Girls in particular can relate to my music because it's really sensitive, I think, often vulnerable. More than anything, it's relatable and a lot of times, it's easier for girls to champion a new artist or song and get behind something they like and want to share it, whereas men, while they might relate to it just as much, if it's not necessarily their favorite style of music, they'll be less likely to listen to just the lyrics unless it's their particular taste. They're not gonna be as easily persuaded to listen to some guy singing the song. You've got to have the girlfriends first because then, the guys go where the girls are. Conversely, if you are playing an acoustic show that isn't full, a middle aged man may be willing to listen to the lyrics more than teenage girls, which is one reason I love acoustic shows," he said.
"I have changed styles of music several times. The band was a grunge rock band, while my solo stuff is still rock with a bit of a singer-songwriter element. That being said, I would never change the subject matter. As you grow and change, your outlook on the world changes and your approach to your craft changes and therefore, your style changes with it. As long as I'm able to record my own material, I don't think I'm in danger of drastically altering my sound, and I also think I'm past the point of being someone else. I'm not a Michael Bublé, I'm a songwriter. I'm not like frank Sinatra where I have this whole act and this image. My art and my live show is about the lyrics in the songs I have written. Plus being a live performer from Texas, if that [traditional country music] were a possibility, I would've started playing straight up honky tonk music a long time ago. I would've brought in a fiddle player and started singing about dirt roads and beer. It would've been a lot easier out of Austin.
"The people in the country scene I have written e it's are more Americana artists. Some of my favorite songwriters could be classified as country songwriters, but I liked them because of their songs, not their style of music, so the writers I sought to write with are people whose subject matter is more thoughtful and deeper than your average country song. Some of my favorite country writers are guys you've never heard of who have written songs you have heard of. Most of the country artists I've collaborated with are songwriters that write for other people more than doing their own live shows. While I was born and raised in Texas, I can't related to dumbing down the subject matter to be a pop country artist. I play a rock and roll, Americana, folk music. Whatever you want to call it, but by the subject matter and lyrics alone, there's nothing country about it. I think Keith Urban could record one of my songs, and it could be a country smash hit. When you listen to my new album you're gonna hear more rock. Kid Rock has done a lot of stuff I would call Americana, a lot of people would call country. It's Southern rock."
In the end, he says, "I'm not out to define a new genre. I just think my music has something to offer the music listening world that there isn't a whole lot out there. I'm not putting out music that sounds like any popular music, and that's not to say it doesn't sound like any pop music in general, but I do feel like with all the the tech and club music, the resurgence in organic rock music is inevitable. I would like to be one of the people that leads that resurgence."
HILARIOUS VIDEO: This Man's Wheel Of Fortune Introduction Will: A) Make him a viral star. B) Lead to a divorce. C) Potentially both.
Blair Davis started out nice enough. Then he was asked about his family…

We appreciate a stark sense of humor. 😅 Last night's contestant Blair had us all laughing. pic.twitter.com/jwVXHSNWH0

— Wheel of Fortune (@WheelofFortune) October 15, 2019
He's clearly kidding, but ouch!
"I've been trapped in a loveless marriage for the last 12 years to an old battle-ax named Kim. She cursed my life with three stepchildren: Star, RJ, and Ryan, and I have one rotten grandson."
I'm sure this family loves his crazy sense of humor, and Wheel Of Fortune scores a great PR moment.
The College Admissions Scandal Now Has A Sexy Halloween Costume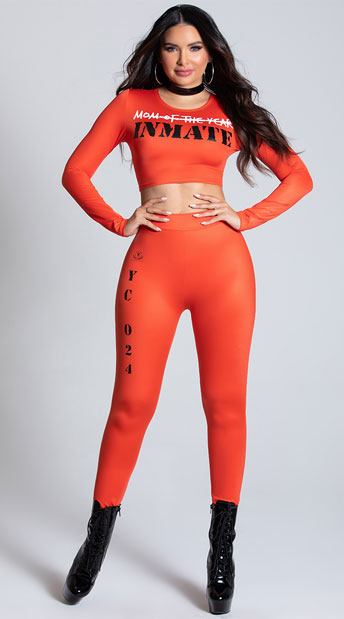 If there's one thing we can expect each year, it's that a current news story will be translated into a comical Halloween costume. In this case, the college admissions scandal did not go unnoticed by costume maker Yandy, who knows a thing or two about creating  sexualized costumes based on news events. Check out the costume being branded as "YANDY COLLEGE SCANDAL COSTUME."
A take on the mothers involved in the scandals (Felicity Huffman has already been sentenced, and Lori Loughlin awaits her hearings) the outfit is a tight fitting prisonwear look. A sleek reddish orange crop top reads "INMATE" with "Mom of The Year" crossed out.
Currently 69.95, the company also knows how to get PR!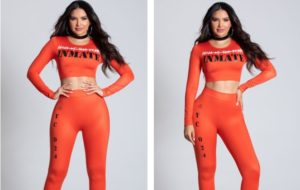 Kygo and Whitney Houston's "Higher Love" Video is Full of 80's Fun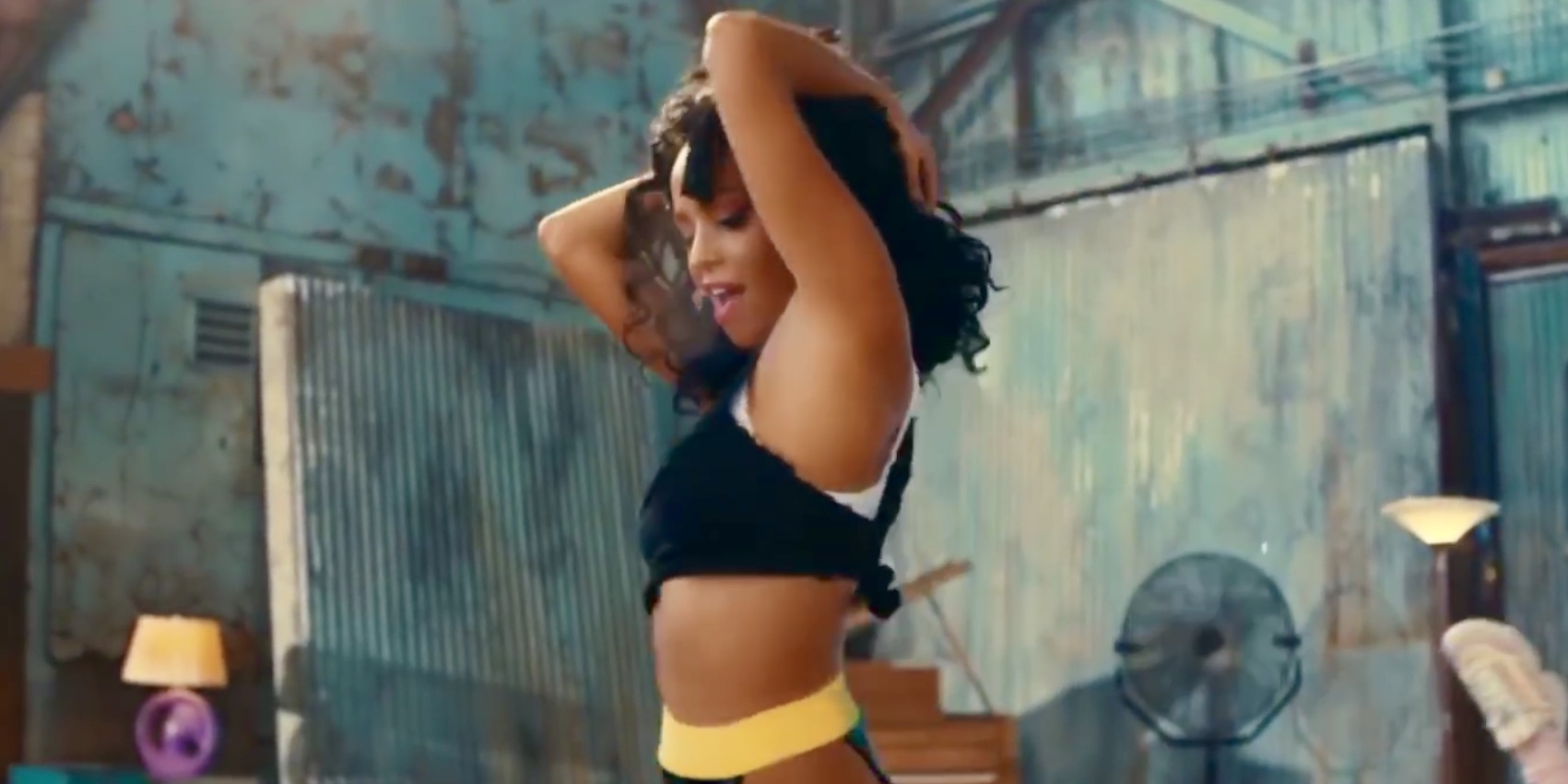 An eighties inspired dance number, a gorgeous ensemble, and the incomparable Whitney Houston come together for a fun flashback in the new video!
Houston had often performed Steve Winwood's "Higher Love" during her concert tour, and recorded the song thirty years ago. This summer, a new version re-mixed by Kygo hit the top of the dance charts.
The video stars Vanessa Morgan and Mason Cutler, both of whom are absolutely stunning to look at. See for yourself!