POP INTERVIEW: Singer/Songwriter Carter Beckworth Wants to "Lead the Resurgence"
Meeting Carter Beckworth at lunch, I realized through the course of the interview he was unique. He is an artist you haven't heard of whom you probably will hear a lot about when history looks back at his songs. He himself sums his style up, "Aside from the Black Keys, who plays rock 'n' roll that's popular today? The most recent band before them was probably Kings of Leon. The reason it's hard to classify my music for me is because it's meant for a mainstream audience, but its not riding the coattails of anything that's currently breaking ground or any kind of scene that currently exists. It's more my music has a unique personality to it. I could see it sort of changing the landscape."
"There's a song called 'Terrified' on my first solo-album (There is also a version on the Baker Hotel album). I remember writing that song when I was 19 in the bedroom of my first apartment, in Oxford, Mississippi and thinking 'That is a good song!' I've always believed that the best songs almost write themselves. Songs that are written in one sitting tend have a sound that is both cohesive and Satisfied. 'Let's Just Dance' (from the new album) is another one that was written that way. So is 'Humble Heart,'" says the man whose songs have been on the soundtracks of several indie films.
An English major at the University of Texas at Austin, Carter Beckworth learned that once acquired, strong writing skills apply to anything, including song. "Language was the one subject in which I excelled in school, so naturally I got more excited about it than the other required classes. More than anything, I think it facilitated the space and time for me to practice writing. I am fortunate in that I have always knew that I wanted to write, so studying literature and creative writing just provided me with more incentives," he said.
""I've lived a lot of places. I've lived in Mississippi and Alaska in addition to Texas. I used a fishing guide in Alaska. I would play for guests at the lodge I worked at. I guess I started playing in high school, in seventh grade, but I started playing professionally while I was in college in Mississippi. Which is where I lived when I putout my first album in 2007."
His arrival in Austin was preceded by tragedy. "When I was 20. I got stabbed."
"It was a catalyst. I had been playing shows in Mississippi, Tennessee and Georgia for the college crowd. I'm kind of a hippie at heart, and the Deep South wasn't a conducive environment for my style of art. That incident sort of, it sounds cliched to say it, it put everything in perspective, but it made me realize I knew I always wanted to live in Austin. I first started coming here in high school. I knew I wanted to play music. It was a wake up call of sorts. It sort of it scared me bec I thought, 'Anything can happen. Today can be the last day of your life. If you're not doing what you want to do right now, you better have a good reason. I transferred to St. Edward's University for a year and ended up finishing my degree at UT Austin." His degree also included a minor in Spanish.
"From the time that I moved to Austin in 2008 until I graduated in 2010, I was playing with a band called Baker Hotel. We wee gigging full time. I was having to build my schedule and make up classes we put out two albums, played some major festivals and big shows and did a lot of tours around Texas. I started the band with two other guys that went to Ole Miss. We all relocated to Austin except our drummer. We still play shows every once in a while, but everybody got involved with other projects. I released two of my own albums and have done several tours across the country as a deal with the cellist and Steve Bernal. He and I play a lot together as a duo and when we do full band shows, he'll play electric bass."
For women, there's nothing like a guy singing love songs with his guitar. "Girls in particular can relate to my music because it's really sensitive, I think, often vulnerable. More than anything, it's relatable and a lot of times, it's easier for girls to champion a new artist or song and get behind something they like and want to share it, whereas men, while they might relate to it just as much, if it's not necessarily their favorite style of music, they'll be less likely to listen to just the lyrics unless it's their particular taste. They're not gonna be as easily persuaded to listen to some guy singing the song. You've got to have the girlfriends first because then, the guys go where the girls are. Conversely, if you are playing an acoustic show that isn't full, a middle aged man may be willing to listen to the lyrics more than teenage girls, which is one reason I love acoustic shows," he said.
"I have changed styles of music several times. The band was a grunge rock band, while my solo stuff is still rock with a bit of a singer-songwriter element. That being said, I would never change the subject matter. As you grow and change, your outlook on the world changes and your approach to your craft changes and therefore, your style changes with it. As long as I'm able to record my own material, I don't think I'm in danger of drastically altering my sound, and I also think I'm past the point of being someone else. I'm not a Michael Bublé, I'm a songwriter. I'm not like frank Sinatra where I have this whole act and this image. My art and my live show is about the lyrics in the songs I have written. Plus being a live performer from Texas, if that [traditional country music] were a possibility, I would've started playing straight up honky tonk music a long time ago. I would've brought in a fiddle player and started singing about dirt roads and beer. It would've been a lot easier out of Austin.
"The people in the country scene I have written e it's are more Americana artists. Some of my favorite songwriters could be classified as country songwriters, but I liked them because of their songs, not their style of music, so the writers I sought to write with are people whose subject matter is more thoughtful and deeper than your average country song. Some of my favorite country writers are guys you've never heard of who have written songs you have heard of. Most of the country artists I've collaborated with are songwriters that write for other people more than doing their own live shows. While I was born and raised in Texas, I can't related to dumbing down the subject matter to be a pop country artist. I play a rock and roll, Americana, folk music. Whatever you want to call it, but by the subject matter and lyrics alone, there's nothing country about it. I think Keith Urban could record one of my songs, and it could be a country smash hit. When you listen to my new album you're gonna hear more rock. Kid Rock has done a lot of stuff I would call Americana, a lot of people would call country. It's Southern rock."
In the end, he says, "I'm not out to define a new genre. I just think my music has something to offer the music listening world that there isn't a whole lot out there. I'm not putting out music that sounds like any popular music, and that's not to say it doesn't sound like any pop music in general, but I do feel like with all the the tech and club music, the resurgence in organic rock music is inevitable. I would like to be one of the people that leads that resurgence."
Hold Onto Your Bucket, You Can Visit Colonel Sanders on KFC Island In 'Animal Crossing'
Kentucky. Fried. Crossing.
If I told you to live in a tent for a few days, pull a bunch of weeds from the lawn and chop down a few trees for lumber that you will then have to turn into tools with your own two hands all while trying to pay off a ridiculous debt that you unwittingly acquired you might think I'm into corporal punishment. Yet, it's all those things that make Animal Crossing: New Horizons on the Nintendo Switch so damn addictive.
The life simulation video game has grown unbelievably popular over these last few months and it's probably because the game provides a great creative outlet that can keep players entertained for hours while remaining home during quarantine. Even some celebrities have jumped on the virtual bandwagon with Elijah Wood, T-Pain, Chrissy Tiegen and more all sharing their obsession on social media. Well scoot over movie stars, big time singers and supermodels because the biggest household name just changed the game (not literally as I'm sure the game has some sort of coding that prevents actual changes to be made but metaphorically the pun works). That's right, Colonel Sanders has an avatar and an island and is ready to serve up some chicken.
Earlier this week, the KFC Philippines Twitter account revealed the news that "KFC Island" would be opening for lucky visitors. To get to the island you have to message their Facebook account with the #KFCVirtualStore for a chance at getting a Dodo Code. Because I am one of the many who have fallen in love with this game I know that a Dodo Code is a unique code which can be shared with select visitors to grant them access to your island. I feel like such a gamer. On the Kentucky fried island there is a restaurant that is replicated to look like the real thing! There's booths, a kitchen and even promotional posters. Oh and as if this wasn't exciting enough, if you find the Colonel hiding somewhere on the island you could win an 8-piece chicken bucket from KFC…in real life! (The promotion is only valid for players in the Philippines.)
Visits to the island are only available until June 20th, so be sure to hop on this finger lickin' experience while you can!
Like what you read? Follow me on Instagram
Stan Lee Said The Only Way To Combat A Racist Is To 'Expose Them' In A Periodical From Over Fifty Years Ago
A man truly ahead of his time.
The concept of finding strength within a community has never been more pressing than it is right now. Our country is divided in so many ways but amongst the fractures you can see groups joining together in an effort to show that unity is always stronger than division. If anyone can attest to that belief it was the ingenius comic book writer, editor, publisher, and producer Stan Lee.
The man responsible for the Marvel universe we know and love today was behind a number of comic books which featured outcasts who looked beyond their differences in order to unify and protect the greater good. A concept our world might need reminding of. In the back of the comics Lee wrote for was a section entitled "Stan's Soapbox," where the wordsmith would write short articles expressing some things that were on his mind. One soapbox article from 1968 has resurfaced and gone viral because of how eerily fitting it is for today.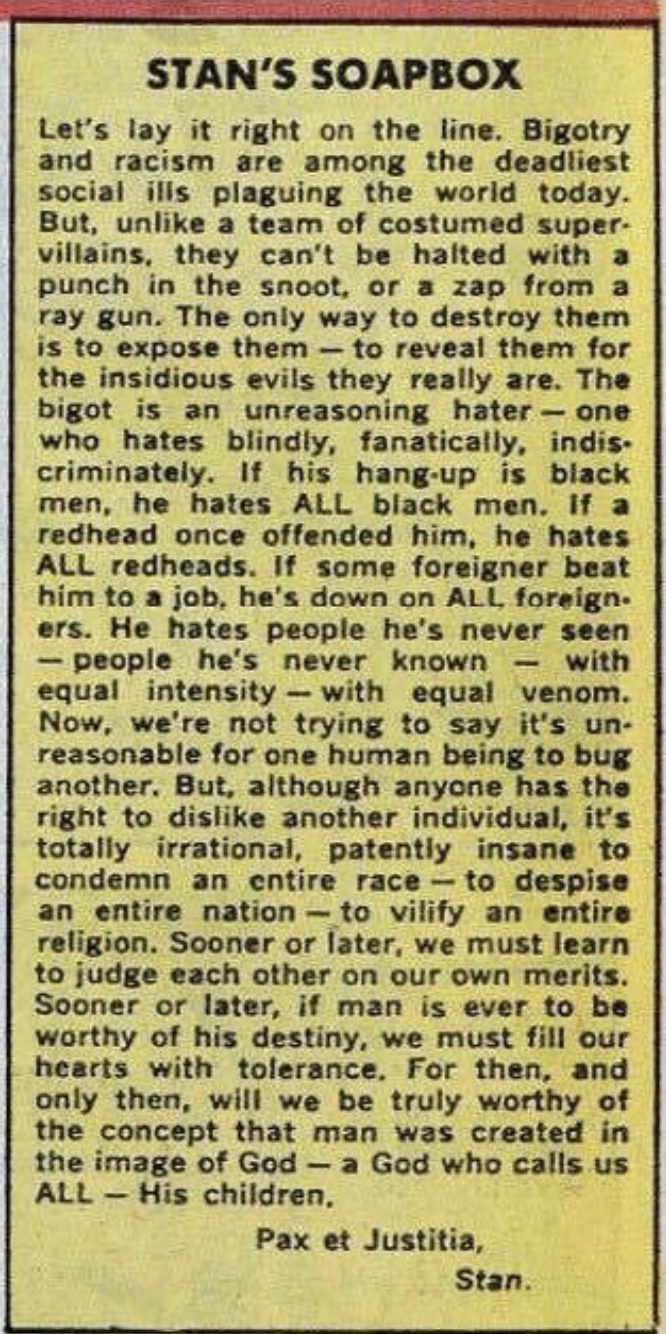 In the article Lee calls bigotry and racism "the deadliest social ills plaguing the world today." But unlike a super villain from one of his comics, racism and bigotry cannot be defeated by a "punch in the snoot, or a zap from a ray gun," he says, rather "the only way to destroy them is to expose them – reveal them for the insidious evils they really are." The comic book creator suggests the only way for our world to continue peacefully is to "judge each other on our merits" and to "fill our hearts with tolerance."
Along with the soapbox article, a clip from an interview with Larry King has gone viral with Lee once again wishing to see more tolerance in the world. When asked what the one thing he would change about the world Lee responded "I'd make people not hate each other because of their religion, because of their nationality, because of any stupid reason. If we can abolish hatred, we live on this gorgeous planet."
One thing you would change about the world?

Stan Lee: " I'd make people not hate each other because of their religion, because of their nationality, because of any stupid reason. If we can abolish hatred, we live on this gorgeous planet." pic.twitter.com/lxHzUWSkCL

— Sílvia (@JustMe_Silvia) June 9, 2020
Why couldn't he be the celebrity that ran for president!? Hopefully the villains Lee warned us about over fifty years ago will soon seem like a thing in the past and that beautiful, tolerant world he dreamed of will become a reality.
Like what you read? Follow me on Instagram
Lizzo's Performance Of 'Pomp And Circumstance' Will Make Any Graduate Feel Good As Hell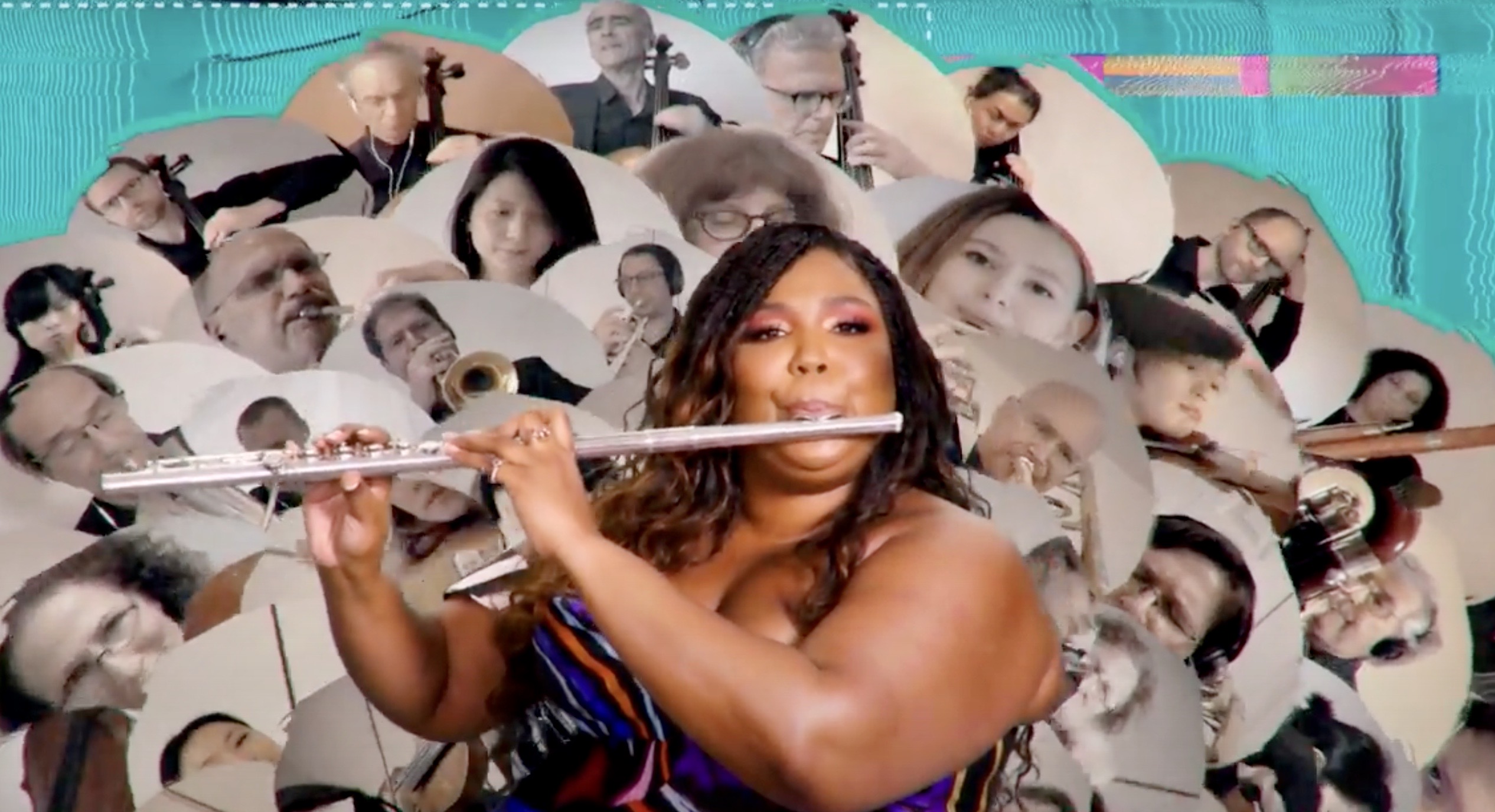 She really is a hoot with a flute.
Ah graduation, that special moment that every student dreams about where they get dressed up in an unbreathable gown and an unflattering cap and sit outside for hours somewhere on a great lawn in the middle of a heat wave just to receive that special piece of paper that says they have completed a super long chapter in their lives. While the ceremonies are not always the most exciting time ever, to be denied the chance to walk across a stage and turn the tassel on your cap due to the pandemic guidelines does seem like a real bummer. To help remedy the graduation blues of 2020, YouTube Originals live-streamed an event called Dear Class Of 2020 which featured some huge stars offering their support. One of those stars happened to be Lizzo who put her own spin on the classic graduation march "Pomp and Circumstance."
In her performance, Lizzo played the iconic two-minute section of the song that is most widely associated with graduations. After about 40-seconds, the "Juice" singer shares her congratulations to the graduating class and then lets them know it's time to "turn it up." With that, Lizzo is virtually accompanied by the New York Phil Harmonic as they jam out (is it still called jamming out when it's classical music?) to create a truly memorable performance. The performance is visually stunning showcasing some cool digital effects but what truly stands out in the video are the images of black graduates wearing their caps and gowns as they participate in Black Lives Matter protests that are happening throughout the nation. The entire video suddenly becomes much more hopeful as it becomes clear that the future of our nation rests in the hands of these courageous, intelligent and strong young people.
The video ends with a photo of Deveonte Joseph taken by photographer Nathan Aguirre, which went viral when first posted. In the photo, Joseph is wearing his graduation cap and gown on a street in St. Paul, Minnesota, with the lights of a police set up glowing behind him.
Check out the entire inspirational video below!
Like what you read? Follow me on Instagram