Nick Lachey Rewrites Hit 98 Degrees Song Amid Coronavirus Quarantine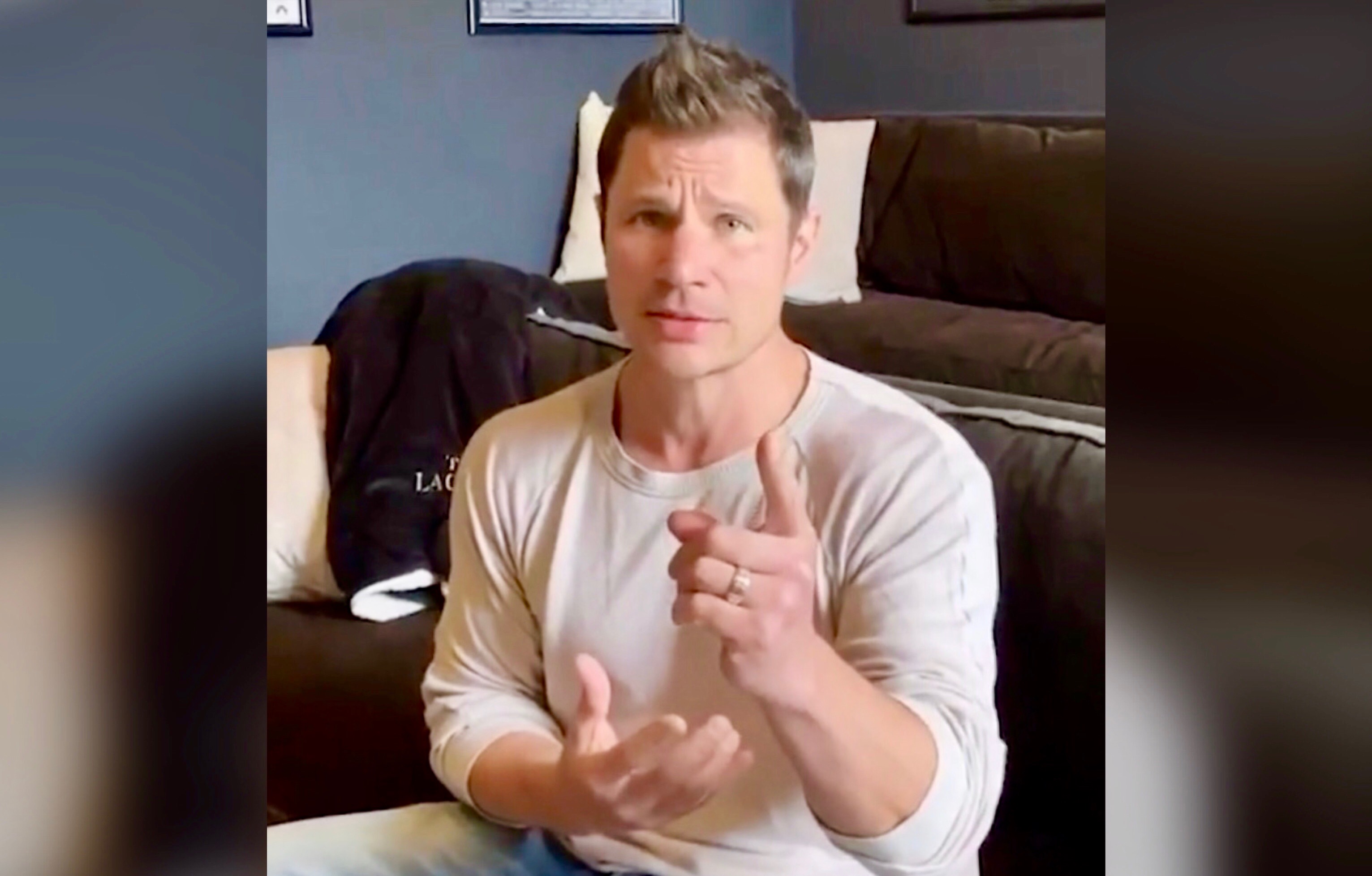 This video will remind you of two things: Nick Lachey is actually a gifted singer. And at age 46 he is still quaran-FINE!
Picture it. The year is 1998 and the boy band craze is at its peak. You turn on the radio. Your ears perk up as you hear the four beautiful men of 98 Degrees sing about the torture of having to let down their side pieces so they can try to be true to the girlfriends that love them. The word "coronavirus" has never even been uttered. It was a simpler time.
Fast forward to 2020 when it seems like you can't turn on the tv without some sort of news break interrupting your scheduled programming to warn you about the latest dangers of the viral pandemic. With the spread of the virus ever growing, celebrities have been taking to social media to urge fans to isolate themselves so we can all stay safe and healthy. Nick Lachey, 98 Degrees heartthrob and host of the new dating show Love Is Blind, is the latest Hollywood star to jump on this bandwagon.
Lachey took to Instagram to debut his updated rendition of "The Hardest Thing," the boy band's certified gold single. "Yeah, it's the hardest thing we've ever had to do. To stay stuck in our house, just watching all this bad news. It's the hardest thing we've ever had to try. To stay six feet apart when we go outside," the blue eyed beaut sings. "Nothing to do, no sports on TV. Washed my hands so much that they started to bleed. Damn this quarantine. It's the hardest thing we've ever had to do. But in the end it's worth it. Together we will get through" he continues. The video ends with Lachey reminding fans to stay safe before being jumped on by his enthusiastically adorable son.
Click below to see the full video!
View this post on Instagram
Like what you read? Follow me on Instagram
Amber Riley Performs Beautiful Tribute To Naya Rivera On 'Jimmy Kimmel Live!'
RIP.
Whenever Amber Riley and Naya Rivera combined their insurmountable talents on the hit show Glee there was an almost tangible magic that left fans in awe of the powerhouse duo. Playing Mercedes Jones and Santana Lopez respectively, the two characters may not have always seen eye to eye but when they joined you knew you were in for a memorable performance. It is sad to think that we will never get another "River Deep, Mountain High" or "The Boy Is Mine" moment after Rivera's passing last month but there is something special in knowing Riley will carry the torch for her fallen costar forever.
On Thursday night introduced by guest-host Lil Rel, Riley virtually appeared on Jimmy Kimmel Live!  to perform a new song from her EP entitled "A Moment" which was dedicated to Rivera. "Not too long ago we both lost a really amazing friend in a tragic accident and we both will miss her forever," said Lil Rel. The performance is displayed in black and white and features Riley singing in front of a montage of photos of her former co-star. It is truly stunning.
Check out the tribute below.
Like what you read? Follow me on Instagram
You Will Have Hearts In Your Eyes When You See Cardi B's New Hair Do
Wait till you see her WAP (Wonderfully Artistic Pigtails)
Cardi B has never shied away from a bold look and her latest hair do is proof of that.
The 27-year-old "WAP" singer…song of the year IMO…took to Instagram Tuesday night to show off her pink, heart-shaped pigtails and people are loving the look. In the short video Cardi asks fans if they would "go to the club with your hair like this" and I think we can all agree that this look would definitely turn heads at the clurb.
https://www.instagram.com/p/CEVgLpyAHCp/?utm_source=ig_embed&utm_campaign=embed_video_watch_again
The artistic hair do was crafted by Cardi's long time longtime stylist Tokyo Stylez and took at least three hours to complete. Fans commented about how beautiful the unique hairstyle is but questioned how the rapper was going to sleep that night. Let's hope those pigtails can be twisted off and be thrown on the nightstand.
Like what you read? Follow me on Instagram
Check It Out, Joe Jonas Has Shocked His Fans With His New Look
I'm a sucker for his new do.
It doesn't matter if you are more of a "Nick" or a "Kevin" or a "Joe" when it comes to loving the Jonas Brothers. All that matters is that you all agree with me that Joe is obviously the most attractive of the three brothers and that's just a fact. I'm sorry but I don't make the rules.
The 31-year old stunned fans today earlier today when he debuted a shocking new look on his Instagram. Sporting a black t-shirt and those signature dark, furry-Murray eyebrows, Joe flashed his new platinum blond buzzcut. I know I might be in the minority here but I do love when these Hollywood hotties switch it up and do the blond thing. I loved it on Adam Levine. I loved it on Zac Efron. I even found myself oddly drawn to the OG platinum stud, James Michael Tyler aka Gunther from Friends.
Perhaps the new do is a part of Joe's daddy-makeover as he and his wife, Sophie Turner, recently welcomed their first child, Willa. A source told ET "Sophie and Joe have named their daughter Willa. The couple's bond has gotten even stronger since the addition of their daughter. Although circumstances are different right now because of the [coronavirus] pandemic, Joe was there for the birth of his daughter. The couple is happy they now have time to spend at home with their daughter and get used to their new life together."
Be still my heart.
Like what you read? Follow me on Instagram