This Makeup Artist's Transformations Into Joe Exotic and Carole Baskin Are Wild!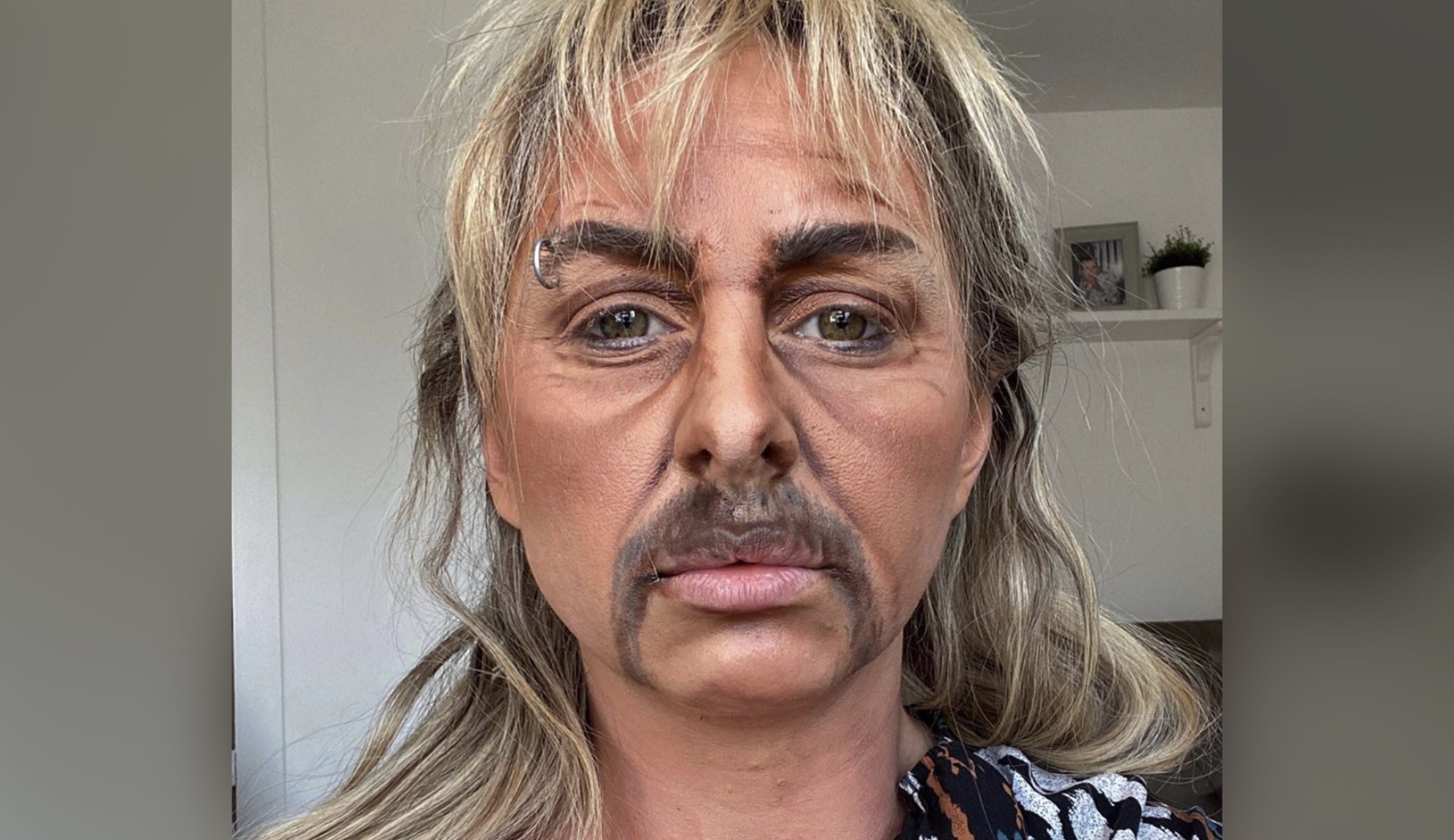 Liss Lacao proves there is no need to cover-up your Tiger King obsession.
There is a fever running ramped throughout the world and I am not talking about one related to coronavirus. The Netflix documentary series, Tiger King, has swept the nation, hopped over international borders and is now taking the world by storm. Millions of people have binged the series and it trends on social media daily. Well makeup artist, Liss Lacao, has taken her fandom to the next level and transformed herself into the two most polarizing stars from the series. That's right, I'm talking arch enemies: Joe Exotic and Carole Baskin.
Liss has been a makeup artist for five years and spent seven and a half hours of her lockdown completing the transformations. In an interview with Fabulous, Liss said:
"I loved the 'Tiger King' documentary as the whole series and how it all unfolded is crazy. Although it's upsetting about the animals, the story line was so unbelievable it was almost funny! I chose those faces to make myself over as it's what captured my attention the most, and after watching them on tv for a while I found it easy to recreate."
Liss' profession grew out of a passion that sparked around the age of 12 when she started practicing face painting and make up at school fairs. Of the two transformations, Liss said Carole's was more difficult and you know somewhere right now Joe Exotic is screaming obscenities in agreement.
Just a reminder that Joe Exotic is currently serving 22 years for for 17 counts of animal abuse and 2 counts of murder for hire after allegedly scheming to murder Carole Baskin. No word on how either of them feel about potentially becoming the number one Halloween costume this year.
Like what you read? Follow me on Instagram
An Olympian Swam A Full Pool Lap With A Glass Of Chocolate Milk On Her Head And Everyone's Impressed
Olympic counsel, please consider making this an official sport.
In order to become an Olympic athlete you have to train for years. Push your mind and body to their physical limits. Strive to never give up. And most importantly, learn to balance a glass of chocolate milk on your head. Ok that last one isn't really necessary for the Olympics but makes for an epic social media post.
Five-time, Olympic gold winner Katie Ledecky took to Instagram to share a video of herself completing an entire pool lap with a glass of chocolate milk balanced on her head. The pro-swimmer used a snorkel to help her breathe as she Nesquick-ly crossed the pool without spilling a single drop! Calling the lap "possibly one of the best swims of [her] career,"  Ledecky shared that the swim was part of the #GotMilkChallenge on TikTok. The challenge's guidelines are pretty simple: "Got milk? Time to show us what else you got! Step 1: Pour a glass of milk. Step 2: Do something AMAZING–and don't spill! Step 3: Sip to prove you still 'got milk'." I feel bad for whoever tries to follow this stunt.
The 15-time world champion swimmer is no stranger to chocolate milk. Back in 2019, Ledecky partnered with Built by Chocolate Milk and has shared the benefits of the drinking the choccy drink after intense training. As for the swim that has social media buzzing, Ledecky said "I was like freezing in my core so hard because I can't move, I had to stay so still." Oh, so that's what a core is for!
To follow Olympian Katie Ledecky on social media click here!
Like what you read? Follow me on Instagram
Giant Asparagus Stalk Causes Quite The Stir On Social Media
Who would have asparaguessed?
Over the weekend, photos of a giant asparagus plant began circulating Twitter with many users stunned to learn that the plant can grow to be the size of a small tree. I was one of those users because I've never seen an asparagus stem longer than a fork…I've never seen a bunch that wasn't ridiculously overpriced either, might I add. The sad reality is that most of us eat things everyday with absolutely no idea as to how they are  grown and farmed. I can honestly say I was always more preoccupied by the thought of the funny smelling, post-asparagus-eating pee that it never occurred to me that these plants could become overgrown. And overgrown is a bit of an overstatement.
The stem in the picture looks to be over 8 feet tall. My pee would smell funny for a whole year after eating that. The photos have sparked a debate on Twitter with some saying the plants showcased are not asparagus but agave plants instead. While asparagus stems can grow to be about 5 feet tall, agave plants can grow much taller and even bloom flowers. I have zero interest in horticulture but plenty of interest in what's funny so I just collected a few of the funniest reactions to the asparagus/agave photo here:
— phil (@advicefromphil) July 25, 2020
when it's asparagus season pic.twitter.com/4pWg9WkcHj

— marsh of sleep (@marshofsleep) July 25, 2020
Me planting asparagus in my backyard to to see how tall it gets pic.twitter.com/hNRi0bbPa0

— Dolores Ball (@sauce4urawesome) July 25, 2020
It gonna be the asparagus from kids next door episode pic.twitter.com/J33pPom6Jc

— fred die (@freddie_hatch) July 25, 2020
Idk why this information is stressing me out but it is pic.twitter.com/z79UFZqOjn

— MaliTheeFeminist (@SomaliaGeorge) July 25, 2020
Like what you read? Follow me on Instagram
'The Late Show With Stephen Colbert' Parodied Dolly Parton To Create A Theme Song For All The 'Karen's' Out There
These "Karens" are workin' 9 to 5 on our last nerve.
By now you probably know that the term "Karen" is typically reserved for white women who throw tantrums over things that don't really require tantrum throwing. Amid the coronavirus pandemic, the "Karens" have been especially vocal about not wanting to wear a mask usually citing constitutional freedom as the reason. Over the passed few weeks we have seen headlines about these women coughing on pro-maskers, verbally assaulting eye witnesses and even destroying property all to prove the point that they can and will do whatever they want. It's annoying. Well, The Late Show with Stephen Colbert took the these suburban lemons and turned them into a hilarious pitcher of lemonade with a parody of the Dolly Parton classic "Jolene," appropriately renamed "Karen."
The PSA begins with actual news footage covering the stories of anti-maskers before cutting to a vintage clip of Parton in a pink jumpsuit with an anonymous singer belting out the altered lyrics which poke fun at all the angry scene makers. "You go on rants at Trader Joe's, sit on the ground at the Costco, say wearing masks is the devil's law," the unseen singer croons. "Karen, Karen, Karen, Karen, please just wear a mask you big dumbass" she continues to implore.
Like all good satire, the video is hilarious but also contains an important message. The CDC as well as countless medical professionals have all agreed that wearing a mask is the best way to prevent the spread of the ongoing coronavirus pandemic.
Wear a mask! And check out the funny video below!
Like what you read? Follow me on Instagram