This Impression Of Moira Rose From 'Schitt's Creek' Is Unbelievably Spot On!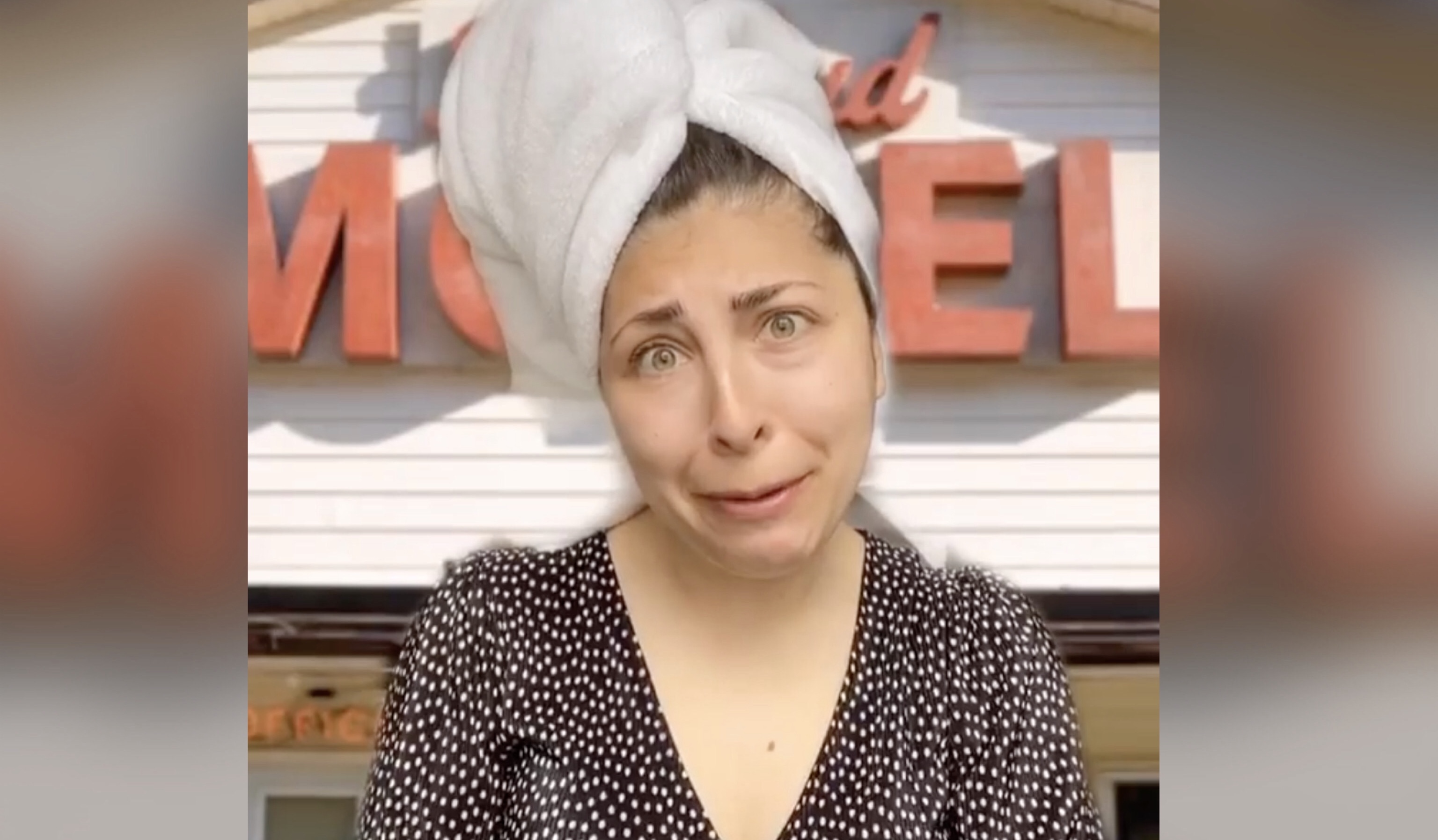 Prepare to have you wigs snatched…right off the wall.
The beloved, Canadian sitcom Schitt's Creek, wrapped up its final episode last week and the void left in our hearts has us feeling downright schitty. Over the course of the show's six seasons fans fell in love with a bevy of characters all who resided in a wonderfully charming yet podunk little town. Perhaps the most captivating of all the characters, however, was Catherine O'Hara's Moira Rose. Moira is known for her extravagant, black and white, designer wardrobe, her impressive collection of wacky wigs and most importantly, her indistinguishable, overly enunciated, vowel-elongated accent which is so unique it is not easily replicated. Well, one fan/impressionist on Instagram, @ItsChristinaHart, has not only nailed the Moira-accent but she also gives a little glimpse into how Moira might be handling the coronavirus quarantine.
Christina says the impression was created out of a combination of the popular show ending and her boredom from being stuck in the house. She is also sure to note that "Moira" has no makeup and limited wardrobe in quarantine hence the towel wrapped hair and jammies. Not only is the impression impressive…but the script Christina came up with is hilarious too. "Alexis, corona can't find you if you don't breathe so loud," she begins. "John, if you cough on me one more time I will have no option but to report you to the authorities" she warns her television husband. She wraps up the video with an iconic throwback to the series, "Lastly David, today I think is the day we learn how to fold in the cheese." Yay for you, Christina, yay for you.
Take a look at the hysterically accurate video below!
Like what you read? Follow me on Instagram
REALI-TEASE: Which New 'Real Housewives Of Potomac' Tagline Is Your Favorite?
Get ready for mayhem in Maryland.
It's that magical time of the year when the days are longer, the weather is warmer and a new batch of housewives taglines are revealed. Now, for an amateur reality tv watcher these taglines are nothing more than a sassy intro before each hour of drama but to us experienced housewives fans these few sentences can tell us everything we need to know about the leading ladies.
The taglines for season 5 of the Real Housewives Of Potomac are a mixed batch ranging from awfully overdone to creatively clever (you own that library Candiace!) but I won't let my opinion sway you. Karen Huger, Gizelle Bryant, Ashley Darby, Candiace Dillard Bassett, Robyn Dixon, Monique Samuels are all back to the bring the heat this season with the addition of newcomer Wendy Osefo and here is how each lady will be introducing themselves:
An iconic season deserves iconic taglines. Get ready, #RHOP hive. 🌸 pic.twitter.com/gtX0qJL8R6

— Bravo (@BravoTV) July 1, 2020
Like I said, a mixed batch. So who do you think nailed their tagline this season? Are we over the grand dame? Are we excited to see what the professor brings to the group? Do we need to know about baby Darby's bowel movements?
Click below to choose your favorite tagline and get ready to catch all the Potomac drama premiering on August 2nd on Bravo!
Like what you read? Follow me on Instagram
Try Monica's Chocolate Chip Cookie Recipe From The Upcoming 'Friends' Cookbook
Could I be any more excited about these cookies?
Friends may have ended its initial run over 15 years ago but the impact it left on pop culture has withstood the test of time. Aren't we all still pining for the Ross to our Rachel? Haven't you spent years trying to come up with an alias as influential as Regina Phalange?  Don't you and your roommate spend most nights trying to master the game of cups…ok that last one might just be me. In any event, the beloved sitcom has found yet another way to wiggle its way into our homes with the release of an upcoming cookbook, "Friends: The Official Cookbook," expected to hit shelves this fall. Since it's 2020 and the year is moving by at a glacial pace, news of an upcoming book simply won't keep us satisfied. Luckily for us, a few pages of the book are available as a sneak peek and Yahoo has shared one with the recipe for "Chocolate Chip Cookies The French Way" from the episode "The One With Phoebe's Cookies."
In case you haven't seen the episode recently in one of the many rerun marathons on various networks, in this episode Monica asks Phoebe for her grandmother's secret chocolate chip cookie recipe so she can be the mom who makes the best cookies. After Phoebe reveals that the recipe was lost in her recent apartment fire, they try to recreate the recipe by tasting the last remaining cookie Phoebe had in her freezer. After 22 attempts at replicating the recipe it's discovered that the "friend" from whom Phoebe's grandmother learned the recipe was none other than Nestlé Tollhouse…aka the major Swiss food and beverage company. In Phoebe's disappointment she looks down at the floor and screams to her dead grandmother "It's because of stuff like this that you're BURNING IN HELL! " which only solidifies my theory that Phoebe Buffay is the best character ever.
Well instead of wasting 22 batches of cookie dough on an almost perfect cookie, although one batch did make Ross vomit, you can simply just follow the recipe listed in the upcoming book. The trick seems to be refrigerating the dough several times throughout the process but according the Yahoo, these will be the best cookies you ever make. Here's the recipe:
Yum, sounds even better than Emma's inappropriate, phallic-shaped 1st birthday cake.
The official cook book is expected to hit shelves on September 22nd. For more on Yahoo's experience baking the cookies, click here.
Like what you read? Follow me on Instagram
The Netflix Reboot Of 'Unsolved Mysteries' Promises Chilling New Cases Filled With Disappearances, Deaths and The Paranormal
The series looks like a real scream.
Remember the show about eerie unsolved cases with an even eerier soundtrack? Every time I'd hear the theme music to Unsolved Mysteries I knew I would be stuck on that couch for at least another hour.
The popular documentary television show is back and this time fans can catch it streaming on Netflix. Since 1987 the series has established a 14-season run through various incarnations on various networks. The show's 15th season will be available for streaming on July 1st and if the trailer is any indication, it looks like I won't be leaving the couch at all that day. The 12 new episodes promise to investigate "the experiences of ordinary people who have lived the unthinkable — from the trauma of a loved one's unexplained disappearance or horrific death, to the shock of a bizarre paranormal encounter." Count me in.
Check out the chilling trailer below!
Like what you read? Follow me on Instagram