Boxing Champion Accidentally Gives Himself A Black Eye During Livestream Demonstration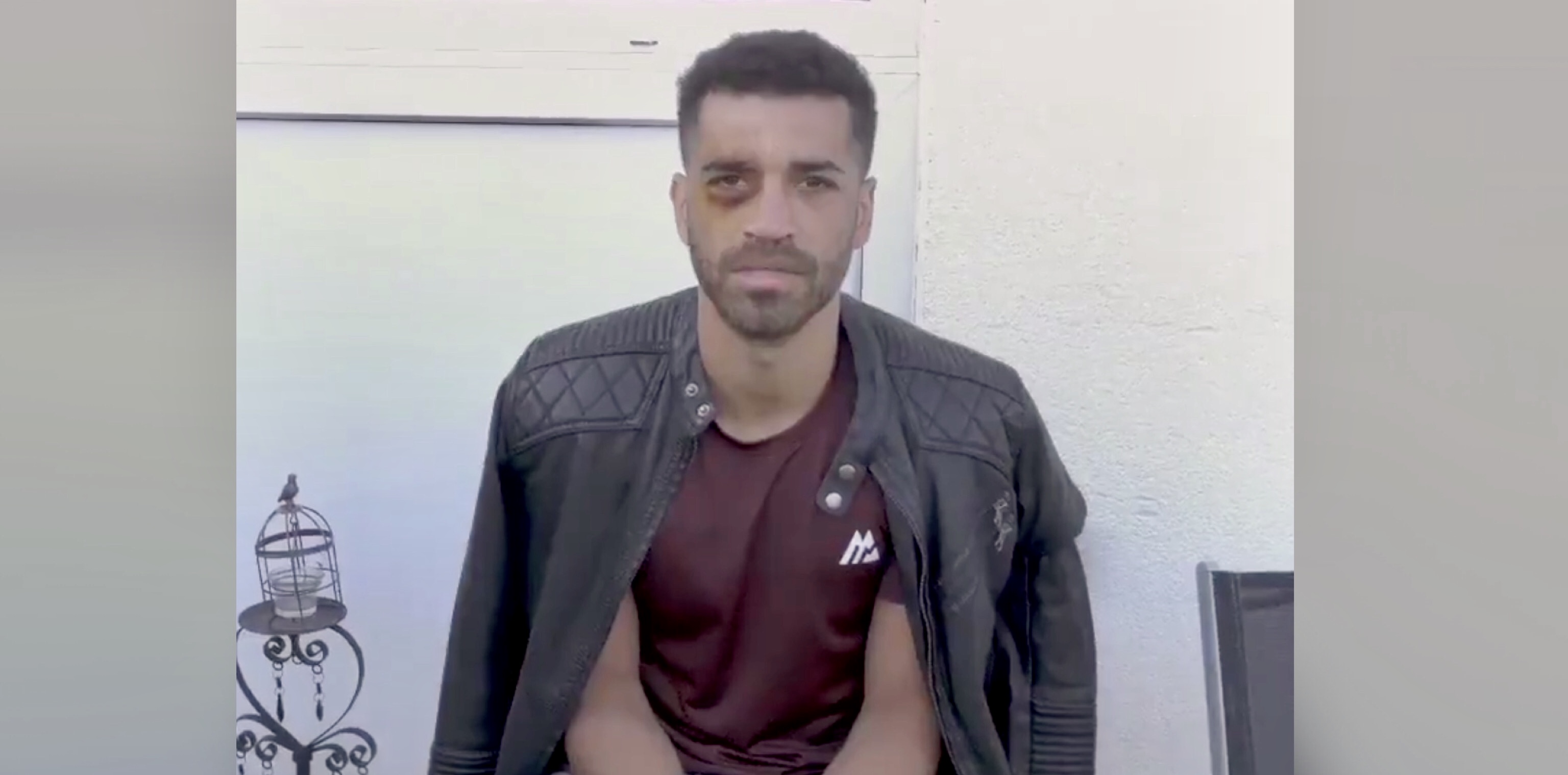 Sometimes we are our own greatest opponent.
It sure was hard for European boxing champion, Sam Maxwell, to keep his eye on the prize during his latest livestream demonstration. The super-lightweight champion has been taking to social media to demonstrate different fitness and boxing techniques during this time of social distancing. Well, he may want to go into livestream retirement early after his recent post where he accidentally uppercut himself in the face.
The video starts off normal enough with Maxwell explaining a few tips before taking to the punching bag. After only a few blows, Maxwell's hand slips and he pops himself right in the eye. The boxer immediately drops to his knees and asks if the camera is still rolling. After a few jump edits, the champ shows off his shiner to which the videographer takes only a little pleasure in saying "it's looking bad ya know."
A regular punch to the eye would hurt anyone but Maxwell's fists earned him an undefeated professional debut season back in 2016 and registered him 11 knockouts. Luckily, the black eye hasn't hindered Maxwell's sense of humor as the champ took to social media to not only share the cringeworthy video but post this caption along with it "'My Instagram live workouts are cancelled until further notice. (deadpan emoji)" Probably a good idea unless helmets are eligible for essential shipping.
My Instagram live workouts are cancelled until further notice 😑 pic.twitter.com/z71eKNVEcL

— sam maxwell (@SamMaxwell88) April 13, 2020
Some social media trolls jumped to their keyboards to say that the video was obviously fake. Maxwell clapped back with another video to show the haters that his self-inflicted uppercut was very real as proven by his extreme headache and oh yea, black eye! He then starts beating the bejeezus out of the punching bag to let out some frustrations…I guess he's hoping to turn the black eye into a matching set? Either way, take a look!
I wish it was fake pic.twitter.com/dUQMqmbgru

— sam maxwell (@SamMaxwell88) April 14, 2020
Like what you read? Follow me on Instagram
Oh My Bard, There Is A Medieval Cover Of Dolly Parton's 'Jolene' And It's Actually Really Good
This cover is off the chain-mail.
If you scour the internet long enough you will find thousands of covers for Dolly Parton's classic 1973 hit "Jolene." Unfortunately most of those covers don't come close to Parton's perfection but every once in awhile you do stumble across a version that truly stands out. In this instance, YouTube singer Hildegard Von Blingin' churned out a medieval cover that is so good you could say she slayed it.
The unique twist on the classic hit tweaks the lyrics to fit in with the ye olden theme but still drives home the idea that Jolene was a no-good runaround, no matter what the era. "He talketh of thee in his sleep, and alas I cannot keep, from weeping when I hear thy name Jolene," Von Blingin' wails.
This isn't the first time the popular, viral sensation has gone medieval on our asses as she has dropped remakes of other big hits such as "Bad Romance," "Pumped Up Kicks" and "Creep."
The cover is pretty cool and if nothing else an interesting way to enjoy a song we all love. Check out the video below to hear the whole song and click here to see what other Von Blingin' tunes you can jam to.
Like what you read? Follow me on Instagram
POLL: YouTuber Tyler Oakley Made A 12-Minute Video Ranking Different Ways To Eat Potatoes So We Have To Know Which Is Your Favorite?
Is your spud a stud or a dud?
The potato is really the Meryl Streep of the food world. It is grounded, versatile and adored by many. I'm sure Meryl wouldn't necessarily like being compared to a root vegetable but it's not like I'm comparing her to Brussel sprouts. In any event, with all of the ways to enjoy a potato, whether it'd be mashed, fried, baked, boiled or sipped (here's looking at you Vodka), it couldn't hurt to have a definitive ranking of all the ways you can enjoy a spud. Well luckily for us YouTuber Tyler Oakley created a nearly 12-minute video dedicated to just this.
In the video, which Tyler describes as "controversial," the viral sensation breaks down 20 different forms of potato and ranks each one from "God Tier" to a big, old, stinking F. Tyler comes out swinging by stating he does not like the classic baked potato. I feel I have to oppose this strong start because while a baked potato may not be the fanciest way to enjoy the carbohydrate, it is like the little black dress of the potato world. It can be dressed up, dressed down, accessorized and perfect for any occasion. For those keeping track I have now compared a potato to both an Oscar winning actress and a fashion staple. The video continues on with some more controversial tater-takes, hilarious commentary and only two contenders making it to the "God Tier" ranking.
So we want to know, how do you like your taters?
Vote on the poll below to see just how popular your potato is.
Like what you read? Follow me on Instagram
Bill Nye Goes Viral For TikTok Demonstrating The Importance Of Wearing A Face Mask
Perhaps we should listen to the SCIENCE GUY.
It has been well over a hundred days since the coronavirus began shutting down the United States and for some reason there is still a debate roaring about why we should be taking the simplest of measures to protect ourselves and others from the potentially deadly virus. Well luckily for us, scientist Bill Nye just shared a very informative TikTok explaining just how important the use of face masks is during this unprecedented time.
The 64-year old tv star made a series of two TikToks (meaning it literally takes less than 2 minutes to understand this message) demonstrating the effectiveness of different face coverings and then explaining just how important it is to wear one. "Face masks… prevent particles from my respiratory system from getting into the air and getting into your respiratory system" Nye shares. 
The experiment shows the scientist trying to blow out a lit candle while wearing a knitted scarf, a homemade double layered mask, and then an N-95 mask. Obviously the medical grade N-95 mask garnered the best results but Nye goes on to reiterate the importance of face coverings in general by saying "Everybody, this is a matter literally of life and death. And when I use the word 'literally', I mean literally a matter of life and death." Eerie to hear it put it that way but that is the truth!
Check out the videos below and get yourself a good mask!
Listen to Bill Nye. pic.twitter.com/F34Ke3xlsC

— Andrew Cuomo (@NYGovCuomo) July 9, 2020
Bill, Bill, Bill, Bill, Bill, Bill
Bill Nye the Science Guy perioddddd pic.twitter.com/EEhkmXdWwL

— Tori⛸ (@skateonclouds) July 9, 2020
Like what you read? Follow me on Instagram