There Is Now A 'FRIENDS' Version Of 'Guess Who' You Can Buy

The one where game night finally kicks into third gear.
It has been 25 years since Friends first aired but I bet it hasn't been a day, a month or even a year since you last saw an episode. The Friends phenomenon is still in full swing. Just last year the show's iconic coffee shop, Central Perk, began popping up as an immersive experience throughout the United States. The show makes headlines whenever one of the six besties finally joins social media and the internet is nearly shattered when they post photos of the whole gang together. Well one Etsy user has brought the sitcom one step further into our homes by creating a Friends version of the classic game, Guess Who.
The game uses the classic format with the exception that all of the faces are now Friends characters. Instead of asking generic questions about eye color or facial hair, you can now ask questions specific to the show to guess who your opponent has chosen. The Etsy user shares some fun question ideas like "Has your character been divorced? Did your character have a stuffed penguin? Was your character ON A BREAK? Did your character have a barcalounger?" Of course the six friends are in the game – Ross, Rachel, Joey, Phoebe, Monica and Chandler – but there are also some lesser featured characters on the board as well. Want to scream to a deity? Choose Janice! Harboring a secret crush on Rachel? Choose Gunther! Receive an accidental, naked lap dance from your son-in-law? Choose Jack Geller! The fun never ends!
The remixed version of the game is a bit pricier than the classic costing $65 before shipping but Friends fans will agree it's worth it. Don't be a total phalange, check out the Etsy page here and be the coolest one of your friends!
Like what you read? Follow me on Instagram
There Is A LEGO Version Of The Classic NES Console Coming Out In August
Looks like Super Mario is going from 8-bit to 2,646-bits.
There has never been anything quite as satisfying as tossing in the original Super Mario Bros. cartridge into your classic Nintendo Entertainment System…unless the cartridge didn't read correctly in which case you would have to take it out and blow into it or slap it a few times with your hand but once you got that bad boy back in and up and running it was pure and utter fulfillment. Well now you can recreate that joy and slight frustration with the new LEGO version of the classic NES!
Earlier today LEGO announced a partnership with Nintendo to create a 2,646 piece set that can be built into a replica Nintendo Entertainment System, an NES controller, a game cartridge that can fit into the console and a mini retro TV. The screen in the LEGO TV actually scrolls to look like the first level of the original game! The set isn't due out until August 1st and will cost you$229.99, but who can put a price on nostalgia?!
The LEGO Nintendo Entertainment System! Now you're playing with power…and bricks​.https://t.co/rC5mjFfJvo pic.twitter.com/ZGgBll0N4w

— LEGO (@LEGO_Group) July 14, 2020
Along with enough pieces to make everything shown above you also get an interactive Mario figurine that you can place "on top of the TV to watch him react to the on-screen enemies, obstacles and power-ups – all while the original game's theme tune is playing!" What else could you want?!
For more information on LEGO's Nintendo Entertainment System set click here.
Like what you read? Follow me on Instagram
Hold Onto Your Bucket, You Can Visit Colonel Sanders on KFC Island In 'Animal Crossing'
Kentucky. Fried. Crossing.
If I told you to live in a tent for a few days, pull a bunch of weeds from the lawn and chop down a few trees for lumber that you will then have to turn into tools with your own two hands all while trying to pay off a ridiculous debt that you unwittingly acquired you might think I'm into corporal punishment. Yet, it's all those things that make Animal Crossing: New Horizons on the Nintendo Switch so damn addictive.
The life simulation video game has grown unbelievably popular over these last few months and it's probably because the game provides a great creative outlet that can keep players entertained for hours while remaining home during quarantine. Even some celebrities have jumped on the virtual bandwagon with Elijah Wood, T-Pain, Chrissy Tiegen and more all sharing their obsession on social media. Well scoot over movie stars, big time singers and supermodels because the biggest household name just changed the game (not literally as I'm sure the game has some sort of coding that prevents actual changes to be made but metaphorically the pun works). That's right, Colonel Sanders has an avatar and an island and is ready to serve up some chicken.
Earlier this week, the KFC Philippines Twitter account revealed the news that "KFC Island" would be opening for lucky visitors. To get to the island you have to message their Facebook account with the #KFCVirtualStore for a chance at getting a Dodo Code. Because I am one of the many who have fallen in love with this game I know that a Dodo Code is a unique code which can be shared with select visitors to grant them access to your island. I feel like such a gamer. On the Kentucky fried island there is a restaurant that is replicated to look like the real thing! There's booths, a kitchen and even promotional posters. Oh and as if this wasn't exciting enough, if you find the Colonel hiding somewhere on the island you could win an 8-piece chicken bucket from KFC…in real life! (The promotion is only valid for players in the Philippines.)
Visits to the island are only available until June 20th, so be sure to hop on this finger lickin' experience while you can!
Like what you read? Follow me on Instagram
Watch: Brian Balthazar Hosts A Game of "Charading Places" on The Today Show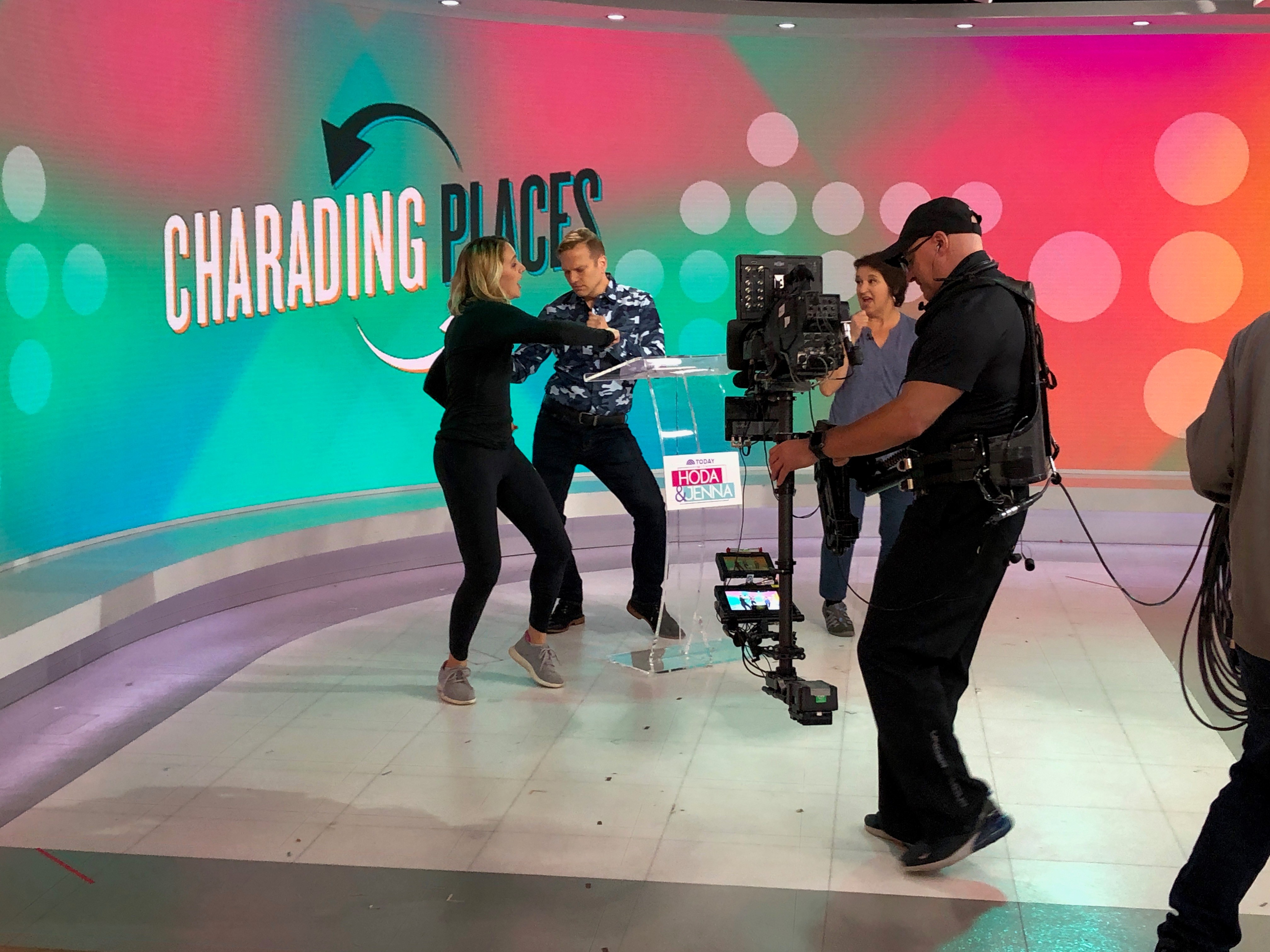 The Today Show with Hoda and Jenna love a good game! They created a fun one with "Charading Places." Here I stop by to lead a fiery competition between Hoda Kotb and Willie Geist.