I know, I know, I use the word "splash" a lot. I'm using it again, in this delicious fall drink that combines some of favorite flavors:bourbon, maple, and ginger.
Before you get all weird about using Maple Syrup in your drink, remember that tons of drinks use simple syrup – essentially, liquid sugar – so this is no different, but doubly delicious.
Here's how to make it yourself: (makes one cocktail, get ready to double it because you'll want to share one with a friend!)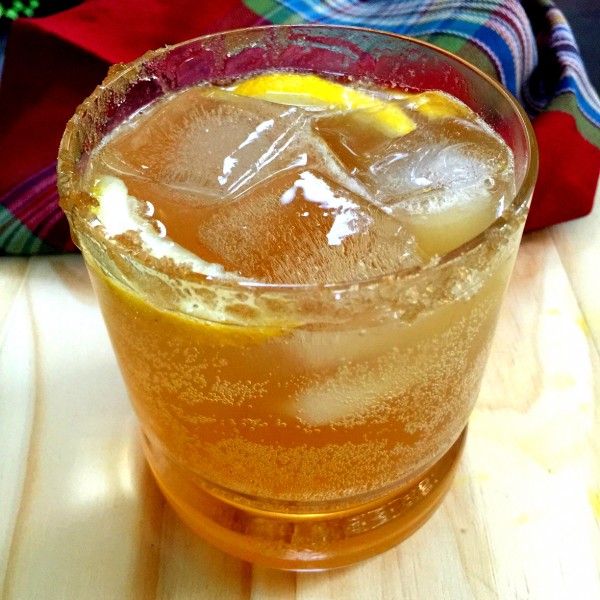 INGREDIENTS:
2 ounces Bourbon
2 tablespoons Maple Syrup (all natural, organic if you can find it!)
2 tablespoons lemon juice
Ginger beer
Light brown sugar (for the rim of the glass)
Lemon twist as garnish
LET'S GET STARTED:
Start by putting a rim of light brown sugar on your glass. (I use a cocktail glass – double old fashioned – not a tall pint glass – that much bourbon in one drink would destroy me!) You can get the sugar to stick to your glass by dipping just the rim into some syrup on a plate, or by using a lemon wedge and dragging it around the rim, and dipping just the edge of the glass on a plate of some brown sugar. Once the rim is all coated in sugary goodness, put a few ice cubes in there, and put the glass aside for now, it's time to get shakin'.
In a shaker full of ice, combine the bourbon, maple syrup, and lemon juice and do what you do best: Shake it.
Pour the shaken ingredients into your glass. You should have a little room to put a splash of ginger beer in there. If you're totally hardcore, don't even bother with the ginger beer, but I like a little sparkle in there. Stop making fun of me.
Put a little twist of lemon rind in there. There are a bunch of fancy ways to do this, but I just cut a little rind off a lemon with a veggie peeler and twist it a little bit with  my fingers and toss it in there. After all, I'm thirsty and just want a drink, already.
Enjoy! Hope you like it!
Visit the POPgoesTheWeek homepage for more POP cocktails, home, pop culture and viral videos!