READ HERE: Everything You Need To Conquer March 2018
March, in like a lion out like a lamb…ironically the exact opposite of how I would describe Taco Bell. Thanks Nacho Fries. Anyway, with every passing month comes a plethora of newness that seems impossible to keep up with. Please don't cry, I've got you covered! Below is a list of everything you'll need to keep your finger on the pulse this month:
Television: (Click title for more info)
90th Annual Academy Awards  March 4. ABC at 8pm
Life Sentence March 7. CW at 9pm
American Idol March 11. ABC at 8pm
Rise March 13. NBC at 10pm
Barry March 25. HBO at 10:30pm
Roseanne March 27. ABC at 8pm
Alex, Inc March 28th. ABC at 8:30pm
*Editors Choice*
Station 19 March 22. ABC 9pm
The latest installation in Shondaland, Station 19 looks like the next big hit. Three blocks away from the beloved Grey Sloan Memorial hospital, setting to Grey's Anatomy, is a fire house that is sure to bring the heat in every way possible. The ensemble cast brings the drama as we follow Andy (Jaina Lee Ortiz) through her adventures of being a young firefighter, while working under her father and mentor, Captain Pruitt Herrera (Miguel Sandoval).  For Grey's fans, we will also see Dr. Ben Warren (Jason George) make the transition from resident surgeon to rookie firefighter. Shonda Rhymes can do no wrong, so this is surely must-see tv!
Movies: (Click title for more info)
Red Sparrow March 2
Gnome Alone March 2
Tomb Raider March 16
Sherlock Gnomes March 23
Isle of Dogs March 23
Ready Player One  March 29
*Editor's Choice*
A Wrinkle In Time March 9
Oprah. Need I say more? This fantasy film looks like a hit for the whole family. The story follows Meg Murry (Storm Reid), as she discovers her father, Alex (Chris Pine), is being held captive on a distant planet far into the universe. To save her dad, Meg teams up with her little brother, new bestie and three astral travelers played by Reese Witherspoon, Mindy Kaling and Oprah Winfrey. The film looks visually stunning, wildly gripping and heartfelt! I feel the only appropriate snack to sneak into this movie is…BREAD!!!!
Netflix: (Click title for more info)
Flint Town March 2
The Outsider March 9
Wild Wild Country March 13
The Mechanism March 23
The Rapture  March 30
*Editor's Choice*
Ricky Gervais: Humanity March 13
Netflix offers some great comedy specials. The lack of censorship always allows for more creative freedom and bigger laughs. Ricky Gervais is a comedic icon and this special is being crowned his best. There are no official trailers from Netflix out yet, but this sales clip is enough to get a glimpse of what to expect!
Music:
Lil Yachty Lil Boat 2 March 2
Snoop Dogg  Bible of Love March 16
George Ezra Staying at Tamara's March 23
Toni Braxton Sex and Cigarettes March 23
*Editor's Choice*
En Vogue Electric Cafe March 30
Now it's time for a breakdown, because En Vogue is back! The legendary girl group is back and showing that they have not skipped a beat. Fans have waited for over a decade for new music from the group and it is finally here! Electric Cafe promises to be everything we have grown to love from the ladies. Their first single, Rocket, has really taken off (pun intended) and has brought even more excitement around this album.
Trends:
Gelato Hues for Women's Fashion
Who knew that your spring wardrobe could be so delicious? The spring fashion shows have been flooded with major designers using pastel, "ice cream colors" for the 2018 lines. The color choices may not seem too revolutionary, but there is something to be said for fashion's tried and true.
Hawaiian Shirts for Men's Fashion
Remember how your dad would insist that his Hawaiian button down was his nice party shirt? Well apparently he was just ahead of his time. This season, Hawaiian print shirts are just the thing for guys. To really solidify the trend, remember the oversized fit is in. If your dad was on the fluffier side, you might be able to rummage through that closet and be the trendiest while rocking his vintage classic.
Fairy Bread for Food
Move over Mermaid Frappucino's and Unicorn Cakes, it's time for the Fairies to shine…or sparkle in this case. That's right, Fairy Bread is the newest trend in the American food world, but has already fluttered it's way through Australia. The recipe is less magical than it sounds as it is mostly bread smeared with butter then covered in colorful sprinkles. Either way, I expect to see this colorful carb popping up in every hipster gastropub this spring.
Don't you feel better now that you have everything you need to get through the next month? March into March like the lion you are!
AWWW: A Rescue Team Of 9 Was Needed To Rescue 1 Adorably Chubby Rat
Over in Bensheim, Germany a rotund rodent got herself into a jam when she tried to squeeze through a hole of a manhole cover only to get stuck…and honestly, I can relate. When I was 8 years old I tried to squeeze my thunder-thighs-in-training into a children's swing and it took my dad and three other grown men to get me out. I am the German fat-rat!
Volunteer firefighters were called when a young girl noticed the fat rat was stuck and no time was wasted to help the poor critter. Eight firefighters and at least one animal rescuer appeared on the scene to safely extract the chubby critter. Animal rescuer Michael Sehr told BBC "She had a lot of winter flab and was stuck fast at her hip. There was no going forward or back." When asked why anyone would even want to save something so many are repulsed by Sehr said "Even animals that are hated by many deserve respect."
Alls well that ends well! Hopefully no authorites will be needed to help me shimmy out of these skinny jeans I thought looked cute this morning…in the meantime, check out the entire rescue below!
Elton John And Taron Egerton Performed A Fantastic Duet Of 'Tiny Dancer'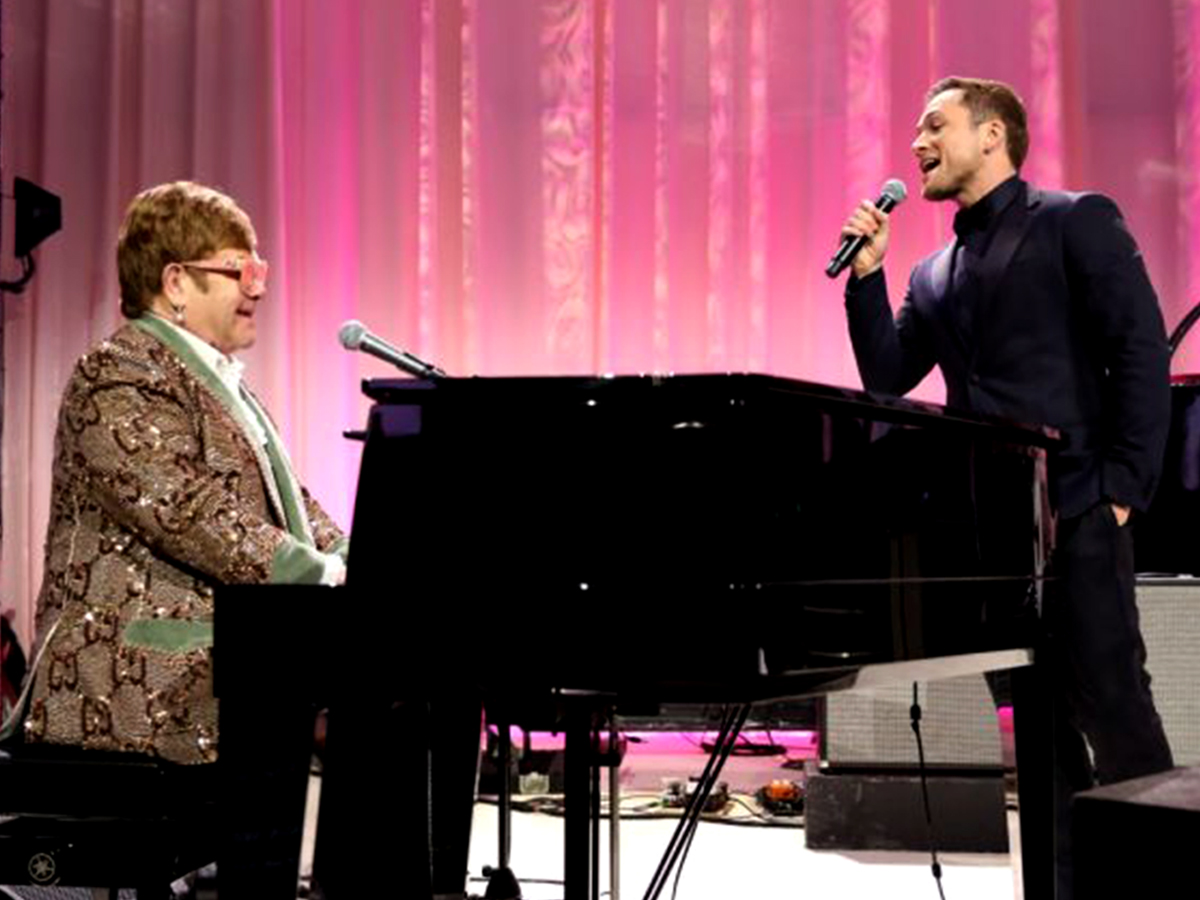 The dancer may be tiny but the talent on stage was massive! Taron Egerton and Elton John gave a fantastic performance of "Tiny Dancer" last night at the 27th Annual Elton John AIDS Foundation Academy Awards Viewing Party.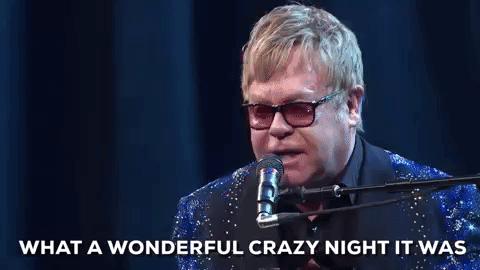 If you've been looking for a reason to toss on your bedazzled cape and brightly colored sunglasses then boy do I have good news for you. An "epic musical fantasy" about Elton John's life, entitled Rocketman, is expected to hit theaters in May 2019. Taron Egerton, from Robin Hood fame, plays the musical legend and judging by his performance last night, we are all in for a treat. The audience of the charity event felt like a candle in the wind when Taron suggested an off-the-cuff performance of "Tiny Dancer." There isn't even a pun creative enough to embody what the audience must have felt when Elton John himself volunteered to accompany Taron on the piano!
In addition to a truly moving performance, the 27th Annual Elton John AIDS Foundation Academy Awards Viewing Party raised more than $6.3 million for an effort to end AIDS.
Click below to take a look at the magical performance from last night!
VIRAL: There Is No Room For Love When This Dog Protects His Barney
I think this dog missed the whole "I love you, you love me" message Barney was trying to teach all those years ago…
In this viral video posted to Twitter, an adorable pup channels his inner Cujo anytime his owner gets close to the Barney the Dinosaur stuffed animal. While the frenzied attacks are comical in themselves, this video should definitely be played with the sound up. While we never see more than the dog owner's hand, we hear his high pitched screams of terror every time the dog take a lunge.
Click below to laugh along!