POP INTERVIEW: Viral Sensation Judge Frank Caprio On How He Became The Man That Melts Our Hearts (And The Verdict On His Favorite TV Judge!)
Sometimes it seems like all we see on the internet is chaos from the world we live in. You can find yourself cringing at the news you scroll through on social media. Every once in a while, however, you see something that makes you smile and suddenly everything feels a little better. Well when I had the opportunity to chat with viral sensation and now television star, Judge Frank Caprio, I smiled for the entirety of our conversation…and my day was suddenly all better!
The Rhode Island Judge has been presiding over courtrooms for more than thirty years but it's his unique sense of compassion that has made the internet fall in love with him. Unlike some of the other judges we've seen in the media, Judge Caprio rules with understanding and takes the time to learn the circumstances surrounding the incident in question. Because of this, videos from Judge Caprio's trials have gone viral and are now documented on a daily, national television series entitled Caught In Providence.
What made you decide to study and eventually practice law?
Surprisingly that started when I was 10 years old. My father was an immigrant who came from Italy. Just a working class family who lived in a cold water flat with a potbelly stove. My dad was talking to my brother and I, he said to me with his finger pointed at me "someday you are going to be a lawyer." I can tell you honestly and sincerely that I never ever wanted to be anything else. My father instilled that spark in me. He also said life will be tough, the road will be hard  and tough going but "don't ever give up." And he was right on both counts. This all started with the family unit, the basic unit of society and I think one of the sins of our country today has been the dissemination of the family unit. Unfortunately, I didn't have enough money to go to law school. So, when I graduated from college the only way I could go to law school was to work days and go to school nights. I taught school in Providence and commuted nights to Boston, 50 miles away, for four years so I could get my law degree.
You're famous for saying that you don't have a badge under your robe, but a heart. Was there ever a time in your career where you felt you had to be a bit more hardened?
I never felt any other way. I never felt I had to be stern and strict. I always felt that I had to be myself. I always felt that I had to never forget where I came from, a hardworking family from a working class neighborhood. I always felt, based on the lessons I learned from my parents, that everyone should be treated with decency and respect and fairness. AND compassion.
I get parents coming in with four kids and I know if I charge them with the maximum or even half the maximum, those kids aren't going to eat that night. Or maybe they cannot pay their electric bill. Or they cannot pay their fuel bill and the heat won't be on that night in the cold, dead of winter. If I don't take those factors into consideration, shame on me.
You have five children, two of which are attorneys themselves. Do they practice with as much compassion as you have?
After my dad told me that I should become a lawyer he said "remember one thing, you can't charge poor people." My kids came to work for me and I gave them that same lesson. I said "we can't charge poor people," and they said "dad?!" (Chuckles) But my sons have an active social conscious and they are very warm, compassionate and understanding. They get that from their mother.
Judge, you have been judging for a long time, over 30 years in fact! What is the craziest excuse someone has given you to get out of paying their fine?
I have had excuses you just can't believe. I'll give you a simple one that is actually funny. A gentleman came in, he was charged with speeding. He looked at me and he scrunched his face up. I said to him "is there anything you want to tell me about this offense?" He said "judge, it's the shoes. I just bought a brand new pair of shoes and I didn't have a chance to break them in. I didn't realize how hard I was pressing on the gas pedal."
I also had a fella come in, he was in his mid thirties. Charged with speeding. Same situation "is there anything you want to tell me?" He scrunched his face up and looked a little embarrassed. He said "I received a call at work. My wife told me she was ovulating. I was rushing home." I asked him if it worked and he said "no" so I felt bad for him and dismissed the case.

It's official. You are famous! You have a tv show and everything. Has fame changed you at all?
Well we're really not a show. We are actually a court preceding. We are spontaneous. We're unrehearsed. The people are actually summoned to court by the municipality. They don't know what judge they are going before and I don't know who is coming before me. (Chuckles) I don't take myself too seriously. In my neighborhood, my friends still call me "Frankie." [The show] makes me more humble.
We all want to know…who is your favorite TV Judge?
I actually think they're all good. I enjoy watching all of them. I think, by and large, Judge Judy set the standard. We have to give her credit, she really did set the standard. I think she does a great job. But I think they all do a good job, so if I can be half as good as them I'll be happy.
Half as good?! I hope the humble judge knows he is right on top with the other television judges.
Next time you need a dose of happy be sure to tune into Judge Caprio on Caught In Providence. You won't be disappointed! Check out this adorable clip of how the judge interacts with children in the courtroom.
Click here to find out when you can watch Caught In Providence. 
Like what you read? Click to follow me on Twitter and Instagram
Lizzo Is An Icon In The Making – And Here's Why
Mirror, mirror on the wall don't say it 'cause we know Lizzo cute. And by cute I mean extremely talented, gorgeous and totally inspiring!
A few months ago I was watching The Ellen Degeneres Show when I witnessed one of the most fun, exciting and awe-inspiring performances I've ever seen. Lizzo popped onto the screen in a sparkly, pink getup and began singing what would become her big hit song, "Juice," – I was immediately hooked (more like obsessed). During this performance she also jammed out on her flute alongside her plus-sized backup dancers and suddenly I knew I had been changed forever. I did some more research on the rapper/singer and found out I had been sleeping on this gem! Lizzo has been doing bad all by her damn self for years, having already released two albums in the past. I am suddenly mad at every single person who neglected to tell me to jump on the Lizzo train sooner! If you're like me and need a bit of catch up, I'm going to break down exactly why you need to know this icon in the making.
You can throw a stone in any direction and hit a triple threat nowadays. Lizzo's brings talents we have yet to see in the mainstream music industry.
If singing, rapping and dancing make Lizzo a triple threat, what does flute playing making her?!? A STAR THAT'S WHAT! Lizzo has displayed her abilities as a talented flautist, which is not an instrument you would necessarily think of in conjunction with the rap genre making this talent all the more extraordinary. Lizzo even used her flauting skills to compete (and defeat IMO) with Ron Burgundy. Not Will Ferrell, but Ron Burgundy.
Oh, and she can also twerk while playing the flute. 
As if playing the flute wasn't impressive enough, Lizzo can also twerk while playing. I really hope some high school kid is deciding to take band just so he/she can flutwerk their way around campus like their fav flautist, Lizzo.
Lizzo uses her platform to inspire and raise up everyone around her.
Lizzo uses her voice for more than just creating fire music, ya know. She uses her platform to defend the belief that beauty comes in all shapes and sizes. Her Twitter is filled with positivity and strong messages about acceptance.
MY MOVEMENT IS FOR EVERY 🗣BODY. IM LEAVING NO ONE EXCLUDED. "GOOD FATTYS" AND "BAD FATTYS" AND ANYONE ELSE WHO WANTS TO JUST FUCKING LIVE ARE WELCOME. NO TERMINOLOGY NO IDEOLOGY JUST FUCKING HAPPY PEOPLE IN MY MOVEMENT.

— |L I Z Z O| (@lizzo) March 4, 2019
Uhm…she's straight up gorgeous. 
We cant forget to mention that Lizzo is a straight up beauty queen. She is known to switch up her look but I've never seen a bad pic of this queen. To solidify my point, she is now officially the first, plus sized black woman to be featured in Playboy magazine!
Move over Avenger's, Lizzo has been in a comic book too!
Ok indulge the nerd in me on this one…Lizzo was even featured in a comic book!!! That's right, she has become so influential that even Marvel comics wanted a piece of the Lizzo-pie. Check out this shout-out in Unstoppable Wasp #4!
MY MOVEMENT IS FOR EVERY 🗣BODY. IM LEAVING NO ONE EXCLUDED. "GOOD FATTYS" AND "BAD FATTYS" AND ANYONE ELSE WHO WANTS TO JUST FUCKING LIVE ARE WELCOME. NO TERMINOLOGY NO IDEOLOGY JUST FUCKING HAPPY PEOPLE IN MY MOVEMENT.

— |L I Z Z O| (@lizzo) March 4, 2019
So now that you have become as obsessed as I have, you are probably wondering how you can get even more Lizzo in your life. Well lucky for you, her new album dropped TODAY! Her third studio album, Cuz I Love You, is available anywhere you listen to music and let me tell you, YOU WILL LOVE IT. The album is varied and showcases all of Lizzo's incredible range with some songs being upbeat and funky, and others being slowed down and heart wrenching. For a taste of what to expect, click below to listen to the title track of the album. If the new album still doesn't satisfy the hunger for more Lizzo, she's also on tour! You can click here for more info on tour dates.
Oh Lizzo…you are most definitely 100% that bitch.  
Like what you read? Follow @ChrisSiretz on Twitter and Instagram
Cher Slapped, Sang And Lip-Synched Her Way Through Her 'Tonight Show' Takeover
If I could turn back time, I would watch Cher take over The Tonight Show again and again.
Give me a rapid vibrato and a strong hair flip and I am just about the happiest man on earth. There isn't much the iconic Cher can't do as proven by her lengthy career as an actress, singer and now broadway producer, so it was no surprise when she became one of The Tonight Show's most memorable guests in history last night. Cher wasted no time diving into the fun, giving host, Jimmy Fallon, a helping hand with his opening monologue. And by helping hand I mean she slapped him…not once but twice! I am now twice as jealous of Jimmy Fallon. The slap was of course a recreation of Cher's legendary slap from her Oscar-award winning role in Moonstruck. All these years later and it is still a very effective way of shutting people up.
The Cher-takeover didn't stop there! Cher hit the couch to answer some burning questions that fans (me) wanted to know about life as a living legend. During her chat she opened up about how painfully shy she was and is despite growing up in show business. She revealed that she was actually so afraid to sing in intimate settings that she lied about disliking "I Got You Babe" when Sonny Bono first introduced it to her just so she wouldn't have to sing on the spot. It's hard to imagine the showgirl being so shy but she confirmed that "it was really terrible, I was so shy." During the chat Cher also confessed that she's never actually heard a good impression of her! Even though she has to be one of the most impersonated celebrities of all time, she said she struggles to find any inkling of herself in all of the weird facial expressions and "bullish*t"!!! God I love her. The hour then segued to Cher's new, autobiographical, hit Broadway musical The Cher Show which prompted a performance of "I Got You Babe" by the musical's Sonny and young Cher, Jarrod Spector and Micaela Diamond. The audience nearly fell out and I audibly gasped when Cher herself joined Spector to finish the performance.
Of course a Tonight Show takeover would not be complete without a little lip-sync battle. This lip-sync battle was different than any other, however, as both Cher and Jimmy lip-synched to drunk bar patron renditions of Cher's "Believe." That's right, Jimmy sent a camera crew to a karaoke bar at 1am and filmed their takes on the classic hit and used those vocals as the source of the lip-sync! Everything about this is hilarious!
The hour seemed to fly by and things only got more exciting as Jimmy brought the three leads from The Cher Show to the couch. Stephanie J. Block, Teal Wicks and Micaela Diamond cozied up next to Cher and gushed about what an incredible experience it has been working with such an icon. All four ladies closed the hour with an incredibly performance of "If I Could Turn Back Time" and how I wish I could just to be able to relive this hour over and over! I do believe this hour will go down in books as one of the best Tonight Show moments in history.
Like what you read? Follow @ChrisSiretz in Twitter and Instagram
Lori Loughlin Shockingly Pleads Not Guilty In College Bribery Case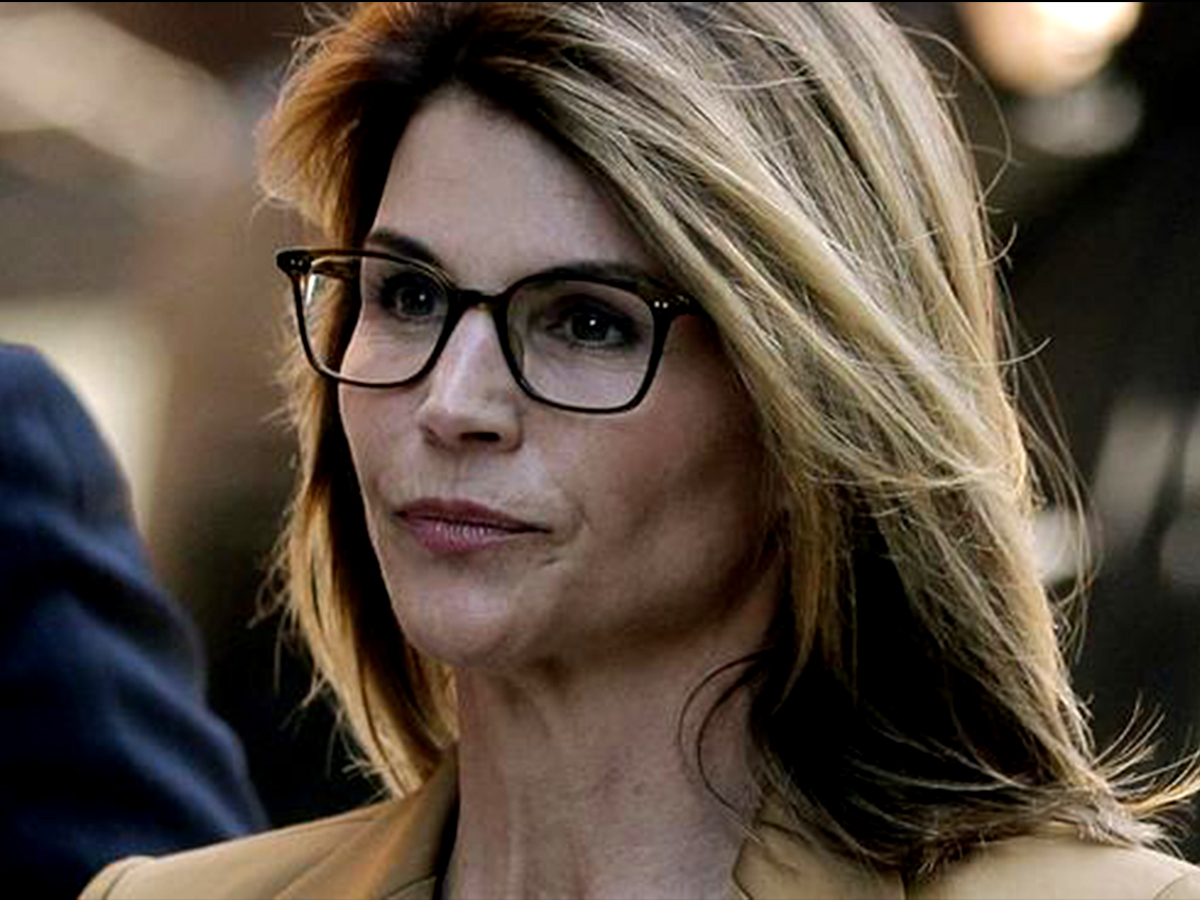 After Felicity Huffman pled guilty to her part in the college bribery case, it was assumed Lori Loughlin would do the same.
As if the college bribery case wasn't already filled with shocking twists and turns, Lori Laughing and husband Mossimo Giannulli have just pled not guilty on all charges of conspiracy to commit mail and wire fraud and honest services mail and wire fraud, and conspiracy to commit money laundering. The couple face a minimum of 4 years and 9 months in prison for allegedly paying $500k to get their daughters into the University of Southern California. As if things weren't sticky enough, the Full House actress and her fashion designer husband were indicted by the federal grand jury last week for an additional charge of money laundering. The couple waived their right to appear in court and instead entered their plea via court documents filed by their attorney.
The entire scandal revolves around 13 wealthy parents who used money to bribe college coaches and standardized test administrators to grant their children admission into USC. Prosecutors say that some of the parents went so far as to facilitate cheating on the SATs and ACTs for their children, while others used the money to coax the administrators into smoothing out the children's paths into college.
Felicity Huffman, the other high-profile actress embroiled in this scandal, entered a guilty plea last week for paying $15,000 to have her daughter's SAT test rigged. After insisting that her daughter had no knowledge of the wrong-doings behind the scenes, Huffman faces a minimum of 4 months in prison.
Like what you read? Follow @ChrisSiretz on Twitter and Instagram