Girls Gone Wild's Joe Francis Defended Himself In Court Case… And Won!
They often say anyone who attempts to defend himself in a court of law has a fool for a client. This rule can not be applied to Girls Gone Wild's Joe Francis. The franchise goes like this: guys with video cameras go to spring break and convince drunk girls to take their clothes off on camera. Then he compiles it into a DVD, sells it, and makes millions.
Not surprisingly, lots of girls wake up a lot less drunk and a lot more embarassed. The whole lawsuit involved four plaintiffs that alleged that their exploitation in the videos resulted in depression, drug abuse, suicide attempts, strained relationships and overall misery.
Refusing to offer up a multi million dollar settlement, Francis represented himself in the eight day trial. And, as you can see from the headline, he WON.
He's since released a statement:
 "I am relieved that I have finally been vindicated from these slanderous, disgusting, and now proven false allegations in a federal court by a jury of eight respectful, conservative women. My legal team did an outstanding job and Girls Gone Wild will continue to take strident measures to avoid facing these false allegations ever again. On behalf of myself and my corporations I would like to thank the jurors and the people of Panama City for their continued support."
There's little denying that Francis is a pretty narsty – and his chosen profession isn't exactly noble.  And while I understand that sometimes people do stupid things under the influence of alcohol…  blaming someone else for your own choices (lifting up your top or more) is ridiculous. Suing someone else when your decisions have consequences is dangerous ground. We live in a new age where pictures and video last forever online. (I'd be lying if I didn't admit that I'm sure as hell glad it wasn't that way when I was growing up.) So all of us have to think that much harder about the choices we make.
Laura Dern Honors Her Parents In Touching Academy Award Win Speech
Laura Dern, who has been slaying awards season this year for her role in "Marriage Story," took home the ultimate prize – a Best Supporting Actress Academy Award – and thanked her actor parents in a touching acceptance speech.
Her parents, actors Diane Ladd and Bruce Dern brought her to the Oscars with them when she was just 7 years old.
"Some say never meet your heroes. I say if you're really blessed, you get them as your parents. I share this with my acting hero my legends, Diane Ladd and Bruce Dern. You got game. I love you."
Dern's mother has been nominated three times, her father twice, but neither have won. Her mother can be seen during the speech crying in the audience.
Congrats Laura!!!
POP UPDATE: Justin Bieber, "Friends" For Life, And The Critics Choice Awards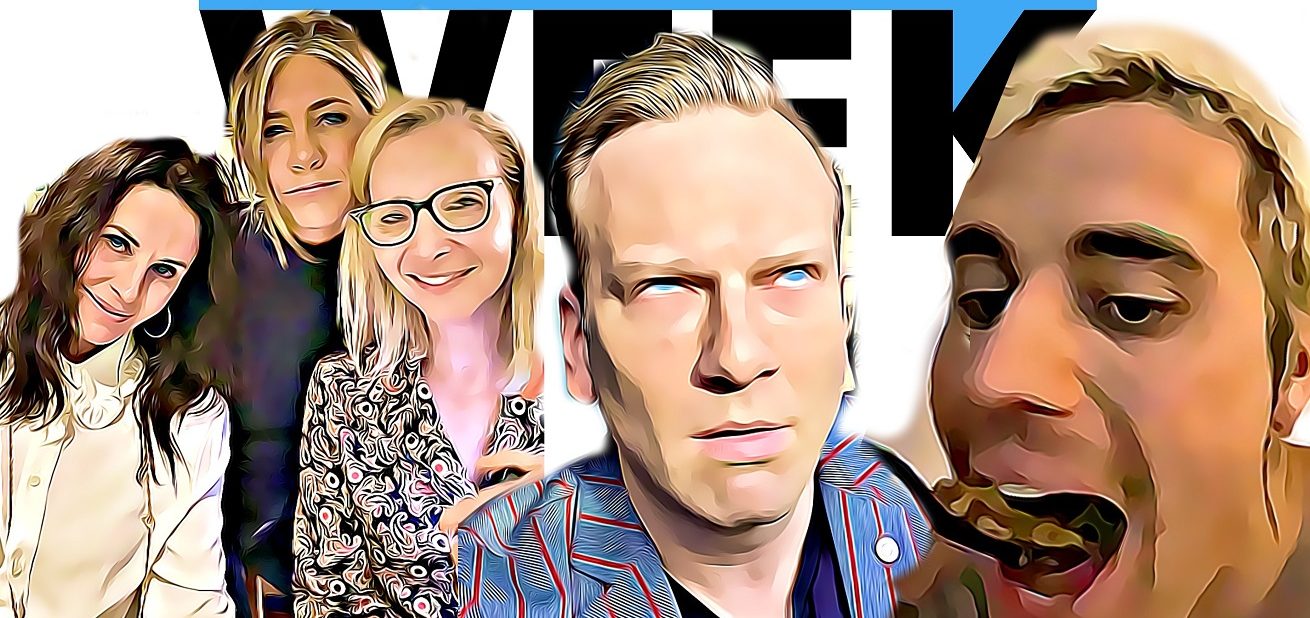 We're going to be doing some quick video updates whenever we can! Here's the latest! Justin Bieber begging for streams, (while you can hear him chew – ew), the ladies of Friends reunited, and mother nature. Take a look!
Courteney Cox's Instagram Caption Is Every Parent With A Teenage Kid
Have you heard? It's 2020 and we're all supposed to music videos on TikTok. Courteney Cox is no exception. The TV star posted an instagram of her and her daughter Coco dancing it out, with the hilarious caption, "Wanna see your child lose their patience? Do a TikTok with them."
Also, how long does it take to actually learn one of these routines? It seems very time consuming.
What I was really hoping for was video of her daughter losing her patience, but what we got was a pretty strong routine!